Preview the February edition of Classic Cars
See an article you like? Click on the link to be directed to our NEW Members-only app/website and read the February 2023 issue of Classic Cars from just 99p!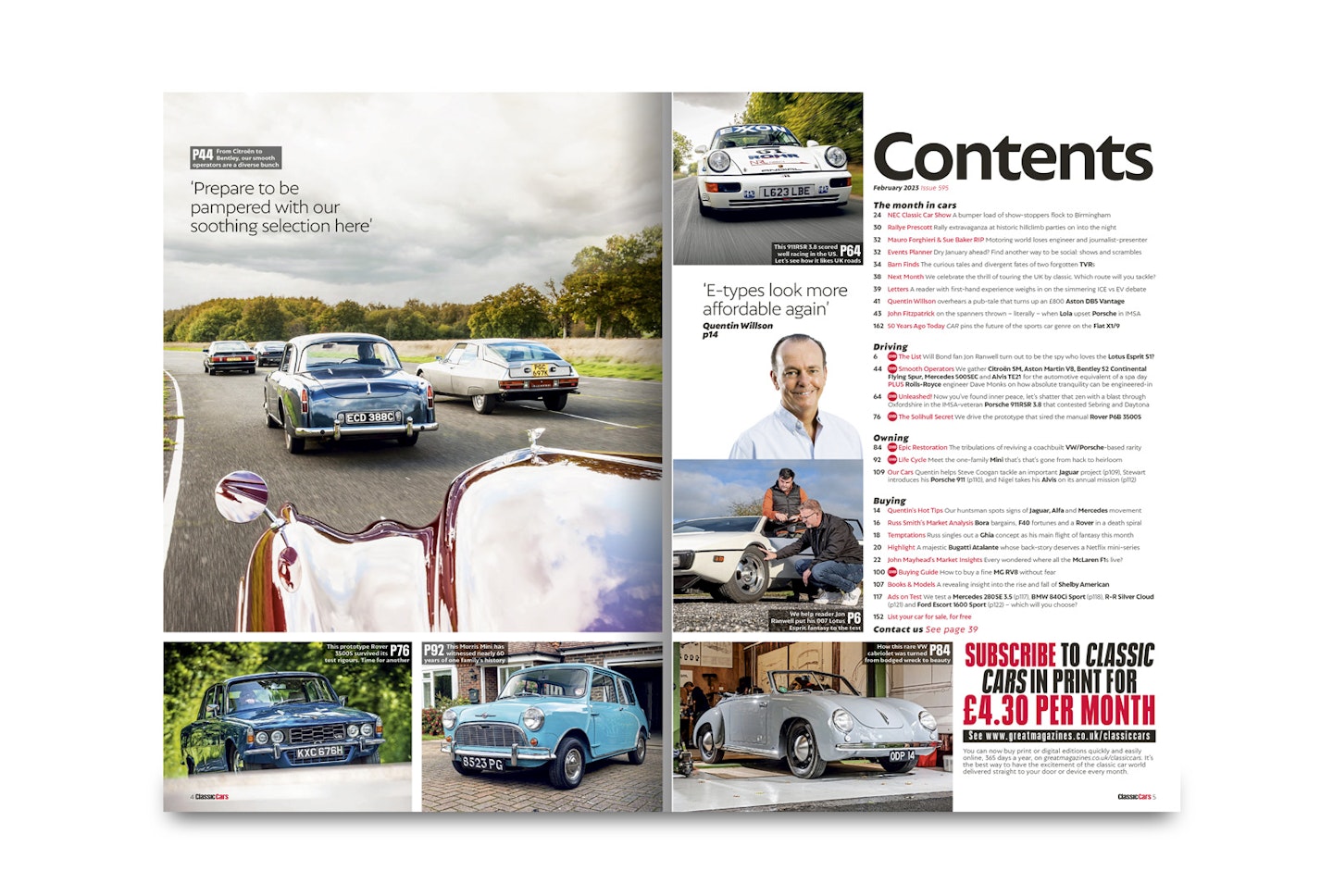 Driving
6 The List Will Bond fan Jon Ranwell turn out to be the spy who loves the Lotus Esprit S1?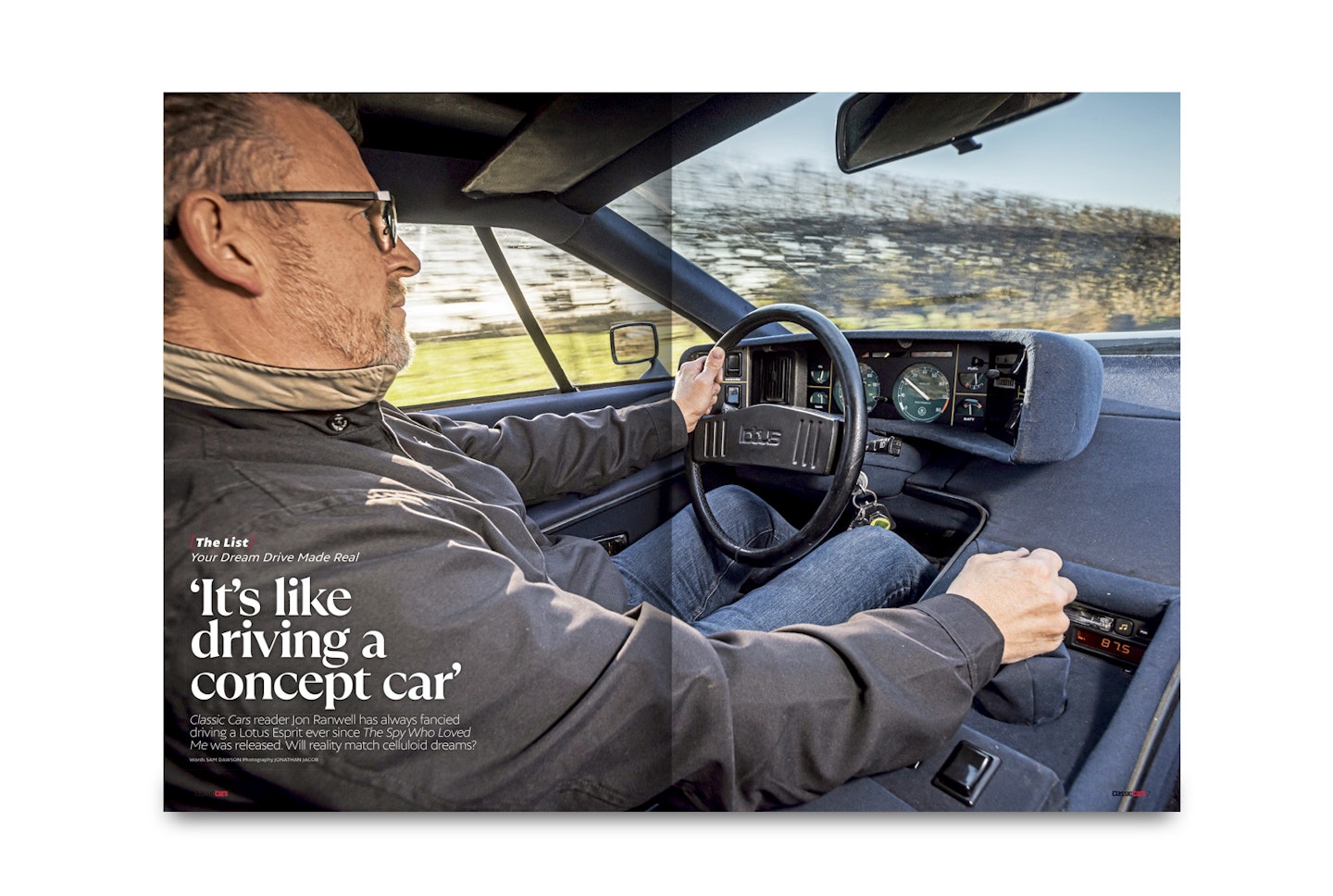 44 Smooth Operators We gather Citroën SM, Aston Martin V8, Bentley S2Continental Flying Spur, Mercedes 500SEC and Alvis TE21 for the automotive equivalent of a spa day PLUS Rolls-Royce engineer Dave Monks on how absolute tranquility can be engineered-in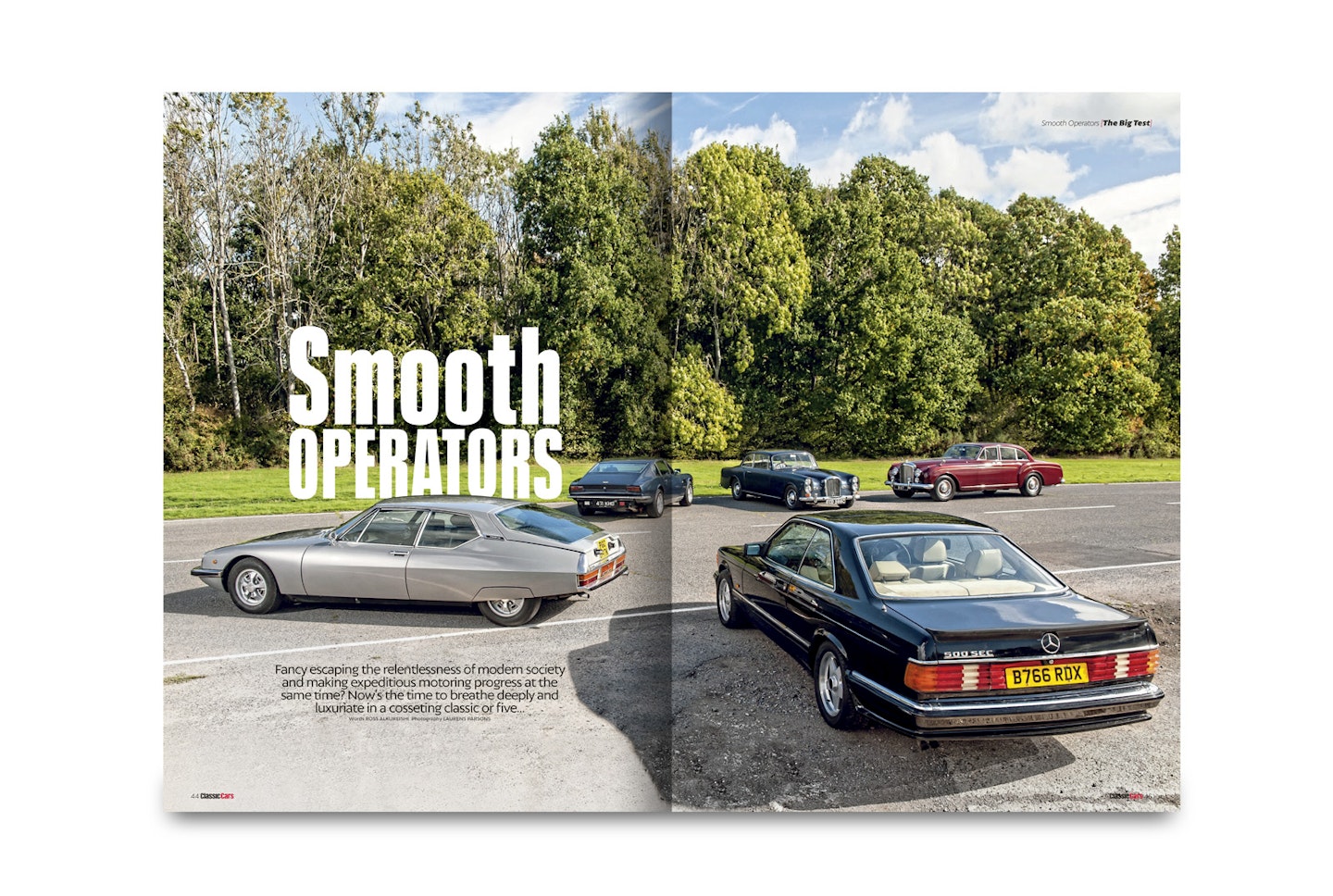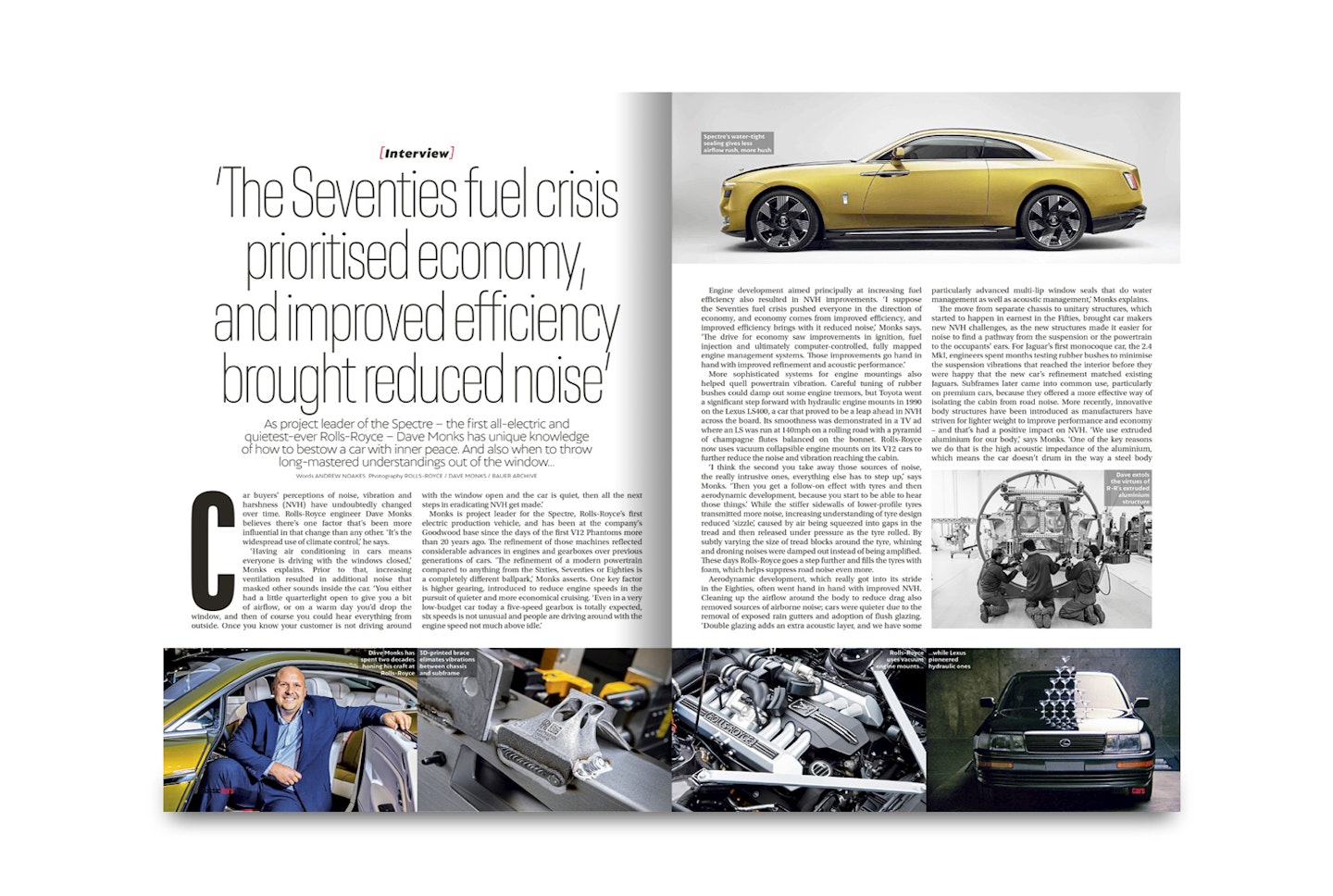 64 Unleashed! Now you've found inner peace, let's shatter that zen with a blast through Oxfordshire in the IMSA-veteran Porsche 911RSR 3.8 that contested Sebring and Daytona
76 The Solihull Secret We drive the prototype that sired the manual Rover P6B 3500S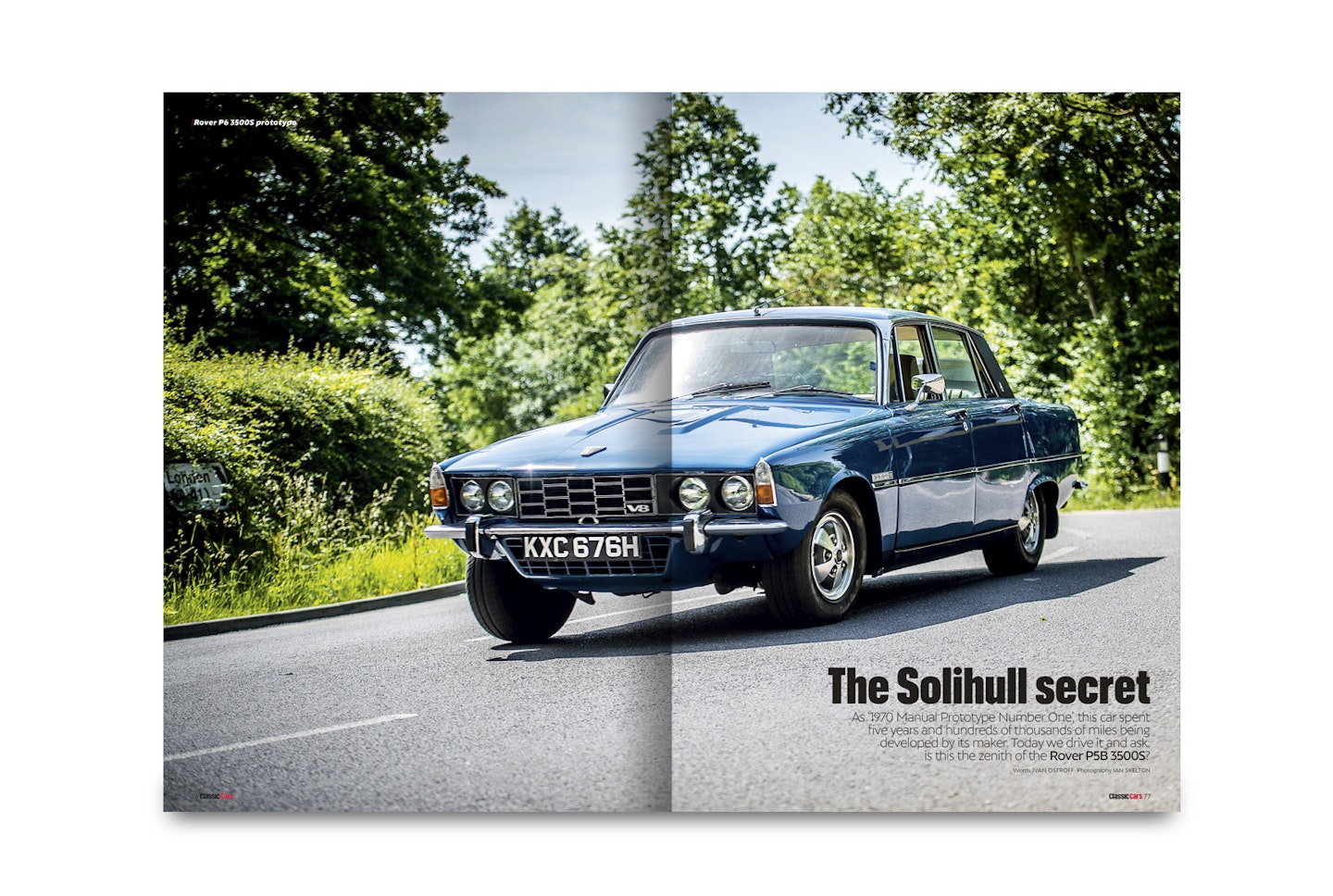 Owning
84 Epic Restoration The tribulations of reviving a coachbuilt VW/Porsche-based rarity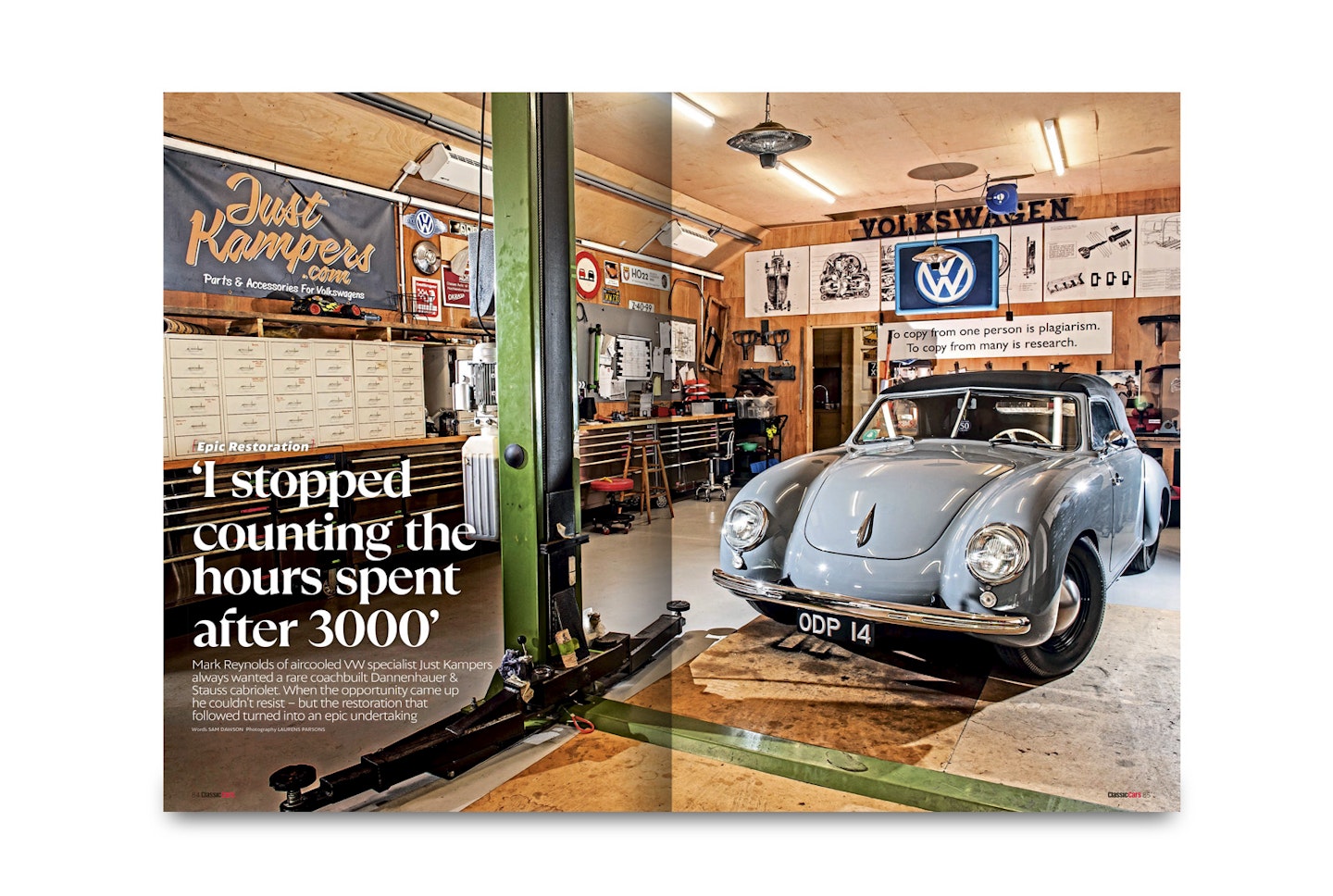 92 Life Cycle Meet the one-family Mini that's gone from hack to heirloom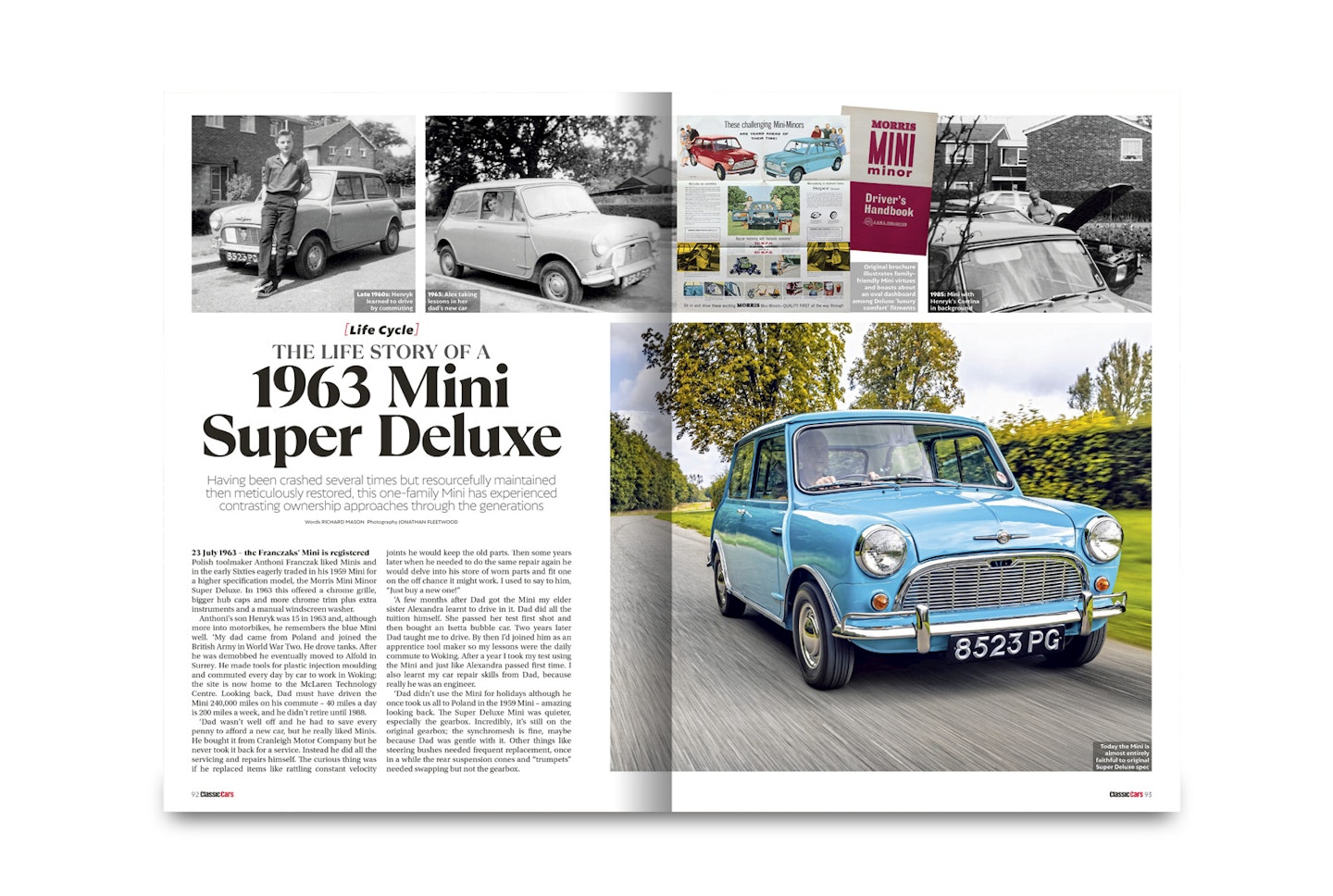 109 Our Cars Quentin helps Steve Coogan tackle an important Jaguar project (p109), Stewart introduces his Porsche 911 (p110), and Nigel takes his Alvis on its annual mission (p112)
Buying
14 Quentin's Hot Tips Our huntsman spots signs of Jaguar, Alfa and Mercedes movement.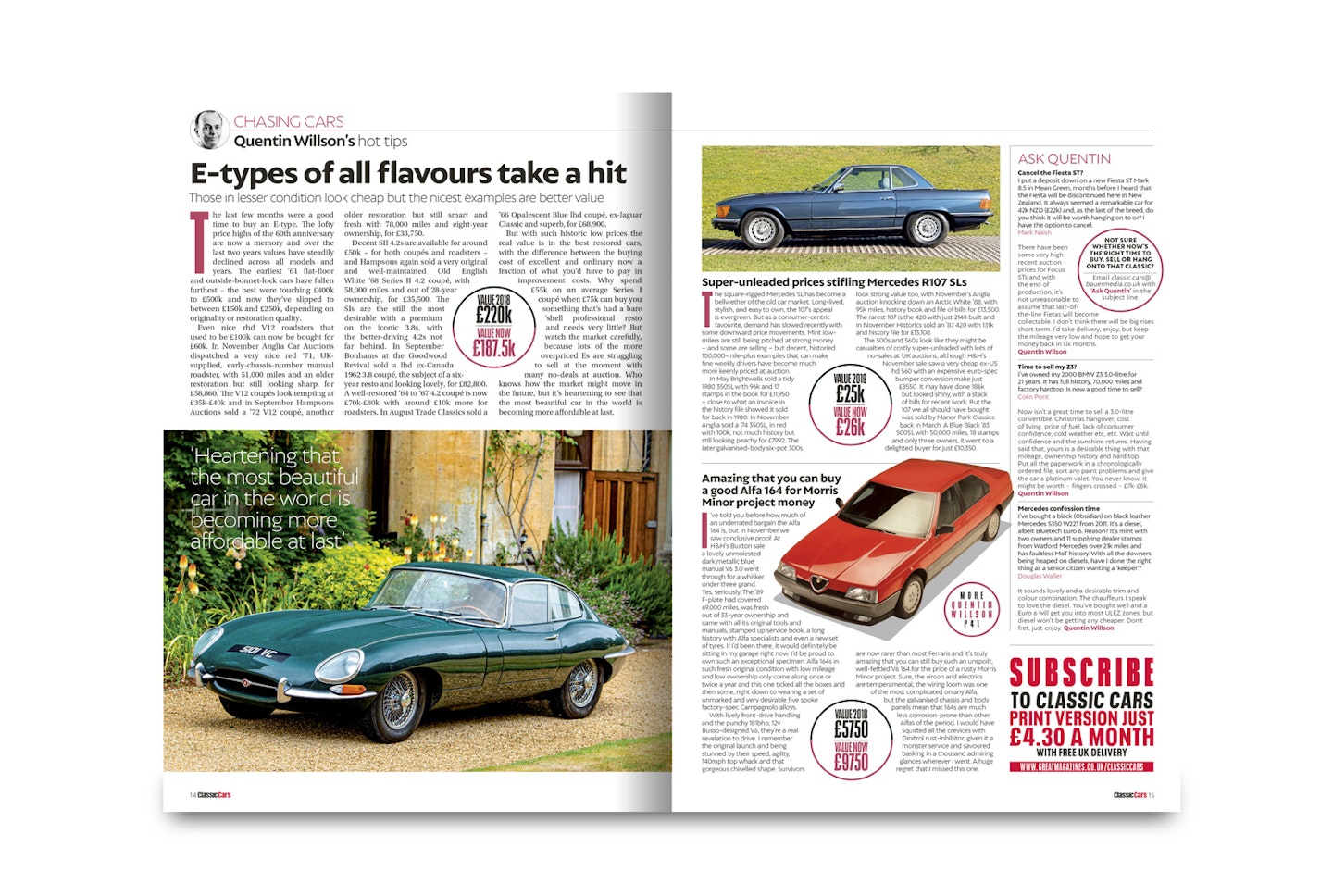 16 Russ Smith's Market Analysis Bora bargains, F40 fortunes and a Rover in a death spiral
18 Temptations Russ singles out a Ghia concept as his main flight of fantasy this month
20 Highlight A majestic Bugatti Atalante whose back-story deserves a Netflix mini-series
22 John Mayhead's Market Insights Every wondered where all the McLaren F1s live?
100 Buying Guide How to buy a fine MG RV8 without fear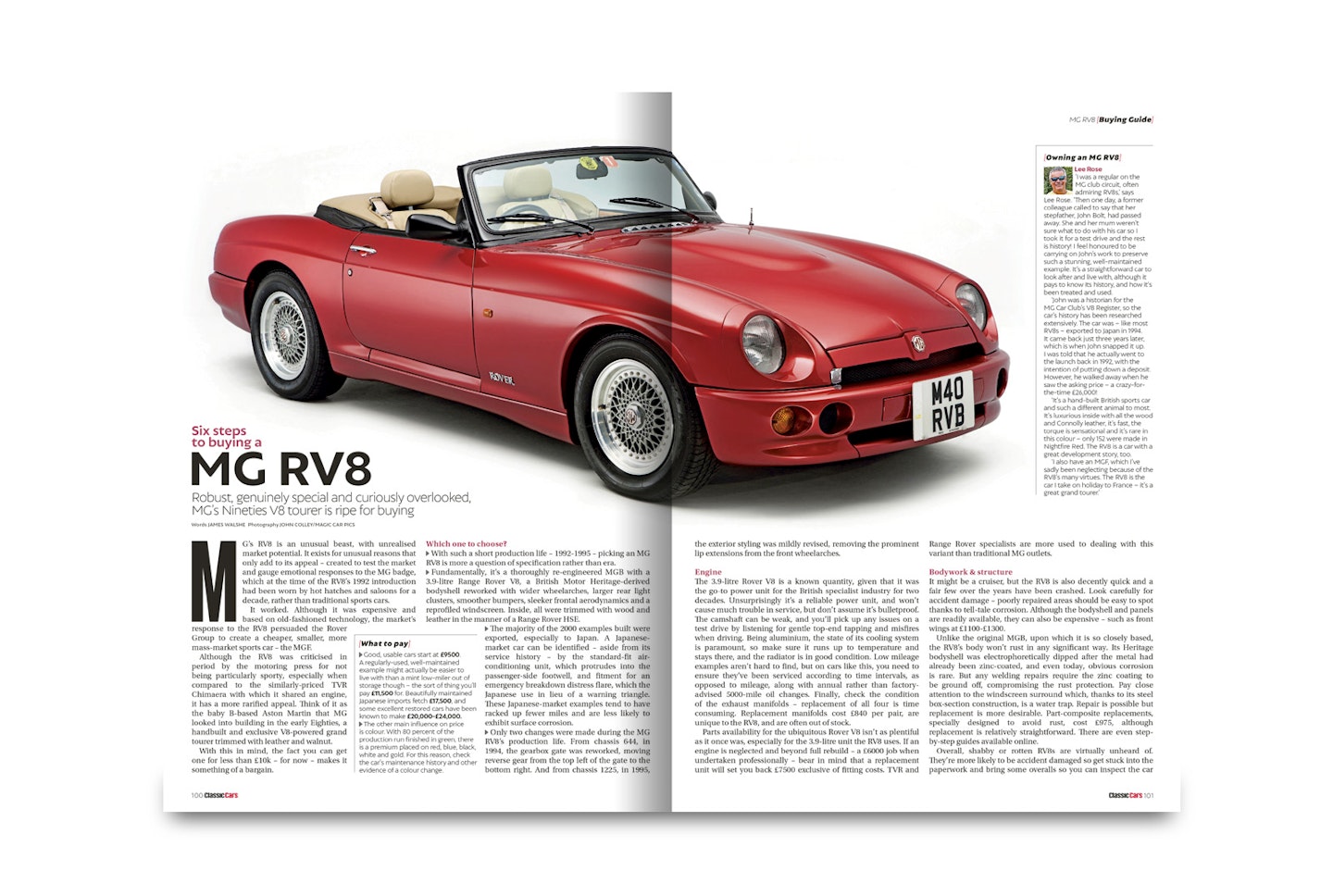 107 Books & Models A revealing insight into the rise and fall of Shelby American
117 Ads on Test We test a Mercedes 280SE 3.5(p117),BMW 840Ci Sport (p118), R-R Silver Cloud (p121) and**Ford Escort 1600Sport** (p122) – which will you choose?
152 List your car for sale, for free
The month in cars
24 NEC Classic Car Show A bumper load of show-stoppers flock to Birmingham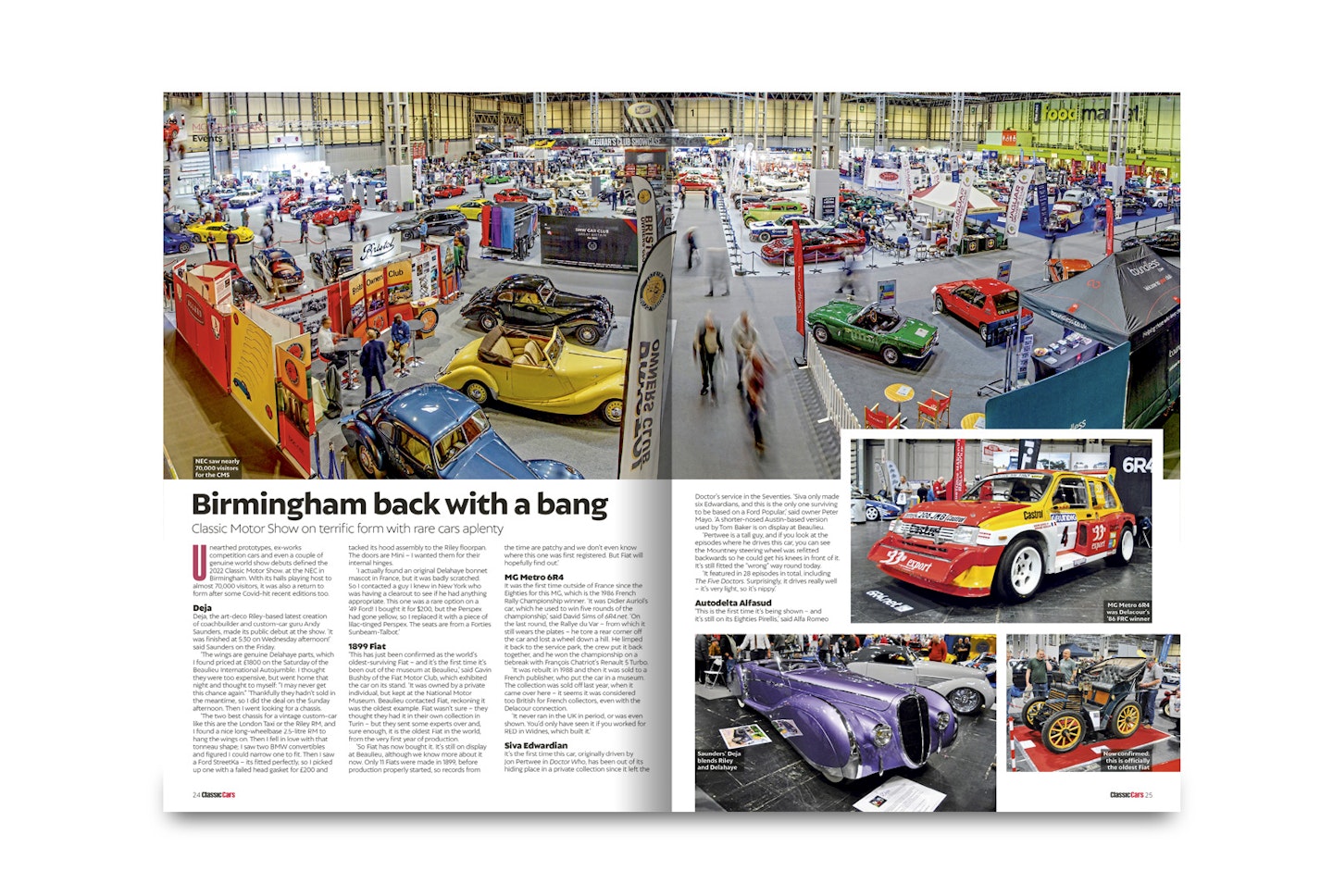 30 Rallye Prescott Rally extravaganza at historic hillclimb parties on into the night
32 Mauro Forghieri & Sue Baker RIP Motoring world loses engineer and journalist-presenter
32 Events Planner Dry January ahead? Find another way to be social: shows and scrambles
34 Barn Finds The curious tales and divergent fates of two forgotten TVRs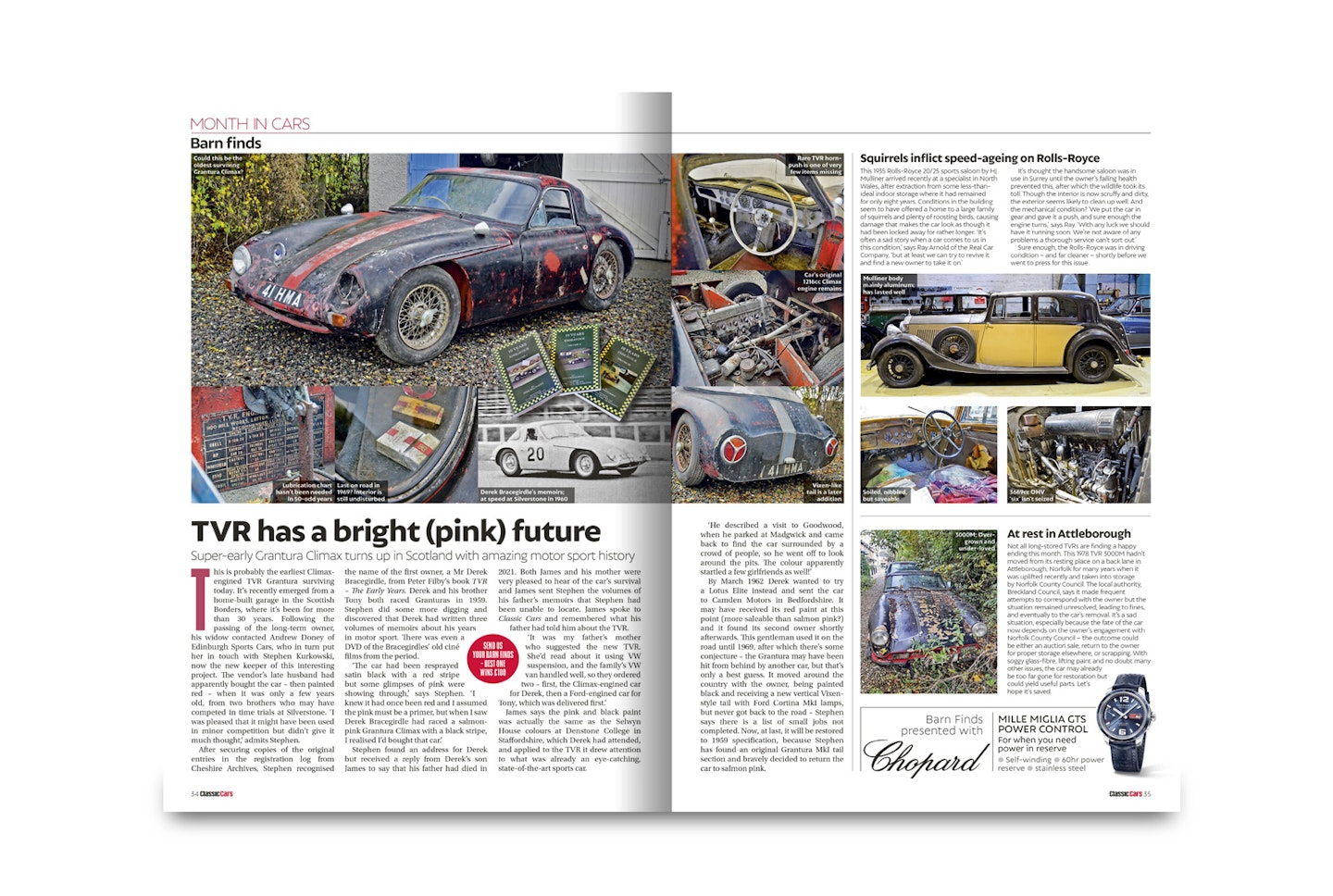 38 Next Month We celebrate the thrill of touring the UK by classic. Which route will you tackle?
39 Letters A reader with first-hand experience weighs in on the simmering ICE vs EV debate
41 Quentin Willson overhears a pub-tale that turns up an £800 Aston DB5 Vantage
43 John Fitzpatrick on the spanners thrown – literally – when Lola upset Porsche in IMSA
162 50 Years Ago Today CAR pins the future of the sports car genre on the Fiat X1/9
Become a Member today and you'll never miss an issue, PLUS you'll get access to Members-only content and rewards on the Classic Cars Member's app and website. Try our digital membership today for only 99p!