October Edition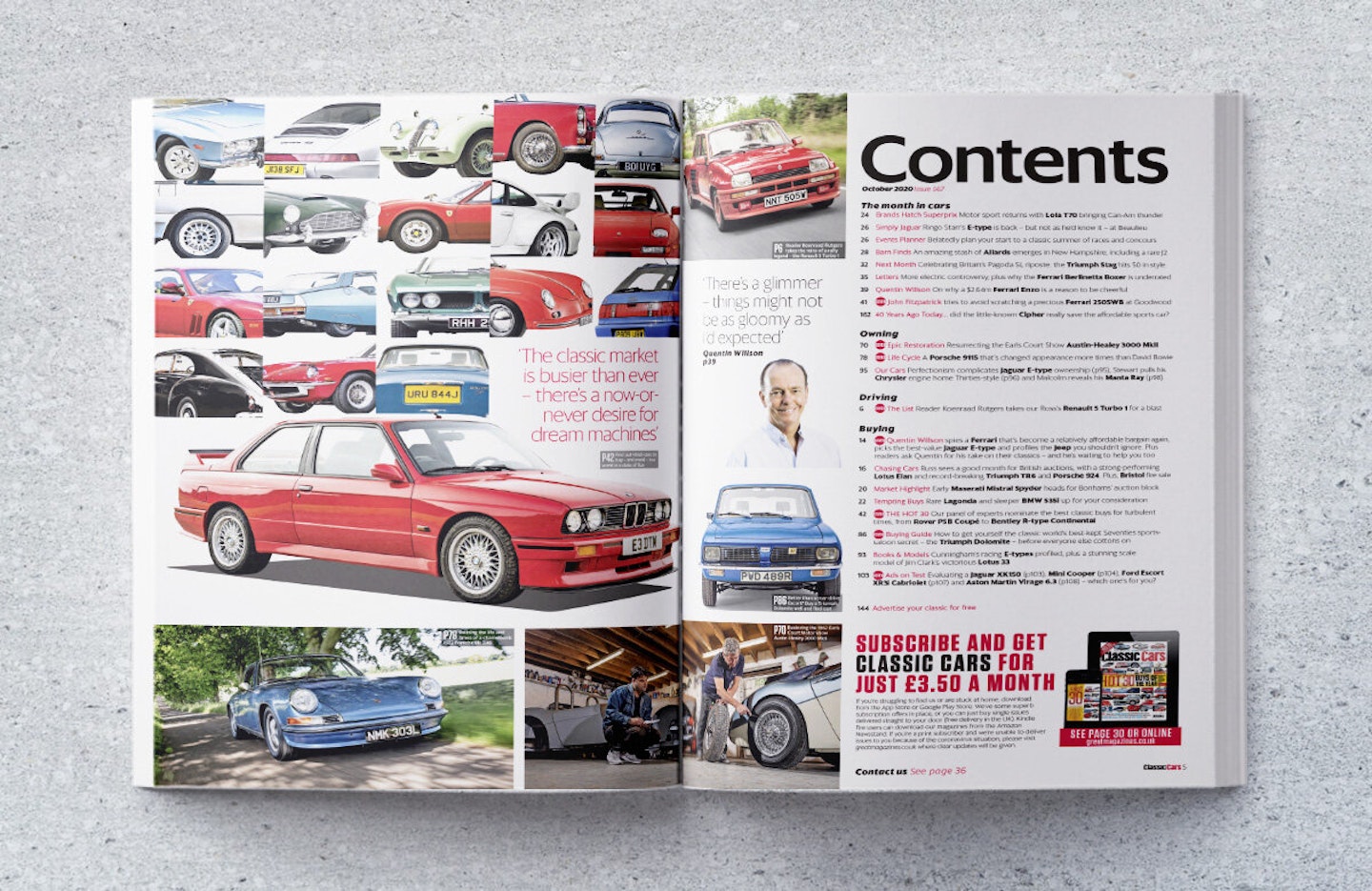 1 of 6
October Edition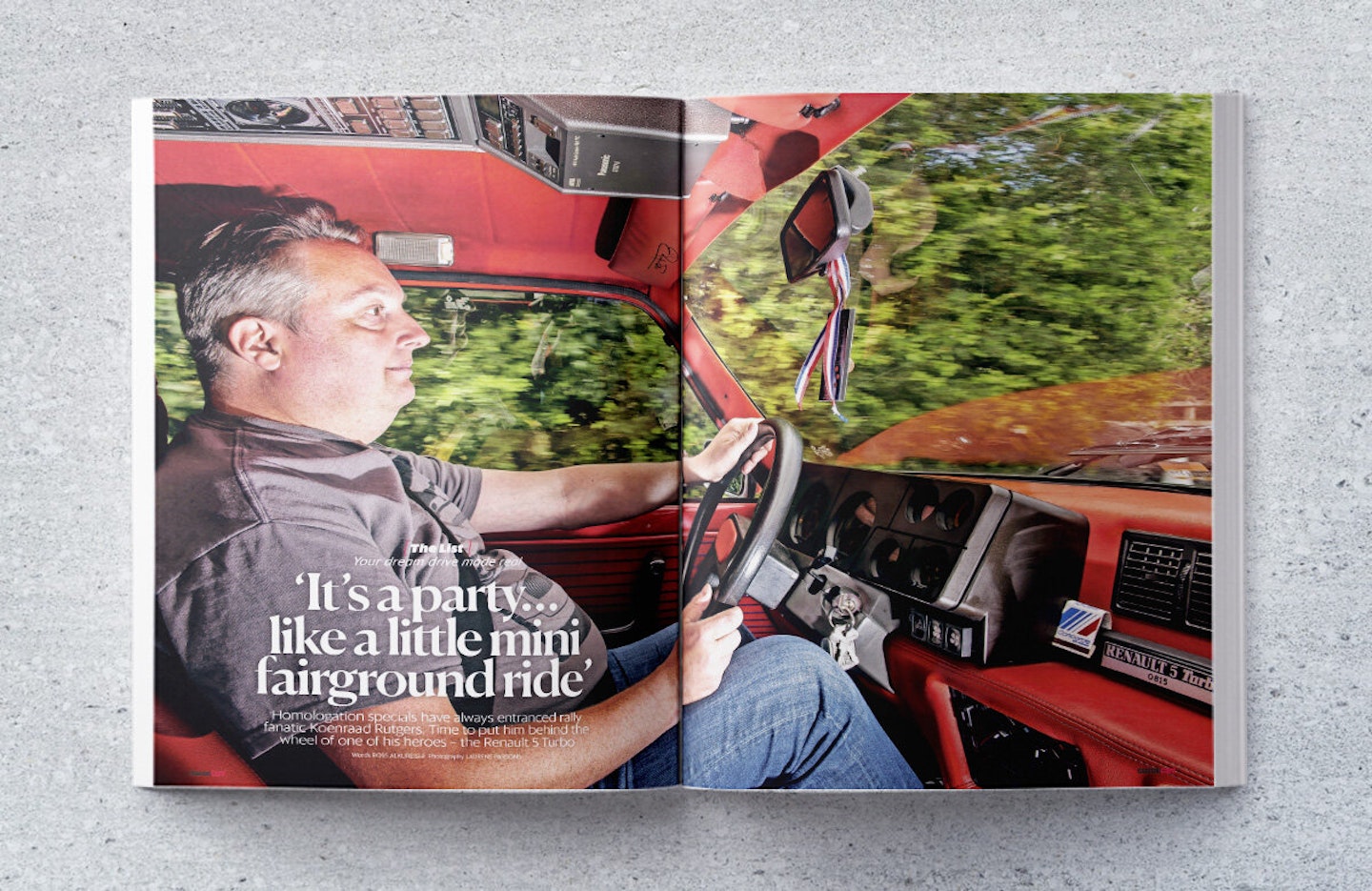 2 of 6
October Edition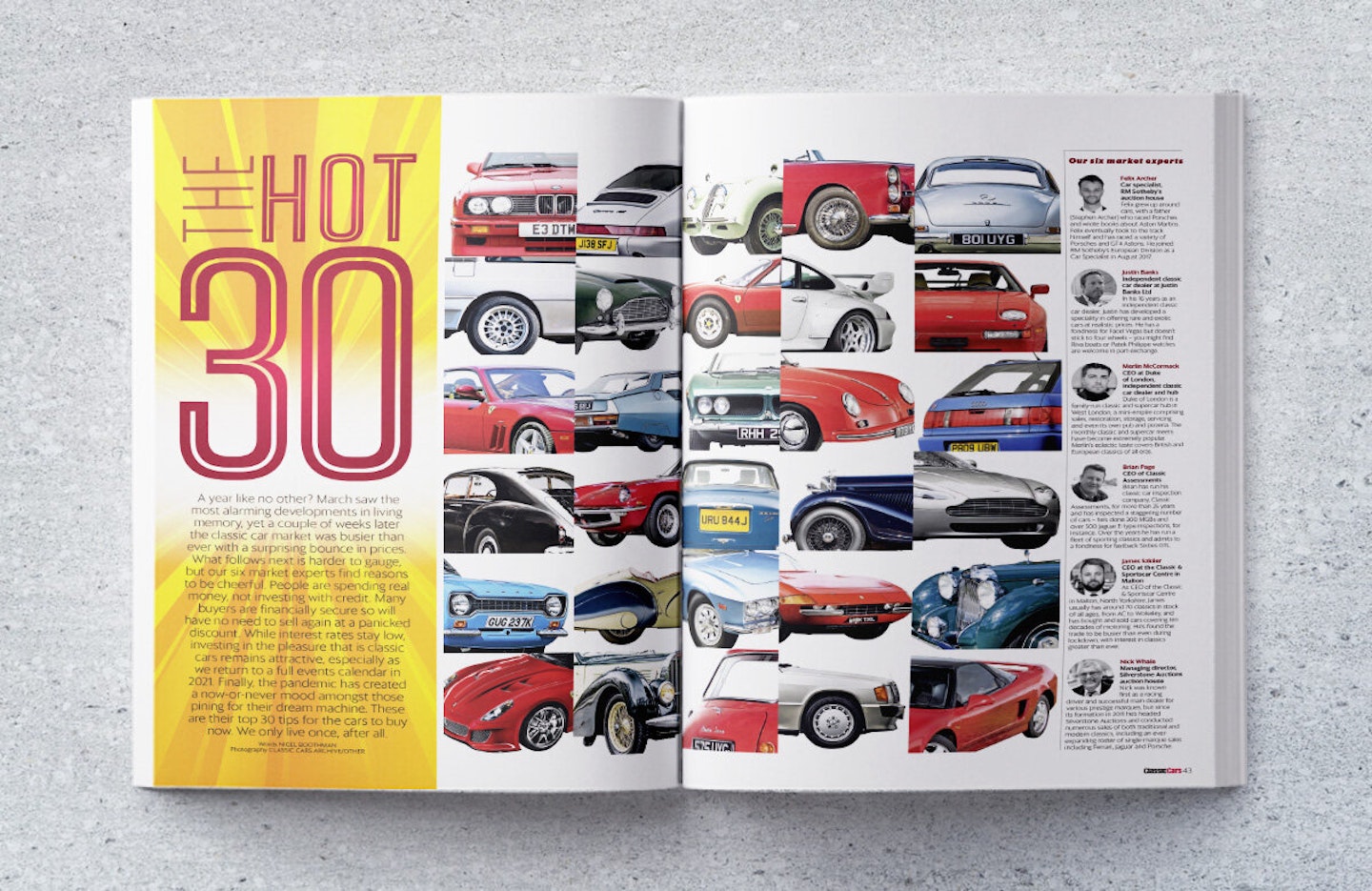 3 of 6
October Edition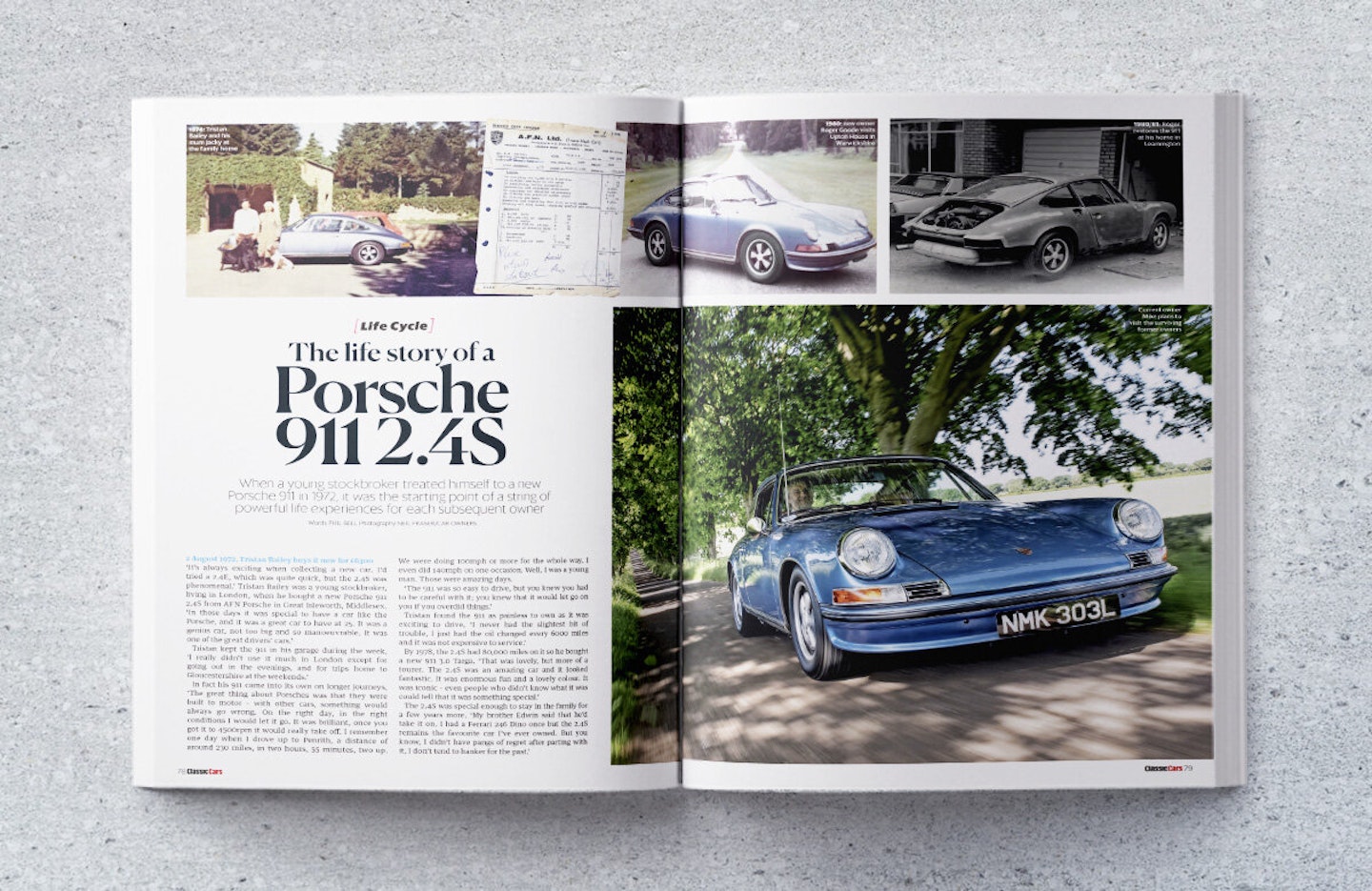 4 of 6
October Edition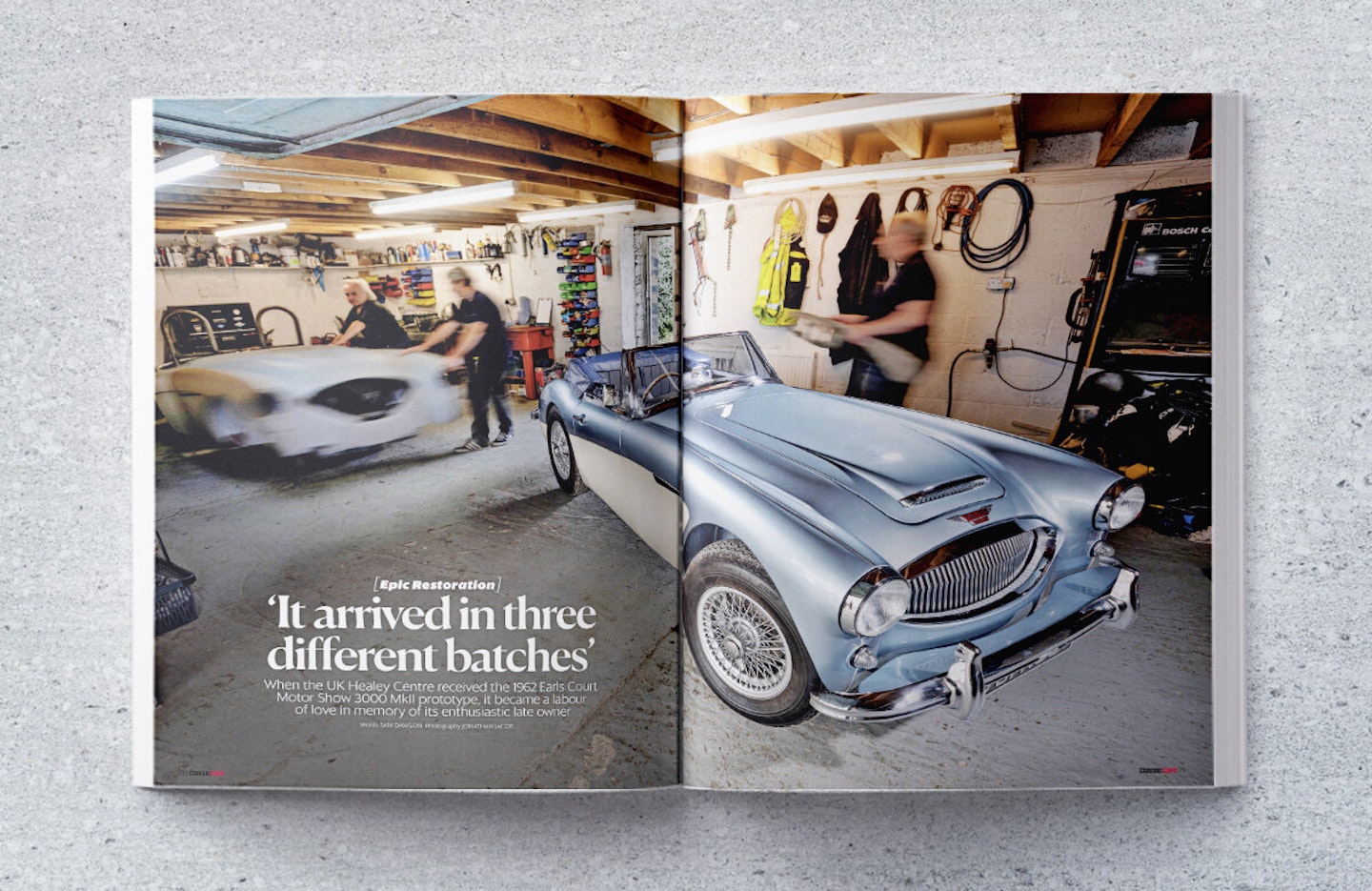 5 of 6
October Edition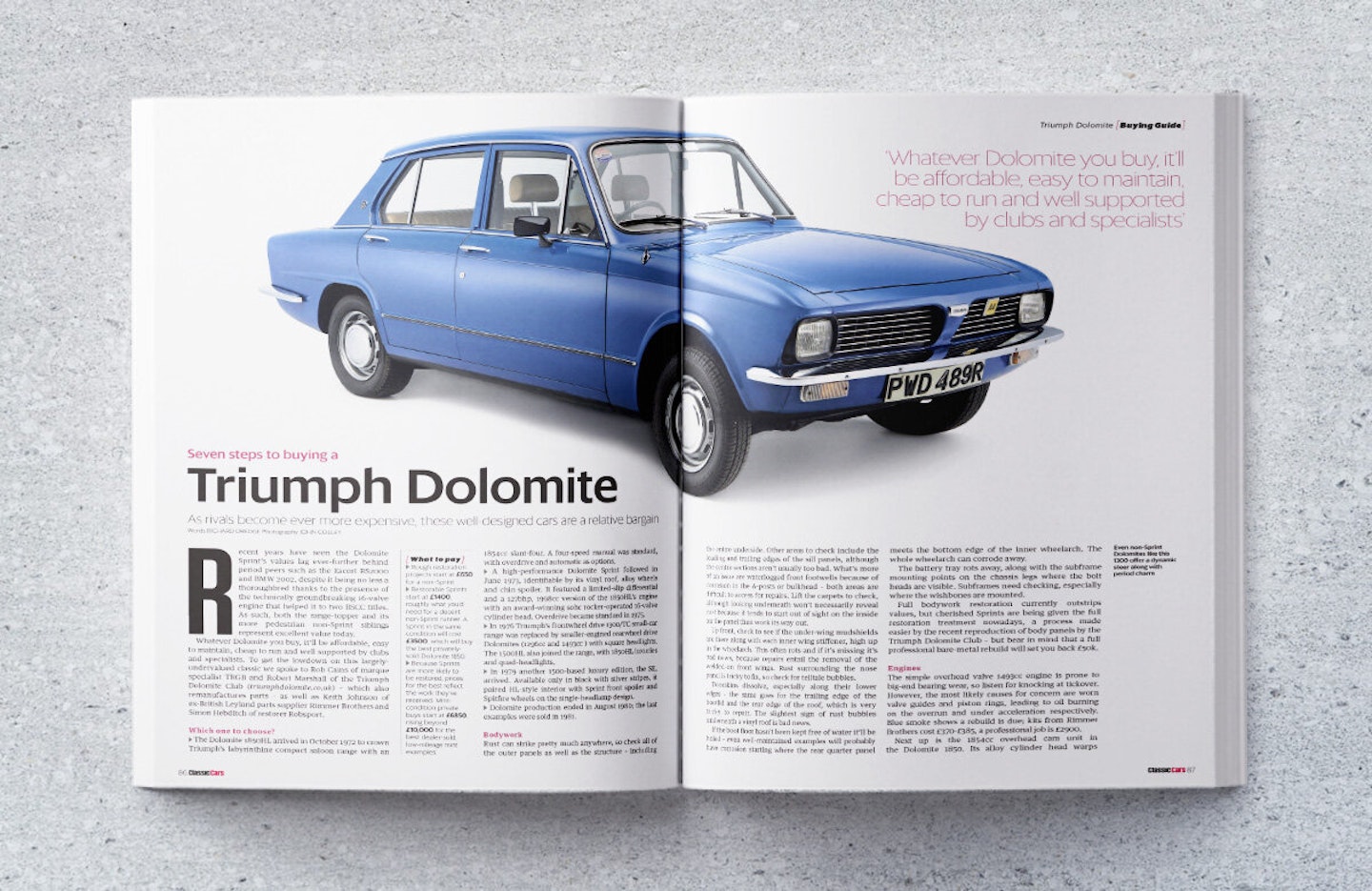 6 of 6
October Edition
FEATURES
p70 Epic Restoration. Resurrecting the Earls Court Show Austin-Healey 3000 MkII
p78 Life Cycle. A Porsche 911S that's changed appearance more times than David Bowie
p6 The List. Reader Koenraad Rutgers takes our Ross's Renault 5 Turbo 1 for a blast
BUYING
p14 Quentin Willson spies a Ferrari that's become a relatively affordable bargain again, picks the best-value Jaguar E-type and profiles the Jeep you shouldn't ignore. Plus readers ask Quentin for his take on their classics – and he's waiting to help you too
p16 Chasing Cars. Russ sees a good month for British auctions, with a strong-performing Lotus Elan and record-breaking Triumph TR6 and Porsche 924. Plus, Bristol fire sale
p20 Market Highlight. Early Maserati Mistral Spyder heads for Bonhams' auction block
p22 Tempting Buys. Rare Lagonda and sleeper BMW 535i up for your consideration
p42 THE HOT 30. Our panel of experts nominate the best classic buys for turbulent times, from Rover P5B Coupé to Bentley R-type Continental
p86 Buying Guide. How to get yourself the classic world's best-kept Seventies sports- saloon secret – the Triumph Dolomite – before everyone else cottons on
p93 Books & Models. Cunningham's racing E-types profiled, plus a stunning scale model of Jim Clark's victorious Lotus 33
p103 Ads on Test. Evaluating a Jaguar XK150 (p103), Mini Cooper (p104), Ford Escort XR3i Cabriolet (p107) and Aston Martin Virage 6.3 (p108) – which one's for you?
p144 Advertise your classic for free
COLUMNISTS
p24 Brands Hatch Superprix. Motor sport returns with Lola T70 bringing Can-Am thunder
p26 Simply Jaguar. Ringo Starr's E-type is back – but not as he'd know it – at Beaulieu
p26 Events Planner. Belatedly plan your start to a classic summer of races and concours
p28 Barn Finds. An amazing stash of Allards emerges in New Hampshire, including a rare J2
p32 Next Month. Celebrating Britain's Pagoda SL riposte: the Triumph Stag hits 50 in style
p35 Letters. More electric controversy, plus why the Ferrari Berlinetta Boxer is underrated
p95 Our Cars. Perfectionism complicates Jaguar E-type ownership (p95), Stewart pulls his Chrysler engine home Thirties-style (p96) and Malcolm reveals his Manta Ray (p98)
p162 40 Years Ago Today... did the little-known Cipher really save the affordable sports car?
THE MONTH IN CARS
p39 Quentin Willson on why a $2.64m Ferrari Enzo is a reason to be cheerful
p41 John Fitzpatrick tries to avoid scratching a precious Ferrari 250SWB at Goodwood