Preview the latest issue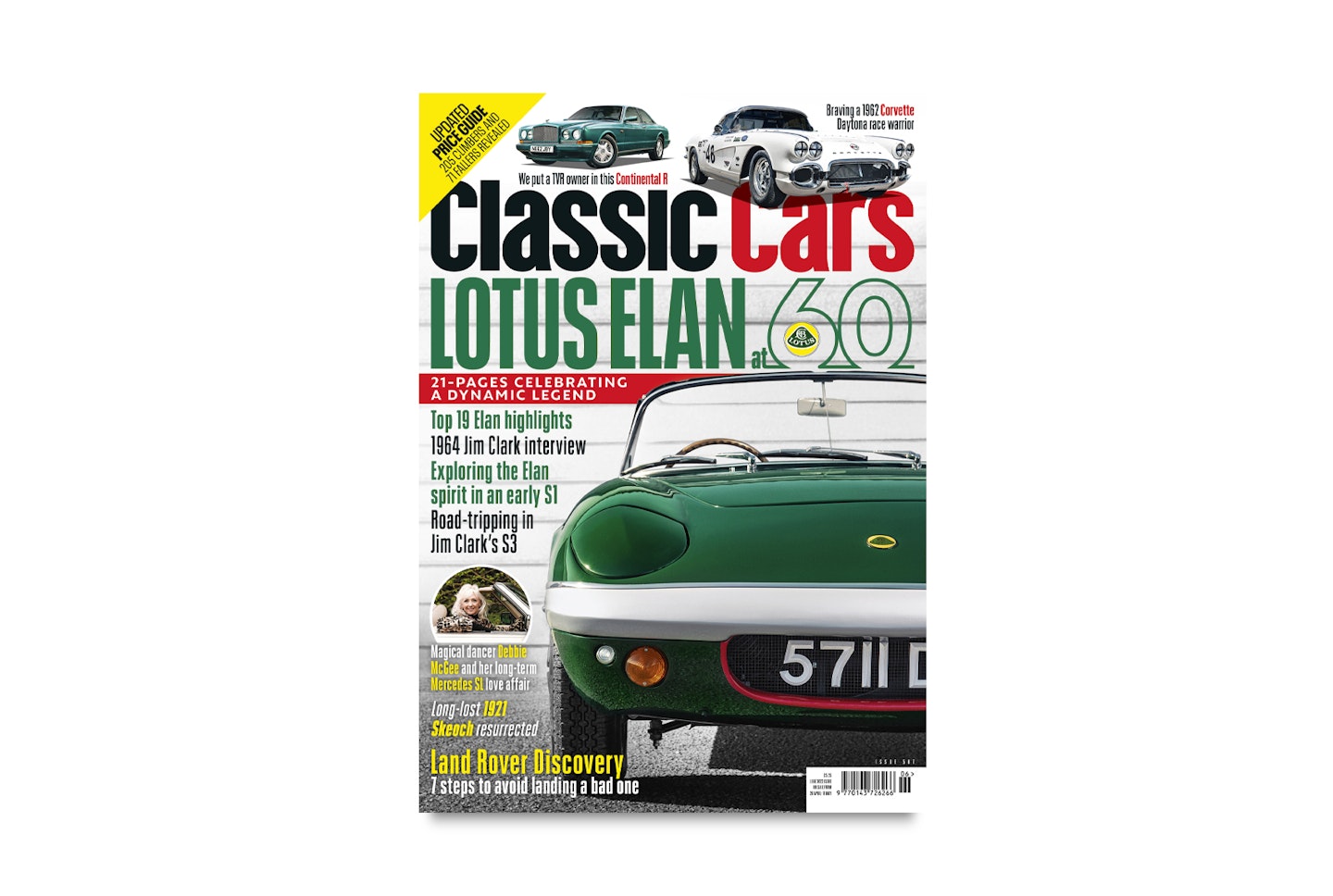 Special Section – Lotus Elan at 60
p42        LOTUS ELAN 60TH A six-decade retrospective on Britain's most important sports car
p46        FIT FOR CHAMPION Touring the Scottish Borders in Jim Clark's Lotus Elan S3 Coupé
p54        JIM CLARK INTERVIEW In 1964, Clark talked about his Radford Elan - and your driving
p56        LIGHT HEAVYWEIGHT Reflecting on the Elan years en route to Thruxton in a special S1 1600
Owning
p72        EPIC RESTORATION Could intrepid Scotsmen in sheds resurrect the enigmatic Skeoch?
p80        DEBBIE MCGEE on 23 years living with her much-loved Mercedes-Benz 300SL R107
p95        OUR CARS Richard Mason's Mercedes-Benz 560SEC is introduced (p95), Nigel treats his Alvis like a skip (p96), and Andrew restores his BMW M3's voice (p98)
Driving
p6          THE LIST Will raw sports car fan Peter Rogers warm to Bentley Continental R charms?
p64        GOOD OL' BOYS Thundering around Goodwood in a Corvette that saw NASCAR stars take on Europe's best
Buying
p14        QUENTIN WILLSON It's a good time to indulge in the undervalued Rolls-Royce Silver Spirit
p16        CHASING CARS Russ reports on buoyant Eighties hot hatches and a Triumph TR5 auction battle
p20        MARKET HIGHLIGHTS Star Ferraris: an actress's Dino 246GTS and a racer's 275GTS up for sale
p86        BUYING GUIDE The Land Rover Discovery is perfect if you've missed the Range Rover boat
p93        BOOKS &MODELS A landmark Lamborghini work and the only cheap way into a McLaren F1
p103      ADS ON TEST Porsche 911 (p103), Morris Minor (p104), BMW 501 (p107) & Land Rover S1 (p108)
p154      PRICE GUIDE QUARTERLY Update Q1 2022 has seen 201 high-fliers and 75 hard-fallers
The month in cars
p24        RETROMOBILE McLaren F1s star as spectacular French show returns in force to Paris
p27        PRACTICAL CLASSICS RESTORATION SHOW Mysterious Jaguars return at Birmingham's NEC
p28        OBITUARIES Remembering 'Quick Vic' Elford, tuning guru Basil Wales and Lotus' Martin Colvill
p30        EVENTS PLANNER With show season in full swing, it's time to head to the hills with Bugatti
p32        BARN FINDS Stunning Thirties Lagonda Three Litre emerges from hiding in Derbyshire
p36        NEXT MONTH Classic giant-killers, rally man Bill Price speaks, Aston Martin prototype tested
p37        LETTERS Owning another of Tony Vandervell's Bentleys, and some alternative investments
p39        QUENTIN WILLSON talks you into an unlikely classic bargain: the Land Rover Freelander
p41        JOHN FITZPATRICK on racing slippery Porsches for mystery money man Georg Loos
p162      30 YEARS AGO TODAY CAR contemplated controversy: had Porsche been undone by Mazda?