The Peugeot 205 GTi has rocketed out of bangerdom to become one of the barometers of the modern-classic market, with the very best making £25,000 at auction and speculators eying survivors hungrily. However, not every 205 GTi is worth mega-money, despite what sellers might say, so you need to buy with caution. For guidance in finding a good- value GTi, we enlisted the help of Matt Jobling, co-founder of Pug1Off (pug1off.com), which has restored 205 GTis for 12 years, Peter Annells of the Bourne Citroën Centre (bourne-citroen-centre.co.uk), which despite its name specialises in all classics of the PSA Group, and Dave Fowler, owner of Classic Peugeot Spares (classicpeugeotspares.co.uk).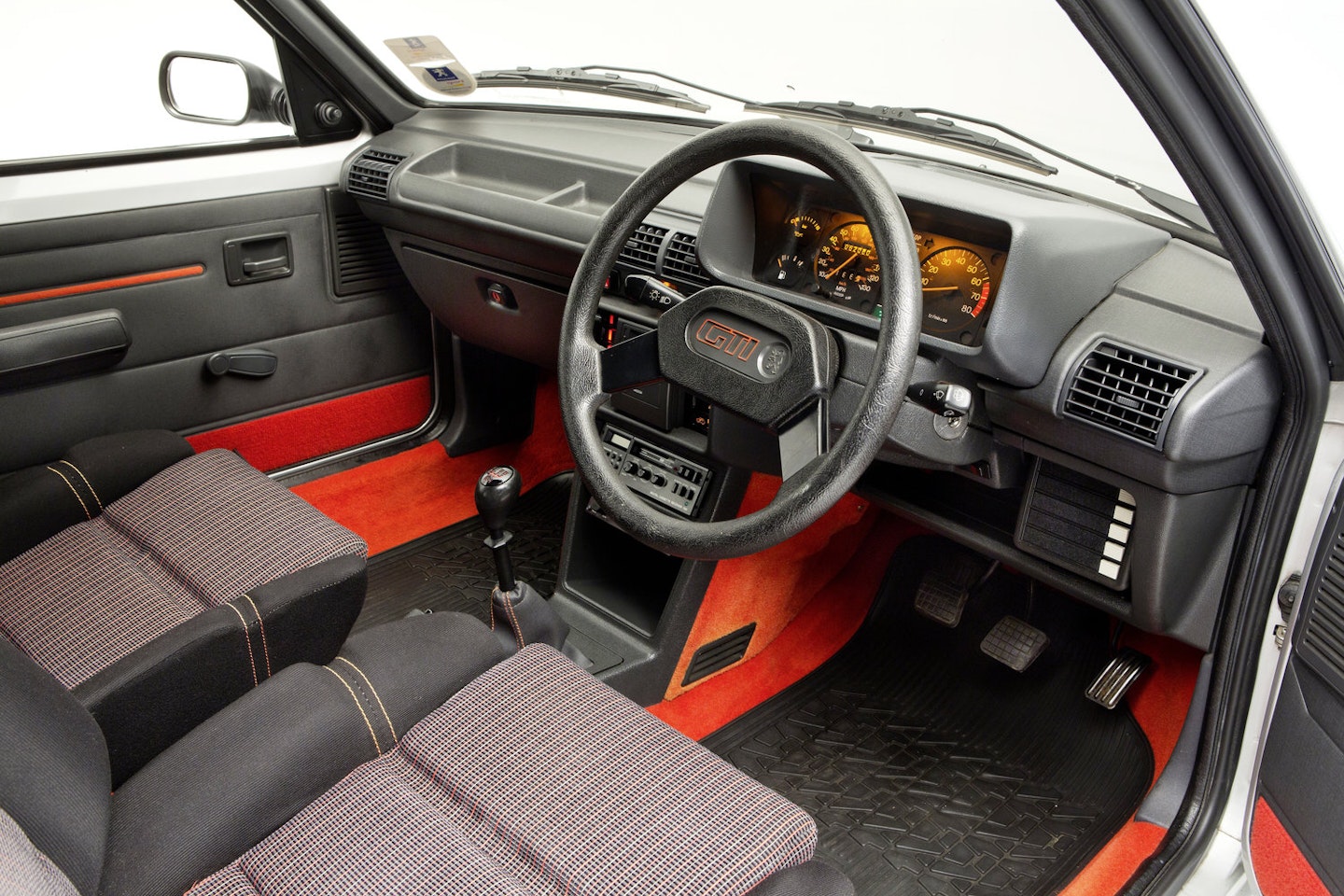 Which one to choose?
205 GTi 1.6 Phase 1
The original 1984 105bhp GTi with two-spoke steering wheel, red and black 'Biarritz' velour bucket seats, 14-inch pepperpot alloy wheels and a chunky body-coloured front valance incorporating a pair of foglights. Revisions for 1988's 'Phase 1.5' included optional power steering assistance, a revised smooth-edged dash with rotary heating controls, and tweed-trimmed 'Monaco' seats. Peugeot's BE-1 gearbox was superseded by the BE-3 in August 1989, with reverse repositioned to be opposite fifth.
205 GTi 1.6 Phase 2
September 1990 update is recognisable by clear indicator-lamp lenses and smoked rear light clusters, black dashboard plastics and black bumpers. Antilock braking system optional. Production ended in September 1992.
205 GTi 1.9
December 1986: 130bhp 1.9 resembled the 1.6, albeit with nine-hole 15-inch Speedline alloys and with rear discs, rather than drum brakes. October 1992 catalyst legislation reduced power to 122bhp.
205 CTi
Pininfarina-designed convertible version joined the range in June 1986, initially in 1.6-litre form only. Its development followed the 1.6 GTi, although the engine fell foul of emissions legislation in October 1992 and was replaced by the catalysed 1.9.
205 GTi Automatic/Gentry
Initially a cancelled order for the Japanese market, the 1992 Automatic was a 1.6 GTi with a catalysed 1.9-litre engine and a four-speed torque-converter gearbox. All had air conditioning. It was superseded by the Gentry, laden with leather trim and electric options. Discontinued at the end of 1993.
Limited editions
'Miami Blue' and 'Sorrento Green' specials were available in 1990, as was the Laser Green 'Griffe' with its grey trim and black-centred Speedline alloys. Rarest of all was the 25-example 'Radio 1FM' of 1992, celebrating the BBC radio station's quarter-century with black paint, black wheels and a Clarion stereo with CD autochanger.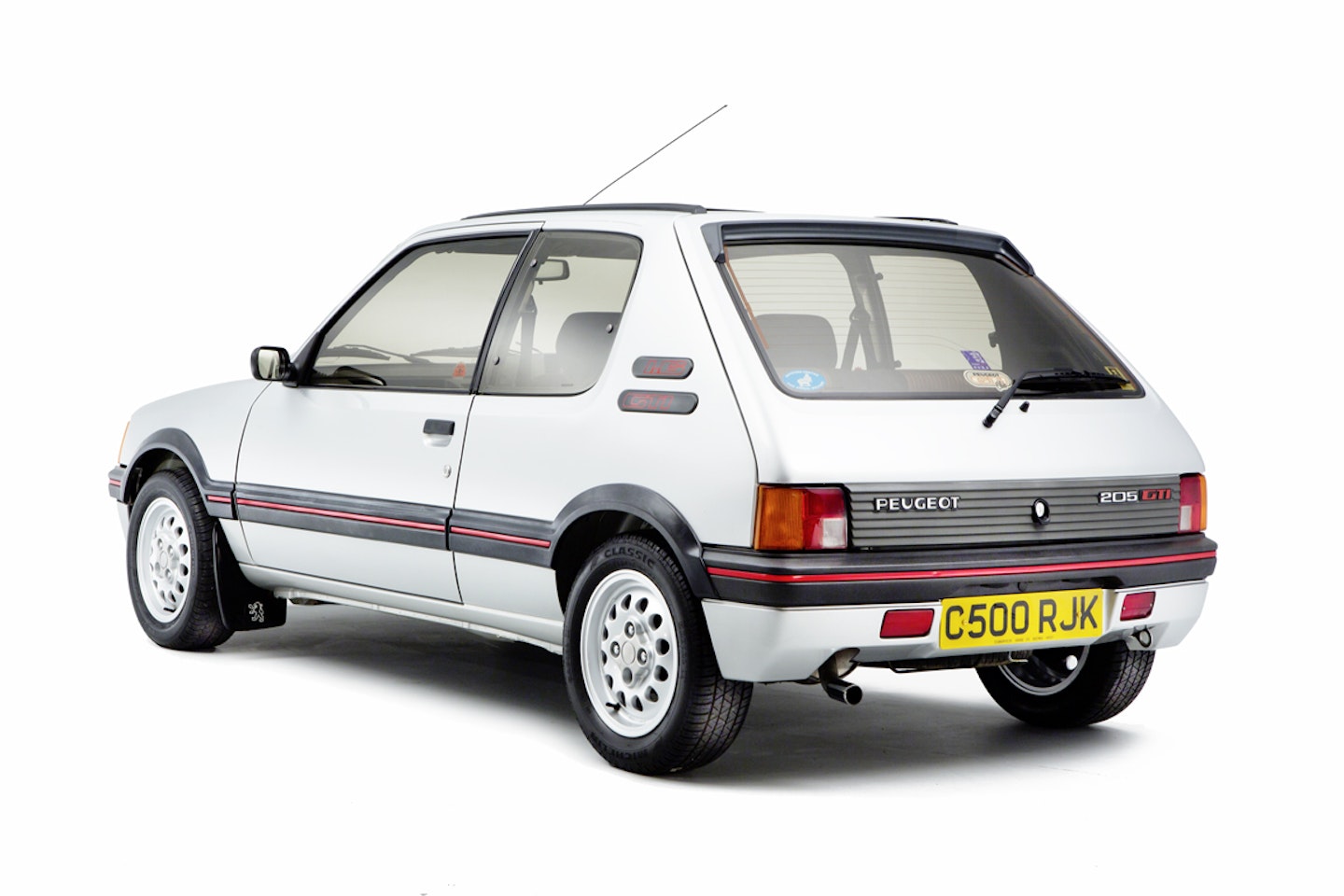 Bodywork & structure
All 205 GTis were galvanised and resist rust well, but check for bubbling paint in the quarter-panel in front of the rear wheelarch – water gets into this area after the rear suspension bump-stops fall out. If rust runs into the sills the repair can cost between £200 and £1000.
Corrosion can spread unseen along seams and spot welds in the engine bay – look behind the jack and screenwash bottle. A £100 bodge will get it through an MoT test, but proper restorative work will be more like £400. A rusty headlight panel is rare, but a sign of frontal crash damage.
Bad jacking on what looks like, but isn't, a jacking point just behind the front wheelarch can cause a chip and create rust, leading to localised sill rot, as can use of the wrong jack. No factory spares are available, meaning you'll have to buy £35 Euro Car Parts sills and get them tailored to fit. Exhaust heat can crack seam-sealer in the bulkhead, and leaking brake fluid under the servo can eat through rustproofing near the accelerator pedal. Caught early, it'll cost £100-500.
The most common place a 205 GTi rusts is on the floorpan in front of the fuel tank where the brake pipes run. Rectifying this requires the tank to be removed before welding can start, resulting in a £500 bill. The tank also needs to come out if leaking rear three-quarter window seals have left rust holes either side of the rear bench seat.
See if the rear bumper moves when you pull on it – it's a sign the mounts have corroded and rust may be creeping up the rear quarter-panels. It's worst on cars with sunroofs because they drain into this area.
A full 205 GTi restoration can cost £20k-£30k, of which £10,000 will be for respraying and external cosmetics and seals, given their scarcity.
Suspension
Rear radius arm bearings are prone to failure, causing excessive play in the rear axle, or seizure if it's little-used. Get the car on a level surface and check the camber – the wheels should be 90° to the road. Any negative camber is the sign of an impending £500 job, plus a further £120 if the rear axle tube has been damaged. Jack the car up and check to see if the axle swings away from the boot floor – this points to the failure of rubber mounts costing £12 each.
Not replacing front suspension bushes regularly will lead to a need for new wishbones – listen for clonks and check for vagueness while cornering. Replacement is a £250 job. Worn drop links and strut top mounts clattering on uneven surfaces won't result in MoT test failure but will ruin the ride.
Engine
The 1.9-litre engine is a stroked version of the 1.6, so it tends to suffer the same problems. The engine has no cam seal and can leak oul into the adjacent distributor, a problem solved by a 60p O-ring. An oil drip between engine and gearbox while the engine's running is a sign of rear main oil seal failure. Replacement is a £500 job.
Peugeot's use of an adjustable airflow meter (AFM) results in modified cars with a high idle. For £135 Pug1Off will return a car to its factory settings using a lambda sensor. Jerky acceleration can be ironed out – it's down to the Bosch K-Jetronic injection system using a switch rather than a throttle position sensor.
Check for coolant leaks. Using the wrong coolant can lead to the thin aluminium engine block cracking, resulting in a £2000-£3000 engine rebuild – it needs a 50:50 antifreeze mix. The 1.9 has its own particular foible – the rear left-hand-side cylinder head locating bolt has an extra spacer to help it clear the water pump. If it's missing, it could lead to a cracked block and pump housing.
If there's blue haze from the exhaust once the engine's up to temperature, it's a sign of hardened valve stem oil seals and valve guide wear – a cylinder head rebuild will cost £1000. Cambelts should be changed every 72,000 miles or five years.
Gearbox All types are tough, but worn synchromeshes allow a crunch into second and third. At £200 per synchro ring, fixing a gearbox will cost £700.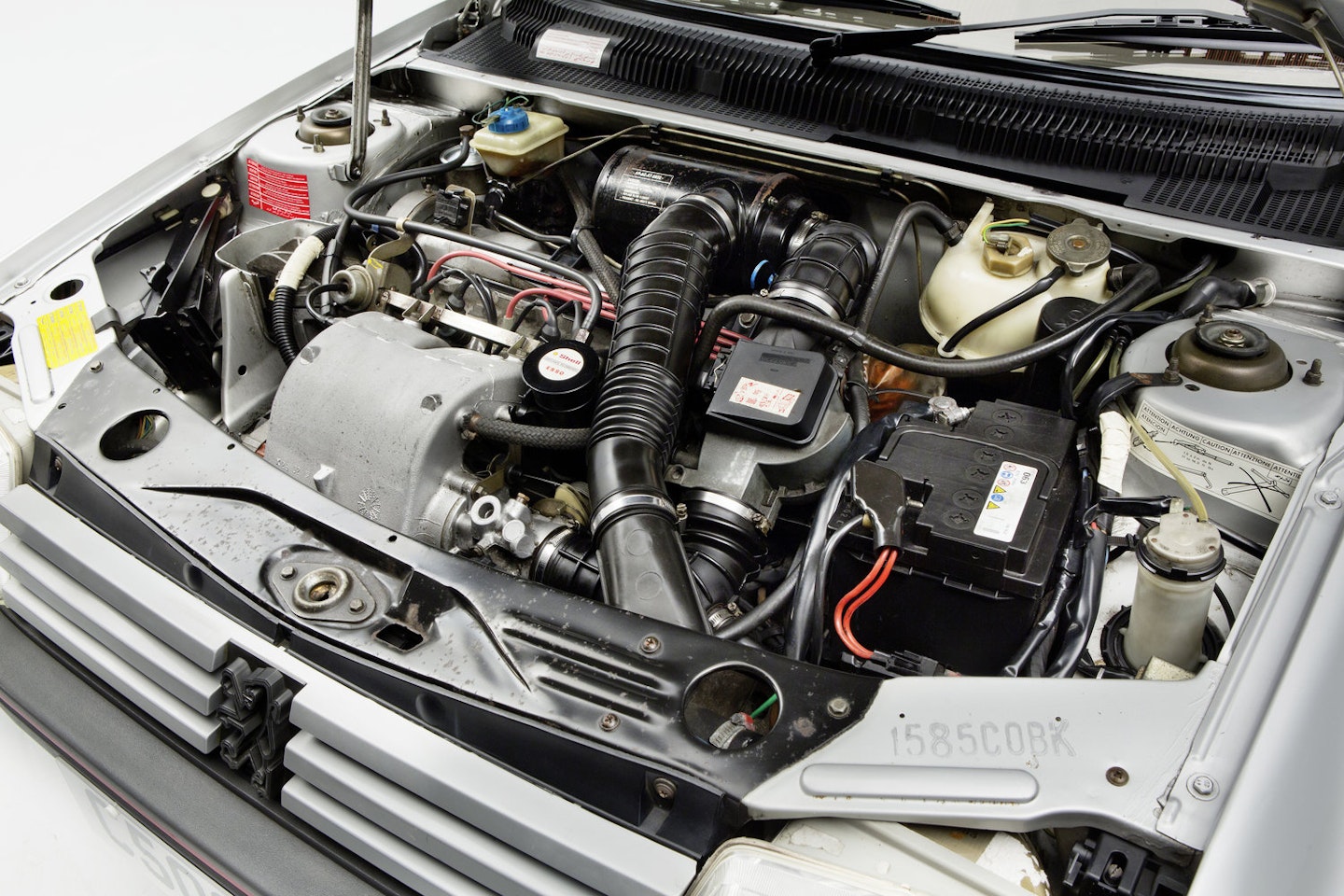 Interior trim
Trim is scarce, so much of it needs sourcing from breakers, and Dave Hickman in Rugby (205gticovers.com) can supply new fabric. Seat frames have been known to break their welds, so give them a shake to check for instability. Broken gearknobs cost £20 to replace. A full interior comes to about £400.
Electrics
Central locking rarely works, so disconnect it and lock the car conventionally. Inoperative instruments and heaters stuck on full blast are the sign of corroded circuit boards –cleaning will cost £10-£15, but any electric components are typically £100 each.
Wheels
All 1.6s originally had pepperpot-pattern alloy wheels, but two different types of nine-hole wheel were used on 1.9s. The Speedline and SMR wheels look identical, but the SMRs are a kilogram heavier than the Speedlines - manufacturers' names are stamped on the inside of the spokes. Refurbishment is £70 per wheel.
Sunroof/hood
Original sunroofs use sliding plastic rails, and should hiss when the handle is turned – it has a vacuum-sealing accumulator. Stripdown and rebuild is £60-70, running to £300 if the mechanism is broken. The CTi is the bargain of the range because of the sheer cost of hood replacement at £1500 including irons and seals. And it leaks, promoting rust in all the usual areas.
Owning a Peugeot 205 GTi
Sam Hill, Alfreton, Derbyshire
Sam owns the car in our photographs. 'I'm not actually a traditional classic car person,' says Sam. 'This car belonged to a neighbour of mine, and I used to admire it parked on his drive when I was growing up. It was just a really nice GTi, and eventually I persuaded him
to sell it to me for £4000.
'It needed another £1000 spent on it, but it was fundamentally sound. I mostly do my own routine maintenance work on it, including timing belt changes. However, it had been very well looked-after. He even had a separate set of alloy wheels for it to use in winter, so the originals didn't deteriorate.
'I joined Club Peugeot to get hold of some spare parts, and ended up taking it to a show, where it attracted a lot of attention. 205 GTi experts swarmed all over it, pointing out things like the lack of side-repeater indicators, various Talbot-branded plastic parts in the engine bay and the unusual colour. Turns out it's one of the earliest examples in the country and worth a lot more than I thought. I'll be looking after it very carefully, but I don't want to sell it – I've wanted this very car ever since my neighbour first bought it.'
Rob King, Utrecht, Netherlands
'I bought my first 205 GTi 21 years ago, and have owned 15 without a break since,' says Netherlands-based Brit Rob. 'I've had one – a 1FM special edition – for 11 years.
Interestingly I bought that one when prices were bottoming out and I ran it as a cheap second car for a while, but now it's probably worth ten times what I paid for it. Same goes for my Griffe – it's the only right-hand drive one made, although it needs restoring because it's been in the wilderness for a while. I've also got one of 30 'Classic' limited edition models from Australia, the last 205 GTis built.
'Rear suspension is prone to seizing and requiring expensive, fiddly rebuilds. French cars are maligned for bad electrics but 205 GTis don't suffer too badly – more often than not it's just old wiring that needs to be replaced.
'The cars should be monitored for overheating past 100,000 miles because head gasket failure is common when they get old. It's a straightforward fix if it's caught in time, but with the engine block being alloy and the locating bolts steel, they can seize and snap during gasket replacement and you'll end up needing a new block and a full and expensive engine rebuild.
'Mechanical parts aren't difficult to come by, but trim is – one of the problems with running Peugeot 205 GTis is that they were never sufficiently unloved to be broken for spares on a large scale.'
Alan Paramore, Somerset
Rally driver Alan used to campaign Peugeots before buying his own 205 GTi. 'I soon learnt you had to watch out for the wayward back end,' he says. 'They need high-quality dampers.
'When I was rallying for Charter Sport they lent me their 175bhp-tuned Cheetah 205 GTi as a road car, and I fell in love with it. After driving a 206 for Peugeot Sport and winning the Formula 1600 class, I smelt the coffee and figured the 205 GTi would be the next Mini Cooper S so far as classics were concerned. In 2004 I found a perfect 1.9 for £850!
'I've just sorted out the rear axle bearings and kept it polished. Peugeot borrowed it for publicity duties when it launched the 208 GTi. Parts availability isn't bad via the clubs so long as they have a link to l'Adventure Peugeot in Sochaux.'