Price £220,000
Say hello to Minky. So-called within Aston Martin circles because of its numberplate, this wide-arched Virage is the original development car for the 6.3-litre Aston Martin Works Service conversions that came before the Vantages of the mid-Nineties.
Its broad-shouldered shape graced the covers of most car magazines of the era, and it still looks box-fresh today. We could only find a couple of minor stonechips on the nose plus some tiny bubbling – an area about the size of a 20 pence piece – under the paint on the aluminium flanks near to the driver's side door.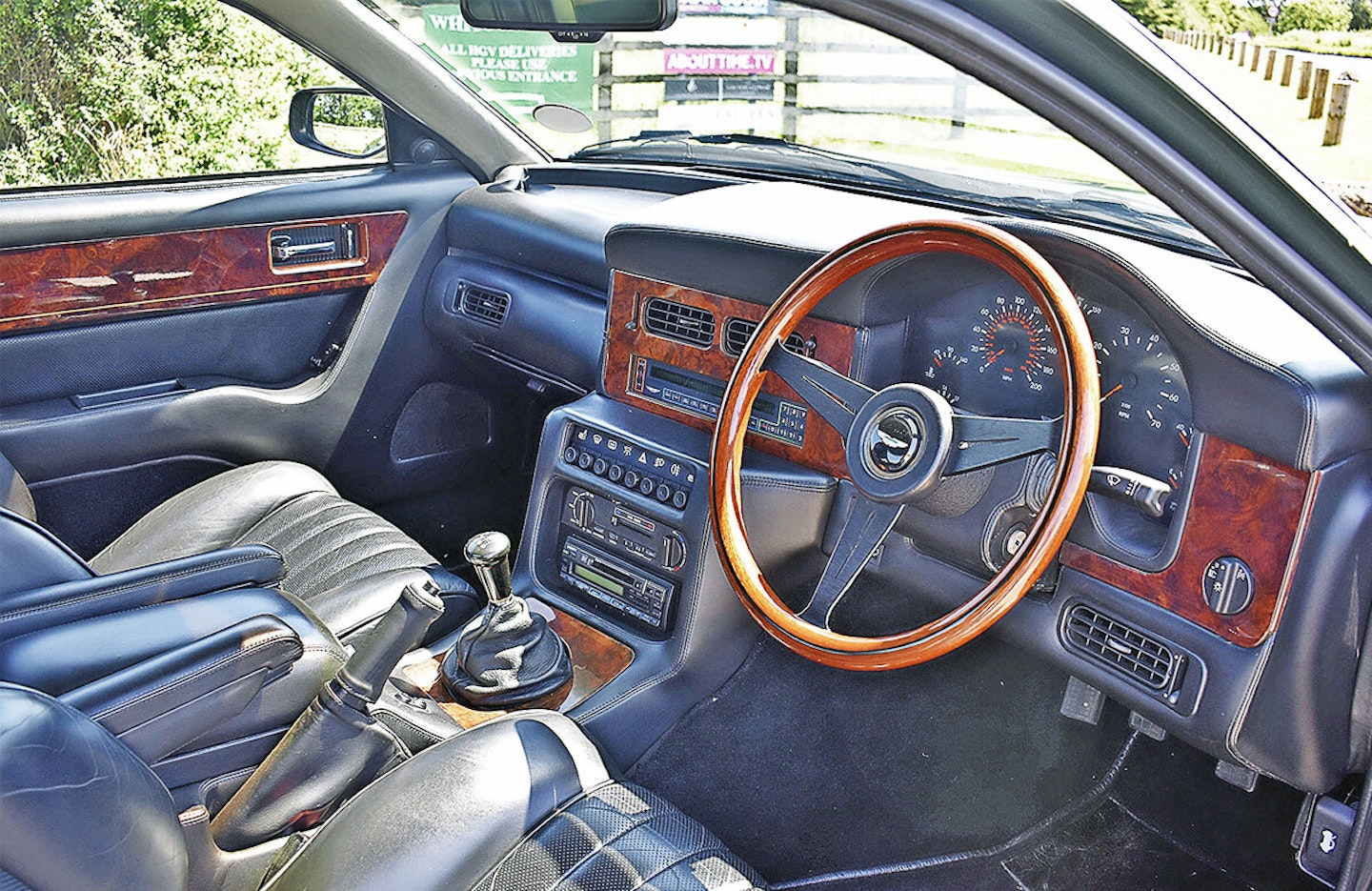 The enormously wide 10.5x18in OZ split rim wheels are in good condition, but could do with some polishing to remove misting. Most importantly, there are no chips or scrapes. Each wheel is encircled with Goodyear Eagle GS-Ds that have plenty of tread remaining.
The inside is in excellent condition too, with the LCD display not showing any dead pixels and the air conditioning working perfectly. The seat leather is in good nick too, though the driver's seat bolster has been repaired; you'd have to look extremely closely to notice this. You can't fail to notice the Sony TV system in the rear console, however.
The upgrades that this development car pioneered were available independently with a number of options. This car has a limited-slip differential, plus rose-jointed rear suspension. It also has a servo on the clutch (apparently it was too heavy without one, according to vendor Keith Riddington, who worked for Aston Martin when the car was built), and AP Racing brakes; for a short while they were the biggest discs ever fitted to a production car. All are in excellent condition.
A full service history is promised, but wasn't with the car when we viewed it. However, it is described as vast. There are also magazine articles, letters from Aston Martin and more documents verifying its Works Service provenance.
Despite weighing almost as much as the factory it was built in, not only is it seriously, modern-car fast but it also handles well. When it was new, Peter Gethin and Stirling Moss drove the car on track day demonstrations. It still feels tight now. You really can place with this with precision via its thick Moto-Lita steering wheel. We experienced no creaks or knocks, and oil and water temperature sat at a healthy 90°C, with oil pressure at the expected 80psi when idling.
Prices of regular Virages have yet to really fly, and they don't get a lot of love, but this is no normal Virage.
The Virage 6.3s, of which around 30 were built, did much to inject life back into the Aston Martin breed, showing just what the intelligent minds of Newport Pagnell could concoct. It's also a special, famous car that's beloved of those at the company who worked on it, which helps to explain the price as compared to most Virages of this era. Well, that and the enormous power and bloodcurdling sound it makes... This is one of four cars for sale tested in the latest issue, part of 16 pages of buying tips and advice, including Quentin Willson's Hot Tips, Ads on Test and Buying Guide in the latest issue of Classic Cars.
Price £220,000 Engine 6347cc V8, dohc per bank, Weber Alpha electronic fuel injection Power and torque 500bhp @ 6000rpm; 480lb ft @ 5800rpm Performance 0-60mph: 5.1sec; Top speed: 174mph Length 4735mm Width 1855mm Fuel Consumption 14mpg