This lavish 1967 Satellite entered British orbit in the Nineties. Our tester Richard Gunn finds out if this Plymouth's condition rocks.
This Plymouth Satellite – a top-of-the-range Belvedere – appeared in 1967 and spent the first 24 years of its life in its homeland before being brought over to the UK. While there isn't a lot of history prior to the 21st century, there's substantial paperwork dating from the last 20 years, pointing to a car that has been carefully looked after and had money spent on it when required. A check of the MoTs reveals less than 15,000 miles travelled over the last 15 years – total recorded miles stand at 74,300.
Finished in metallic burgundy, the overall condition of this Plymouth is lovely. Blemishes are limited to minor marks such as some missing paint on the driver's door edge and sporadic stonechipping to the nose. All the (extensive) chrome is similarly smart, without any tarnishing. The trim is all present and correct, including the upright '383' hood emblem, denoting the V8's cubic-inch capacity.
Tyres are BF Goodrich Radial T/A 245/60 R15 100S M+S items all around, surrounding wheels that have little wear and tear, and no scuffing or corrosion. The undated tyres have plenty of tread left.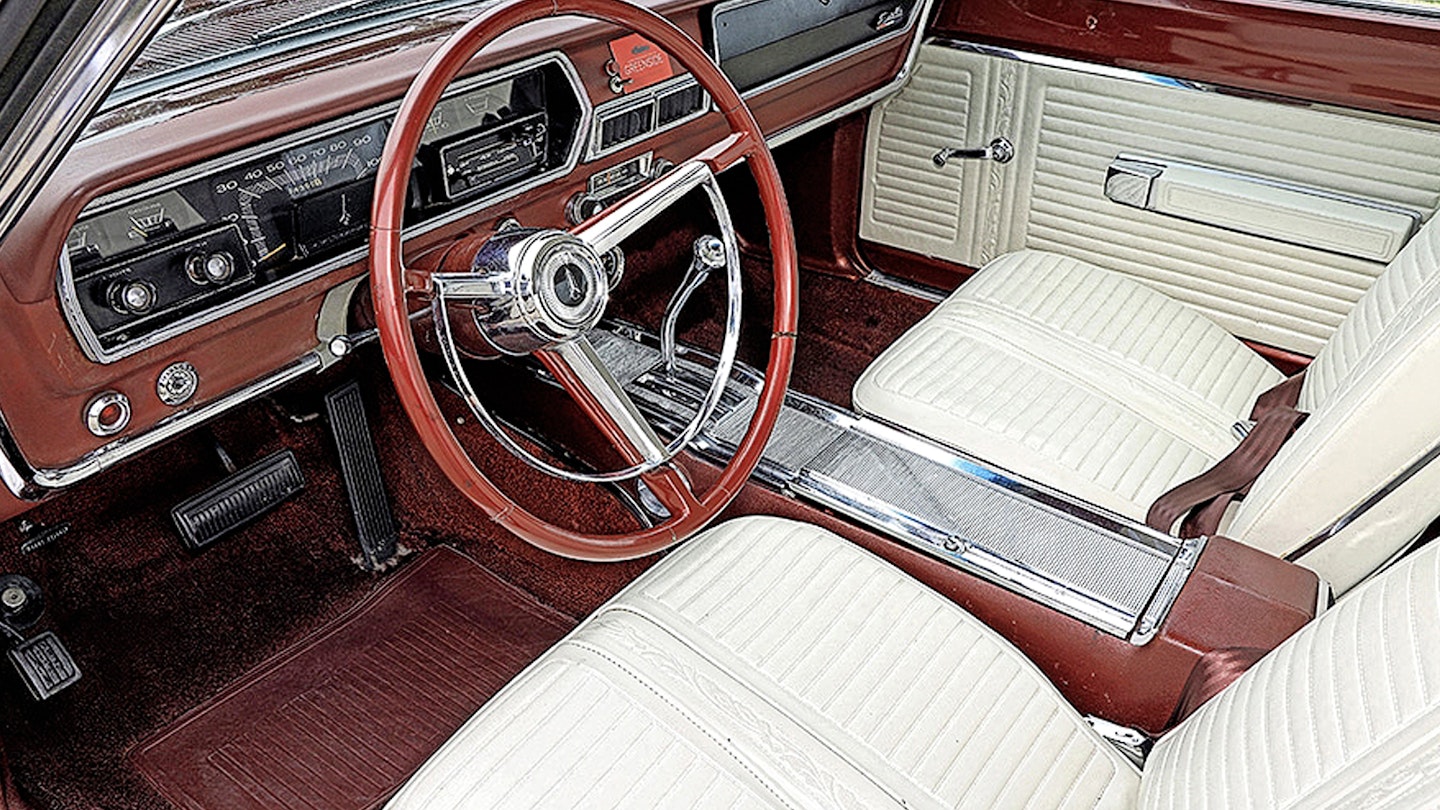 The lavish interior is just as good as the exterior. Despite their appearance, the Pearl White seats aren't leather but vinyl, with a fancy 'Western Scroll' motif running through them as well as on the recently replaced door cards, which remain unmarked. Elsewhere, while there are few signs of age throughout the cabin, it's all remarkably well-preserved. Above one end of the chrome-topped centre console (something only available on Satellites) are three additional Sun gauges, giving readouts of water temperature, rpm and oil pressure. These look to be a later fitment judging by the bullet connectors hidden behind them. The huge boot is tidy.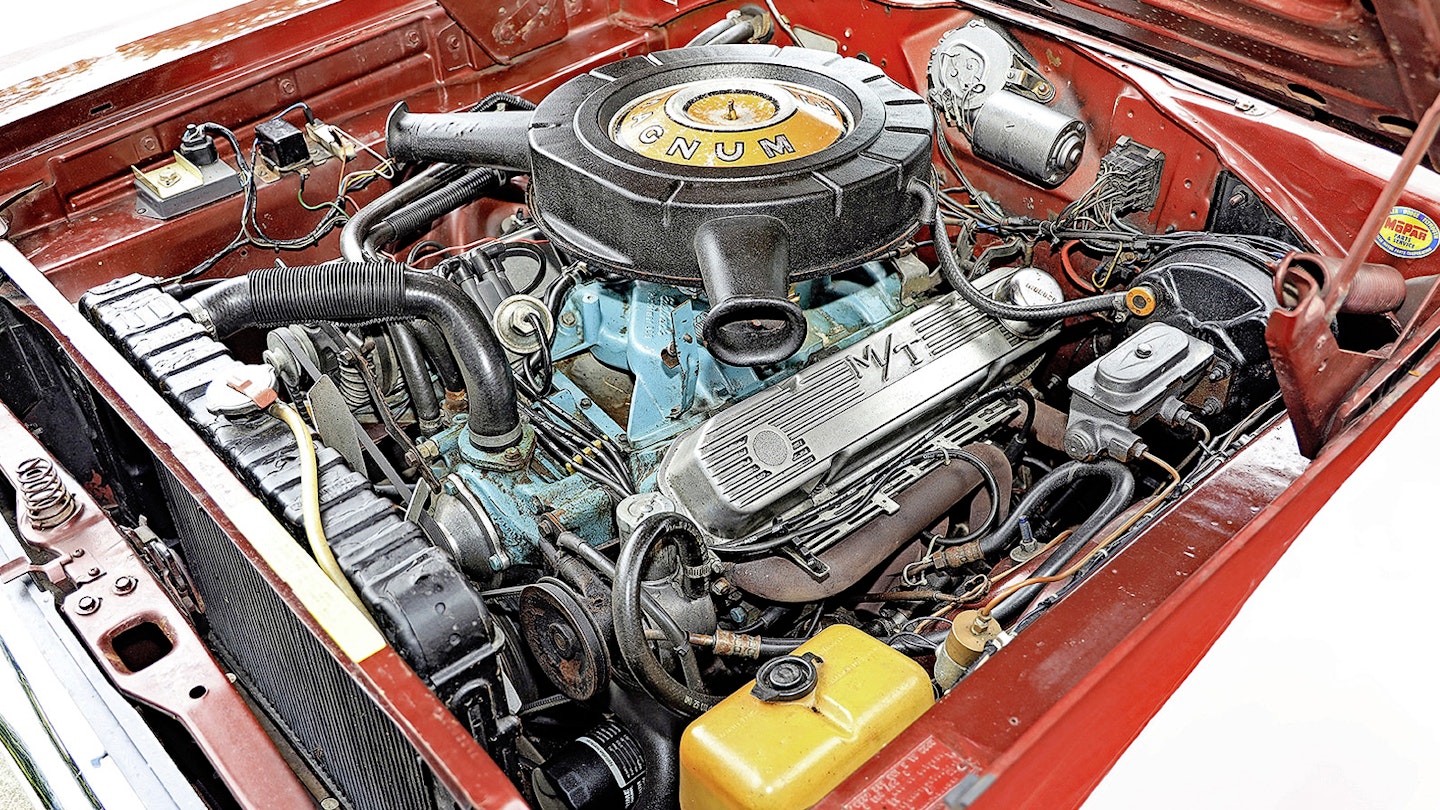 The Chrysler B 6.3-litre V8 still manages to totally plug it. The bay is presentable and won't be something to hide away at shows – especially the MOPAR stickers and 'Lev-R-Vent' radiator cap. Fluids appeared healthy and topped up - not surprising, given a recent service. Bearing 'Magnum' branding, the air filter casing seems to have been appropriated from a 440ci model; a 383 would usually be designated 'Commando'.
On the day of our test, the car was misfiring slightly – something we're told will be sorted before sale – but even with that, it was immediately apparent how powerful the big V8 is. Gearchanges are handled by a Torqueflite 727 three-speed automatic, which is smooth and does its job without fuss or noise. The all-round drum brake system was renewed recently and stops the bulky machine surprisingly well. It handles as well as something of this tonnage can be expected to.
This is an eye-catching and flamboyant machine, and definitely not the sort that you'll lose in a crowd on this side of the Atlantic. It's been cared for, and looks a million dollars. So, at £24,995, it seems good value for a such a complete classic.
This is a very good car for a fair price. This Plymouth is one of four Ads on Test in the latest issue ofClassic Cars
Price £24,995 Engine 6286cc V8, ohv, Holley 750 CFM 4V carburettor Power 325bhp @ 4800rpm Torque 425lb ft @ 2800rpm Performance 0-60mph: 6sec; top speed: 127mph, Fuel Consumption 10-18mpg Width 1941mm Length 5093mm