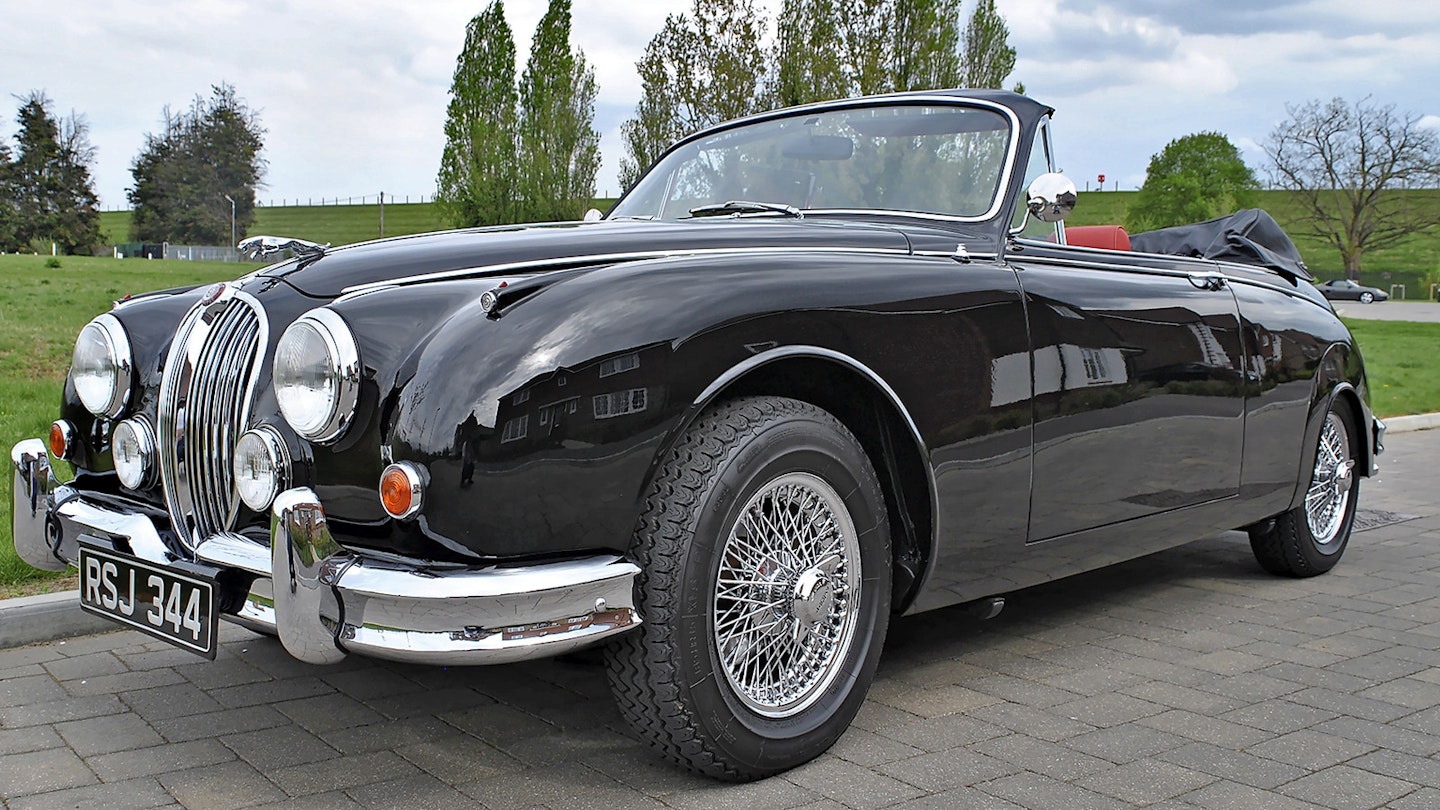 This Jaguar 340-based conversion is strong money at £125k, but as Sam Dawson explains its condition and ex-Noel Gallagher provenance make it special
You can view this car two ways: as a unique and beautifully-finished coachbuilt classic or as a piece of rock 'n' roll history. It started life in 1967 as a 340 saloon, but nothing is known of its first 30 years. However, in 1997, as Oasis released their third album Be Here Now, the band's Noel Gallagher commissioned Vicarage Cars to build him this unique two-door drophead, based on a car built in the year of his birth.
The result is heavily re-engineered, complete with thicker pillars and extra stiffening behind the panelwork to help keep scuttle-shake at bay. It wears 'Armco' bumpers from a Mk2 in place of its original single-blade 340 items, and it has a 3.8-litre XK engine, with automatic transmission taken from an XJ6 Series III.
However, Gallagher barely used the car – he's always been chauffeured in it because he doesn't have a driving licence. There are just 2123 miles on the odometer racked up since the 1997 build, and its service history consists of the original registration document and the latest MoT certificate. However, it does have Vicarage Cars' seal of approval, because it was sent back there for a thorough servicing – which included new tyres – after appearing in the music video for the High Flying Birds' single We're On Our Way Now, in which it was driven by former Doctor Who actor Matt Smith.
It still looks brand new. The panelwork and paint is consistently flawless with not a single sign of rust, as is the extensive, completely unpitted chromed brightwork.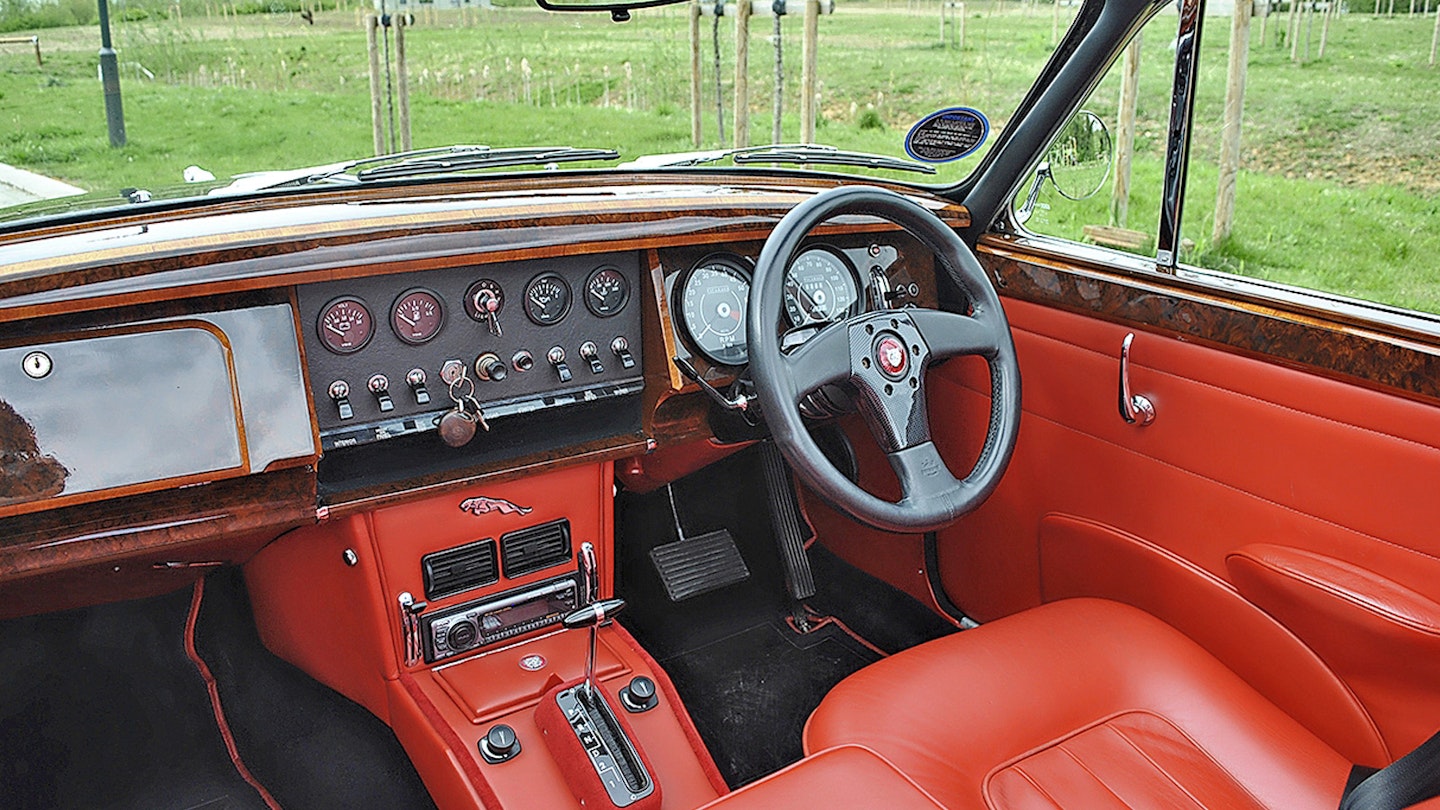 Inside, the red leather seats look completely unworn, and the Vicarage-branded instruments sit within a glossy wooden dashboard which again, shows no sign of patination or cracking. In fact, the only real sign of wear is a couple of extremely minor scratches in the metal around the hood's tonneau cover, a legacy of it being fiddly to fit. The front seats are XJ6 transplants, as are the centre console's vents; all is in great, unmarked condition, likewise the Personal steering wheel. The electric windows and roof all operate smoothly.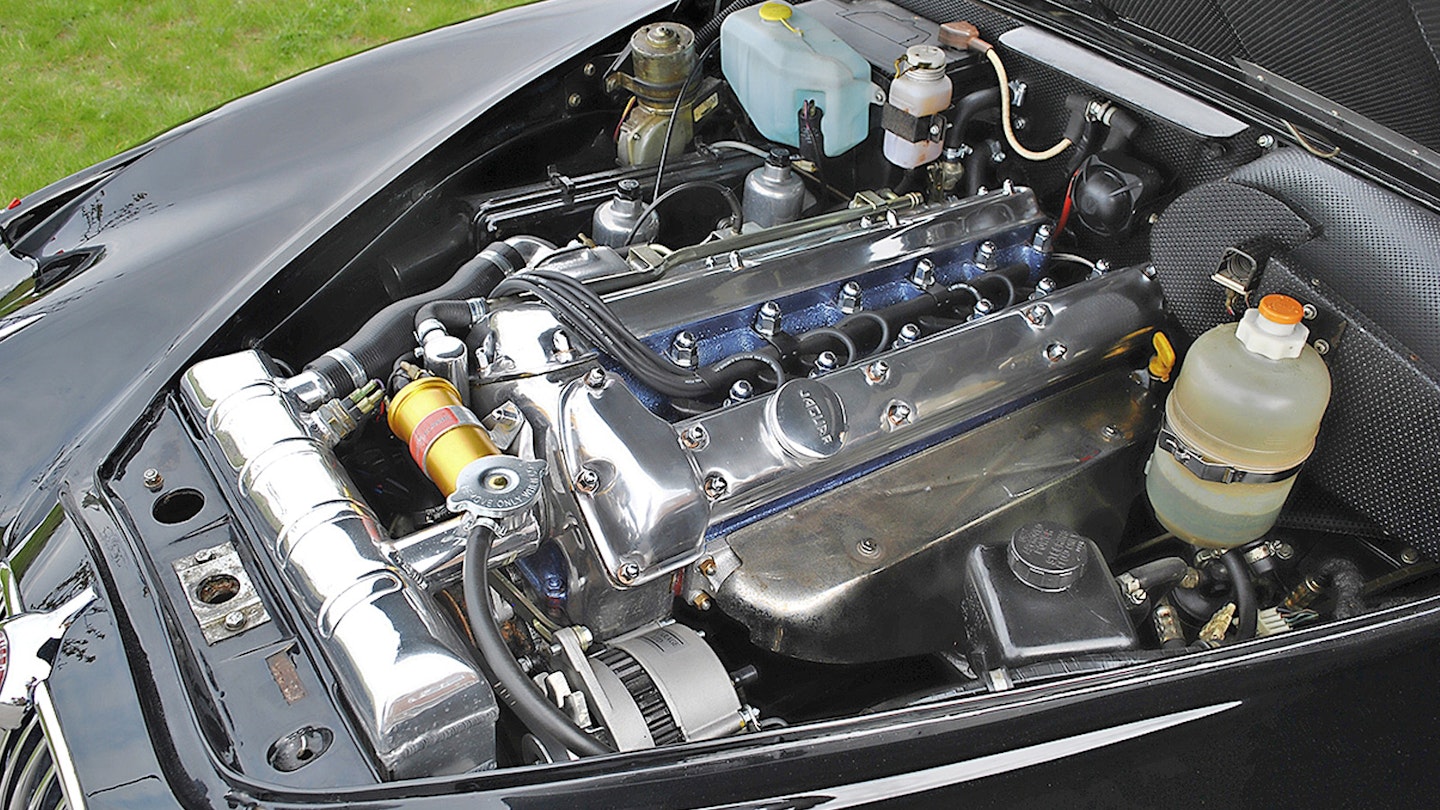 Beneath the bonnet, it's a similarly flawless story, featuring twin SU carburettors but with plastic washer fluid bottle and coolant expansion tank of XJ rather than Mk2 origin. Some tiny cracks in the paint in the bonnet's slam panel around the front latch are the only inconsistencies that we could find.
The engine fires instantly, idles evenly with a bassy thrum, and pulls consistently under acceleration, with no hesitation or slurring from the gearbox as it gets up to cruising speed. On the road, there's an impressive lack of scuttle-shake, and the way the car rides and handles – firmer than the Mk2 norm, its nose darting into corners with minor turns of the wheel – makes it feel more like a larger, thoroughly well-sorted XK150 than something saloon-based. The brakes are powerful and draw the car up evenly too.
The price isn't as silly as it might look either. It'd be cheap for an XK150S in this condition, even before the Noel Gallagher connection is factored in. All things considered, it's an attractive opportunity.
SPECIFICATIONS
Engine 3781cc in-line four-cylinder, dohc, two carburettors Power 220bhp @ 5500rpm Torque 216lb ft @ 3000rpm Performance 0-60mph: 8.5sec. Top speed 125mph Length 4572mm Width 1702mm