Look beyond the minor jobs that need doing and you'll find a solid Cortina with excellent driving manners, reckons David Simister
It's good news when you peer closely at the Ermine White paintwork on this previously restored Cortina MkI – there's a clean, even finish throughout, with no signs of any paint bubbling, cracks or surface rust creeping through. There are a couple of drill holes on the passenger door where there's a mirror missing, but otherwise the bodywork is solid, with the correct 1500 Super badging and the brightwork in good order. The Lotus Cortina-apeing 13-inch wheels are free of scuffs and are shod with matching Tracmax tyres, fitted in 2016, and which still have plenty of life in them. It's a shame the outgoing owner didn't replace the spare in the boot, which is well past its sell-by-date.
The interior is pleasant and has clearly been looked after, although there are a few very minor blemishes, including on the steering wheel boss and a couple of small marks on the door card embellishments on either side. The carpet looks a little tired, particularly around the centre console, but there are no rips or unsightly marks, and unless you're looking to win over concours judges it's unlikely to bother most owners. The black vinyl trim on the seats is devoid of tears and discolouration, as is the headlining, where there's no sign of any sagging. All of the dials and instruments work and there's no trim missing.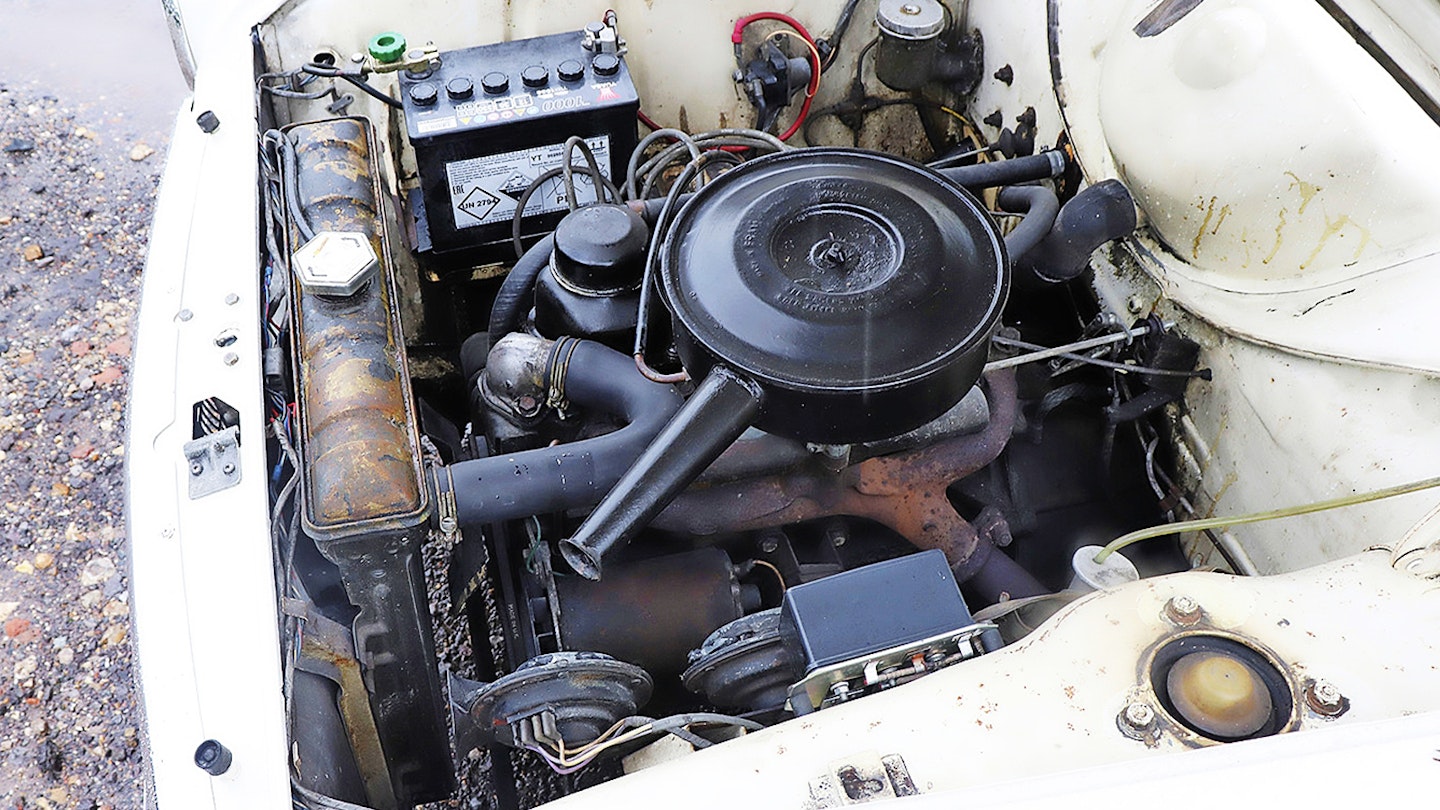 Cosmetically it's not as well-kept under the bonnet as the rest of the car, with the radiator in particular looking as though it's been doing its job for a while and the mechanicals have a grubby appearance, but there are no signs of any fluid leaks, the oil is at the correct level and a healthy golden colour, and there's no emulsion inside the oil filler cap. Flick through this Cortina's history and there are plenty of old bills for previous servicing items – including more than £1500 worth of work carried out in 2011/12 – and a big stack of previous MoT certificates that seem to corroborate the low mileage. The car will be sold with a full, voluntary MoT by the vendor.
This feels like a Cortina that's true to its 23,000-mile odometer reading – the steering is light and beautifully balanced, there are no disconcerting rattles or clonks on rougher stretches of road, and the Kent engine feels as though it has plenty of life left in it, with no misfires or signs of rough running. There's a pronounced thud when you slot the steering-mounted selector for the three-speed auto into Drive, but otherwise the system works well and the kickdown operates as intended. We experienced no juddering or squealing from the brakes, which bring this 1500 Super to a sharp halt without pulling to either side. It'll happily cruise at 60-65mph without any complaints, and the temperature gauge, once up to the halfway point, doesn't show any signs of the car overheating.
This is by no means the cheapest route into Cortina MkI ownership and there are a couple of minor cosmetic details that a devoted owner will want to tidy up, but the way this example drives suggests that the 23,000-mile odometer readout is genuine – it feels like a Ford with plenty of life left in it. Definitely worth a closer look. The Cortina is one of four cars for sale tested in the latest issue of Classic Cars.
Price £18,995 Engine 1498cc four-cylinder, ohv, Zenith VN2 carburettor Power 64bhp @ 4600rpm Torque 85lb ft @ 2300rpm Performance Top speed: 81mph; 0-60mph 19.1sec Fuel consumption 26-31mpg Length 4275mm Width 1588mm