This twice-restored two-owner DB6 has very few flaws inside or out – but also a DB5-encroaching price tag, says our road tester, Richard Gunn
This two-owner MkI was built in May 1967 according to its BMIHT Heritage Certificate, which is just one aspect of the packed history file dating back to the early Seventies. It reveals extensive work over the years, with restorations in the early Eighties and from 2008 to 2016, the latter with a 4.2-litre RS Williams engine upgrade. The mileage – less than 27,000 – dates from its first restoration; the documentation shows 53,000 miles in 1973 but this is a car that's effectively been completely renewed twice since then.
The Ming Blue paint is the same shade with which it left Newport Pagnell. The rich, shiny hue is in exceptional condition save for one blemish; it looks like the nose has just nudged something and there are two tiny dings just under the badge with a bit of cracked paint on one. The chrome is lovely although there are a few superficial marks in the alloy grille. The wire wheels are spotless and all the spokes sound; they're clad in 2013 Blockley 185 VR15 91V tyres that haven't covered too many miles.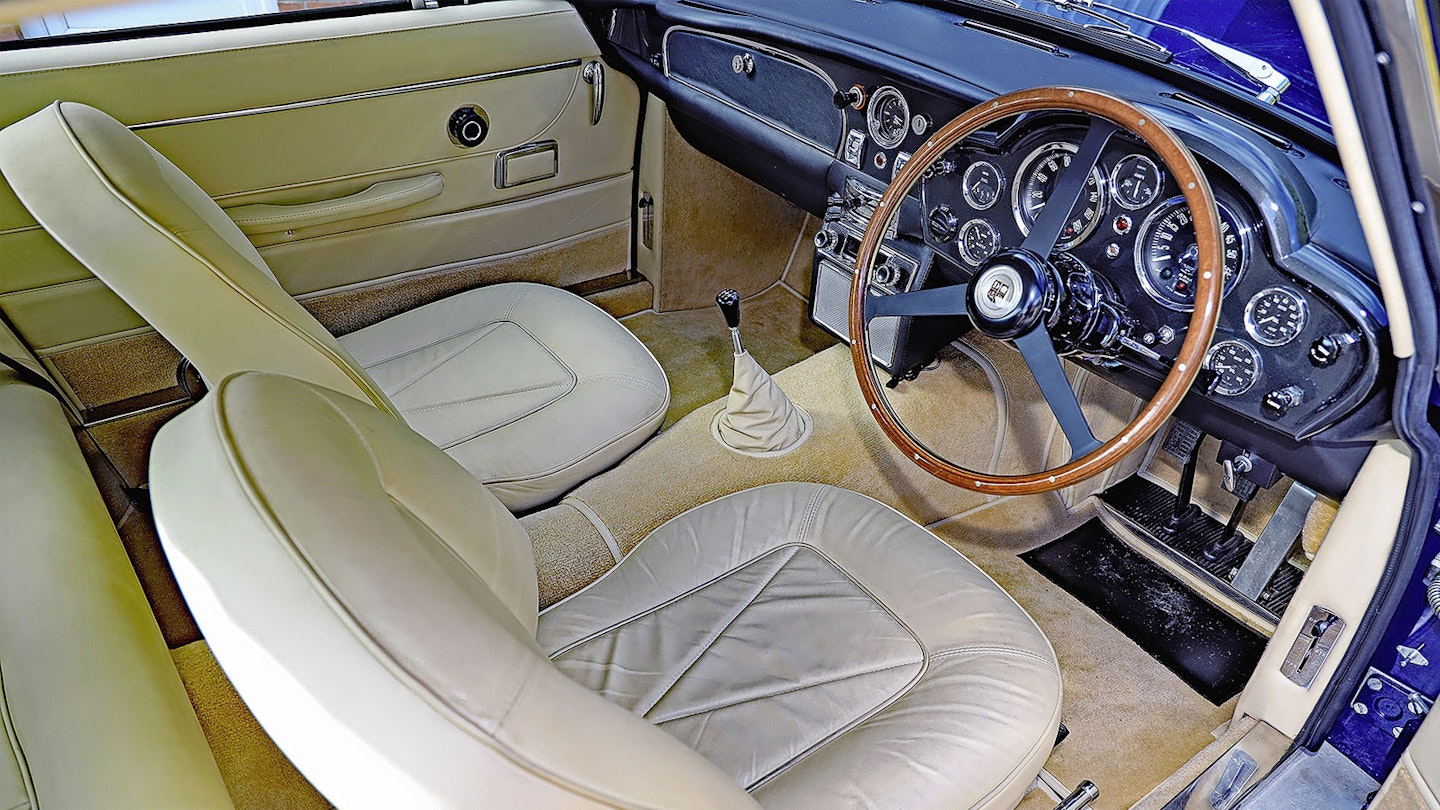 The cream leather interior genuinely looks as though it could have been finished last week. The seats show minimal creasing and no wear and the carpets are immaculate. It is, quite frankly, difficult to find anything at all wrong inside – it's probably the best classic Aston cabin we've seen in a long, long time. All the gauges work – even the clock – and while the retro-looking radio is actually digital and fitted with an MP3 cable, it blends in well.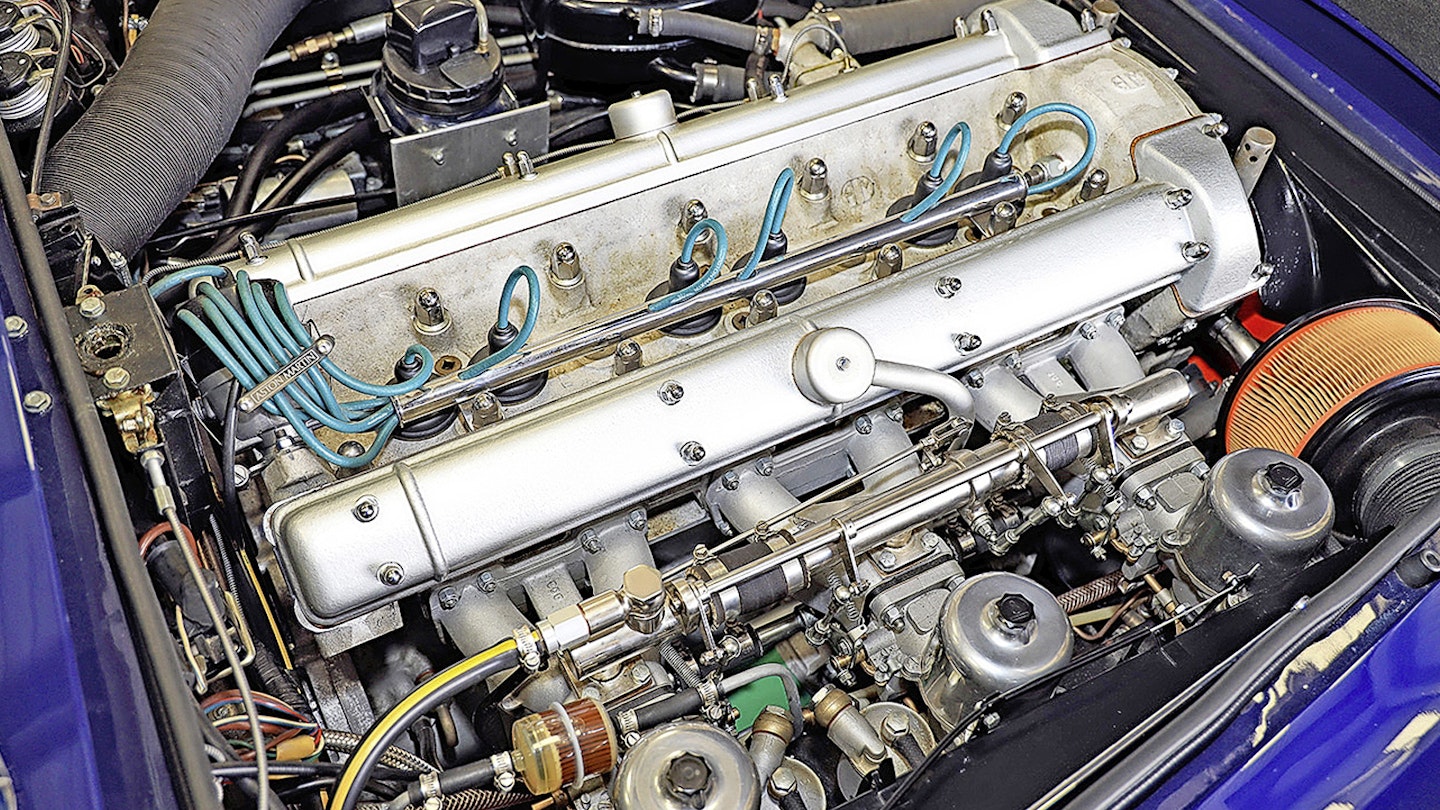 Hours were spent detailing the underbonnet area, and it shows. It looks more like a mechanical art installation than a working engine bay; the cleanliness and orderliness around the three SU carburettors alone is almost mesmerising. It's a textbook example of how a DB6 engine bay should look, with attentive touches extending to an Aston Martin-branded plug lead clip to help keep those neat. Even the insulation material under the bonnet lid is excellent. The fluids are clean and at the correct levels and the engine starts easily and runs well, although we experienced a slight misfire at higher rpm.
Aside from this issue – which will be resolved before sale – this Aston performs exactly as you'd expect of something that has had so much attention. It's docile enough at low speeds but comes into its own at higher ones, the vast amount of torque meaning that you don't have to use the five-speed gearbox too often. Not that it's a chore; it slides easily through its ratios once the transmission oil is warm, actuated by a characteristically heavy clutch. The steering is tight and handling superb thanks to polybushes and upgraded anti-roll bar. Brakes bite sharply and quickly.
At almost £360,000, this DB6 is priced perilously close to DB5 territory, but given that it's only covered a low mileage since a (second) incredibly comprehensive and painstaking restoration, the price seems justified. All the work seems to have been done to a very high standard and, aside from those two nose pimples, this car looks like a near-spotless example of its breed.
This Aston Martin DB6 is one of four Ads on Test in the latest issue ofClassic Cars.
Price £359,995 Engine 3095cc, straight-six, dohc, triple SU HD8 carburettors Power 282bhp @ 5750rpm Torque 280lb ft @ 4000rpm Performance 0-60mph 6.5sec; top speed: 145mph Fuel cons. 11-22mpg Length 4623mm Width 1676mm