Price £8995
This Rover is definitely a classic for enthusiasts who prefer originality over concours fit and finish. Having said that, it looks terrific and is solid, especially underneath, with an interior that still looks good after nearly six decades of use.
The light pastel blue finish looks like a quality older respray with no overspray to be seen, but there's no paperwork attesting to it. It's complemented with some older chrome in good condition. Close inspection reveals some paint cracks where the rear valance joins the upper panels. The small indentation on the boot lid and two shallow thumb dents are only noticeable under showroom lights. Chrome across the car shows light patina with pitting on the door handles and both bumpers. Most importantly the impressive underside appears solid with uniform underseal across the floors and no patch repairs. Window rubbers are in good order but the amber colouring on one of the rear light lenses is beginning to fade.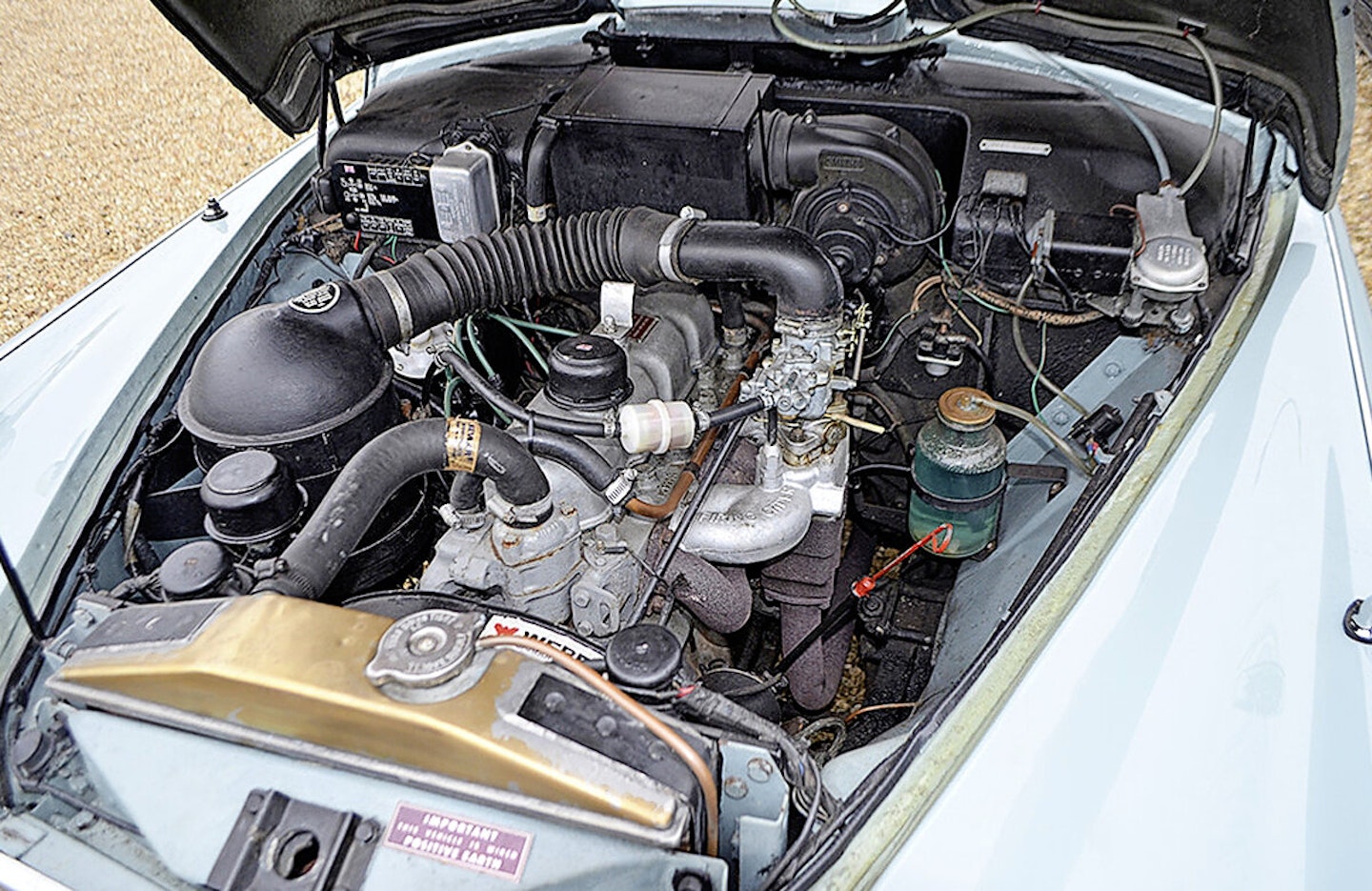 Optional red leather bench seats were selected when new. With no rips or damage, they're well preserved and still feel soft. The matching carpets and door cards are in good condition, and there's just one small areas of lifting lacquer on the walnut veneer on the driver's door capping and the glove box lid. The dials behind the slightly clouded instrument glass work, as do the windscreen washer switch and Radiomobile unit. There's some pitting to the steering wheel brightwork too.
The large engine bay is particularly clean, and the engine block and rocker cover show no sign of oil leaks. The original starter handle and spare fan belts are fixed to the inner wing and the glass windscreen washer bottle is original and in good condition, unusual nowadays.
Minimal choke is required before the engine settles to a quiet tickover. It's quickly apparent that all is well with the transmission courtesy of a smooth clutch and slick gear change. This 80 is certainly a substantial car – the steering is heavy but weight is not an issue once the tyres start rolling. First gear is an especially low ratio designed for hills, but this Rover pulls away just fine in second and engine noise is minimal at 40mph with overdrive engaged. Body roll is at normal levels for a P4 - if you push it through the corners it leans heavily – but gentler driving induces little upset and doesn't turn up anything unexpected. It accelerates smoothly, the suspension soaks up uneven surfaces and the servo-assisted front discs produce sharp stopping power from the firm brake pedal.
The history folder with the car shows that this P4 underwent a £2000 gearbox re-build, clutch replacement and brake overhaul in 2018. The history also includes old MoT certificatess from the 2010s, related literature, a collection of invoices and the original buff logbook.
This Rover P4 80 certainly appears to have been been cared for, which bodes well for the future. For what it is, it doesn't appear to be overpriced either. This is one of four cars for sale tested in the latest issue, part of 16 pages of buying tips and advice, including Quentin Willson's Hot Tips, Ads on Test and Buying Guide in the latest issue of Classic Cars.
Price £8995 Engine 2286cc ohv four-cylinder, Solex B40 PA10-5 carburettor Max power 77bhp @ 4250rpm Max torque 124lb ft @ 2500rpm Performance Top speed 82mph; 0-60mph 22sec Fuel Consumption 25mpg Length 4528mm Width 1666mm