Most of the requests for The List include La Ferrari of some sort, which makes Phil Litchfield an unusual case because he drives a 308 GTB QV. Given that the car world tends to divide along a Maranello-Stuttgart axis, with the tifosi usually claiming that Porsches are overgrown Volkswagens with a charisma bypass, why does a lifelong Ferrari enthusiast want to drive a 930 Turbo?
'Like every other kid in the Seventies, I had the Top Trumps Supercars pack,' explains Litchfield. 'There were certain cards that, if they appeared in your hand, you knew you would win. The De Tomaso Pantera had the biggest engine, the Lamborghini Countach the highest top speed, but the Porsche Turbo was the undisputed 0-60 acceleration king. I've got a Ferrari simply because I promised myself one by the time I turned 50, but I realised I've never so much as sat in any kind of Porsche, let alone driven one. Given all that Porsche has achieved, it's time to put that right. I'm satisfying curiosity as much as anything.'
Phil Litchfield's List
Phil loves Seventies sports cars. When he was younger, he rebuilt a Lotus Elan +2 before graduating to a 'fun but troublesome' Lotus Éclat. In search of something 'civilised', a series of Reliant Scimitars followed. On turning 50, Phil fulfilled a promise to himself and got a Ferrari 308 GTB.
Lotus Europa Special
Maserati Merak SS
Jensen Healey
Lotus Cortina
Aston Martin V8
Ferrari F355
Jaguar E-type
Dino 246GT
Lotus Esprit
Porsche 911 Turbo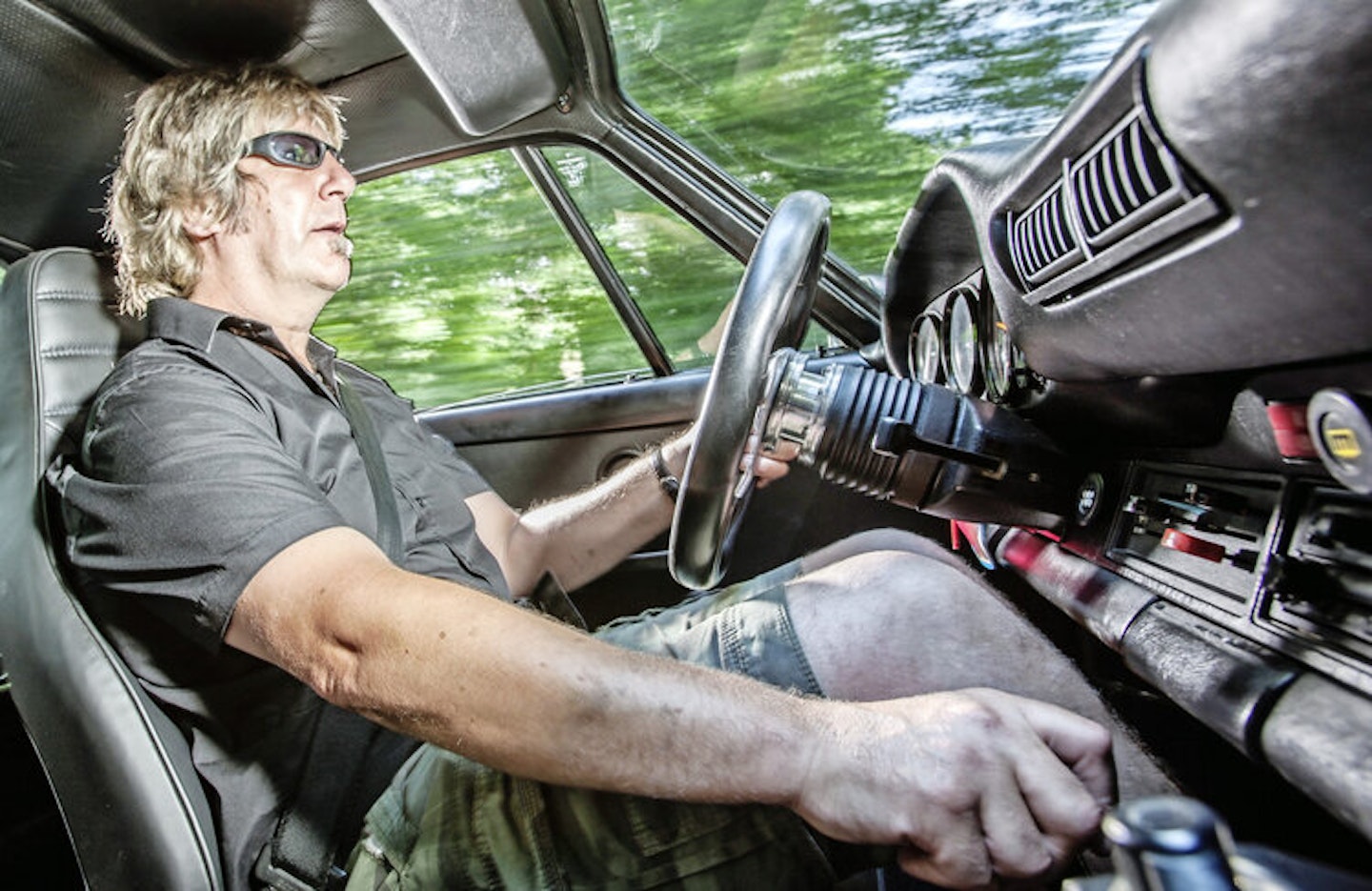 Litchfield settles into the driver's seat, and already it seems he's unsure about the car. 'I've got to say, it doesn't feel very sporty,' he remarks as he mulls over the slightly upright driving position and saloon-like angle of the windscreen. 'It feels more like a grand tourer than a sports car. There's a lot more room in it than my Ferrari, but the Ferrari has a low, reclined driving position that makes me feel more in control of the car. I'm not sure how I'd feel about going fast sitting like this.'
Litchfield changes his mind when he turns the ignition key and hears the engine roar. Once it's up to temperature, he prods the accelerator gently, listening to the flat-six's offbeat cacophony overlaid with turbine whine. 'That's one of the best engine notes I've ever heard,' he says after some reflection. 'Better than a Ferrari V8 – it's just so meaty and potent. It's the sound of power!'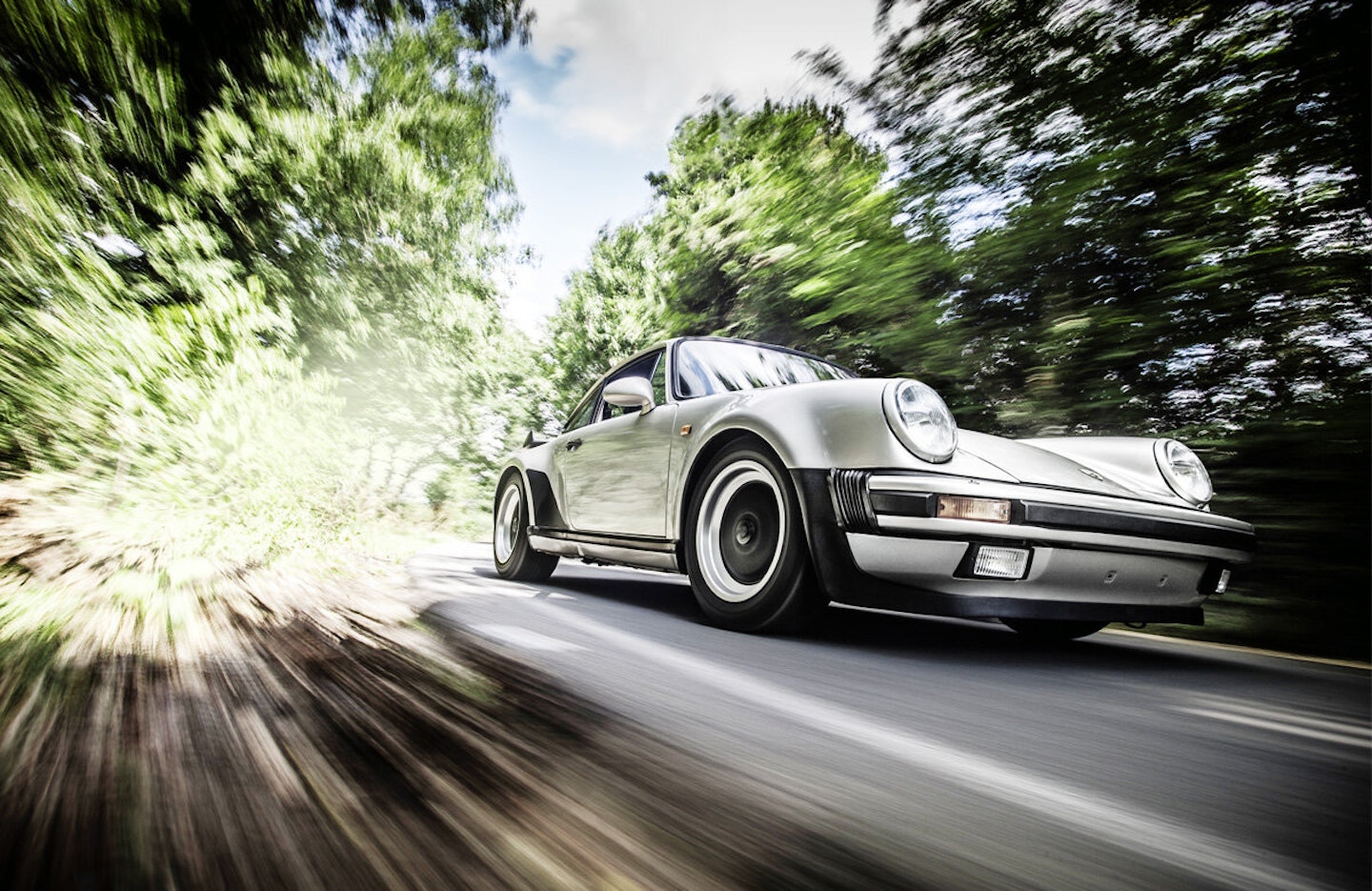 We pull away, out of Porsche specialist Design 911's headquarters in Ilford, Essex and head for the meandering tarmac routes through Epping Forest. Litchfield likes the way the Porsche delivers its power when we reach clear straights. 'I'm amazed,' he says. 'It doesn't feel like there's any turbo lag, no sudden power deficit. The throttle response is as immediate as a normally aspirated engine, but it gets this tremendous second wind once the turbo starts boosting, when it switches from sports car to supercar.'
Something's still bothering him, though – the 911's Volkswagen heritage. 'I'm not sure I could ever get used to this clutch pedal. Not only is it floor-hinged, it's also very heavy – much more firmly sprung than my Ferrari's – and it's already hurting my left foot,' he says. 'And this gearlever needs a really firm shove; it's a very long throw too. I suppose Porsche reasoned that with all that torque you don't need to change gear much, but it's not a sporty change.'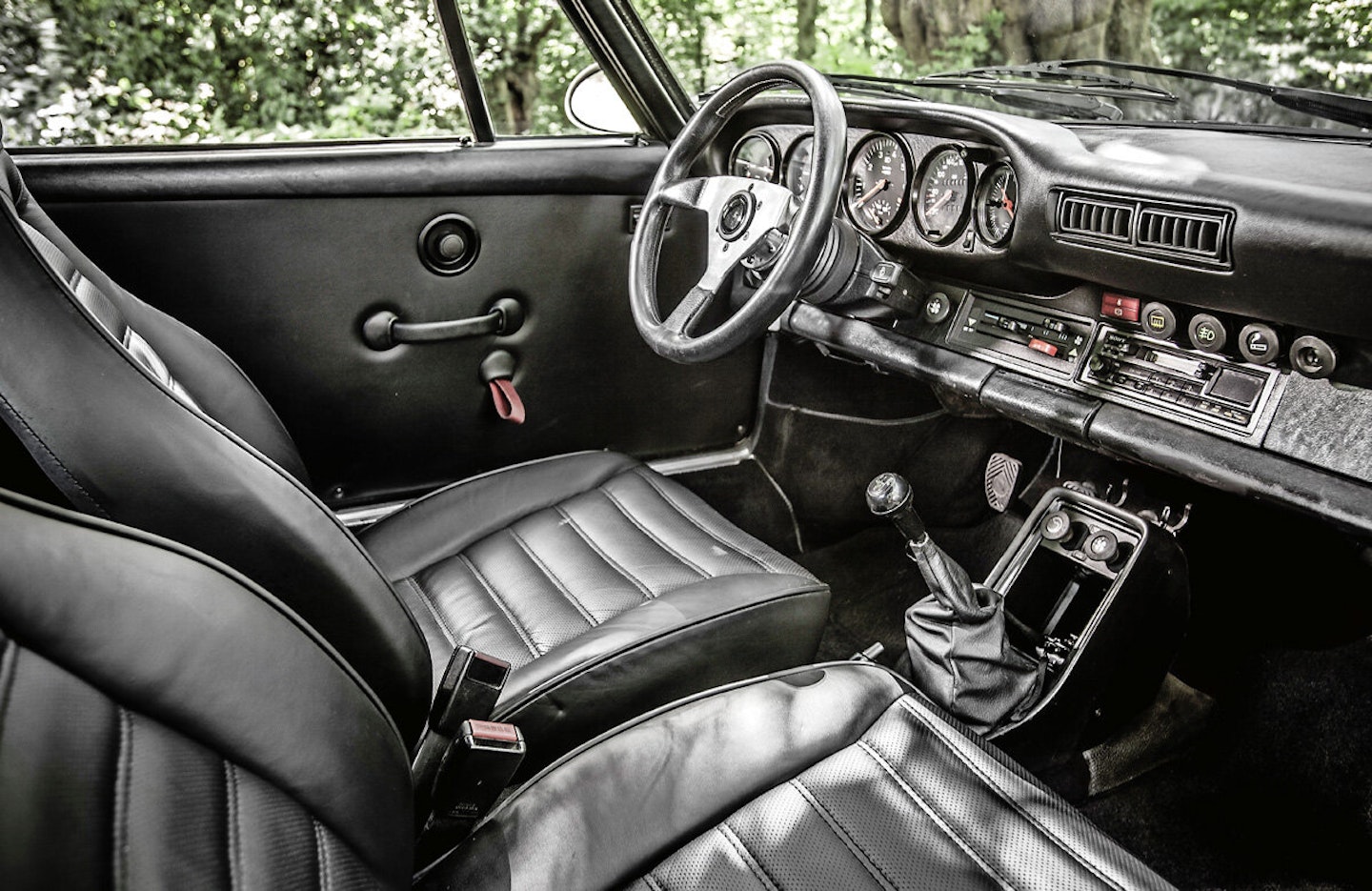 Litchfield applies this philosophy, leaving the 911 in third gear and attacking a complex of cambered forest bends, turning in with a trailing throttle and shoving the accelerator mid corner, boosting the turbo in time for the exit. What began as a wry grin at the corners of his mouth becomes a big smile, then a hearty chuckle.
'I love this steering,' says Litchfield. 'It's so direct and immediate. Not even my Lotuses had steering as intuitive as that. And the 
grip – that's incredible. I must admit, before I got in I was a bit nervous about putting the power down as I've heard horror stories about 911s leaving the road backwards, but there's so much grip that it's barely crossed my mind.
'I even like the way it rides – it's firm, but not that hard, and there's something about the way it rattles over bumps in the road that's so very Eighties. It's reassuringly familiar.'
He's still not feeling comfortable in the car – the 35-degree heat of the year's hottest day so far isn't helping matters. 'The interior's so austere,' Litchfield points out, prodding various surfaces to make his point. 'With the exception of the leather seats – which I'm now stuck to – it's all black vinyl. It's high-quality stuff for what it is, but it's not what I expect on a car that cost so much, even from 1983.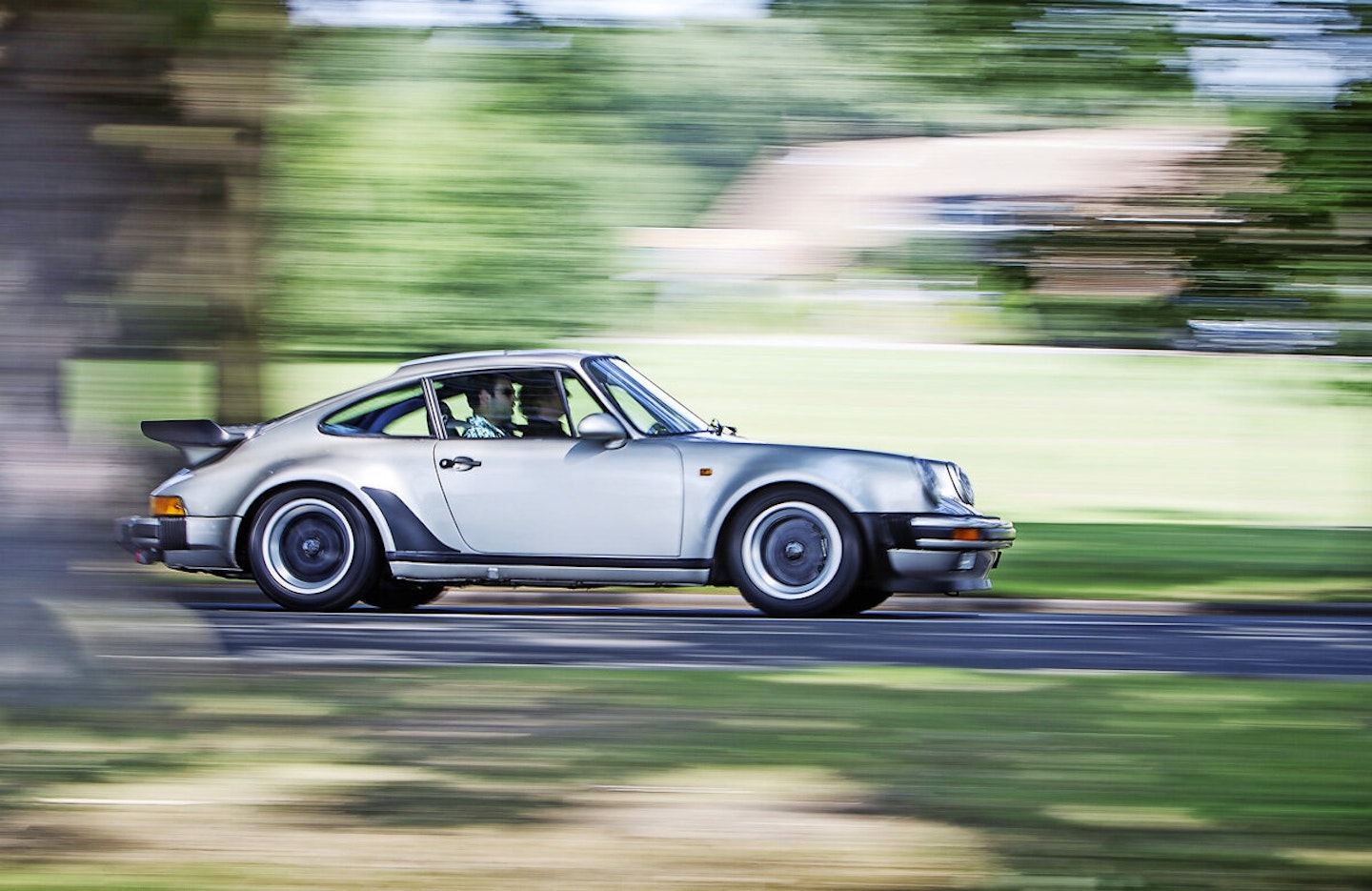 'It doesn't help that the fan control's behind the steering wheel and the temperature wheel is down behind the handbrake – it's an interior clearly designed for racing drivers.'
We swap seats, giving Phil's clutch foot a rest. He's right – the floor-hinged pedals are difficult to get used to. The clutch bites when my left foot is at a painful, unnatural angle and it's very firmly sprung, hinting at heavy-duty race engineering at work. The gearlever has a strange double-gating action, the required throw longer than it feels like it should be, the ratios only ready once the lever clunks substantially into its slot.
"It gets this tremendous second wind once the turbo starts boosting, when it switches from sports car to supercar"
Once underway, I'm reminded of the engine's rear-mounted location, but it's thanks to grip rather than tail-happy nervousness. Accelerate and, as the weight shifts rearward, the car feels as though it's vacuum-sealing itself to the road as those 225/50 VR16 rear tyres bite. This is how the 930 achieved its then-record 5.4-second 0-60 sprint. There's no hint of the wheelspin or driveline shunt you might encounter in a front-engined, rear-drive car.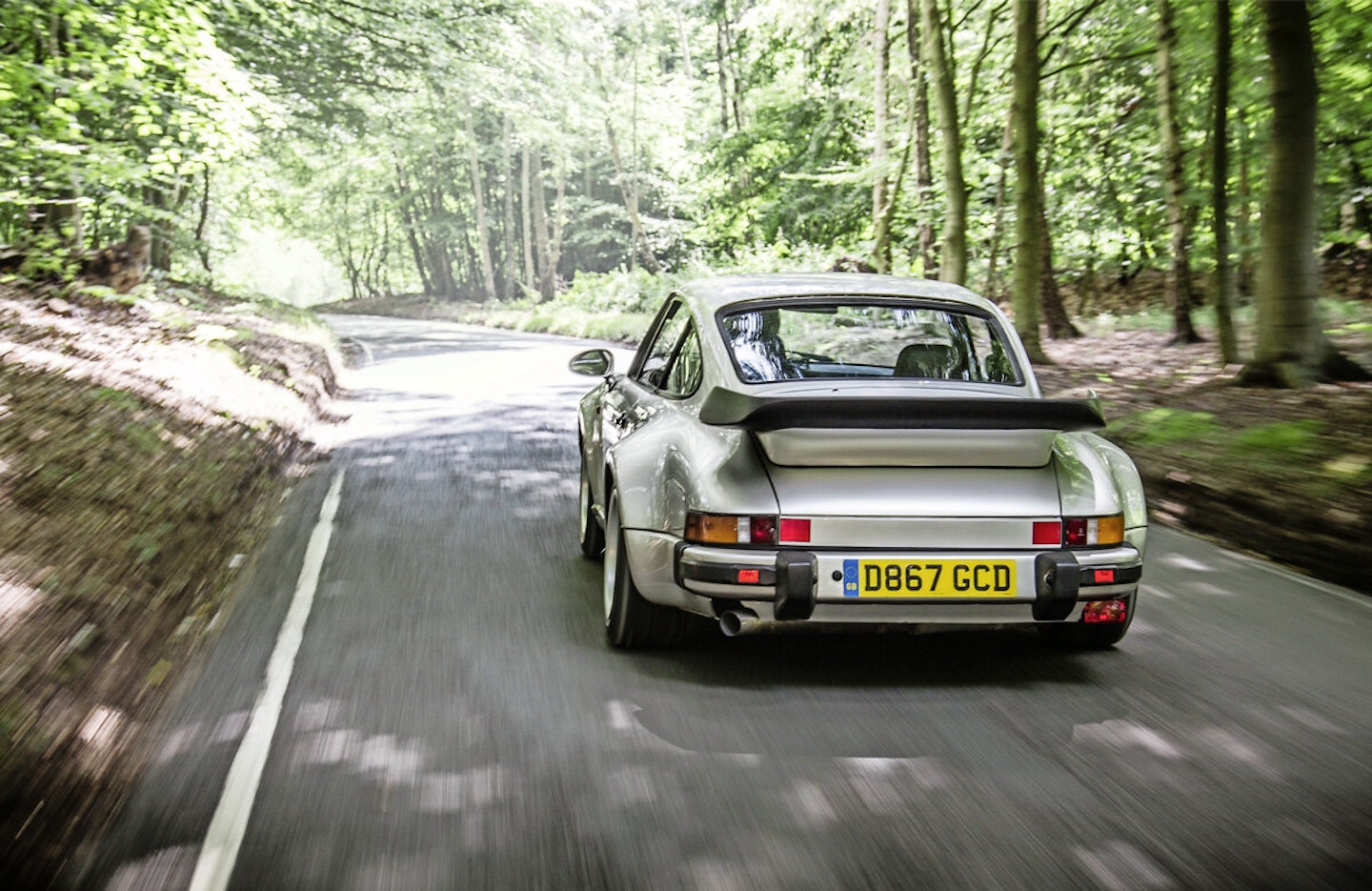 The steering may be pure and direct, but I realise it must be treated with respect. The steering on a skinny-tyred standard 911 feels nervous, seeking out all the irregularities in the road. The Turbo's is attached to 205/55 VR16s. They're not as communicative through the wheelrim, but their immense grip means I have to commit decisively to every corner 
as the car thunders through, as there's little scope for delicate adjustment of line mid-corner – the wrong twitch at the wrong moment could send this 300bhp missile dangerously off-course.
But get it right, and there's a great sense of achievement. To successfully drive a 911 quickly entails a strong sense of discipline, like motorcycling. Riding a bike is massively satisfying, extremely dangerous if done badly, and requires the rider to think constantly about brake, accelerator and gear inputs and their effect. You can never relax, but the intensity of the experience is intoxicating.
It's the same with the 911. You never feel as though you can lazily guide it along with one hand on the wheel, or lift the throttle mid-corner just to see what happens. But commit yourself to an intensive lesson in rear-engined physics, and the reward lies in the sense that you've mastered something so complex compared to conventional cars.
Is it reward enough to have Phil Litchfield trading in the Ferrari? He thinks it over for a couple of minutes. 'I'm afraid I'd have to say no,' he replies. 'It's not that I didn't like it – far from it – but the Ferrari is still my dream car and I find its qualities and design so immediately appealing.
'However, I'd have the Porsche as well. It's a challenge that would take time to master – the clutch alone would take weeks – but I know it would be worth it in the end. Like all hard work, I guess.'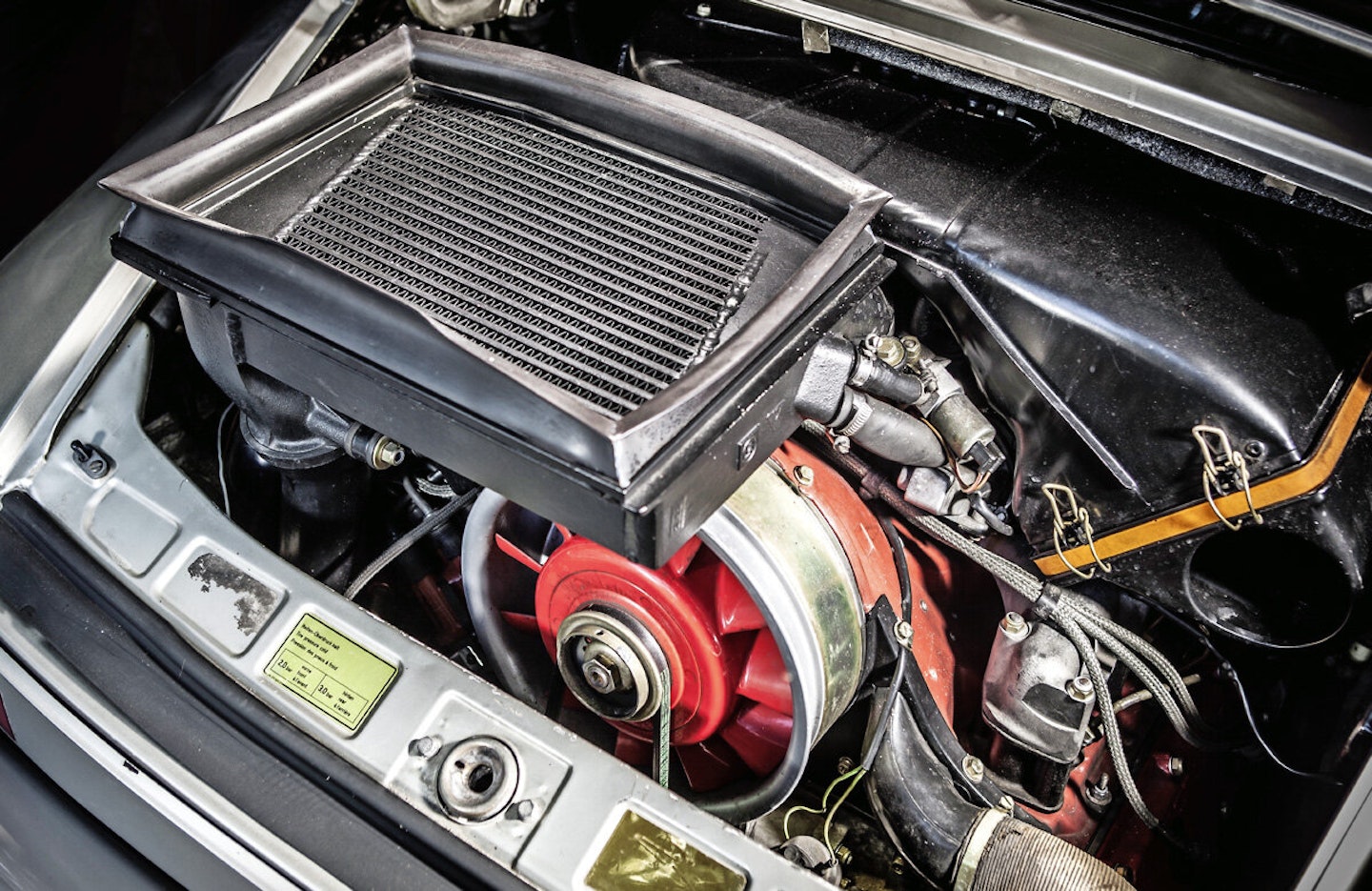 SPECIFICATIONS
Engine 3299cc horizontally opposed six-cylinder, sohc per bank, KKK turbocharger, Bosch K-Jetronic fuel injection Power and torque 300bhp @ 5500rpm; 
304 lb ft @ 4000rpm Transmission Four-speed manual, 
rear-wheel drive Brakes Ventilated discs front and rear Steering Rack and pinion Suspension Front: independent, wishbones, MacPherson struts, torsion bars, telescopic dampers, anti-roll bar. Rear: independent, semi-trailing arms, transverse torsion bars, twin telescopic dampers per wheel, anti-roll bar Weight 1300kg Performance Top speed: 168mph; 
0-60mph: 5.4sec Cost new £29,250 Value now £18k-50k
911 930 TURBO evolution
3.0, 1975-78
The first Porsche 911 Turbo, termed 930, uses a KKK turbo, Bosch K-Jetronic fuel injection and twin fuel pumps installed in series. It's introduced at the same time as the H-series 911s and the engine is based on the existing Carrera 3.0's, but the 930 features wider bodywork covering bigger tyres and a four-speed gearbox. Porsche says the turbo's torque renders a fifth gear unnecessary, but in reality the 911's five-speed can't cope with 260bhp.
935, 1976-81
This racing version was offered as a customer racing car for Group 5 competition by Porsche. The first 935s looked like wider-bodied 930s, with 3.0-litre engines producing 560bhp at 7900rpm. The cars gained a Flachbau ('flatnose') profile after race engineer Norbert Singer realised the headlight nacelles created drag and 
lift at high speeds. A water-cooled 3.2-litre engine was introduced in 1978 after head gasket failures. It took 150 victories in its career.
3.3, 1978-89
As the L-series 911s receive 3.0 engines, the Turbo's engine is bored and stroked to 3.3 litres and fitted with an intercooler. The L-series 930 also receives brakes derived from the 917 – the first incidence of ventilated discs being used on a road car, cross-drilled and with four-piston calipers. Secondary air-injection is added to ensure the Turbo can cope with 98-octane unleaded fuel in the US, Canada and Japan, but the 300bhp car can still hit 168mph.
SE & Flachbau, 1983-89
Porsche's Sonderwunschen ('special wishes') programme is launched in 1983, providing Porsche owners with a personalisation service. The most popular modifications include the 'SE' 330bhp engine tune, achieved with a larger turbocharger and four-pipe exhaust, and the Flachbau bodywork, derived from the 935 racer. The first full convertible version of the 911 also appeared in 1983, but the Turbo wasn't available with canvas or Targa roof options until 1987.
Speedster and FIVE-speed GEARBOX, 1989
Although it never sported the Turbo's engine, the new Porsche 911 Speedster teams its wide bodywork, wheels, suspension and brakes with a cut-down windscreen, simple showerproof hood and two-seat cockpit with twin head-fairings. In return, the Turbo finally receives a five-speed gearbox – the new G50, with a hydraulically actuated clutch. Top speed is unchanged, but the 0-60mph sprint drops to 5.2 seconds.
Thanks to: Karl Chopra of Design 911, where the car was for sale. Call 0208 500 8811 or visit design911.com