Reader Michael Brown has always wanted to drive a Morgan Plus 8. Will its raw thrills win him over or frighten him off?
You need small feet,' observes Classic Cars reader Michael Brown, looking down the footwell of this 1990 Plus 8. Perhaps his choice of chunky footwear wasn't so wise. Never mind. As he says, 'Once you're inside it's very comfy. I struggled to get in, but the view down the bonnet is lovely.'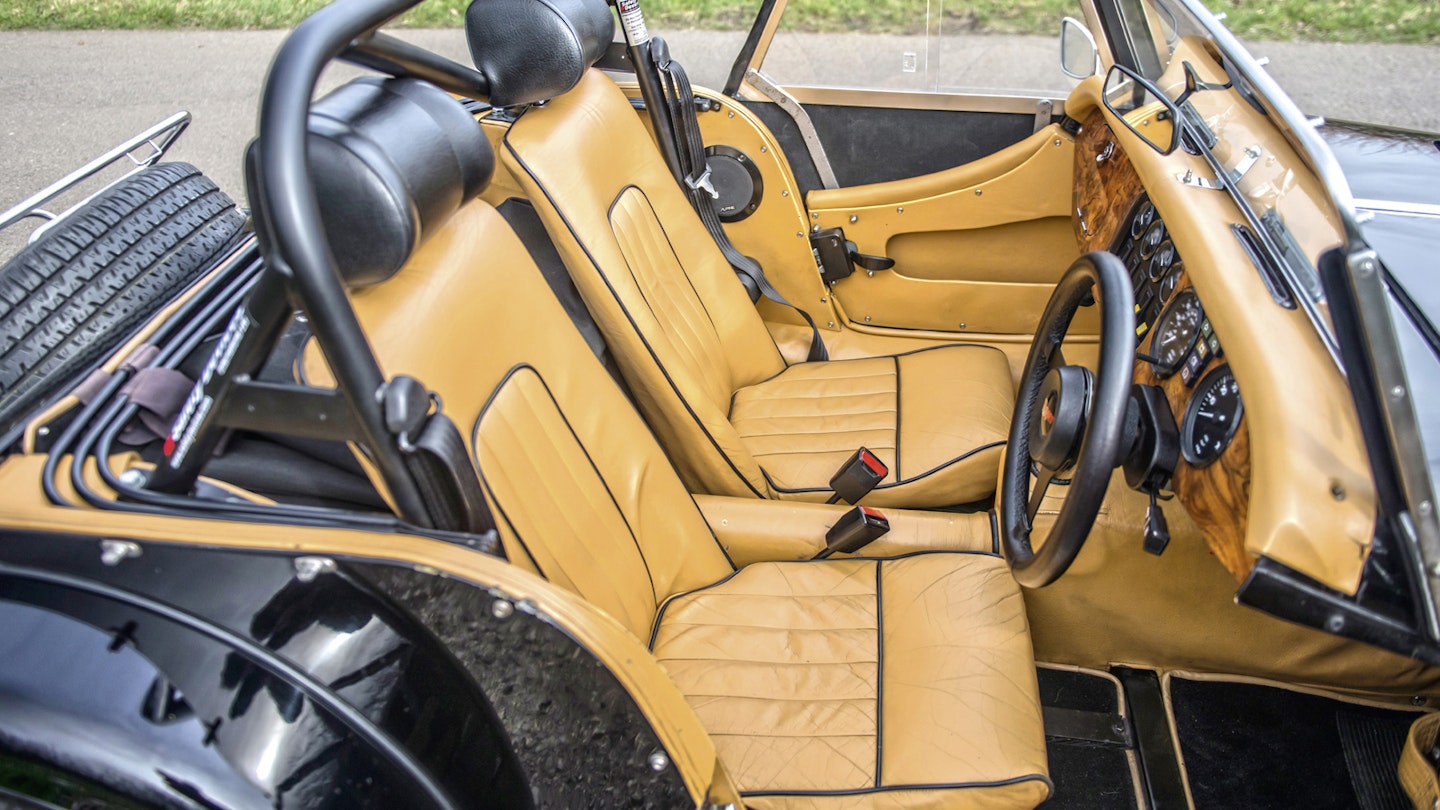 I know what he means. This smart Plus 8 is an earlier 'short door' model, and when you look at the cockpit, with its steering wheel jutting into the space where your chest will shortly be, it crosses your mind that you need to be a contortionist to sit in the driver's seat. This line of thought flourishes as you try to pull your leg far enough back for your foot to get past the door hinges. But then you're in, and suddenly it feels as though the car was made for you.
Michael Brown has owned some interesting cars, with a penchant for British sports cars and coupés. He's also experienced other fabulous cars, including the Aston Martin DB5 owned by his father in the Sixties, which provided the transport for a family holiday around Europe when he was a boy. The Plus 8 has always fascinated him, not least because of the loyalty it generates among Morgan customers. Today is his chance to discover why, and it's particularly pertinent as he has just sold his most recent classic, a 1966 Daimler V8, and currently relies on a Mazda MX-5 for motoring pleasure, albeit with one eye on potential purchases.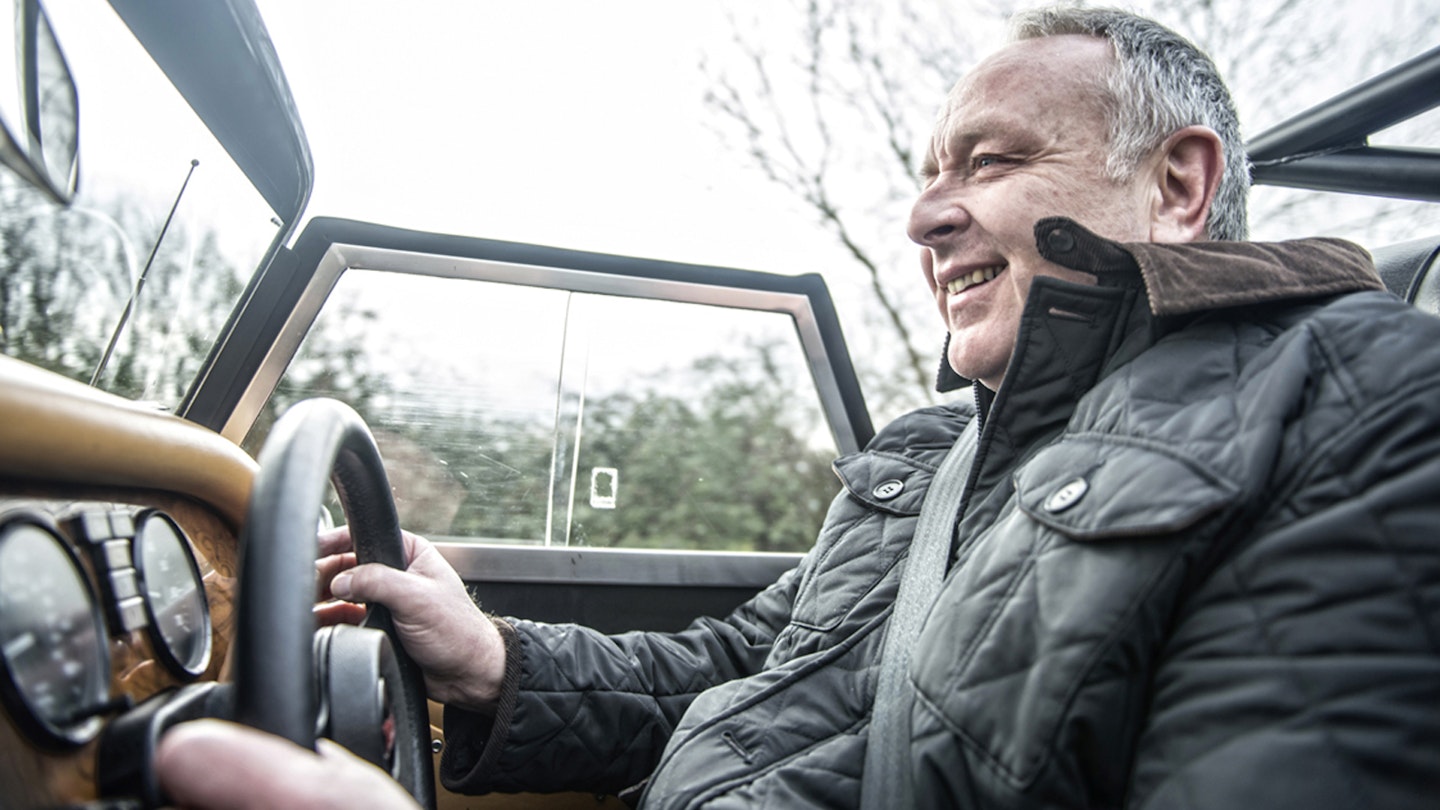 His second – and only other – error after the shoes is not bringing a hat. Experience leads me to suspect that the Morgan's hood will be basic and that it's likely to be down and to stay that way for the whole day. When we arrive it is indeed down. My hat goes on. Michael's head gets rather cold in the breeze.
This 1990 Plus 8 has a fuel-injected 3.5-litre version of the trusty Rover V8, coupled to a five-speed gearbox. Although earlier Plus 8s were carburettor-fed and four-speed, the experience is very similar. And therein lies part of the timeless appeal of these cars – everything changes, yet everything stays the same.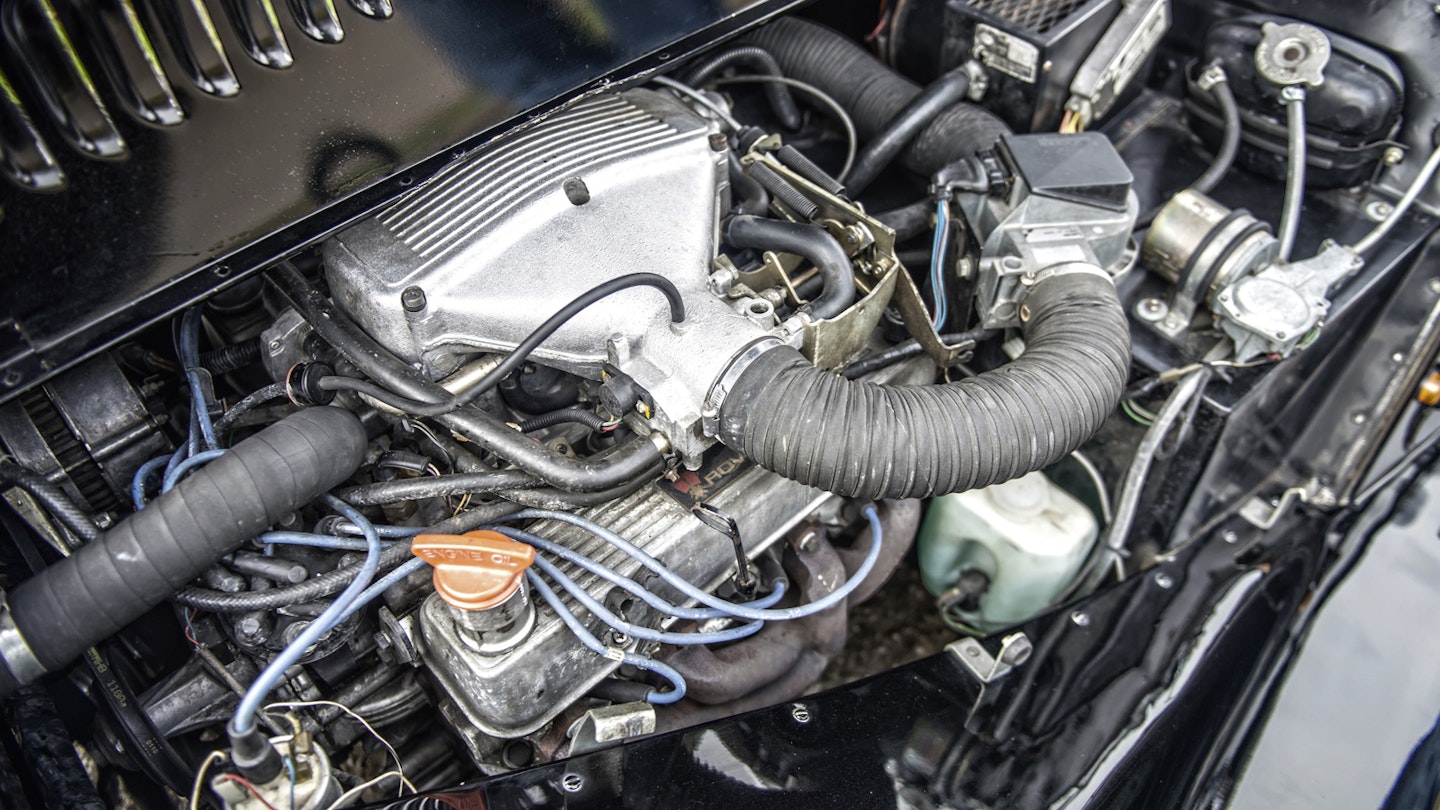 It's only when you get close to a selection of Morgans that the Plus 8's aggression becomes obvious. Whereas the four-cylinder cars are petite and rather quaint (but none the worse for that), the much wider track and body of V8-engined cars gives them a thuggish air. It's a sort of old-fashioned British hot rod decked out in tweed.
We're under way now, with the V8 burbling out of its backbox. Michael doesn't take long to pick up on the soundtrack, nor the qualities of this engine. 'There's something addictive about a V8,' he muses. 'With all this torque you don't even realise which gear you're in – we were in fifth just then, but I thought it was third, and the noise is really special too.'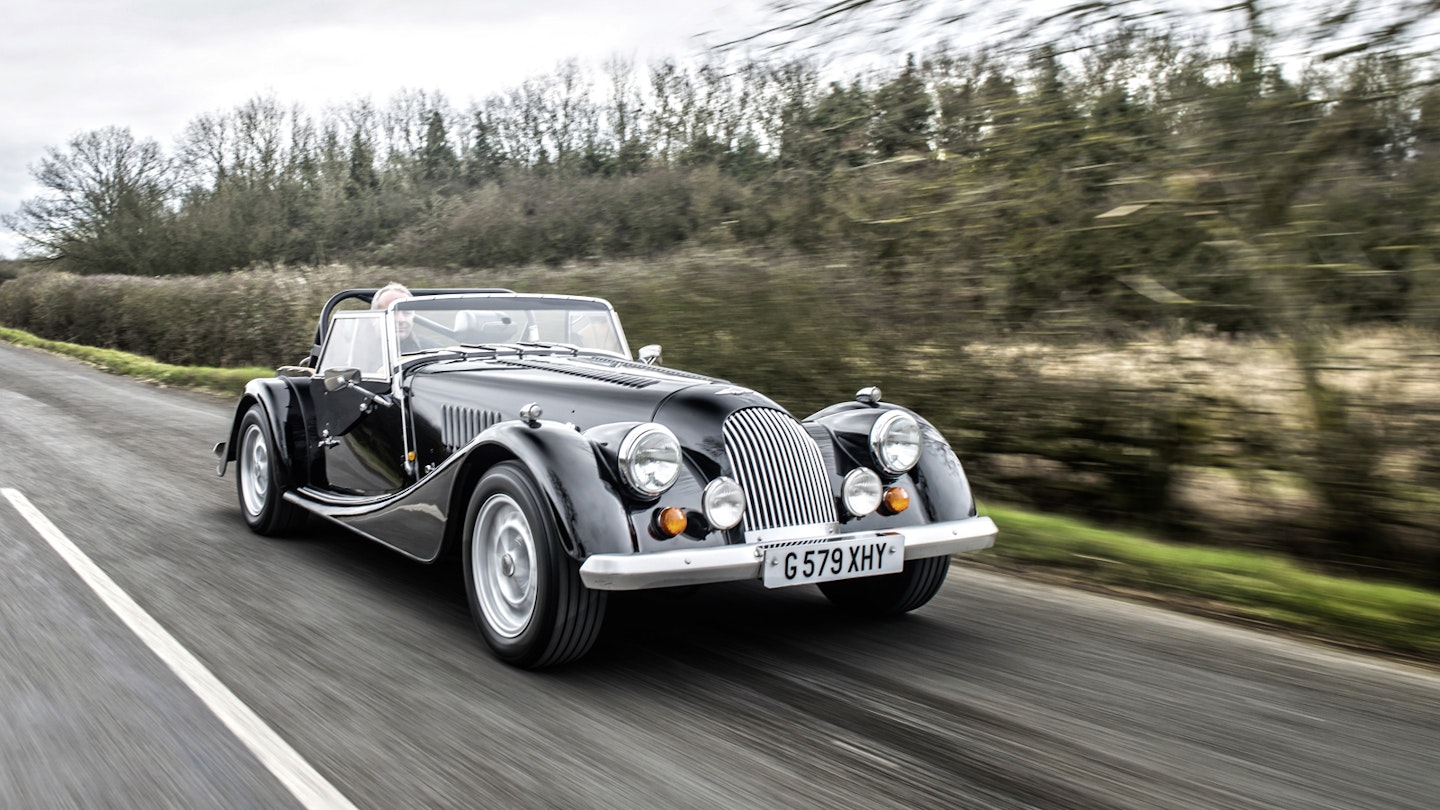 Initial progress is smooth and measured, with Michael quickly getting the hang of the controls, which are quite different from those of a modern car. In particular the brakes, with their lack of a servo, require a firm push. 'I went to press the brakes the first time and not much happened,' Michael exclaims over the rush of air shooting above our heads. 'When I started driving it everything felt very heavy. It has great feel, but the brakes and steering are very different from a modern car. It took me a while to get the hang of it.' I think Michael is doing himself a disservice and say so, because there's no doubt that the Morgan requires your brain to be in tune with how it likes to do things.
'It also feels a lot faster than it really is,' Michael adds. 'We were doing 30mph down that lane, but it felt a hell of a lot faster.' I know what he means – one of the key attributes of any classic British sports car is using the sensations of rushing air, noise, heat, effort and a closeness to nature to embellish the emotional content of driving. It's a characteristic that's more relevant today than ever before, with our crowded roads and draconian electronic policing.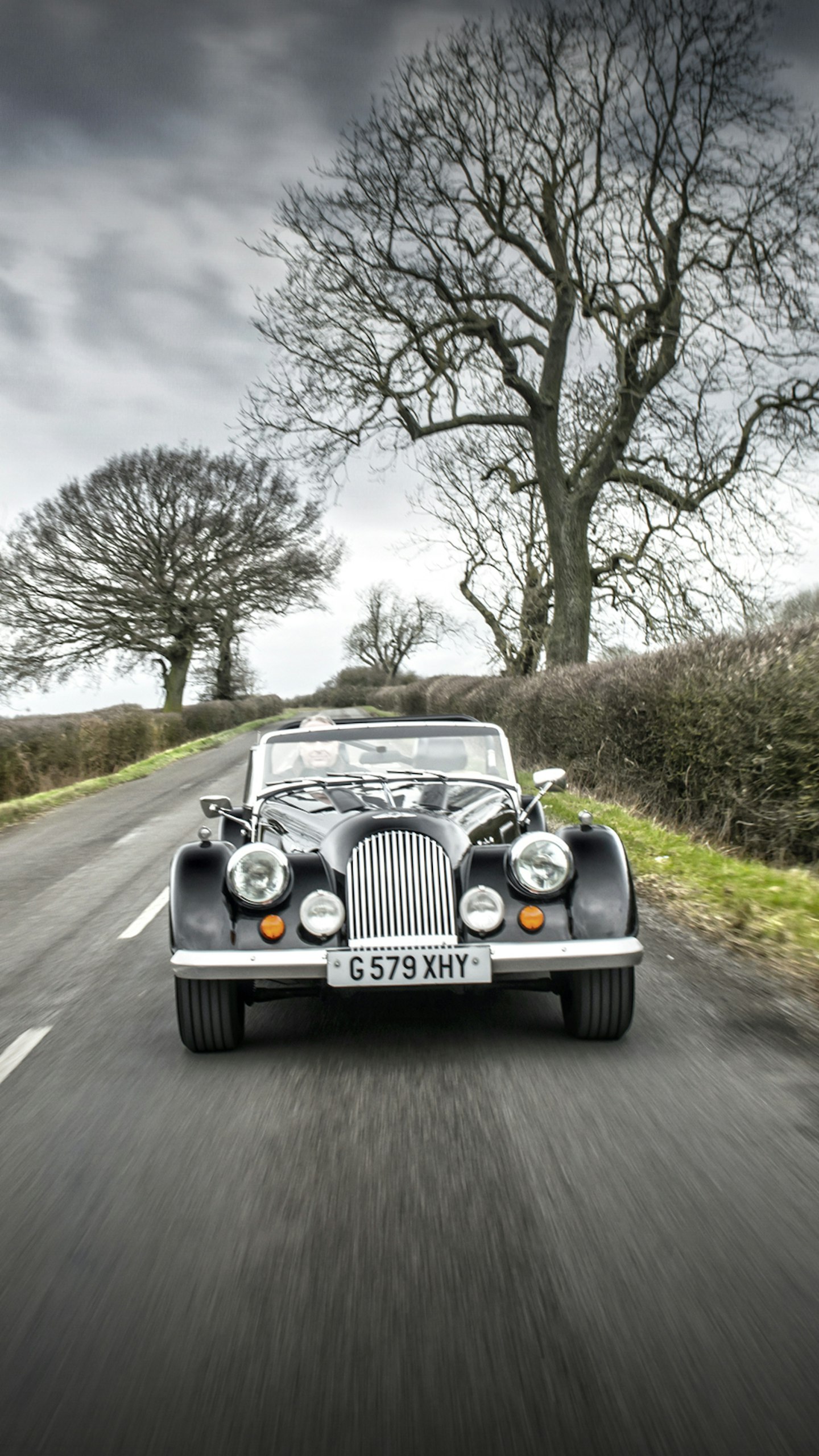 I sense Michael is keeping his cards close to his chest, and I'm desperate to try this Moggy myself. I feel as though I should be wearing a leather helmet and goggles, while the lack of a suitable moustache feels like a major oversight in my personal grooming regime. I also love the aggression simmering beneath the hand-formed surface: the view down the bonnet is punctuated by vents but also squashed into letterbox format by the narrow windscreen, making the car feel more like a piston-engined fighter than an old roadster. Morgans may have a traditional appeal, but remember that the Plus 8 was arguably the fastest accelerating car on sale in Britain when it was launched in 1968. In its day it was rather like TVR in the Nineties, offering amazing performance for less money than the offerings of the major motor manufacturers.
There may have been more bombastic, more tunable V8s and more successful V8s in motor sport, but there's something appealingly homely about the light, melodious and torquey Rover unit when mounted in such a car. It also makes it amusingly fast in an unstressed kind of way – fast enough that a sudden corner forces you to concentrate wholly on what you're doing.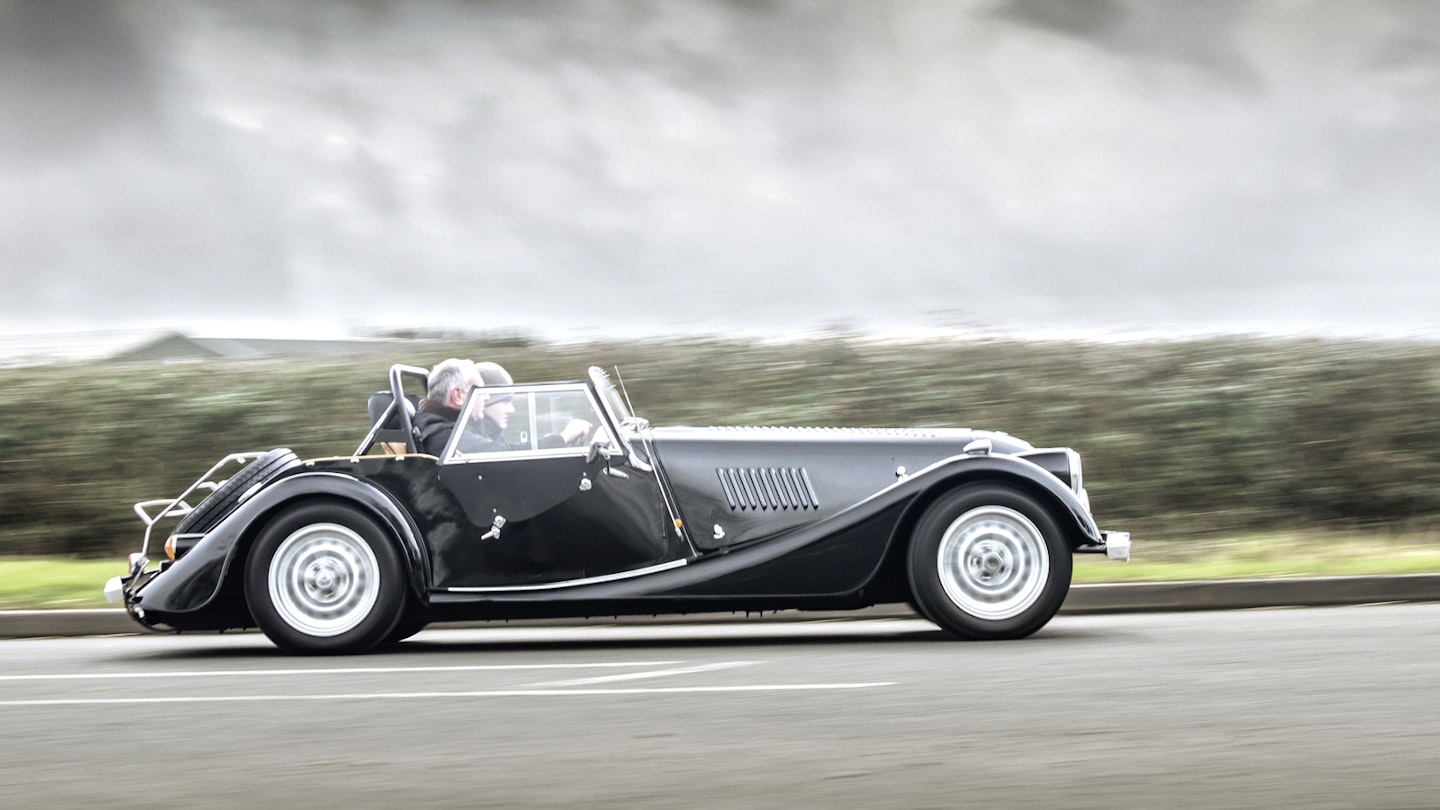 Arriving at that corner, it's clear Michael's observation about the controls is correct, yet I'm surprised at how direct the steering is – I'd expected something more vintage in feel, but the Plus 8 proves rather sensitive to inputs and the mechanism is certainly accurate. The gearshift has a lovely snick to the way one gear gives way to the next. In fact the Plus 8 is suddenly looking like a B-road blaster until we hit a bump, instantly reminding us of the crudity of its chassis. The Morgan skips and jolts, the body seems to want to go in its own direction and the steering and scuttle shake in protest. It's a foible – a characteristic, perhaps – that once learned becomes something you live with, driving around the problem, or trying to avoid the worst of the potholes at any rate.
This doesn't mean there's no large grin plastered all over my face. The Plus 8 really is a hoot, and it doesn't take much imagination to see how on a balmy, sunny evening a relaxed drive in a Plus 8 accompanied by the omnipresent growl of the Rover lump could be many an enthusiast's idea of motoring nirvana.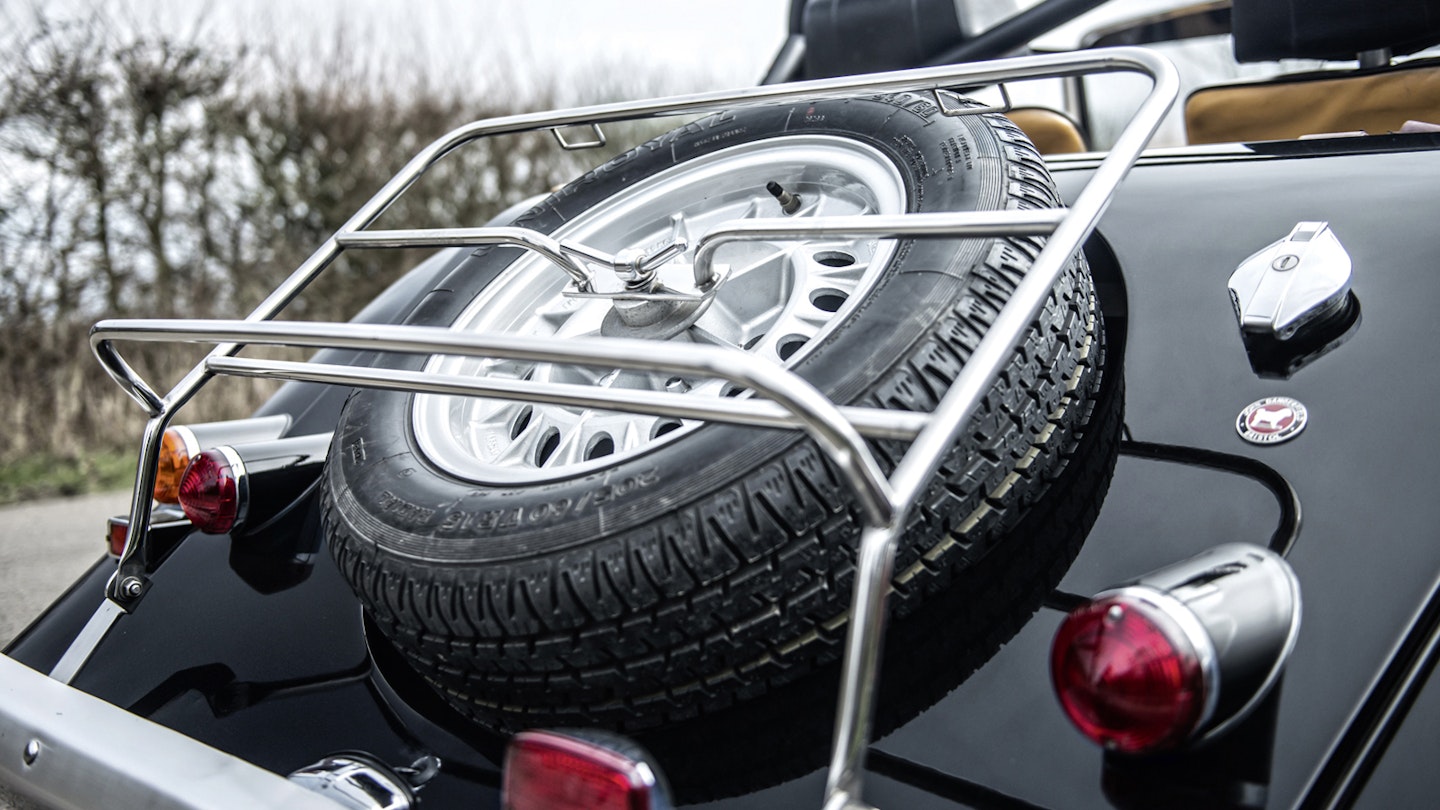 Back at Allon White Sports Cars, where this car is for sale, Michael is ordering his thoughts. While he has obviously enjoyed the drive, it's also clear his feelings are mixed. 'I don't know what my expectations were,' he says.
'I'm impressed by the power and the roadholding, but I don't think I would spend my money on one – it's just too specialist for me. I'm really glad I've driven it, though.'
There's a pause, then he continues. 'I was expecting the scuttle shake and the bouncing over bumps, but…
'It's a car I've lusted after, and it was on my list, but not any more. It would simply be too impractical for me, but that's not any fault of the car. I need a classic that's a bit more practical and I would want to use it far more than I would be able to use the Morgan.
'But I understand completely why they inspire such loyalty. I think if you owned it you'd feel good walking up to it on your driveway – it would put a smile on your face.'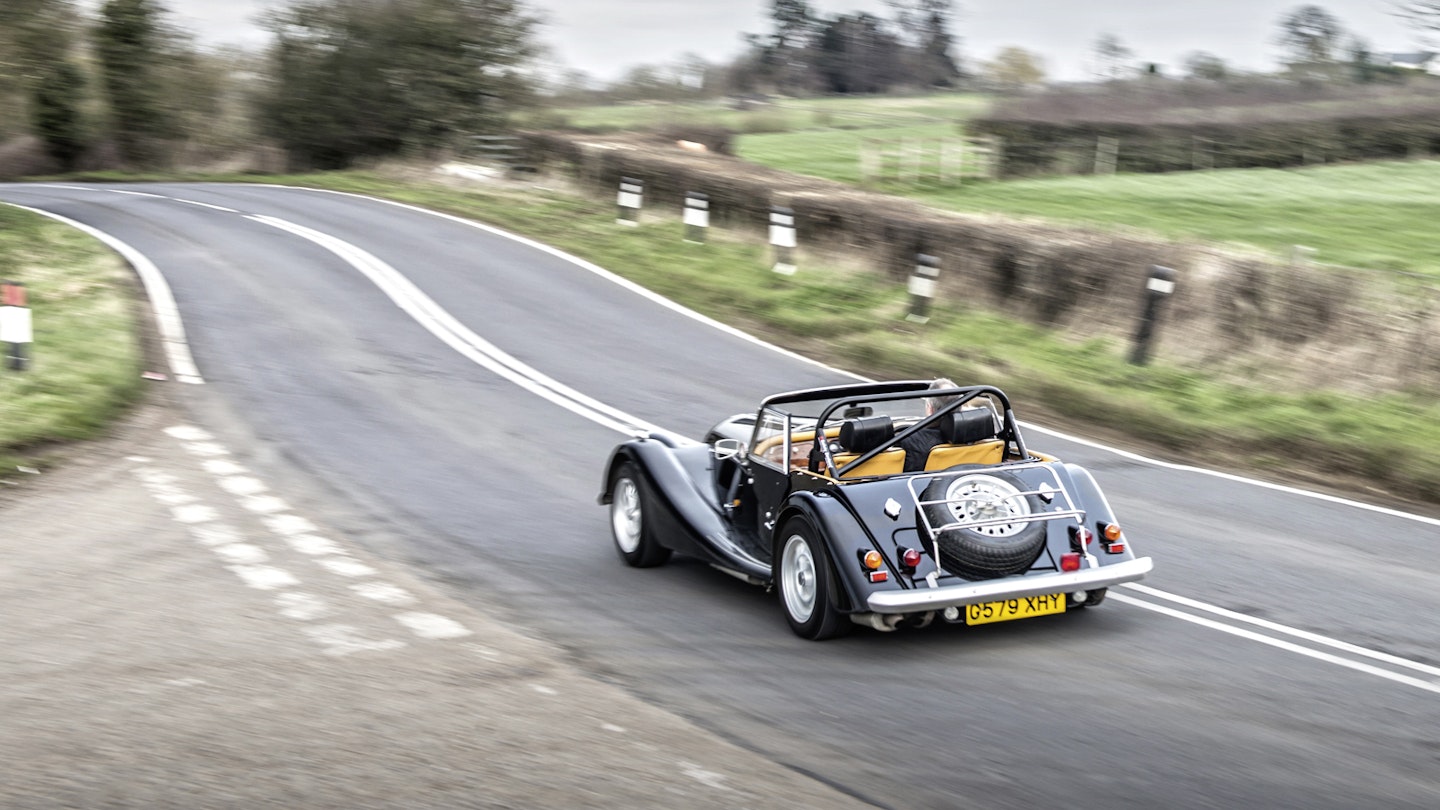 With that, the Plus 8 is rolled back into the showroom to wait patiently for its next owner. That may not be our reader today, but there are more than enough aficionados to keep the Plus 8 legend alive for many years to come.
1990 Morgan Plus 8
Engine 3528cc, V8, ohv, two valves per cylinder, Bosch L-Jetronic fuel injection
Power and torque 190bhp @ 5280rpm; 220lb ft @ 4000rpm
Transmission Five-speed manual, rear-wheel drive
Brakes Discs front, drums rear
Steering Rack and pinion
Suspension Front: coil springs, sliding pillar dampers. Rear: semi-elliptic leaf springs
Weight 915kg (2017lb)
Performance Top speed: 126mph; 0-60mph: 5.6sec
Cost new £25,000
Thanks to: Phil Benfield and John Bellenger at Allon White Sports Cars of Cranfield (allonwhite.co.uk, 08445 731966), where this Plus 8 is for sale at £28,995; to Michele Chapman at the Morgan Sports Car Club; and to John Donovan.