A quick stop for running repairs became a painstaking ground-up restoration, mingled with obsessively correct replication of Shelby details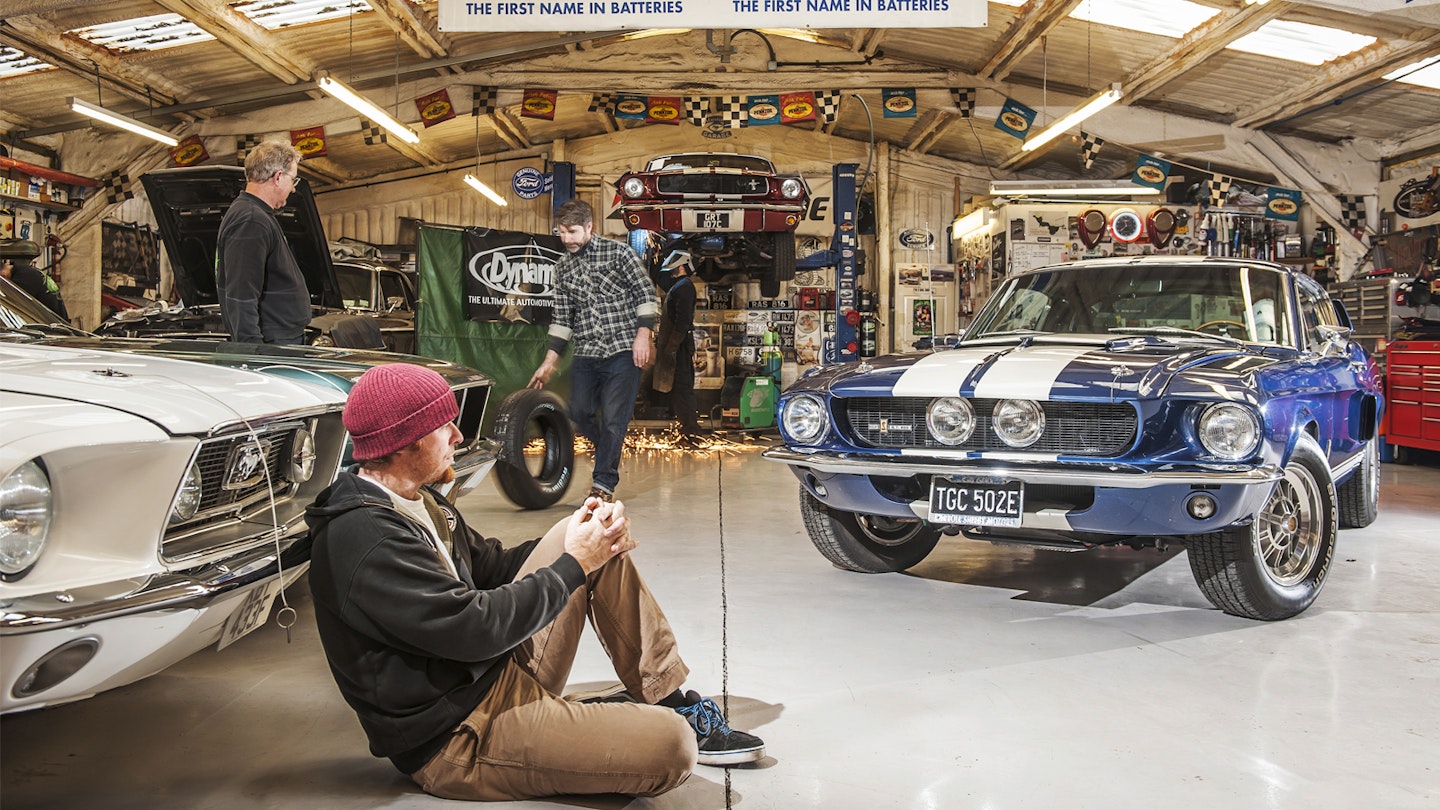 'I wanted super-accurate detail and a great drive'
What makes a good choice of car to replicate, and when is it justified? Surely when the object of desire differs little from a more humble model yet costs many times as much, and when the donor vehicle has already lost much of its originality.
These conditions were met by the car you see here. With the best GT500s fetching in excess of £100k while lesser 1967 fastback Mustangs make £30k, there's a significant gap considering the cars share around 90% of their parts. And this one was already somewhat 'Shelbyfied' – rather badly, as it turned out – when it was bought and shipped from America by Mark Placzek.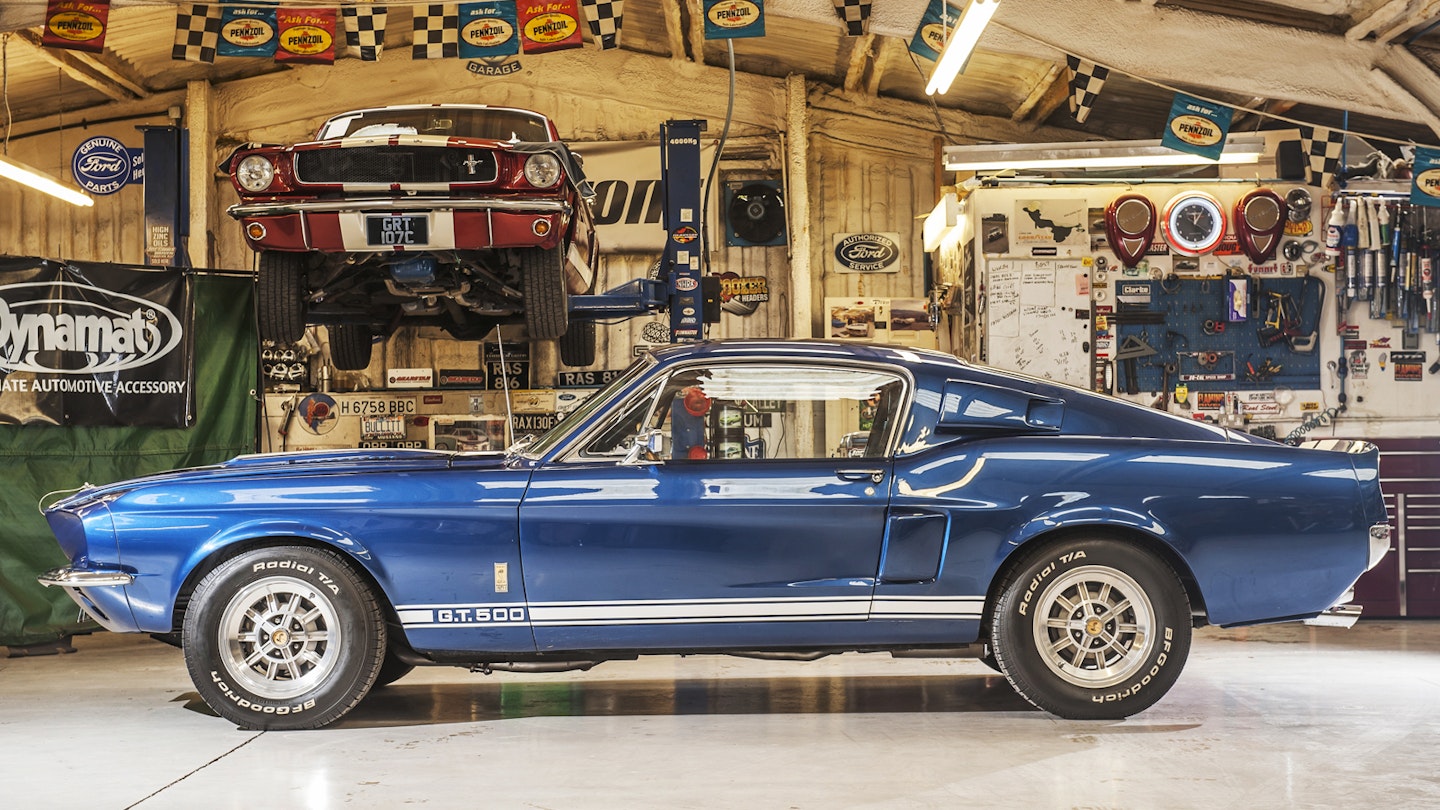 After a catalogue of embarrassing breakdowns and disappointments with inexpert help in London, Placzek found Roy Holmes at the Mustang Workshop in Hook, Hampshire, and got the car transported there. Holmes' initial assessment of the car was pretty damning, but Placzek wasn't wholly surprised. 'It was that defining moment when you realise you've been driving around in a deathtrap for the past year and a half,' he says.
Roy Holmes remembers the day Placzek turned up – there was a genuine Shelby GT500 convertible in the workshop and Placzek seemed taken with it. Yet when Holmes asked Placzek what he wanted to do about his car, his new customer walked out of the workshop, saying he'd phone later on. Roy Holmes was surprised, and a little doubtful. But the phone duly rang. 'Mark said that if the car needed to be done, it better be done properly,' says Holmes. 'That meant a total stripdown and rebuild with the right parts. So we got started.'
Mark Placzek's stepfather had a 1965 Shelby Mustang GT350 and it made a deep impression. Quite how deep might not have been apparent until years later, when Placzek visited the home of a new girlfriend. 'I walked in and saw she had a model of a Shelby GT500 KR on her mantelpiece. I was deeply impressed,' he recalls. She is now Mrs Placzek. But even after they were married it took a while for a shared dream to become a reality, as her husband recalls.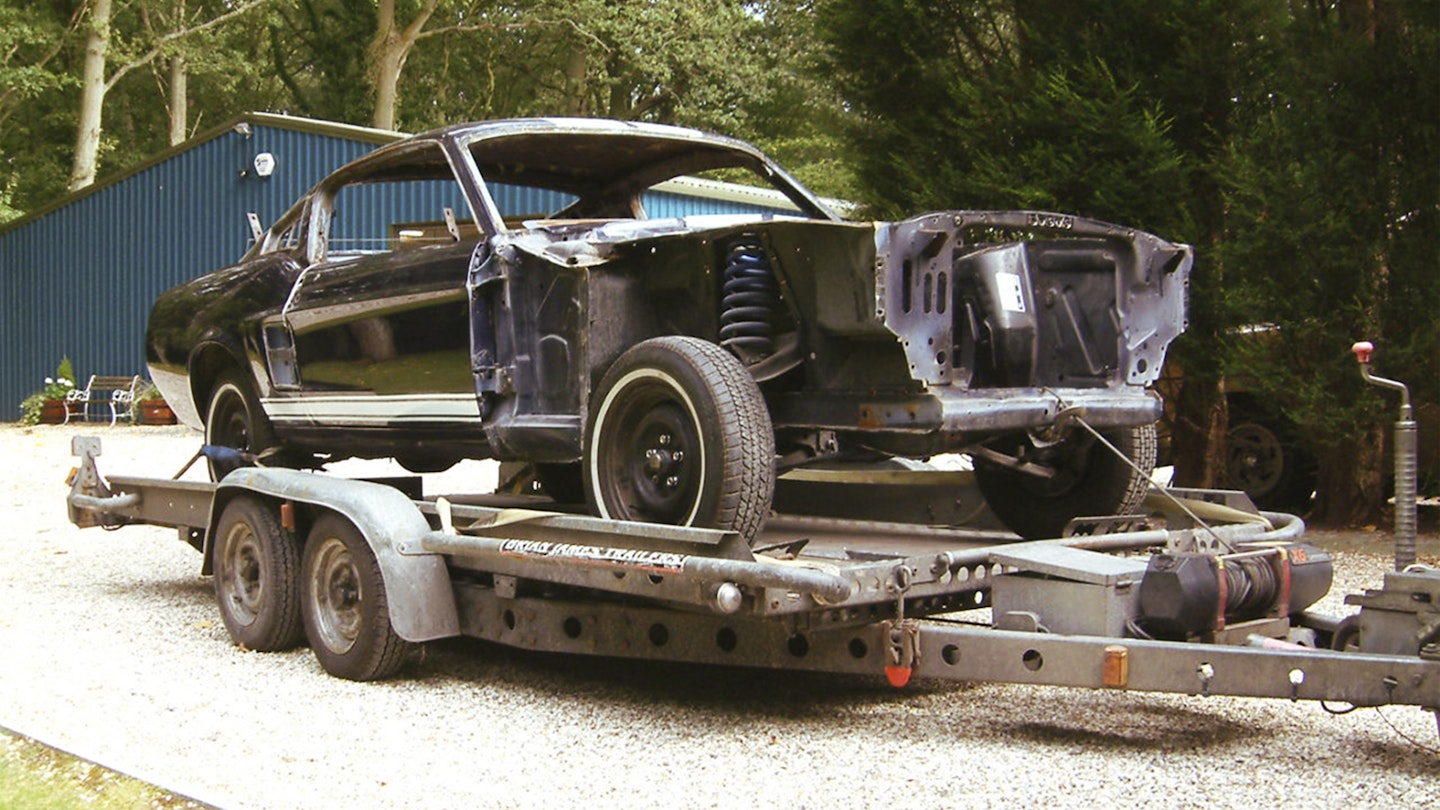 'One day we just decided to do it,' he says. 'I started looking for the right car for sale in America and eventually found this one. We had someone in the States check it out and it got the thumbs-up. We picked it up on New Year's Eve and it felt like the best day ever…until a head gasket blew on the way home.'
The Placzeks did get to enjoy the car after the restoration was complete, but circumstances then caused its sale. It then became the property of another hardcore Mustang fan, Rob Howell.
'I was looking for a Highland Green fastback like the one from Bullitt,' says Howell, a self-confessed Steve McQueen nut. 'But I couldn't find anything that seemed to be worth the money asked for it. Then I found Roy, who told me of this Shelby clone for sale and I thought, if Steve McQueen – not Frank Bullitt – were buying a Mustang, would he choose a green fastback or a Shelby GT500? It had to be the Shelby.'
Assessing and stripping
'The floors were bad too – every area needed repair'

Roy Holmes
'It seems that other people who had a go at it left lots of little things un-fixed,' says Roy Holmes, 'which is why it ended up with us. What I found was a car in a kind of halfway GT500 trim, but the standard of the work wasn't great.'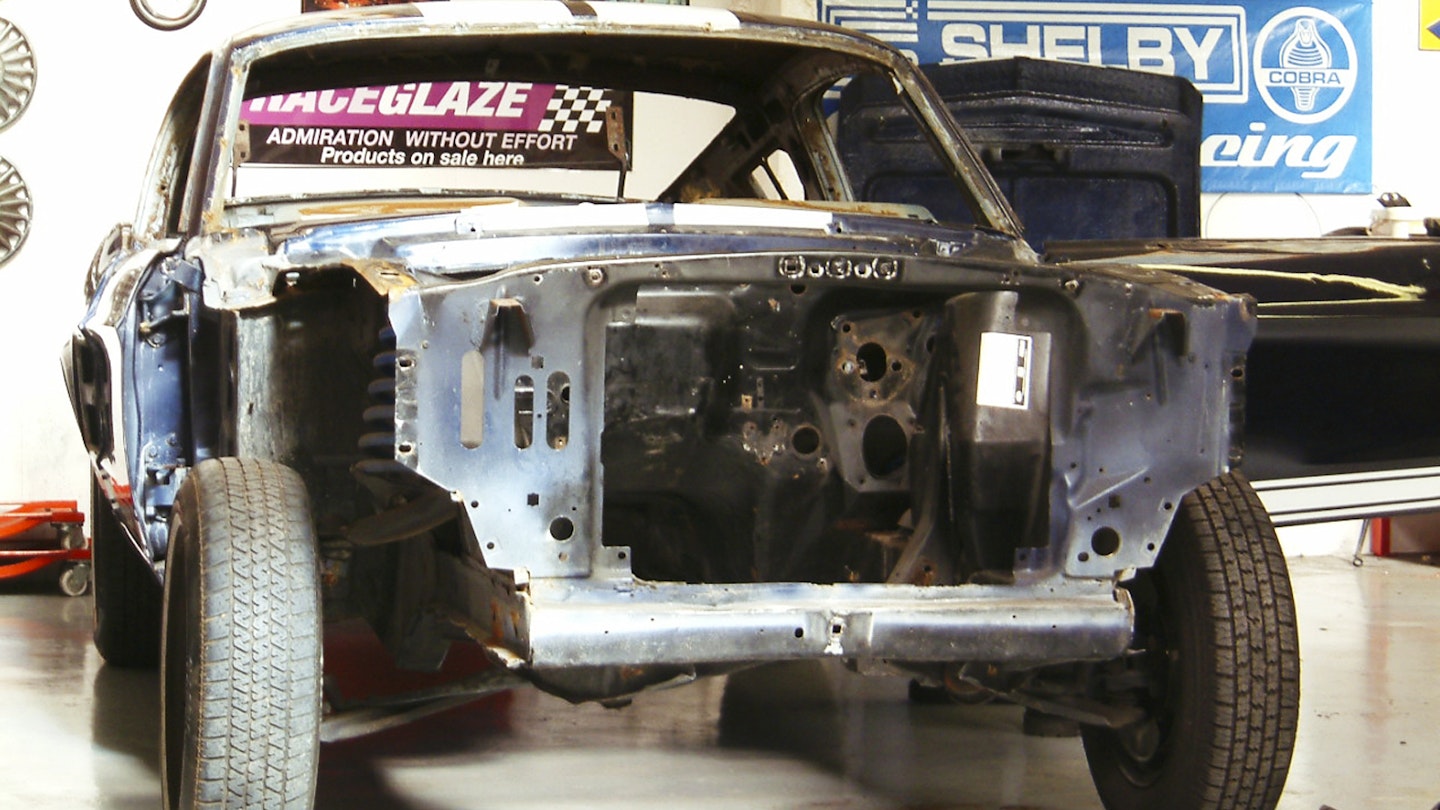 One example was the engine bay. It was home to the car's original 390ci big-block V8 that had been restored with nothing more than an aerosol. The bad news continued when a close inspection was made of the car's structure. Holmes found filler in various places and knew what was coming by the time he started lifting carpets and inspecting the steel underneath. 'The boot area was pretty holey,' he says. 'The floors in the cabin were bad too – every area needed repair.'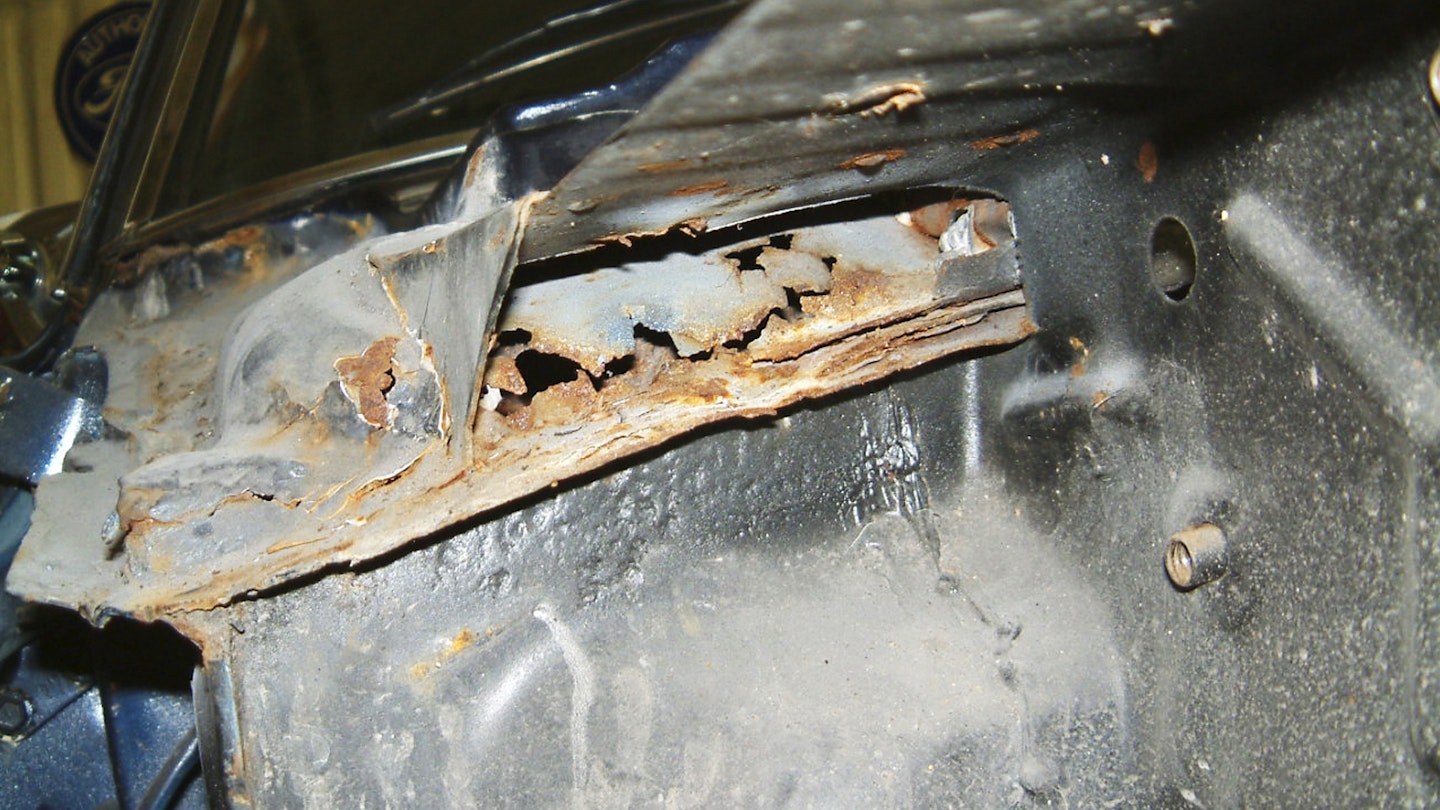 Holmes worked with Fintan Ellis at FH Ellis Coachworks to arrange the sourcing of a complete new floorpan – the first time such a thing had been done in Europe after the item became available in the US.
'I spoke to Mark, the owner, and explained that the floorpan was expensive to buy but would actually be cheaper by the time it was installed in the car because of the reduced amount of labour involved in fitting it, as opposed to several individual panels,' says Holmes.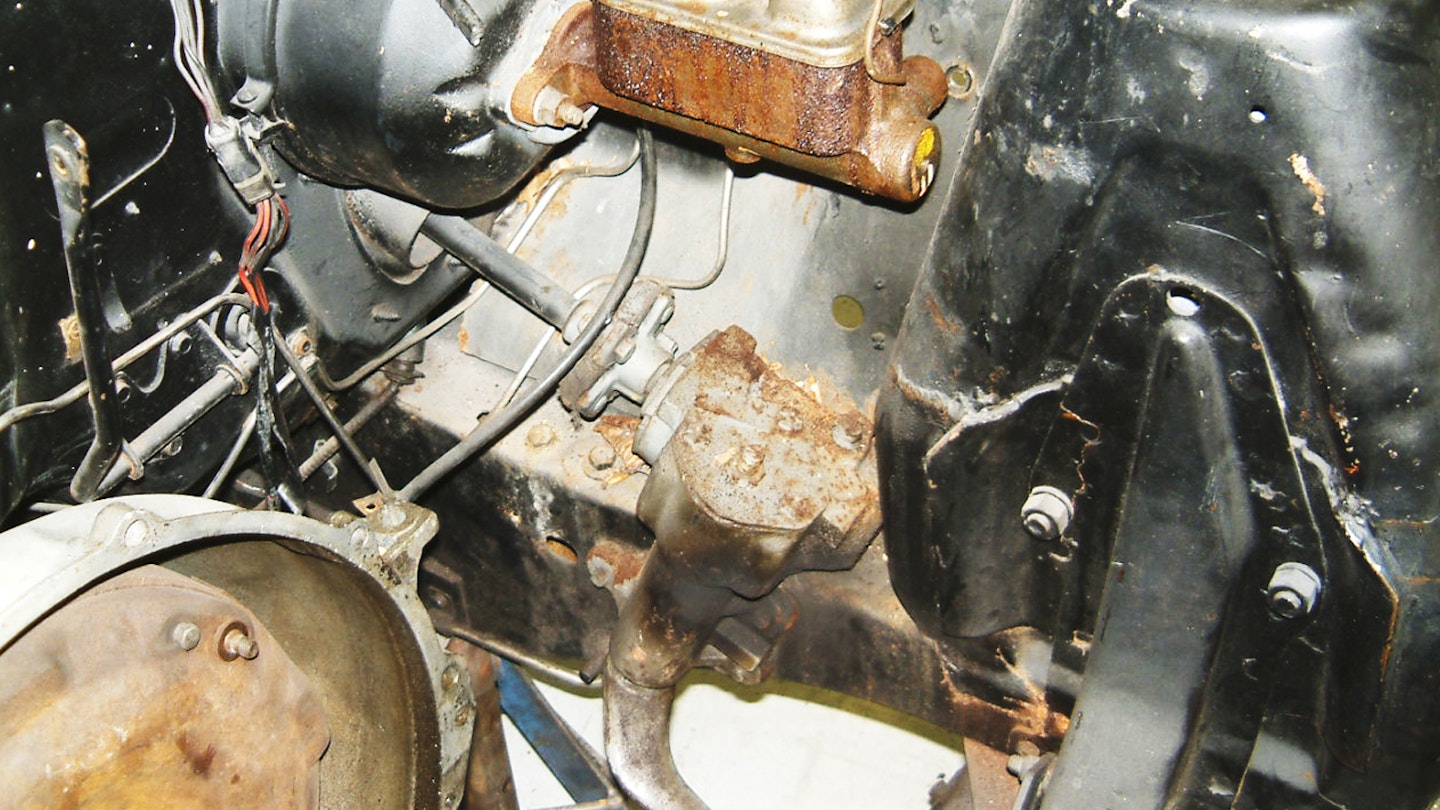 Before that could happen, the slow and methodical work of stripping the shell had to be completed. Holmes catalogued every part, especially the Shelby-related bits.
Hours taken: 500
Part sourcing
I'd sit for hours, scanning eBay for a piece of trim

Mark Placzek
Shelby American didn't make many cosmetic changes to the 1965 and '66 Mustangs for the GT350 models, but with the revised body for 1967, Ford encouraged more distinction. FoMoCo staff at Dearborn designed a few add-ons, requiring Shelby to fit a glassfibre nose cowl and rear spoiler, two high-beam lights in the centre of the grille, air scoops and lock pins in the bonnet, air scoops on the roof, longer rectangular tail lights and a wide variety of detail changes to interior trim, dash equipment and badging.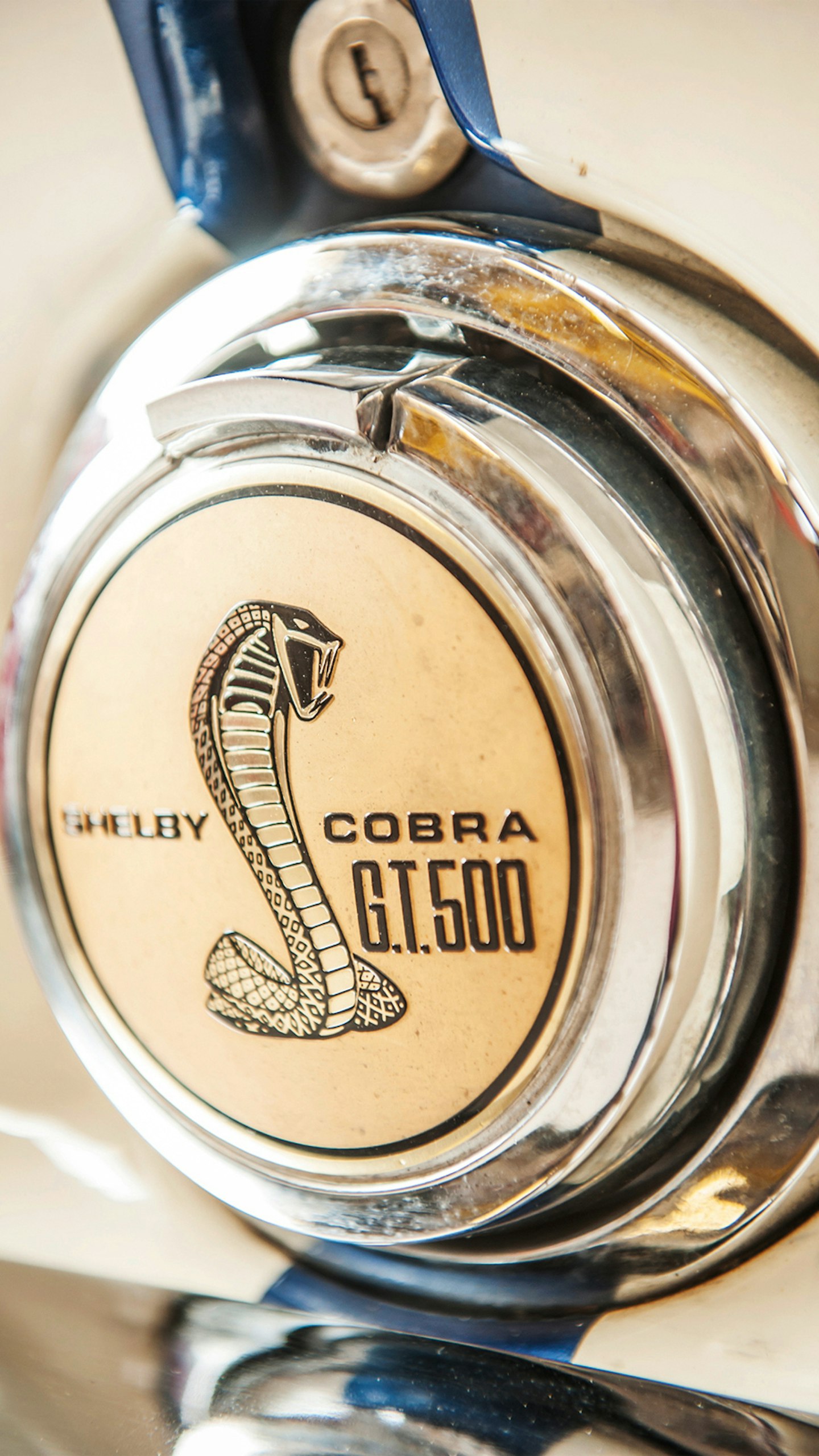 So while 90% of the parts remained the same as a regular '67 fastback, the remaining 10% can create serious headaches for restorers. Rather than leave it all to Roy Holmes, Mark Placzek used his compendious knowledge of Shelby specification to hunt for parts.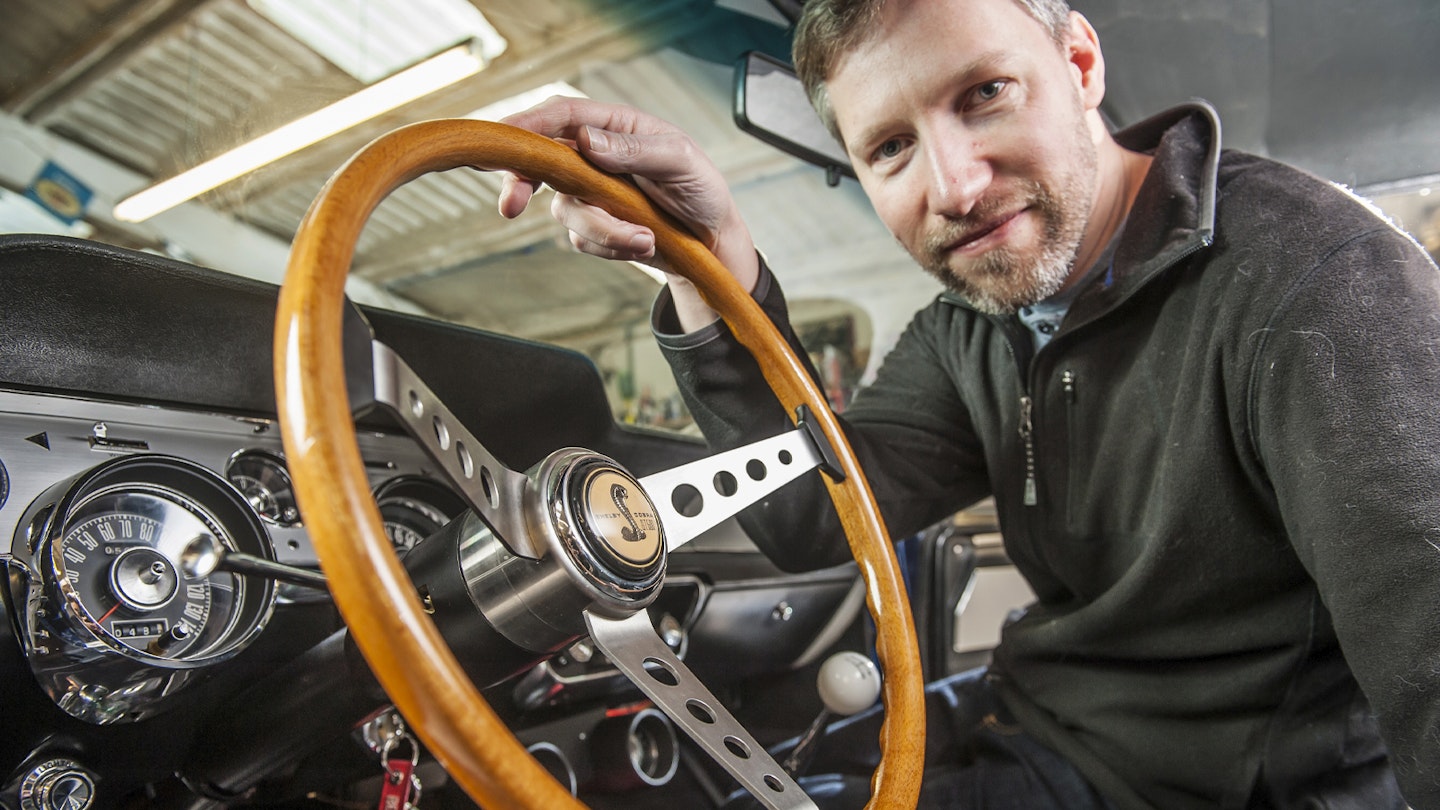 'I'd sit for hours, scanning eBay for a piece of trim,' he recalls. Mark thought he'd have to pay $7000 for an original 1967 Shelby steering wheel – if he could find one. But then he found Tony D Branda (cobranda.com). 'I got an exact reproduction for $1200.'
Perhaps Mark's greatest stroke of luck was finding someone to re-make the Shelby seatbelt harnesses.
'I was told he only did a couple of sets a year. Worse still, he was retiring, but I managed to persuade him to take on one last job.
'They were perfect – he even recreated the slightly wonky stitching you'd find on the originals.'
Hours taken: 150
Engine and mechanics
The block is stripped and hot-tanked to remove paint

 Richard French
Richard French, better known as Bear is the Mustang Workshop's senior technician and knows the Mustang's many engine options intimately. 'The FE big-block motors are really tough, but they're also very versatile and tuneable – Ford used them in everything from pick-ups to NASCAR racing.'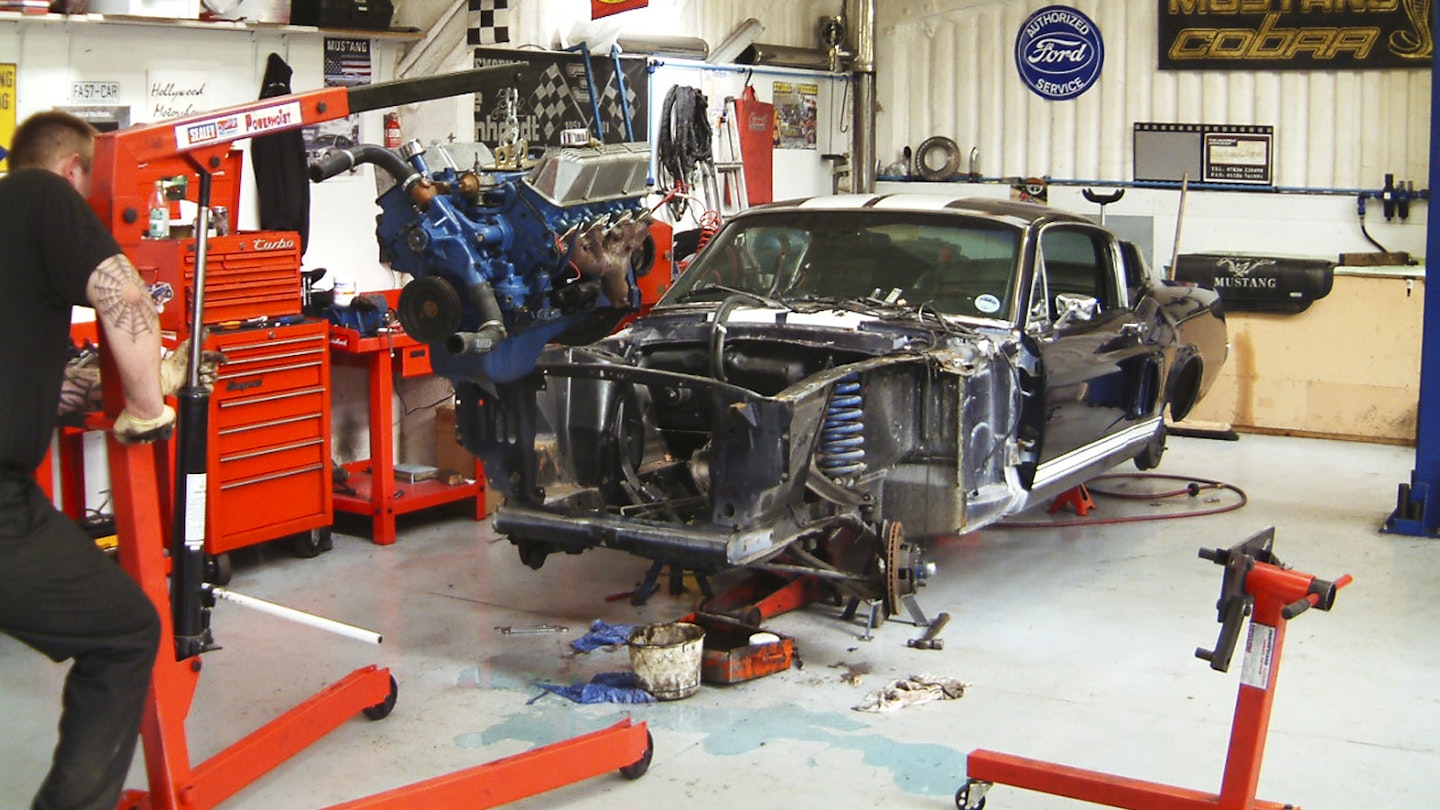 Bear got his hands on the engine when Rob Howell decided to release its potential via a swap to a manual gearbox, and he's set it up to run as sweetly as possible. During the initial build the 390ci engine went to engine builder Mike Huddart. The GT390 and the Shelby's 428 Cobra-Jet were based on similar FE engine blocks, allowing Huddart to convert one to the other. 'It's a straightforward stroker kit,' he says. 'It consists of a new crankshaft with longer throws and new pistons that need an 80-thou (0.080in) overbore to fit. The camshaft is changed but before the build-up begins, the block is stripped and hot-tanked to remove paint and other residue.' This was followed by sonic crack testing to make sure the original block was useable.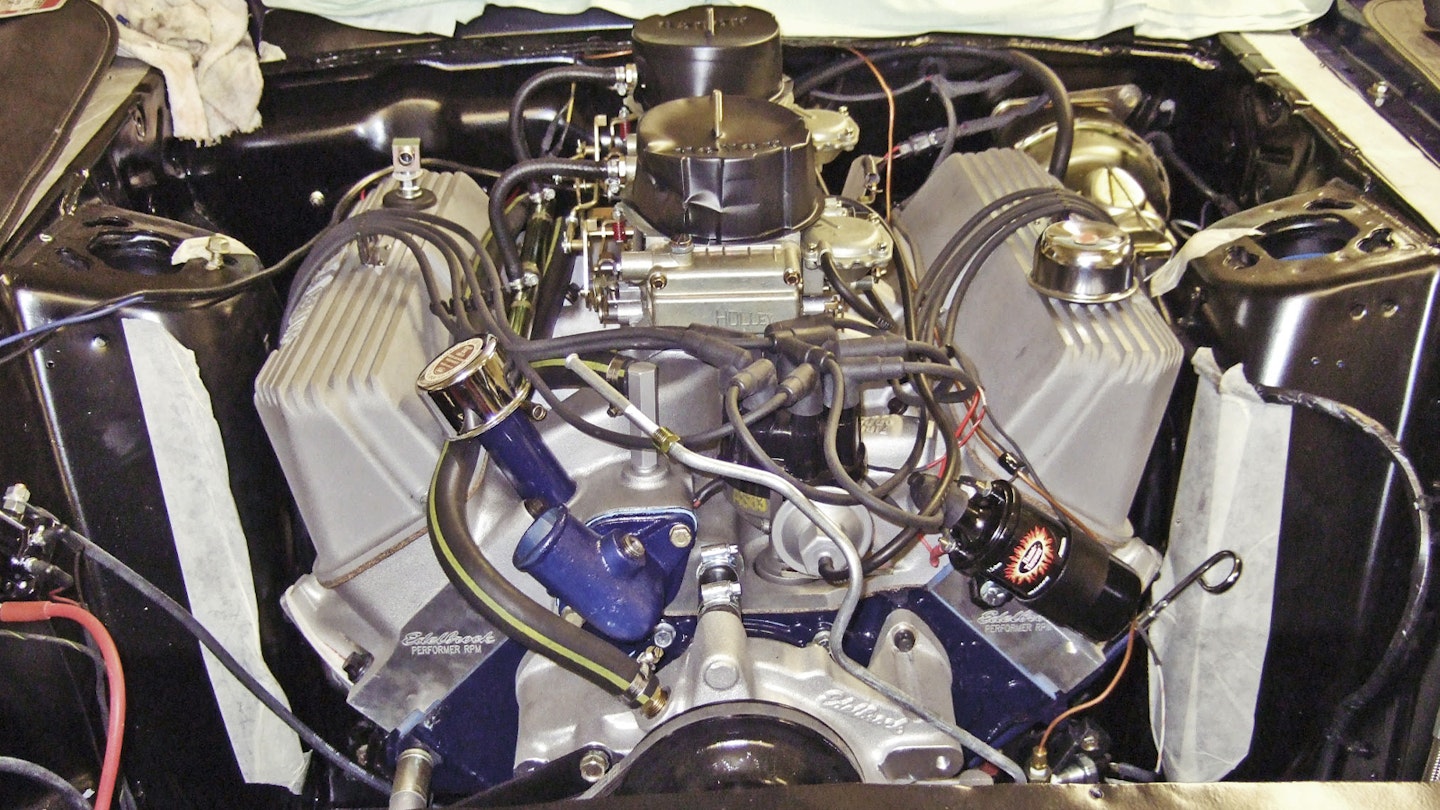 Crankshaft balancing is often overlooked when building engines with altered bores. 'It's vital to have it balanced dynamically, not just statically,' says Huddart. 'I've seen American-built overbored engines with new pistons that are so far out of balance that the main bearing caps are friction-welded to the block through movement. To balance any US type of V8 crankshaft we have to weigh and match all the components that would ultimately effect the dynamic balance, such as conrods (both ends) pistons with rings, pins and big-end bearings. Using a set formula we calculate the mass of the bob weight that must be attached to each crank pin. It is vital to balance the crankshaft with a precisely accurate simulation of all rotating and reciprocating masses that will be attached to it when built.'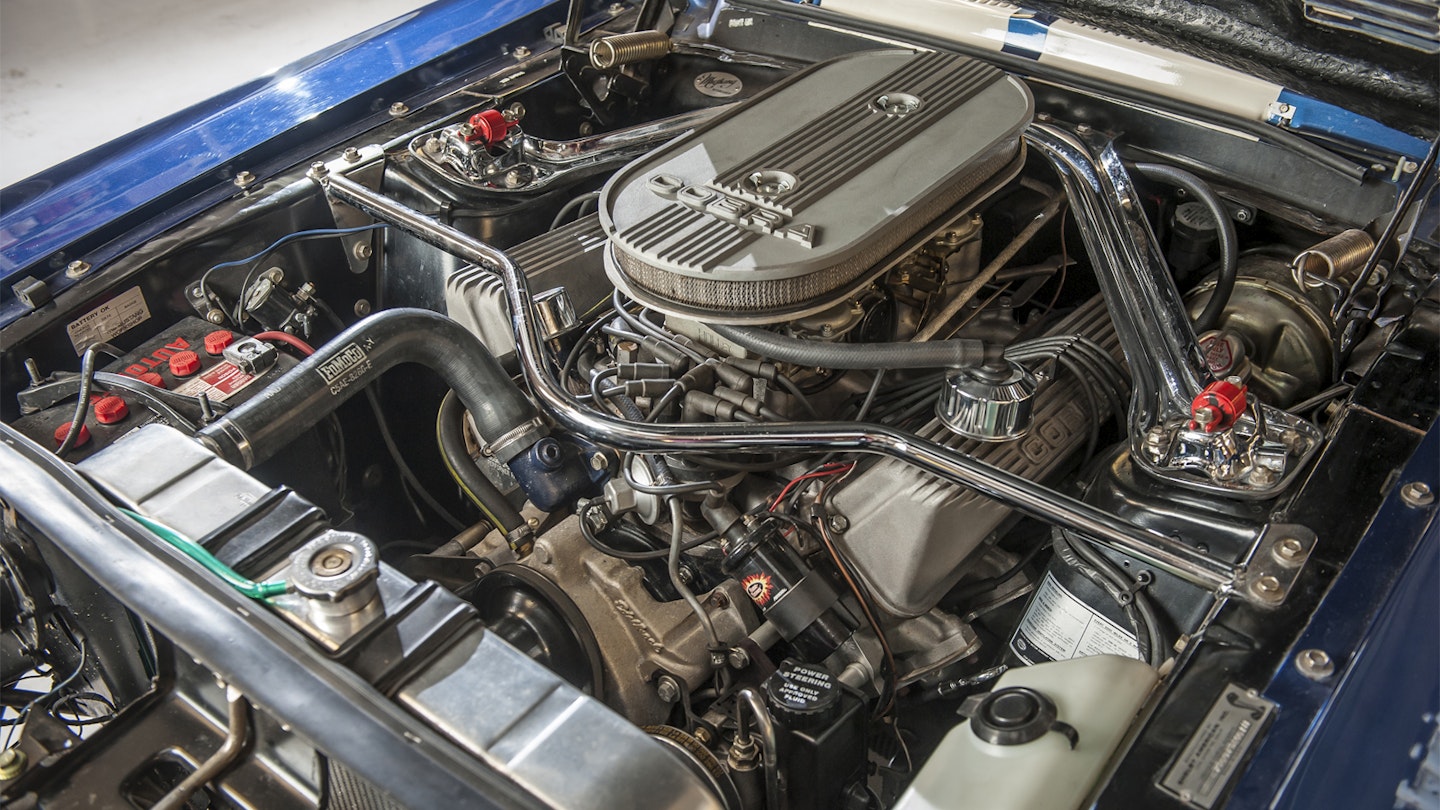 Roy Holmes and Mark Placzek supplied a Shelby wing-side sump to increase oil capacity, plus the twin four-barrel intake manifold. With eight carburettor throats and seven litres of engine capacity, it's no wonder Road and Track recorded a 1967 Shelby GT500 as the thirstiest car they'd yet tested – 9.8mpg.
Hours taken: 150
Body repairs
It took about three months to do the whole body repair

 Fintan Ellis
Fintan Ellis received the car as a complete but stripped-down shell. Before he could decide on the required panel work he had to see the car in naked steel, so it was sent to Cleaning Consultants in West Sussex to be blasted with plastic media. This is an expensive but gentle and effective method of removing paint from steel and glassfibre surfaces using tiny fragments of plastic – crushed toilet seats, as Ellis says with a smile. 'After blasting they give the shell a coat of zinc phosphate primer,' he says. 'It's very stable, allowing the car to sit almost indefinitely without the surface soaking up moisture.'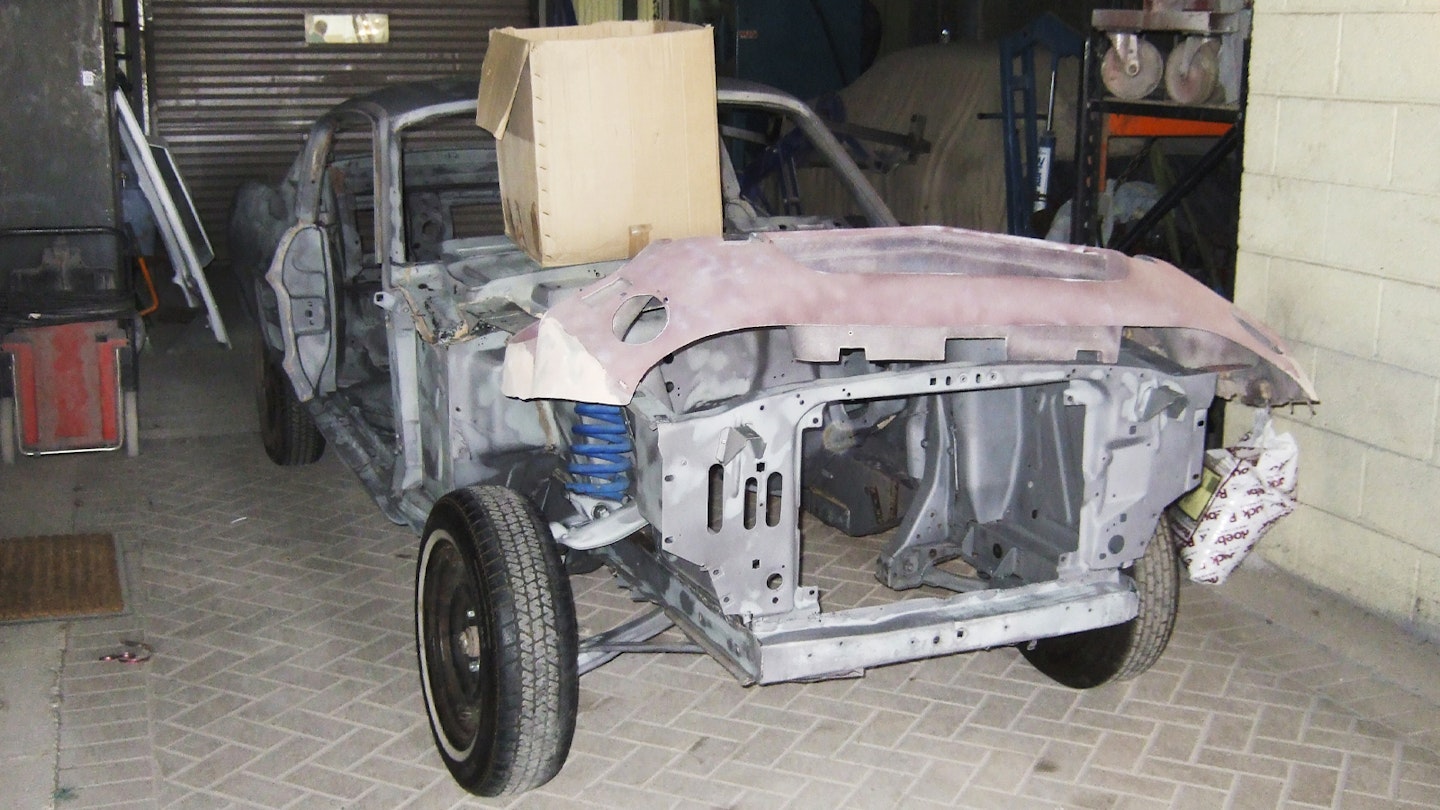 Sadly, a lot of what was coated in zinc would have to be cut off and thrown away, either for structural reasons or cosmetic ones – Ellis didn't want to risk anything that could promote bubbles in a perfect paint finish, even a few years down the line.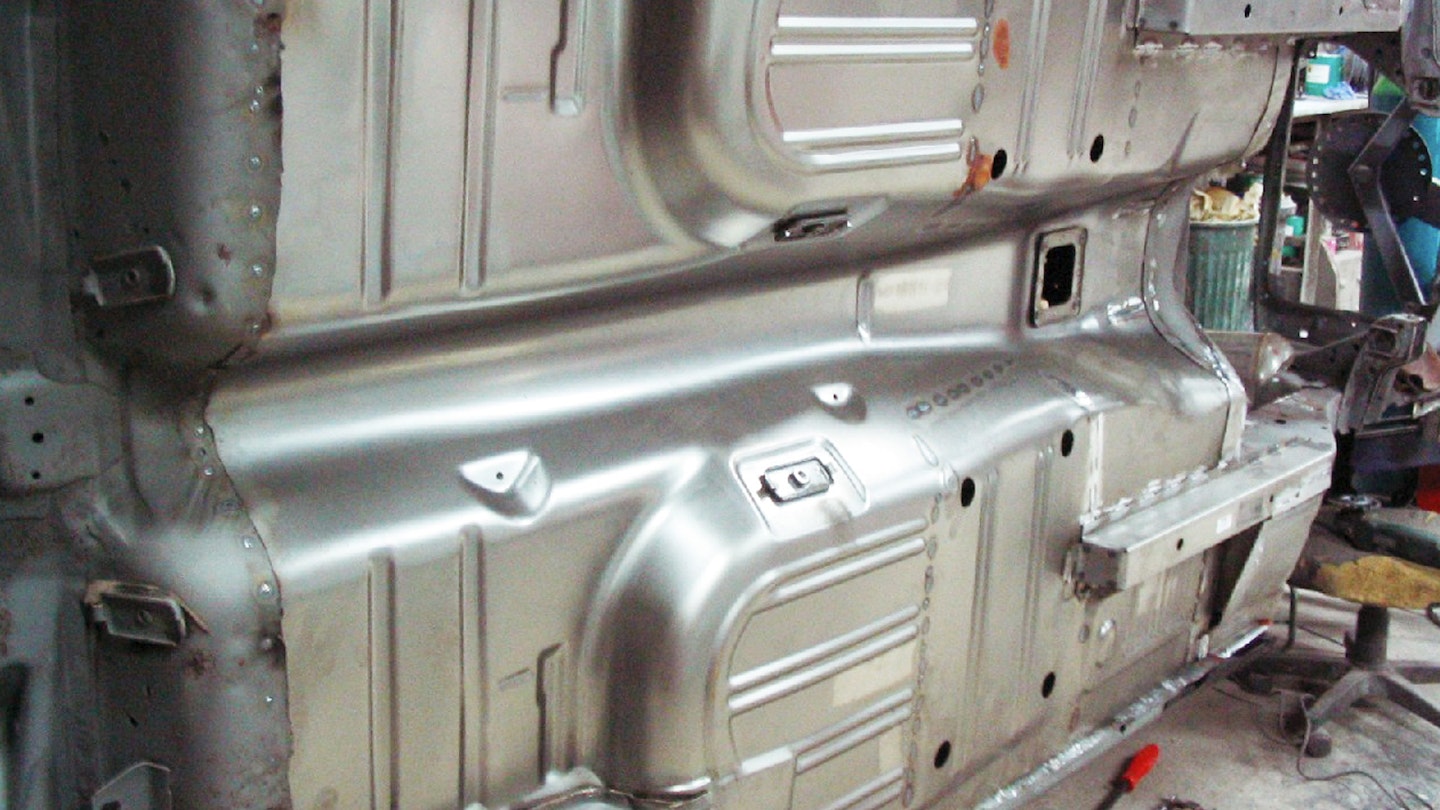 'We ended up with four boxes of new door skins, sills, wings, that one-piece floorpan, a pair of rear quarters, two rear chassis legs, and an inner boot panel,' says Ellis. 'It took about three months, with one of us on it full-time, to remove the corroded bits and fit the new ones. You can get every panel for a classic Mustang and while they're pretty good, they're not as crisp as the original items so we had to pre-fit the bumpers, wings and doors and then strip the whole lot again.'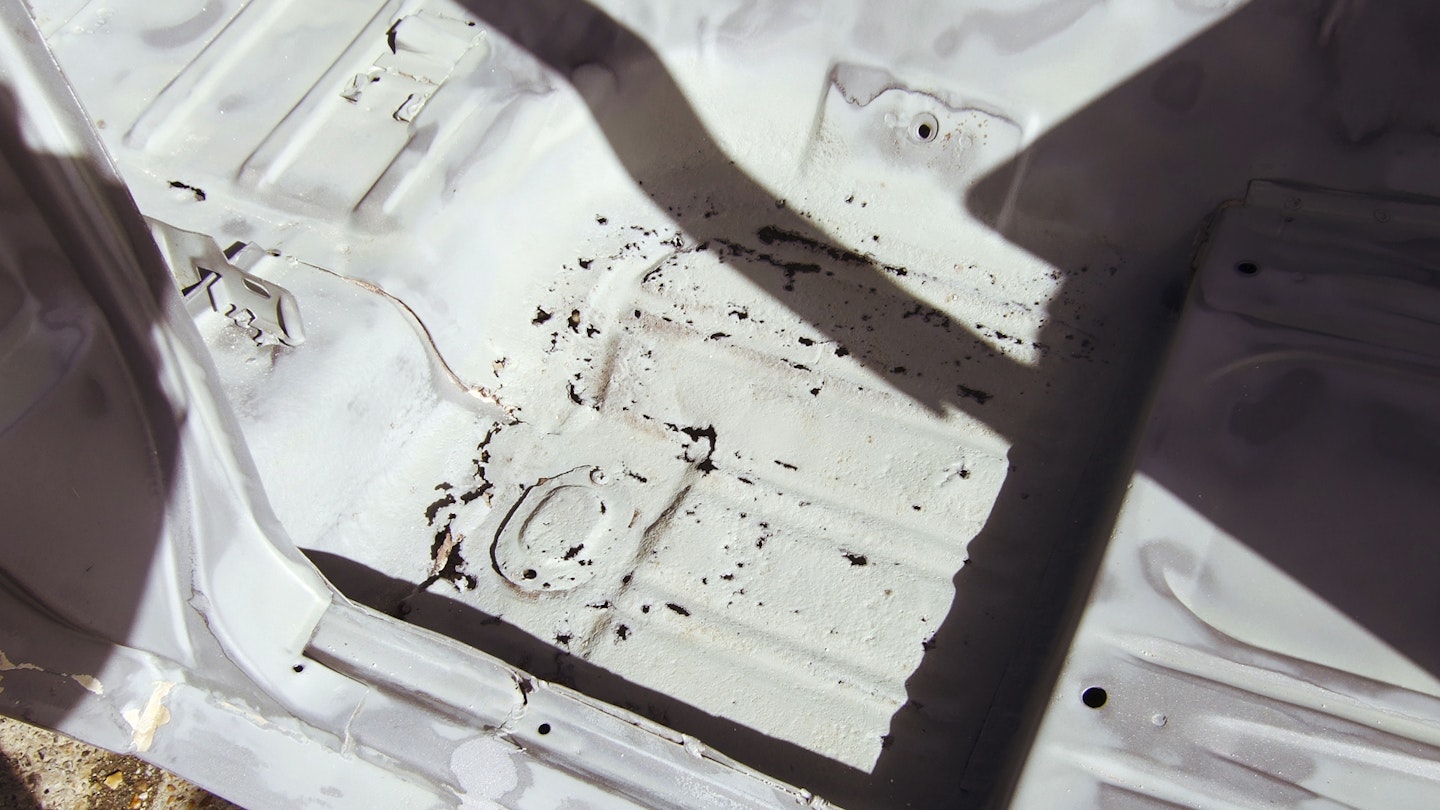 Ellis's team used an epoxy primer as the foundation for the rest of the paint process. This was followed by an all-over skim of fine filler, then block sanding, then a dark grey primer-sealer as a ground coat, then a blue base coat, then a clear coat over all the bits of the car that would end up blue. The white stripes were masked out and then painted before four or five clear coats were applied over everything. Hand flatting and machine polishing finished the job.
Hours taken: 500
Assembly
I was gobsmacked – it really exceeded my expectations

Mark Placzek
The build consumed most of the hours the car spent in the Mustang Workshop, with Roy and his staff working carefully around the beautifully painted shell. There were a few subtle changes to 1967 specification. Mark Placzek was keen to make the car indistinguishable from a genuine GT500 to any interested observer, but having lived with the car in central London with its standard manual steering and feeble brakes, he felt justified in making a few safety-related alterations.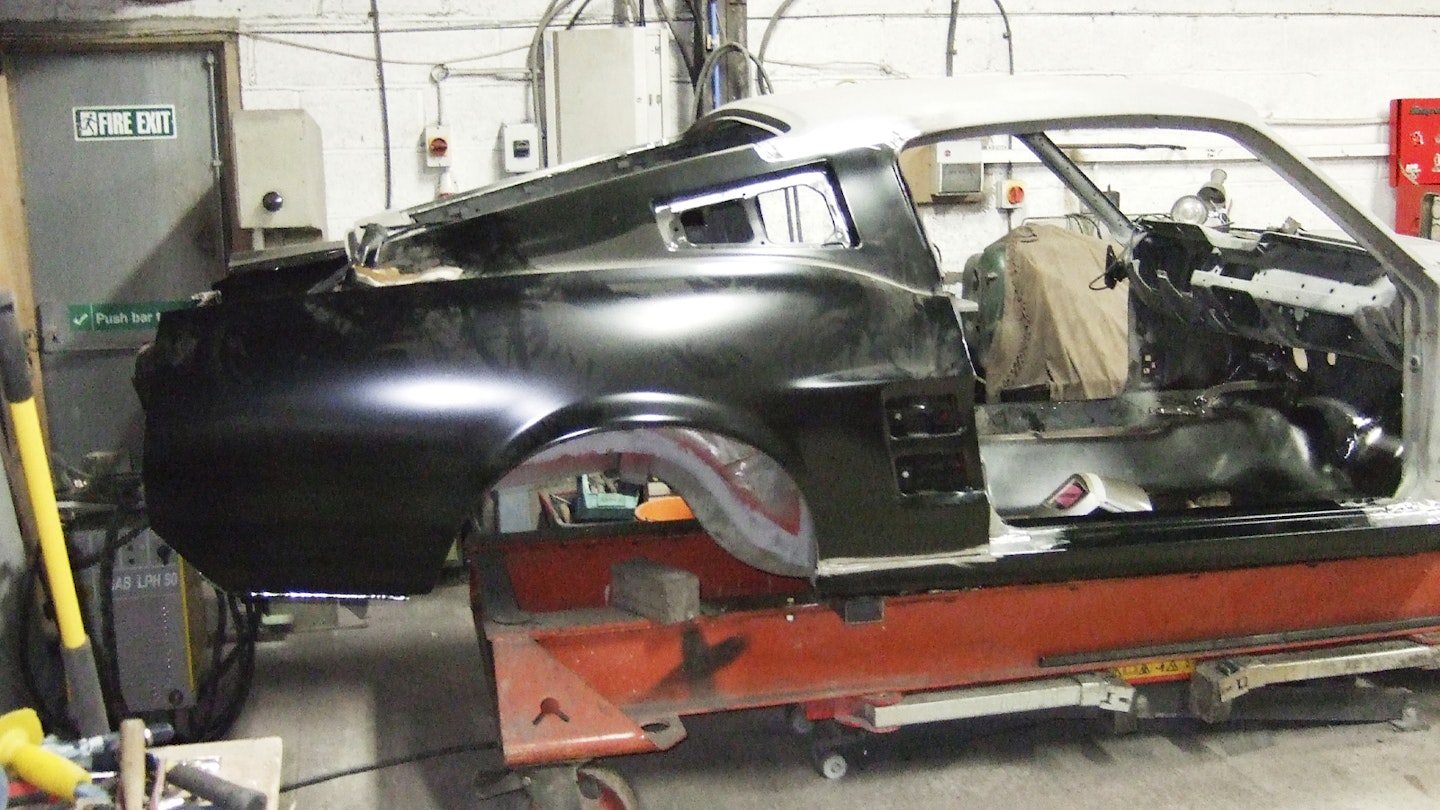 'Mark chose rack-and-pinion power steering,' says Holmes, 'and it does make the car a lot more useable. We also fitted cross-drilled, ventilated disc brakes at the front, but in the standard size that you could order in 1967, so they fit inside the Shelby ten-spoke wheels.'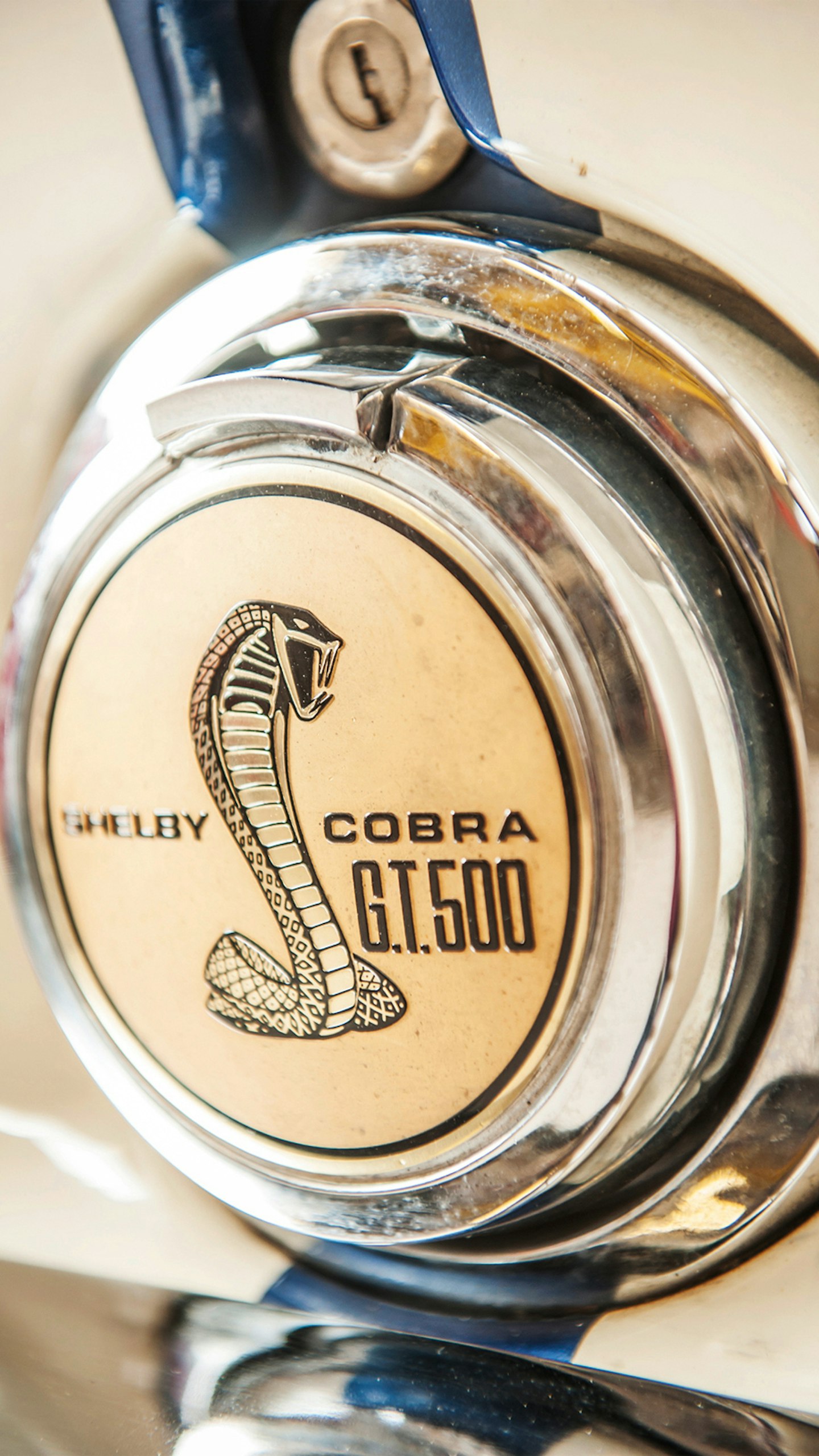 Halogen headlamp bulbs improve night-time visibility while a stainless-steel exhaust system and modern polymer paints on the underside protect the Mustang in year-round use. Part of the wiring loom went into the shell first, along with the brake pedal, servo and brake lines. Next came the engine and transmission, followed by the front suspension, steering, rear axle and then the complete re-fit of the interior, along with the rest of the wiring loom and the heater box.
So what was it like, picking up a factory-fresh Shelby GT500? 'I was gobsmacked when I saw it – it really exceeded my expectations,' says Placzek.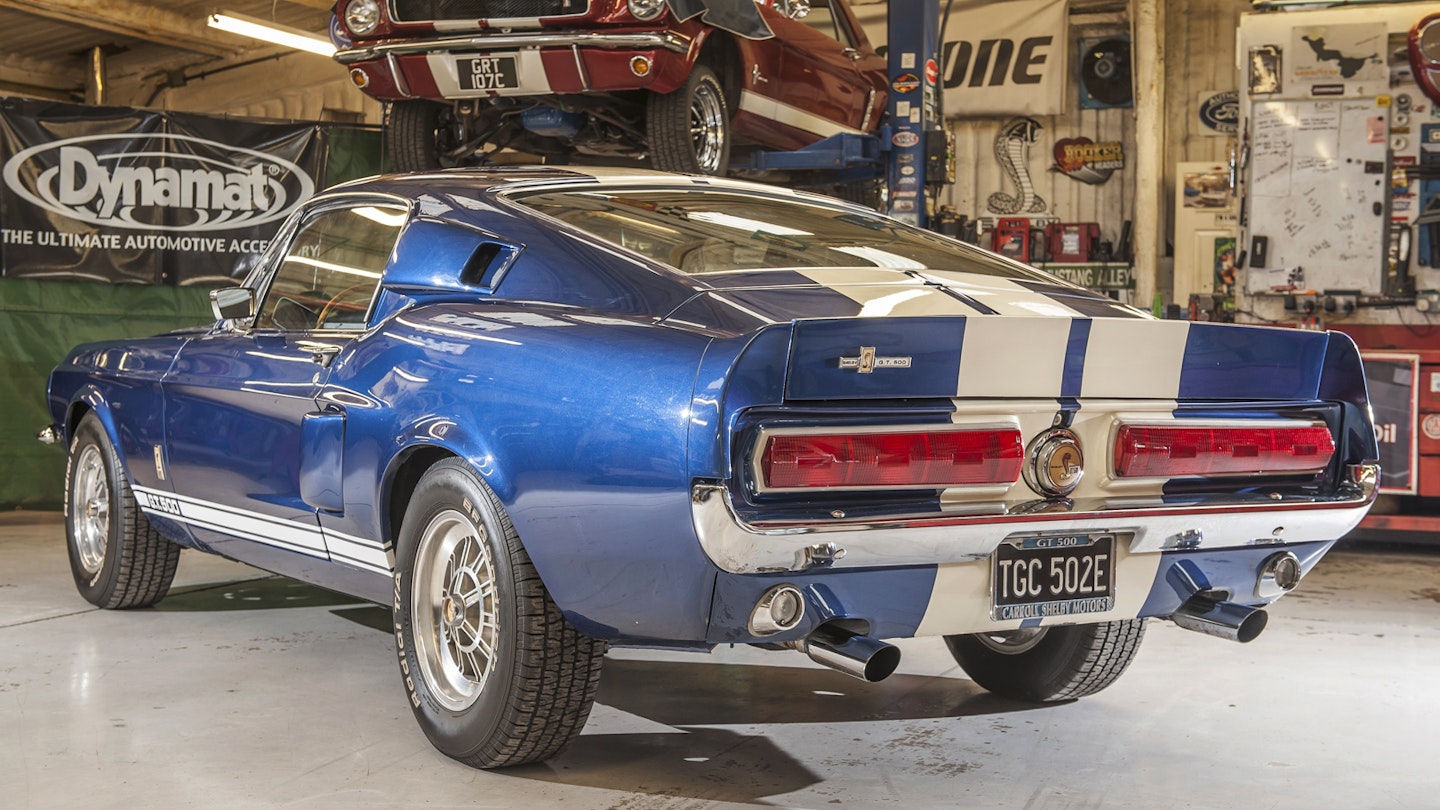 Roy Holmes also recalls that day fondly. 'It was a terrific project to do, not least because of Mark's involvement. He was dedicated to getting the details right and he knew what he wanted. And he got it.'
Hours taken: c.1000