Retired solicitor Howard Bryan came late to the classic car hobby – but has been catching up fast. 'I was looking for a hobby after I had to give up sailing. An old friend was the son of Tommy Wise, who had a class win in a Jowett Jupiter at Le Mans. My interest started there, so in 1998 I bought a Jowett Jupiter – my first classic. I've still got it.'
Rob Pilcher also takes a chunk of the blame for influencing his brother-in-law's choice of hobby. 'I've been involved in rallying since 1964, only stopping when I got married in the Seventies. Then when historic rallying kicked off I got a works Lotus Cortina – which I've only just sold – and got seriously into that from 1992.'
The cars are all kept at Howard Bryan's house, where barns and outbuildings were steadily rebuilt and converted as the pair's collection started to grow, always with that driving proviso. Rob says, 'Some classic owners want capital growth, but we're not about that. All our cars get used – that's the point.' Howard adds, 'In some weeks I've driven them all, and we regularly go on and even organise tours.'
Says Rob, 'There is a theme, but we aren't quite sure where it starts.' '…or finishes,' adds Howard. 'These are probably the cars we'd have bought at 21 with unlimited funds. It's great to drive all these different cars, and we've learned a bit on the route.'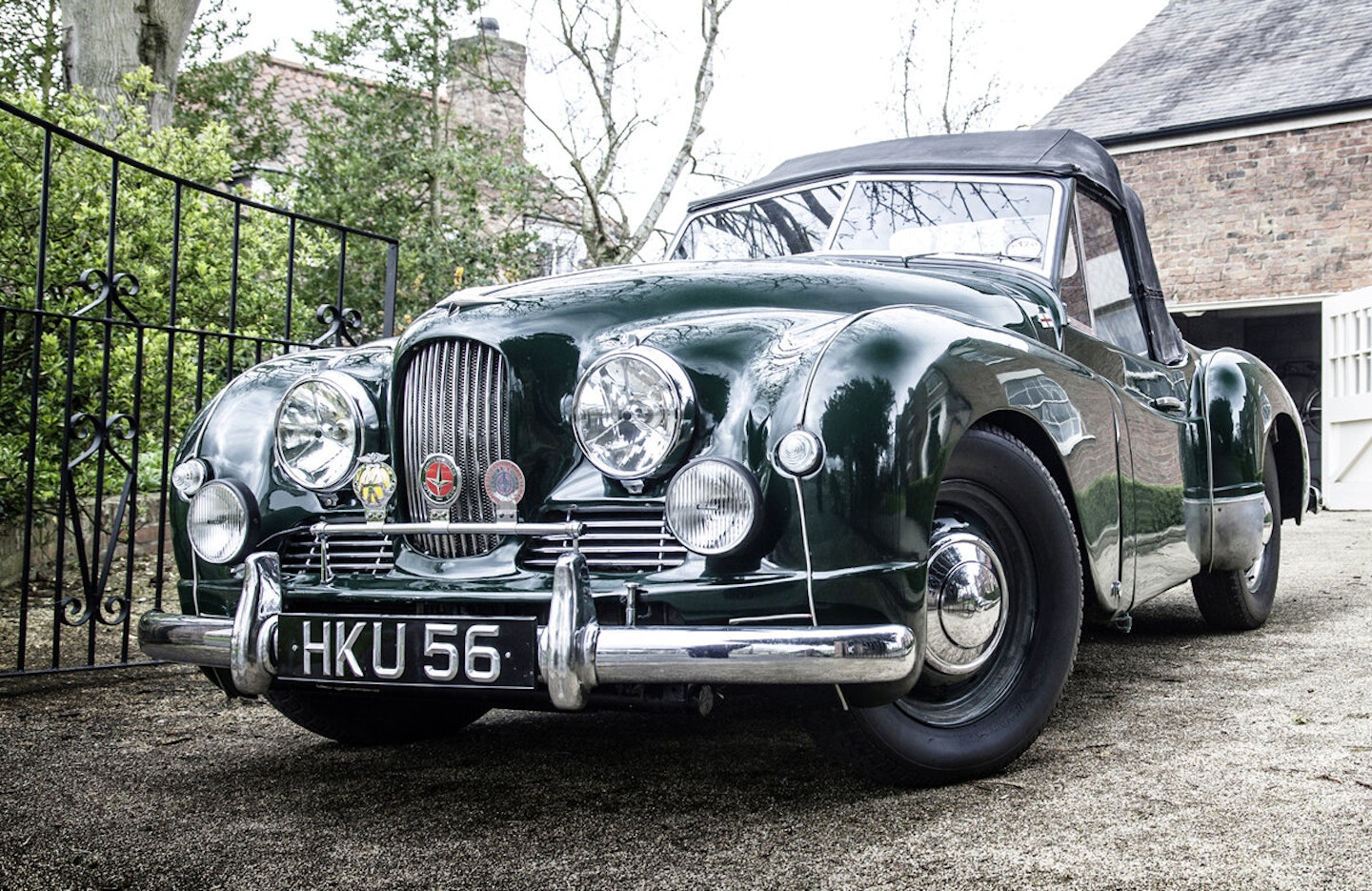 1951 Jowett Jupiter
It is appropriate to start with Howard Bryan's first classic, a car with quite a history. 'This was the very car tested by John Bolster for Autosport – it appeared on the cover of the magazine's January 18 1952 issue – I managed to get hold of a copy of that. Jowett also used it in period ads and as a test car at MIRA, where one day a test driver struck a concrete-filled oil drum and rolled it. He survived only because it landed on a furrow in a ploughed field. So the car's had a hard life. It was also once owned and raced by George McAleer, inventor of the electric hare.
'The previous owner was going to restore it as a retirement project, but met a Thai lady and decided to spend his time with her instead. I had it restored by a chap in North Yorkshire. It had been done as a TT replica, with aero screens, but one windy day I went out in it and everything went black. The bonnet had blown back right over the cockpit, which left a head-shaped dent in it. After that I refitted the full windscreen.
'The repro wooden dash was made by a boat-builder from an old Glasgow bar-top, and I fitted these seats for rallying because they are safer and more comfortable. The original ones are in the loft. I've done the Rally of the Tests in it twice, plus some local ones, and will probably do some more.
'I have a bit of a love/hate relationship with it – in 16,000 miles it's had as many engine changes as I've had hot dinners. The cylinder head gaskets keep blowing. I was even ready to sell it last year, but now it's back on the road again I've remembered what a good car it is.'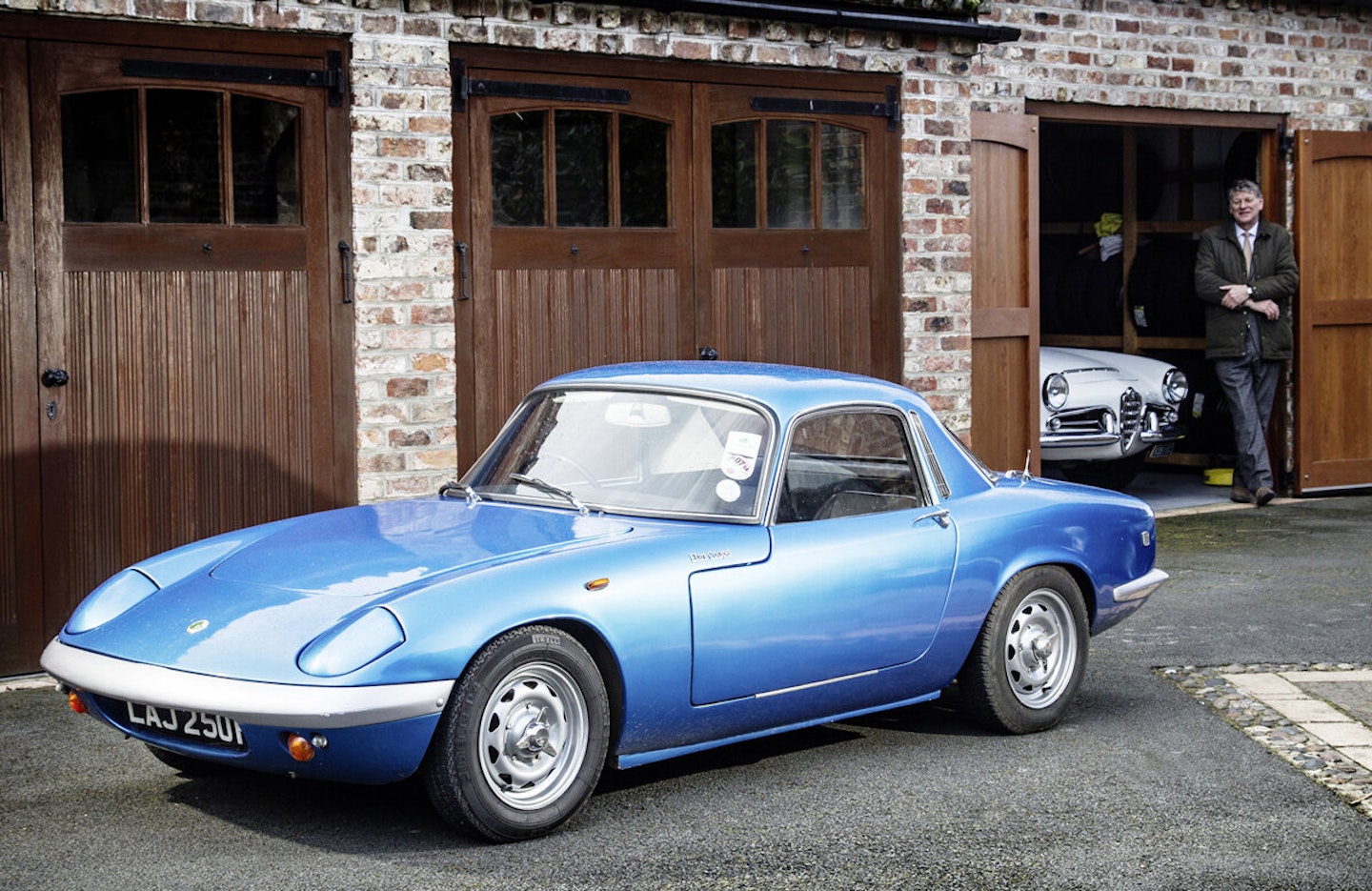 1969 Lotus Elan S4
Rob Pilcher is only the second owner of this Elan. The first was his father-in-law, who coincidentally bought it from the same garage as the Elan we featured in last month's Life Cycle feature: Northern Sports Cars in Richmond, North Yorkshire. And it didn't cost Rob a penny.
'My not-yet-then-father-in-law had lost the key to the garage the Lotus was kept in. He said if I could open the garage and start the car I could have it, which was a good enough incentive. As you can see, I succeeded. I guess it was a kind of dowry.
'The front suspension turrets had gone, so I fitted a new chassis and spent a year-and-a-half doing it up. It had done 31,000 miles then and is now just past 50k. I use it on a semi-regular basis, but try to drive it as often as possible – it's still good fun.'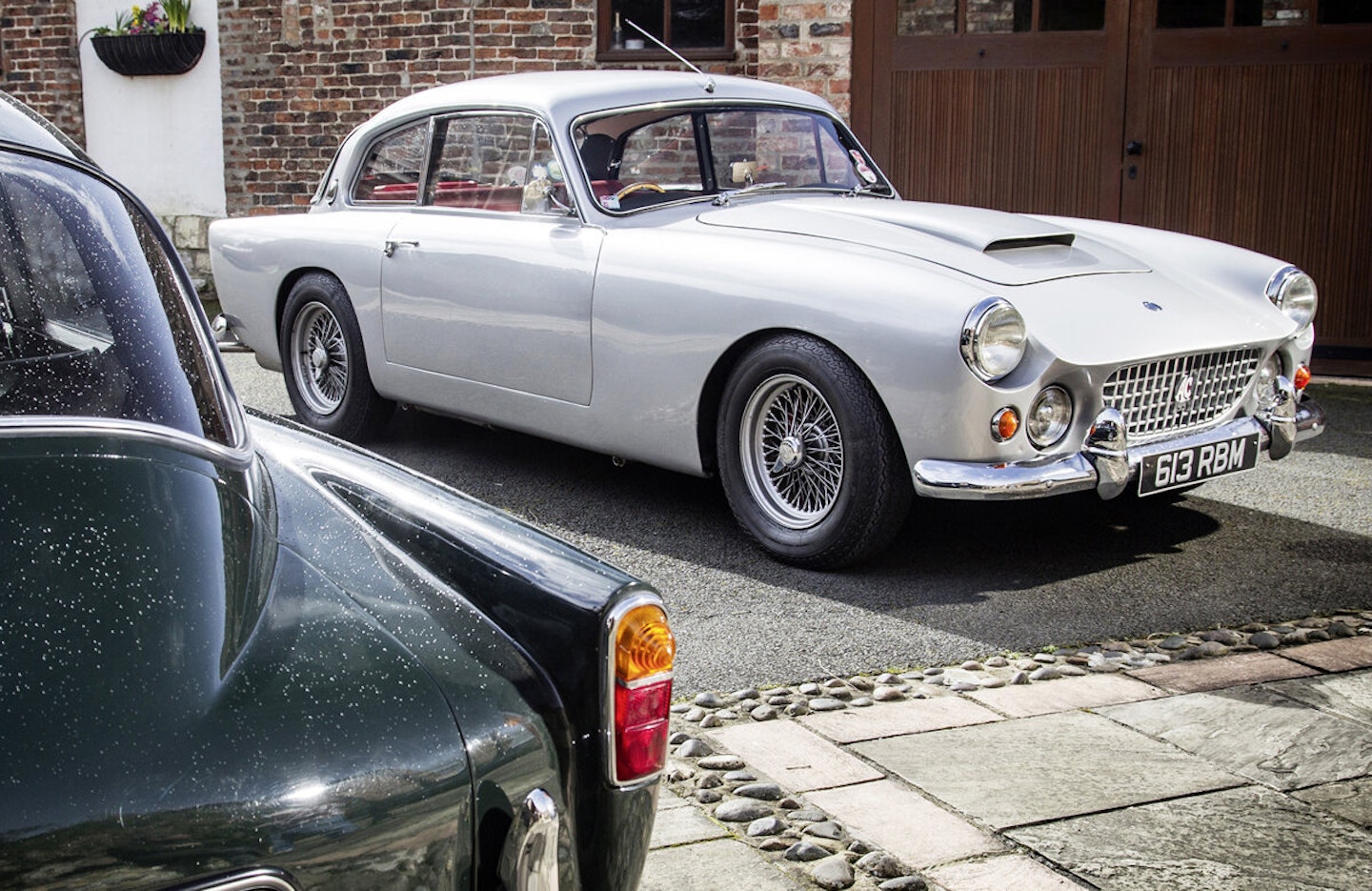 1961 AC Greyhound
One of two Greyhounds in the collection – out of just 85 built – Howard nominates the silver one as his favourite car. 'I bought it eight years ago via the internet. I'd thought of cars I'd liked over the years and remembered an AC Greyhound I'd seen at college. I tapped in the name and this came up. It had been recently restored, but not well. I had it repainted by a guy who knew what he was doing, then spent a hell of a lot on the chassis and suspension. The Bristol engine has a D2 competition cylinder head and I had a bespoke six-branch exhaust manifold and system made. It flies now.
'We did an MSA Classic in it to the Czech Republic, and early one morning while my wife Jacqui was still in bed in the hotel I took it for a few of laps of the Nürburgring. I average about 5000 miles a year and it's a super car to drive – grossly underrated. It grieves me that people compare them to Bristols when the AC is both lighter and better looking. Jacqui and I organised the AC Owners Club International Rally in Dunkeld, Perthshire, which brought together nine Greyhounds – the largest gathering ever. Our other Greyhound is a recent addition. It's been fitted with a Zephyr 2.6 engine – as was one done by the factory – along with a Sierra five-speed and power steering. The Ford engine's far heavier so the two cars handle very differently.'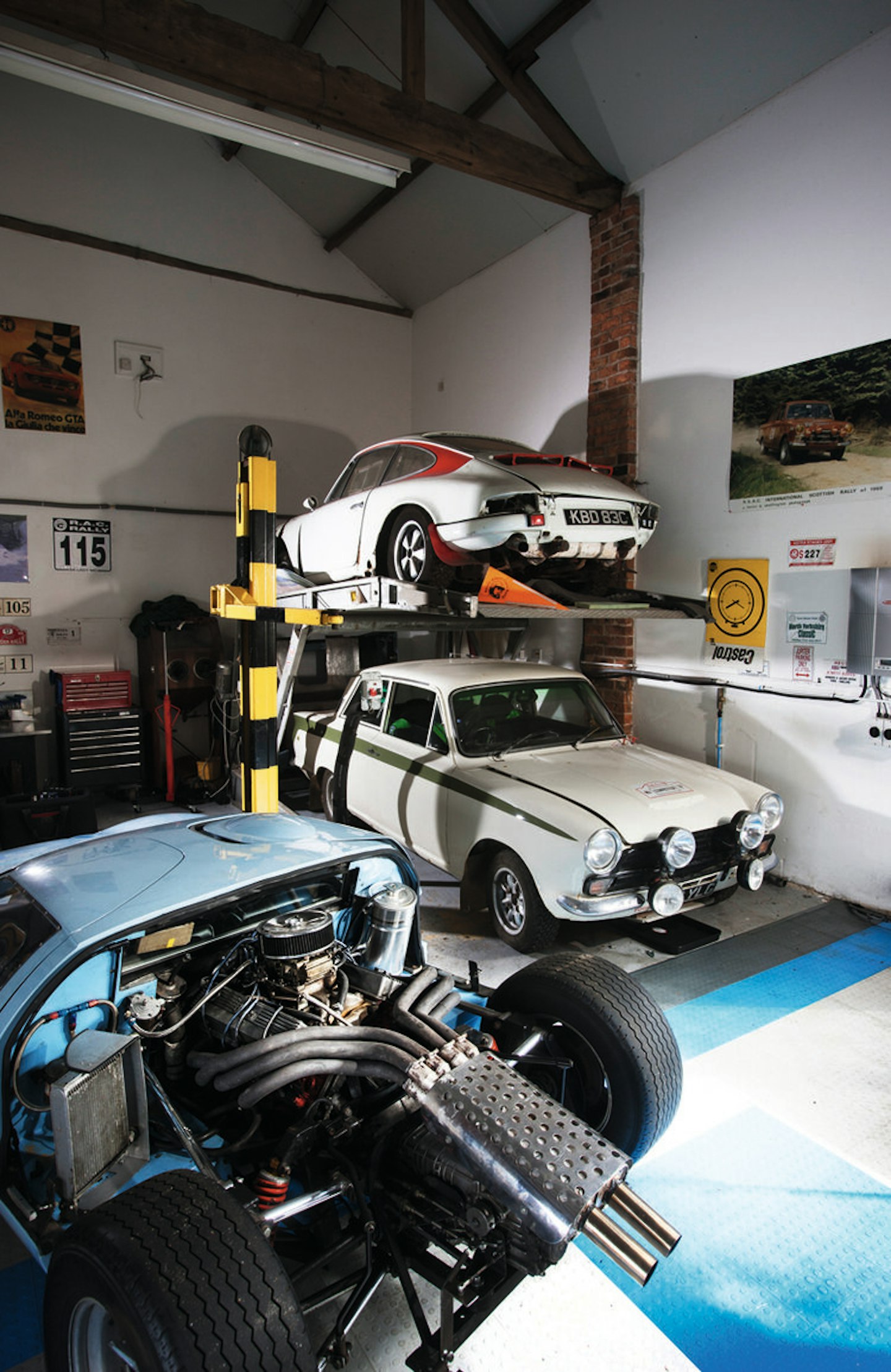 1964 Lotus Cortina MkI
This is Rob's long-term historic rally car, currently out of use while waiting for engine and gearbox oil leaks to be sorted. 'We picked it up in Darlington in 1992. It was modded for rallying and our first event was the 1000 Lakes in Finland in 1993 or '94. It was a big learning curve. We were running sixth until engine problems on the last stage, and it's been rallied pretty much ever since. It was very competitive – we have been British Historic Stage Rally champions – but nowadays everyone's lightening them. They're not being run like they were in period any more; it's not the same. 'Once, in the RAC Historic Rally, I put it in the very same lake at Woburn Abbey that Tony Mason famously wound up in with Peter Clarke in 1971. Because of the lay of the land I missed a 90-left at 90mph. By the time I could see exactly what was going to happen it was too late to do anything about it. It went out on local TV, but it was not a claim to fame I really wanted! The car's last outing was the Roger Albert Clark Rally in 2012 – it still wears the stickers from that. I must get it sorted and running again soon.'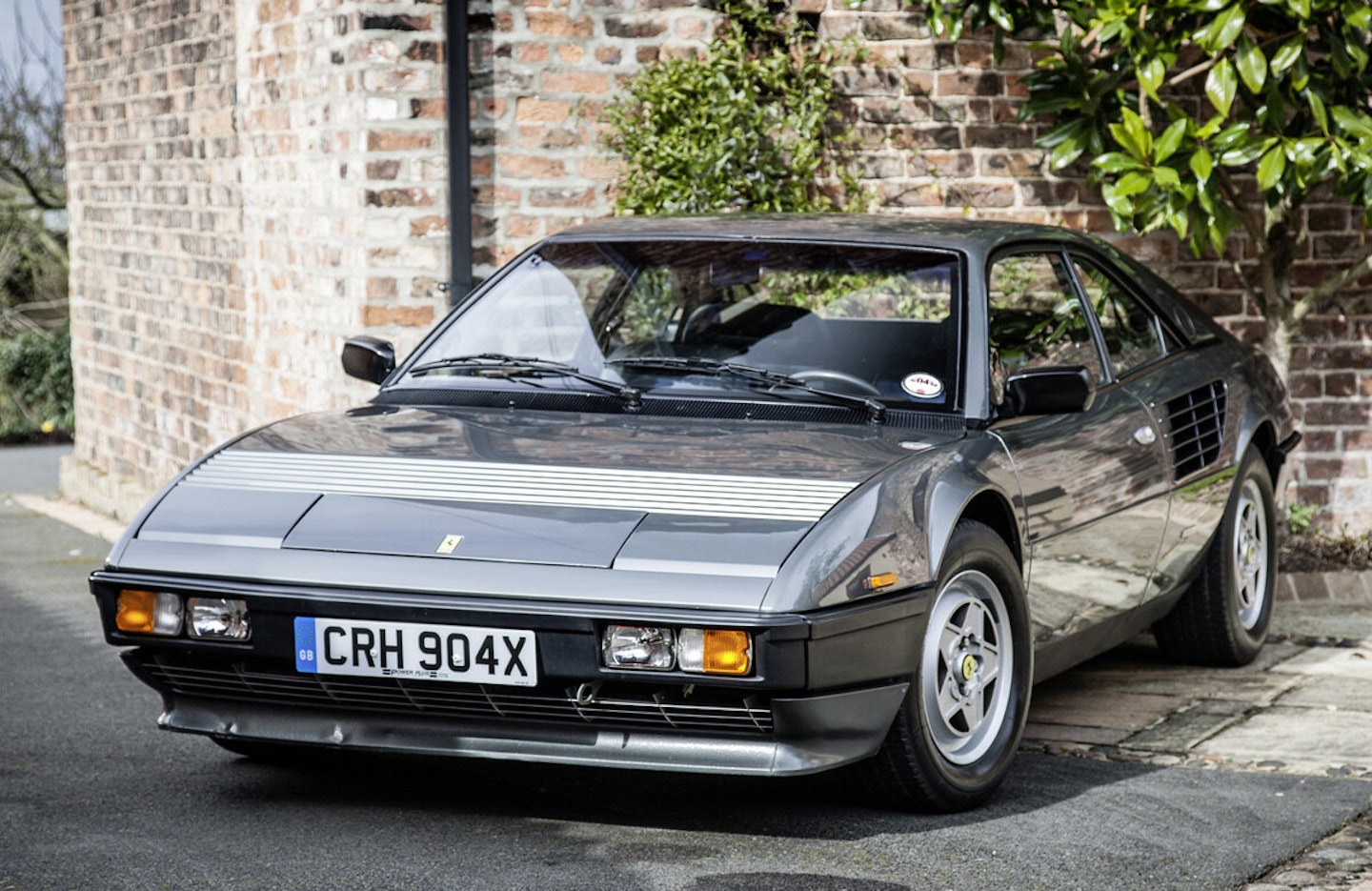 1983 Ferrari Mondial Qv
'I blame Chris Evans for this,' says Howard. 'Rob is the Ferrari man, not me. But I was on holiday at a Jowett event in Denmark when Silverstone Auctions was hosting the Carfest South auction, and got hold of a catalogue. I was interested to see what an Alfa Zagato would go for, so I borrowed a laptop and registered online. 'This Mondial came up just before the Zagato, and bidding had stuck at £9000. I heard Chris Evans in the background say, "That's ridiculous for a Ferrari," so I pressed the Bid button just to help move things on a bit. Then it turned out I'd bought it [for a premium-inclusive total of £11,000]. It's an appalling thing to do, buying a Ferrari unseen. Luckily I was quite surprised – I had been very fortunate. I took it to Keys Motorsport at Silverstone and they said it was one of the nicest they'd seen. I don't mind left-hand drive, it had only done 70,000km [44,000 miles], and the engine's a beauty – the nicest thing about it. Mind you, it could do with power steering, and the turning circle is enormous.'
1965 Porsche 911
Rob's early 911 is an Italian market car with period competition history and more in Rob's hands, though it is now 'resting'. 'We had a little accident with it…the shell's a bit bent. But as it's an FIA car, and with its history, it will be repaired. We've had a quote from Francis Tuthill but haven't got round to doing anything yet. Annoyingly it had just been restored. Between 1998 and 2004 we won a heck of a lot of rallies, including the Bulldog first time out in the car and a class win on the Scottish.'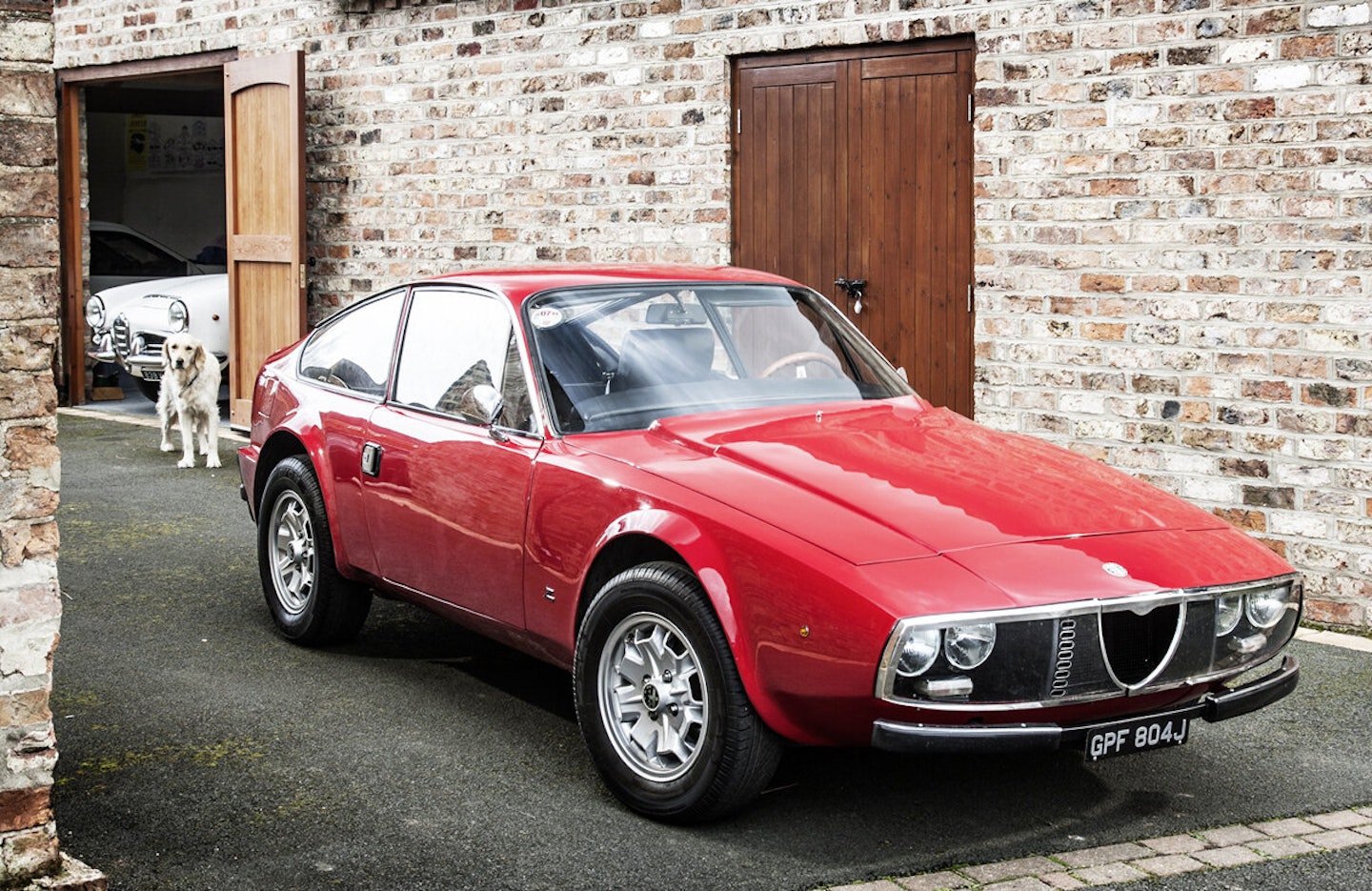 1970 Alfa Romeo 1300 Junior Z
This acquisition was the result of another Silverstone Auctions sale. Says Howard, 'I had no intention of bidding, but Rob had registered for some automobilia. I liked the look of it and got it for a good price: £12,400, which I was told was the bargain of the day. I love the car's appearance, and its designer at Zagato, Ercole Spada, has said it's his favourite work. It also inspired the Honda CRX. 'It certainly gets a lot of attention. I know we said we're not into polishing, but we did pick up a class award at an Alfa Romeo show a few years ago. It gets used quite a lot. I just enjoy driving it because the rev-ability of the 1300 engine is amazing.'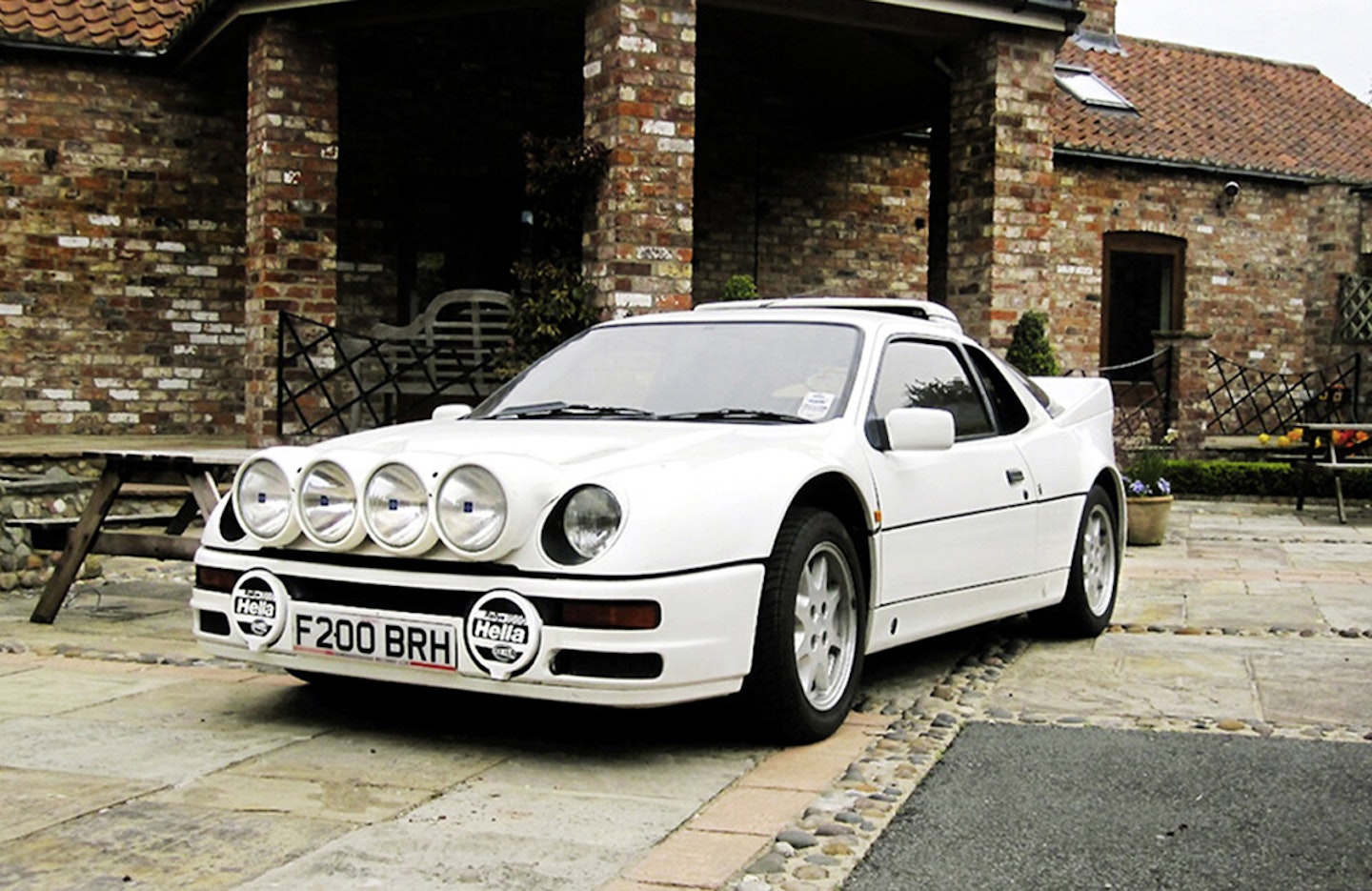 1986 Ford RS200
Rob has owned this RS200 from new, but in a slightly bizarre twist this Group B beast is one car he hasn't rallied. 'It's a great shame, but along with all the Group B cars apart from the Metro, it is banned so I can't rally it anyway. So I've just enjoyed it on the road. I've put 28,000 miles on it, which is more than most of these have done. We had it chipped from 300bhp to 350bhp, which is quite enough for me at my age.' Eagle eyes may have spotted the car's 1988 'F' registration, which seems a bit late when production ended in 1986. Rob says, 'In September 1988 I read an article in the Sunday Times about Ford still having RS200s left over, some stripped-out rally versions and some roadgoing cars trimmed by Tickford, so that's what I chose. It's an absolute hoot, and quite a handful.'