Steve Perez's stone-chipped selection of old stagers reflects his opposite-locking attitude to active preservation
Words SAM DAWSON Photography LAURENS PARSONS
Perhaps the most endearing thing about Steve Perez is the sense that he still can't quite believe his luck. There's no doubting his business nous – he's the brains behind such successful drinks brands as Vodka Kick, Corky's and Amigos – but he's used the proceeds of it to sustain a wide-eyed enthusiasm for rallying that only a true petrolhead can muster. Whereas some wealthy connoisseurs discreetly maintain a portfolio of classics, Perez bought his childhood dream rally cars... then built himself a full-size gravel forest stage to drive them on. It's paid off, too – he's won three national rally championships.
'I was a co-driver to start with, on local 12-car rallies,' Perez reminisces in his Derbyshire tones as he remotely opens the huge electric door of the aircraft hangar behind his Chesterfield home that houses his collection. 'I've been a rally fan ever since my early twenties, and used to go up to the forest stages in Yorkshire to watch those amazing Group 4 and Group B cars, like Hannu Mikkola's Audi quattro – I never thought I'd end up owning it.
'I worked in my dad's restaurant, and noticed an interest in imported speciality beers, so I set up an import company. Then there was the boom in pre-mixed cocktails and I started producing my own drinks. I never believed it would lead to this. Then again, I've since learned that it's a great way to promote the business.'
The striplights flicker into life. A rally support helicopter in 'VK' blue stands guard over two rows of rally cars. The Perez collection is covered in scuffs, dents and stonechips. Piles of spare bodywork and wheels are stacked up in corners, awaiting the next adventure. Every car lives the hard life for which it was intended.
Porsche 911S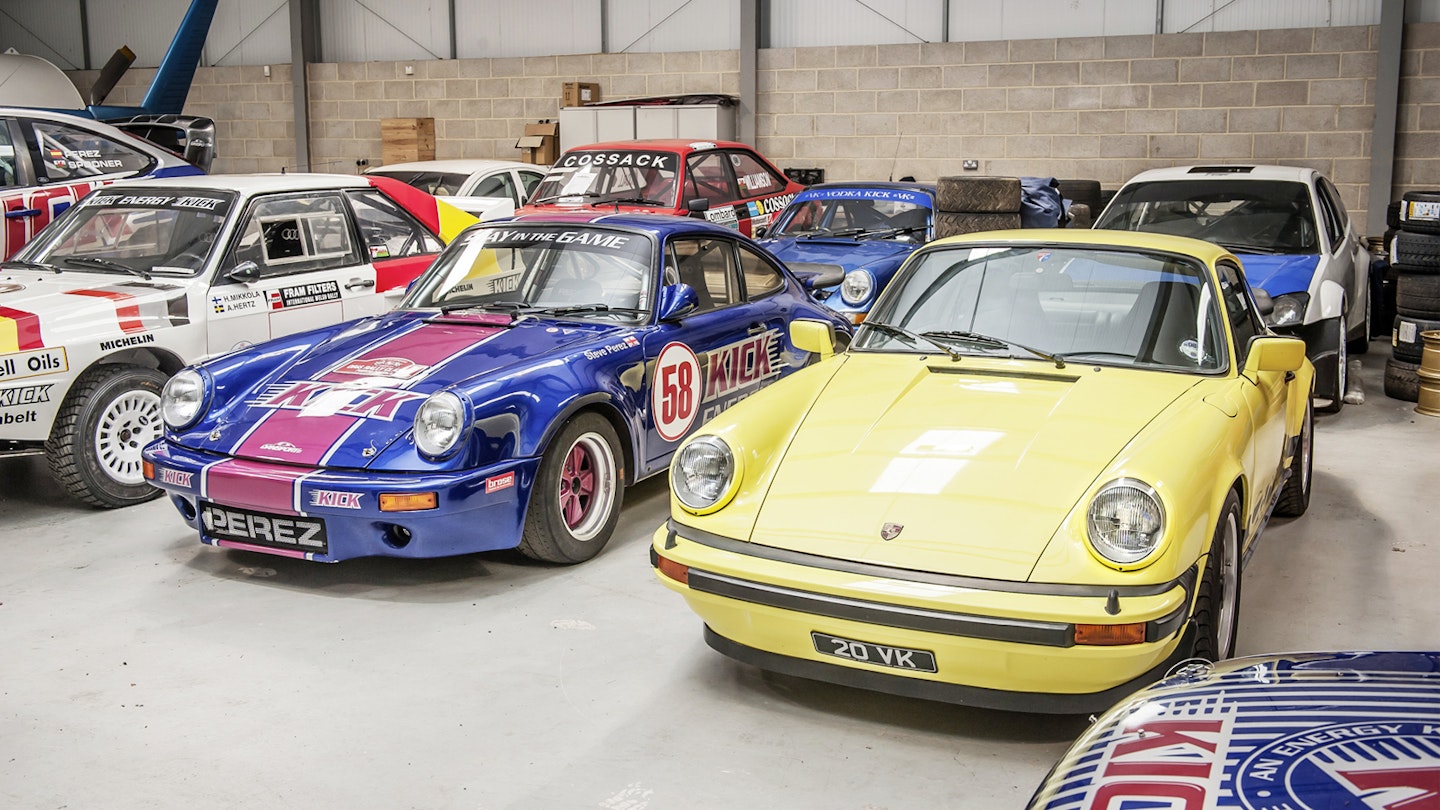 The metallic blue 911S launched Perez's rallying career. 'This was the first car I had built from the ground up, by Chambers in Sheffield back in 2001 after I decided to give rallying a go. I thought I'd be crap, but I surprised myself by winning my first event in it.
'The 2.0-litre 911S is the best of all the Porsches. I just don't like big 911s – and by big, I mean the 3.0-litre cars,' he says, gesturing to a pair of wide-arched 1974 Carrera RSs, one a road car, the other a Gantspeed rally-prepared example with which he won the 2003 British Historic Rally Championship. 'I don't like the gearboxes – the shift action is terrible – and the later cars have too much grip.
'I prefer to slide my cars around,' he explains, gesturing opposite-lock movements animatedly to underline his point. 'With a little 911S, you can throw it into corners and squeeze every last ounce of performance out of it. If you do that in a 3.0-litre, it'll let go suddenly and you'll spin out. You're always having to hold back – it's boring. Also, as a road car it's too wide – on narrow Derbyshire lanes you can't overtake, but you can in the S.
'I have two examples of the 911S – the rally car, plus a short-wheelbase, 2.0-litre road car,' says Perez, referring to the red car he keeps in a separate garage. 'I take that out for a sunny summer afternoon blast; it's either this or the Stratos – and I know the Porsche will probably start!' Perez's red 911S is easily good enough to show, but he has no desire to enter into concours competitions. 'I can't be bothered standing around in fields all day.'
1985 Audi Sport quattro A2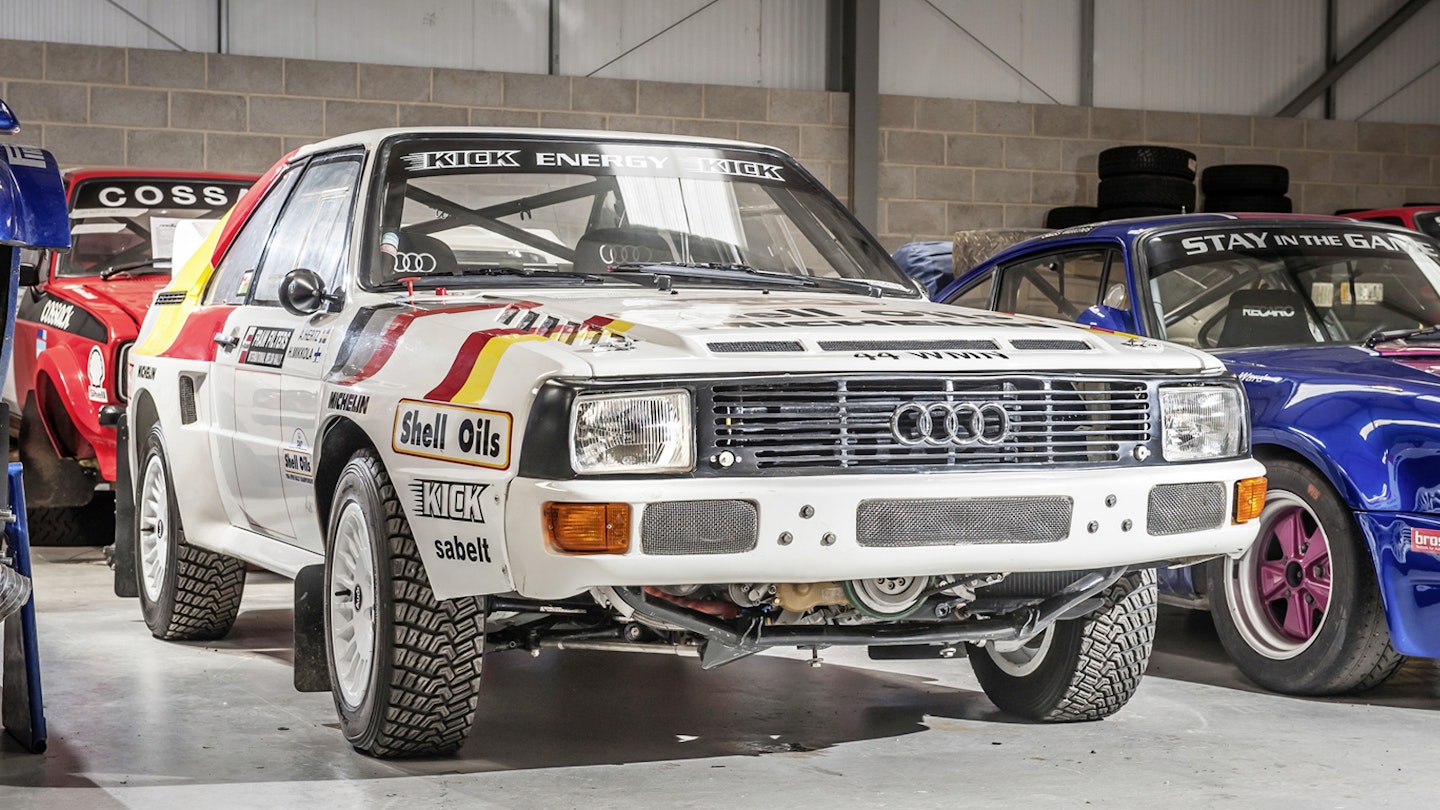 'I was amazed when it came up for sale at H&H,' smiles Perez as he remembers the fateful day in Buxton that saw him buy the very car that made him fall in love with rallying in the first place. 'It's the quattro in which Hannu Mikkola contested the 1986 British Rally Championship. I saw it across the auction hall and thought, "I know that car." It's not just a part of history, it's a part of my history. I'd seen it in action and it made me want to be a rally driver.
'It's very tricky to drive – you turn the wheel and it wants to go straight on, and there's so much turbo lag that you've got to accelerate into corners in order to get the power on the way out. It's far more difficult to drive than the Stratos. The quattro won rallies because of power, not handling, but I enjoy learning it.
'I'd love to rally it properly, but it's not allowed to compete nowadays. The regulations have changed so Group B cars aren't completely banned, but it needs such big power restrictors as to render it pointless. These cars should run their original specifications. There's an argument regarding danger to the crowds, but it's not like the Eighties; the risks are minimal. I can only use it for demonstration events nowadays, but we've replaced the original alloy roll cage with a steel one, just in case.
'It's probably worth seven figures now. Audi has expressed interest in buying it, but they're not having it.' So there.
Lancia Stratos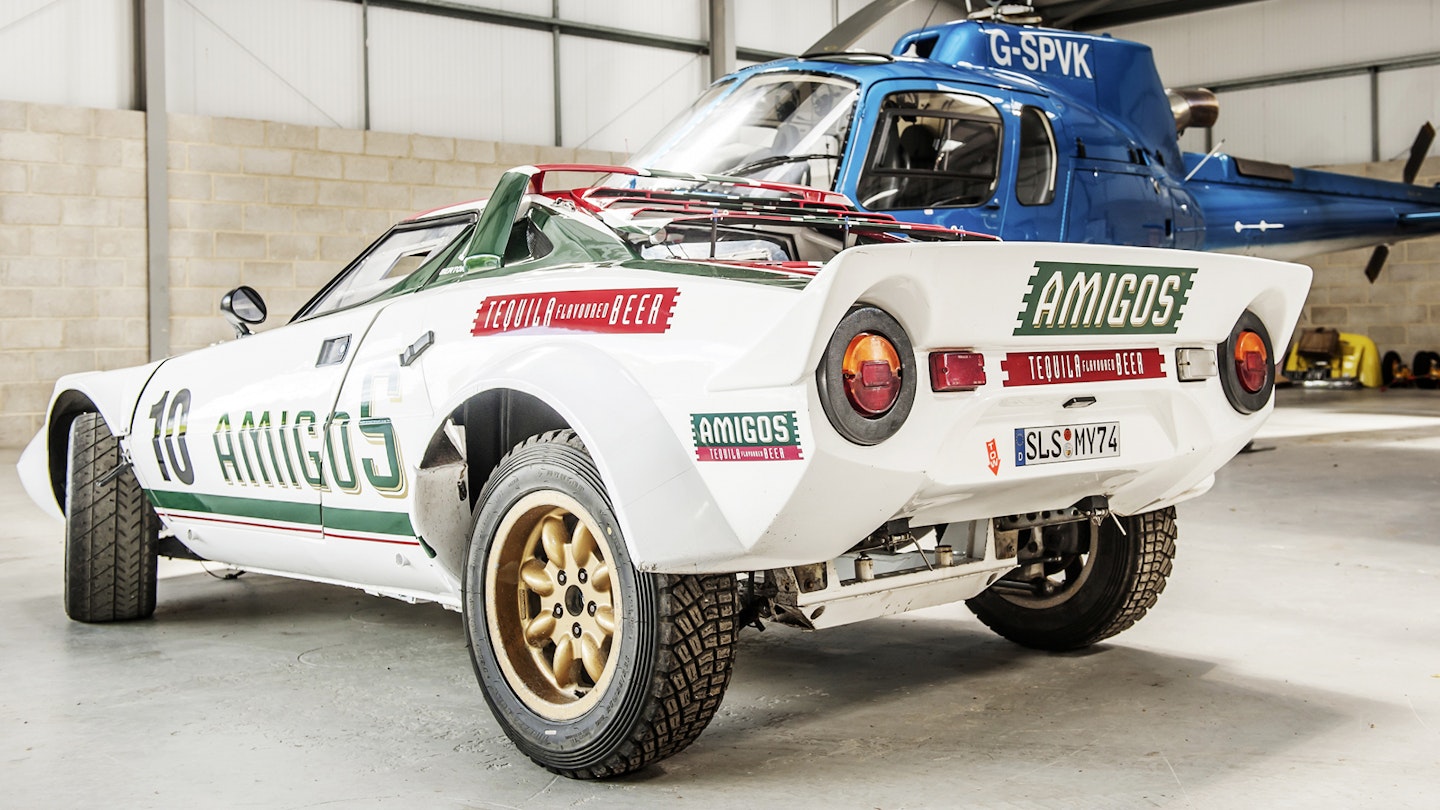 Perez has two of these. His Alitalia-tribute Amigos-sponsored rally car is awaiting its 24-valve cylinder head from Swindon Engines, while a red Stradale example is next to the similarly-hued 911.
'I got the Stradale first. I'd always wanted to rally one, and I actually bought it sight unseen, but when it arrived I realised it was just too good to chop about and subject to rally modifications, so I kept it for the road and went in search of another one. I ended up buying Udo Sparwald's scruffy old hill climb car – it made more sense to rally a car that wasn't perfect.
'That rally Stratos is the last car I'd sell. We've poured blood, sweat and tears into that car to get it rally-ready. It's been completely rebuilt three times, the engine's blown up, we've had to track down individual parts in Italy in order to keep it going, it's been rolled, crashed and reshelled and every time – against logic sometimes – we've got it going again. It will win a rally one day, I'm certain of it. Every time it's off the road for any period, fans approach me in the service park and ask, "Steve, where's the Stratos?" So I'm performing a public service by campaigning it…
'As for the Stradale, I may well take it out to my place in Majorca. The last time I was out there, I spotted one parked outside a restaurant, and I've since become friends with the owner, a German chap. It'd be nice to have two Stratoses on the island rather than one, and the roads and weather would suit it.'
1976 Ford Escort RS1800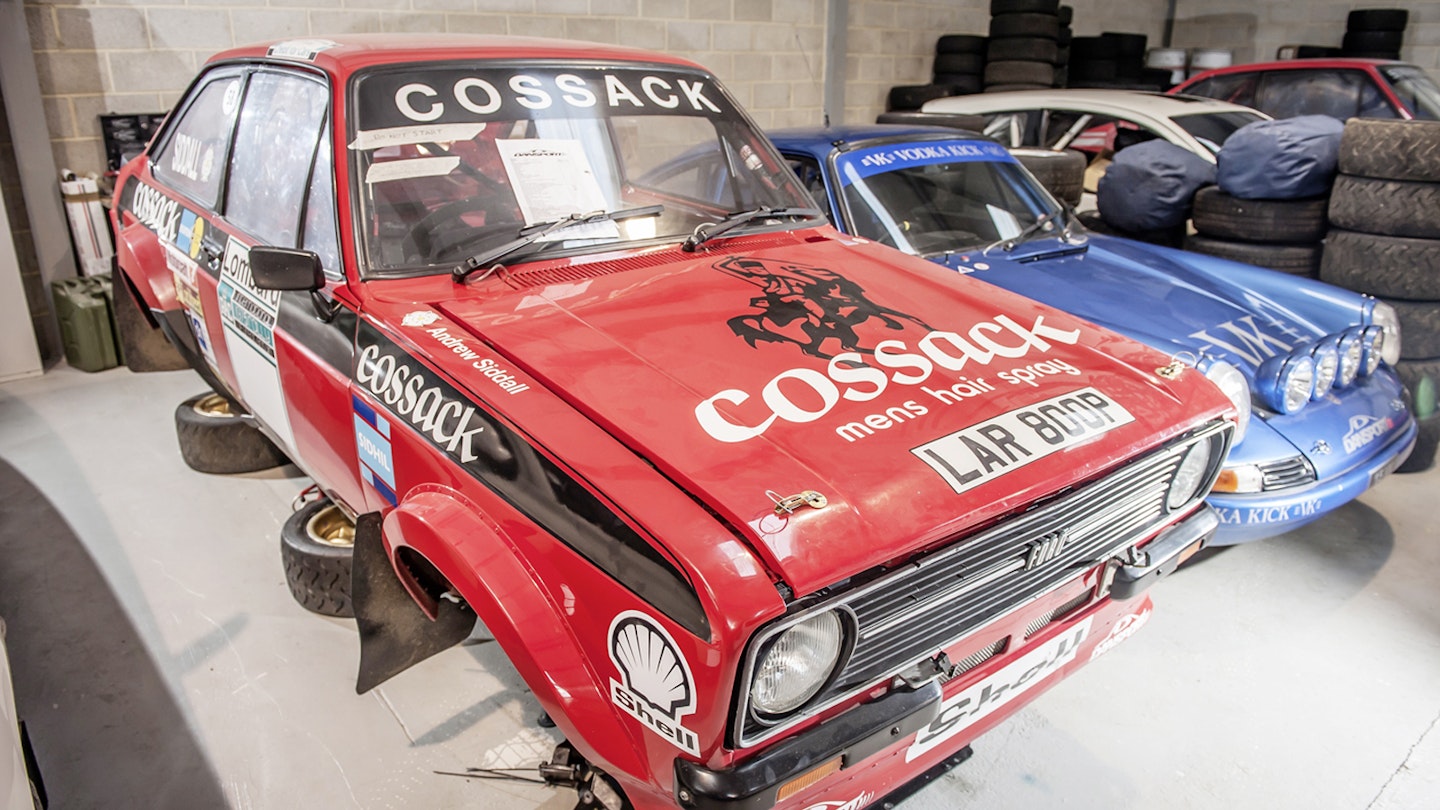 This is the Cossack-sponsored Escort in which Roger Clark won the RAC Rally for the second time, although Perez has a confession. 'It's not actually mine, it's Andrew Siddall's, but DanSport [Perez's favoured tuning company that operates from a unit on his land] looks after it for him and it lives here.
'I'm not really an Escort man. They're good cars – very good these days, given all the development work that's gone into them over the years – but I prefer to rally things that are a bit different.'
'In the manner of gentlemen racers, myself, Siddall, Geoff Bell and a few others hold what we call the 'GWRC' – the Gentlemen's World Rally Championship. It's an informal selection of rallies in places like Majorca and Morocco that we all compete in for fun.
1975 Datsun 240Z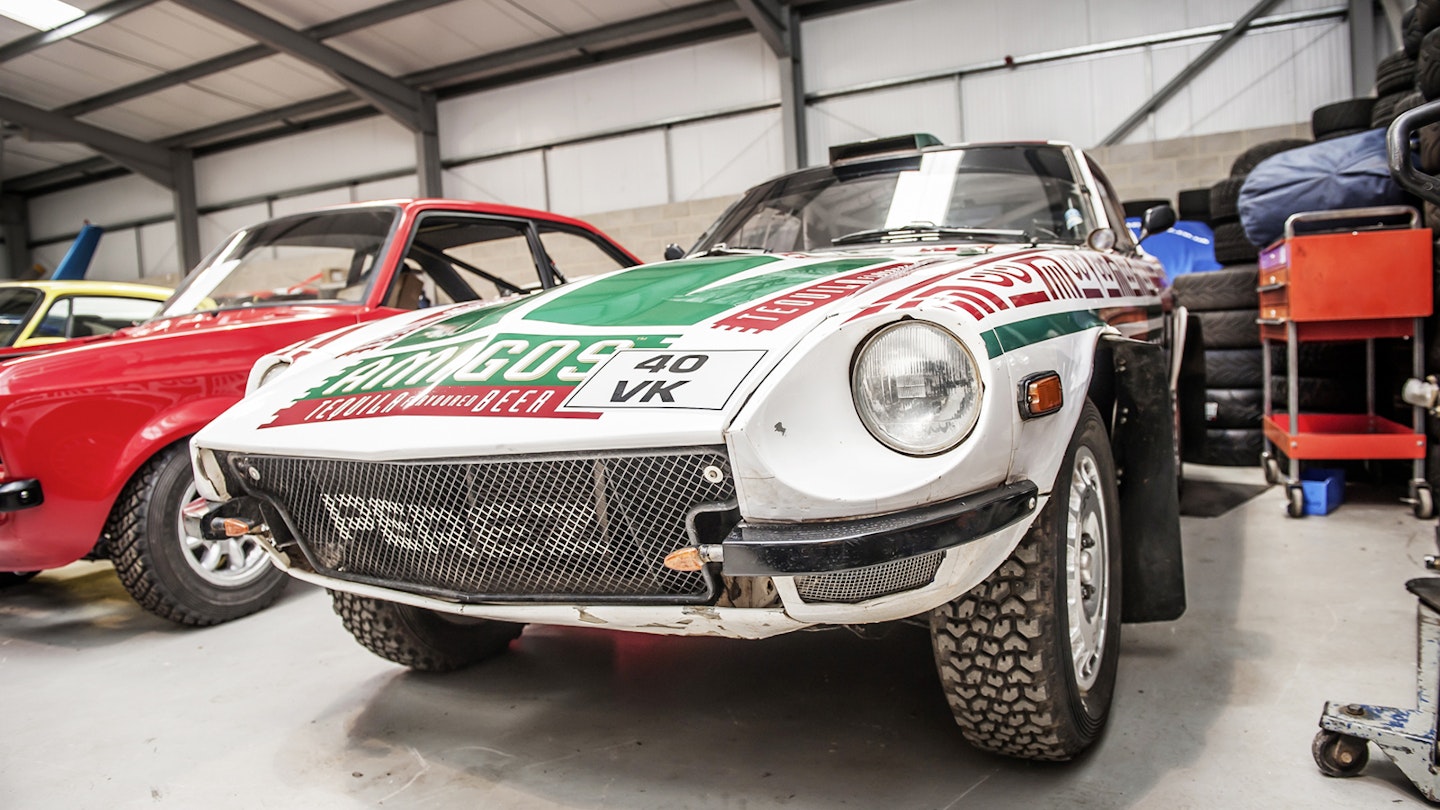 'This is the car that broke my neck,' says Perez. 'I wanted a car for long-distance events in Africa. Ideally I'd have one of Sandro Munari's old Stratoses, but they're fragile £800k museum pieces. Besides, this is more comfortable and because it was converted from a road car, I wasn't destroying any history in the process.
'I entered it, fresh from its build, in the 2009 East African Safari Rally, and was driving flat-out on a desert stage when I hit a sinkhole. Amazingly, the car wasn't damaged at all – it just reversed straight out. I was in tremendous pain, but I had to drive 60 miles to the end of the stage to receive medical attention. It was found I'd fractured my neck and was airlifted to hospital.
'I returned in 2011 for the next one and came third overall. I love driving it, especially in Africa. It doesn't handle that well, but on African stages it doesn't need to – it's built for speed and strength.'
Ford Focus RS WRCs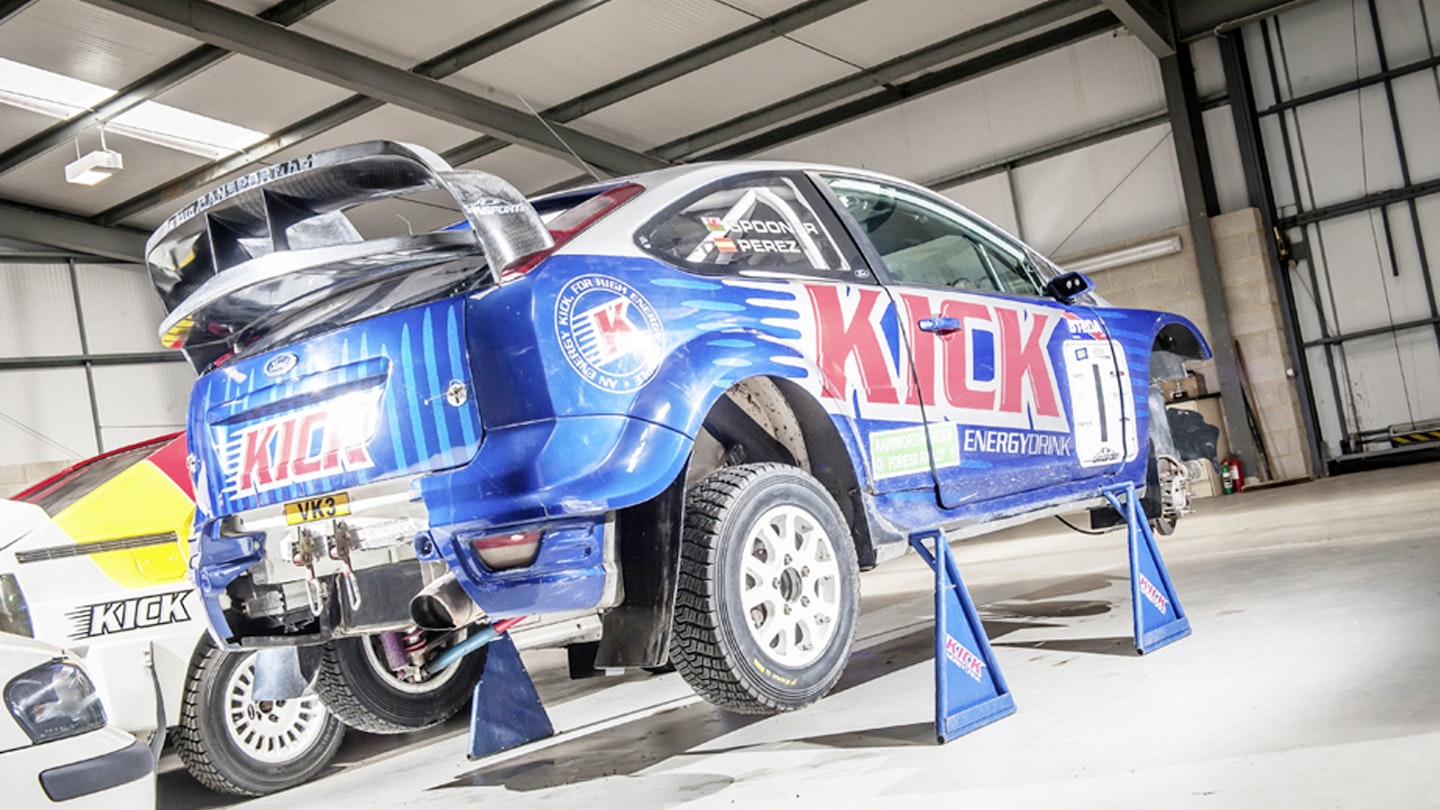 Perez contests modern rally championships alongside classic ones, but his WRC-spec machines are future classics. 'Modern WRC car values are at rock-bottom at the moment, so if you're going to buy one it makes sense to get one with history. That way, if they do pick up in value, these will be the ones to have. The 2007 car is the one in which Marcus Grönholm won Rally Finland and New Zealand in his final WRC year, when he finished second in the championship; the 2004 car is ex-Markko Märtin, with Catalunya and Corsica wins. I bought them directly from M-Sport to contest the British Trial & Rally Drivers' Association Rally Series.'
Perez, co-driver Colin Spooner and the ex-Grönholm car make a formidable team, having won the Series in 2010.
'People might say they aren't as evocative as Munari or Mikkola cars, but that's an age thing. To my son, drivers like Grönholm are heroes; it'll be their cars they remember when they're older. He'll remember that Focus the way I remember my Audi. But I want to use them. Rally cars aren't like pieces of artwork. You owe it to the cars and the sport to keep them going. I suppose there's an element of investment involved, but if anything it's why I don't sell them. I used to buy antiques and the values always seemed to go down. If I'm going to have investments, I'd rather enjoy them.'