Housed in a building as beautiful as the cars, Michael Culhane's wide-ranging collection has one unifying theme – jolly good fun
Words Dale Drinnon Photography Martyn Goddard
'I can't imagine that I'll ever stop buying cars. And if I had more space and more money, there would be a lot more cars, too.' Looking at them, there seems to be only one unifying theme behind Michael Culhane's vehicles. They all make him smile.
Not often, I have to admit, do I walk into a building full of such lustworthy automobiles and notice the building. But this one is special. On the inside, it's light, bright and airy, with a beamed ceiling, polished marble floor and huge windows looking on to leafy green vistas; any new-car dealership would be proud to call it home. On the outside it's handsomely timber-clad, and harmonious with the owner's other surrounding structures as well as the residential section of Winchester it inhabits, hardly a chip shot from the only Royal golf club in Hampshire.
And for collector Michael Culhane the building and the cars could be considered mutually inevitable consequences. 'I was always interested in cars,' Michael says, 'even at junior school; if I was bored I'd stand by the railings, hoping to see an interesting car go past. My grandfather was a motor mechanic and I used to help him, and I became a motor mechanic myself.'
At the same time he had inherited a feel for property from his father, a builder, and after a few years in the motor trade decided to give estate agency a try. He found he was good at it, expanded into lettings and property development, and as he built the business, became increasingly able to enjoy the cars he dreamed of from that vantage point in the schoolyard – and to provide a proper venue in which to showcase them.
They would mainly also be classics. 'I was always into older things. My friends used to imagine their first cars as new Ford Escorts and the like; I wanted a Morris Minor.' The assortment nowadays ranges from cars he once had, to cars he once wished he had, to cars he never dreamed he'd have and appreciates all the more for it.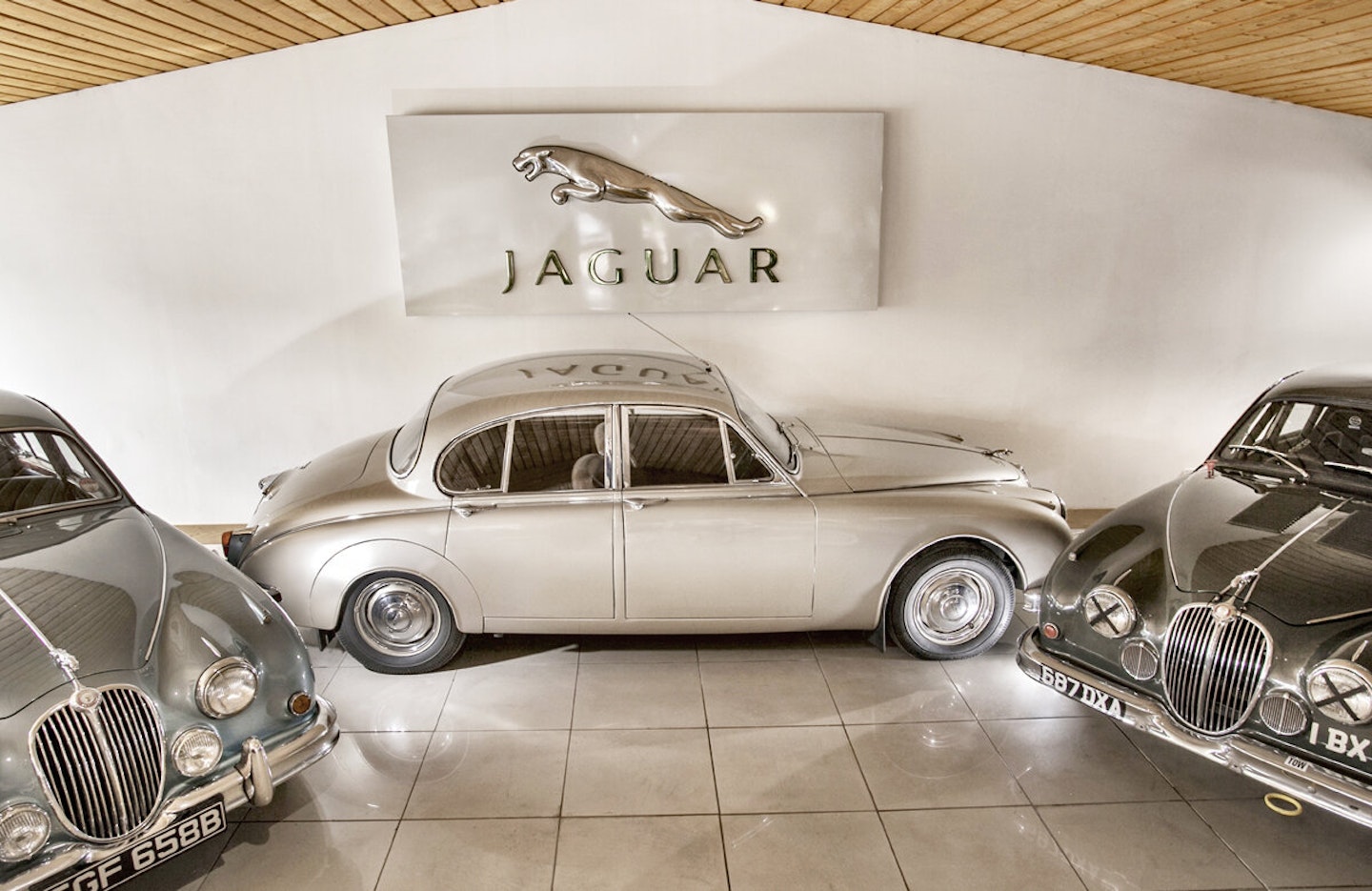 Jaguar Mk2 3.4
Guessing Michael's automotive hot button isn't difficult: if the enormous Jaguar sign doesn't give it away, the beeline he makes for the gold Mk2 parked underneath it when we start our walkaround does. He's a lifelong fan of the model, and this car is a homage to the particular example that started it all. 'I bought my first Mk2 when I was 18; it came to the garage where I was working for an MoT and failed, and I asked the guy how much he wanted for it as is. He said £750, so that's what I paid him. I haven't been without a Mk2 since.'
Teenage Michael sorted the car mechanically throughout, changed the Opalescent Golden Sand with tan interior ('being a young chap, of course, that wasn't really my colour scheme') to Old English White with red, then dark blue with magnolia, and only many years after selling it thought 'why on earth did I ever mess around with that lovely old car?' When he achieved the privilege of accumulating machinery that truly meant something to him, a replacement for that first Opalescent Golden Sand Mk2 was high on the list.
Finding a quality car configured to the right specification took some time, but this one bought in 2003 fits the bill, down to the steel wheel rims, and although several of his cars are uprated or motor sport versions, it remains factory-standard. 'I like the idea of modifying and updating, but sometimes it's also nice to have one that's totally original.'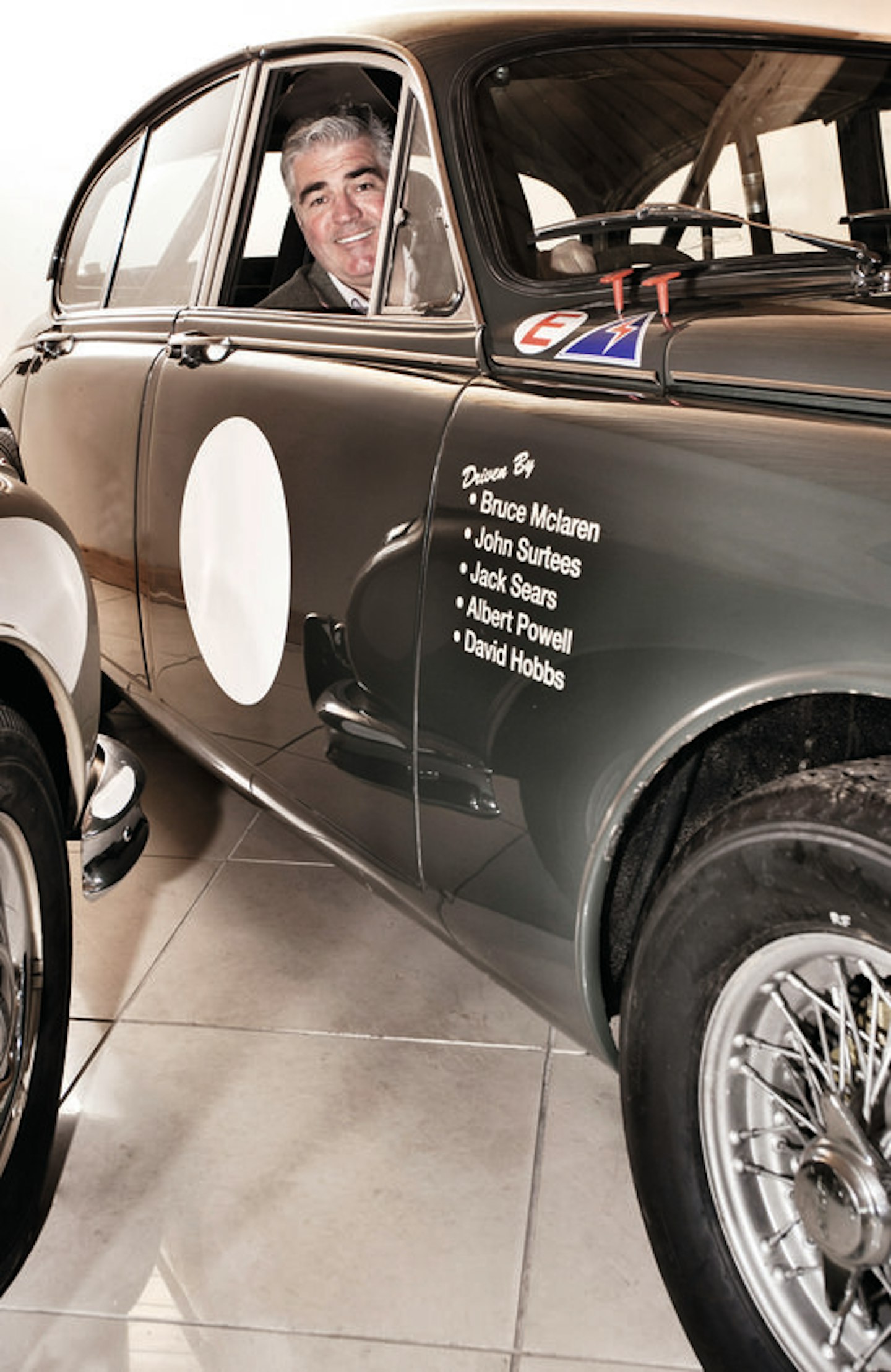 Jaguar Mk2 3.8 race car
Over the years, however, Michael has developed an itch for what he calls 'the ultimate Mk2'. For a while he had a Beecham, a hi-tec Mk2 produced in New Zealand using a restored bodyshell with all-new Jaguar running gear and comforts ('it was lovely… like driving a modern car with the classical shape'), and behind the aforementioned gold car sits a genuine Coombs Mk2. Modified in period by racer and Jag dealer John Coombs of Guildford, the rare Coombs cars were made to order, and raced in the Sixties by gentlemen amateurs and serious pros alike.
At the front of the gold car is an even more impressive Mk2. Race-prepped in 1961 by for Peter Berry Racing, Michael tells me, it was driven by Bruce McLaren and John Surtees, and later loaned to Tommy Sopwith's Equipe Endeavour for the use of Jack Sears, who famously drove it to victory in the 1962 Aintree touring car race supporting the British GP. Other drivers to have raced the car include David Hobbs and Albert Powell, and some sources suggest that Jim Clark had a turn as well.
'I thought the Coombs was a good answer for the ultimate,' he says, 'until the historic racer came along. It's the most money I've paid for a car. Still, cars with a pedigree like that don't come around very often, do they?'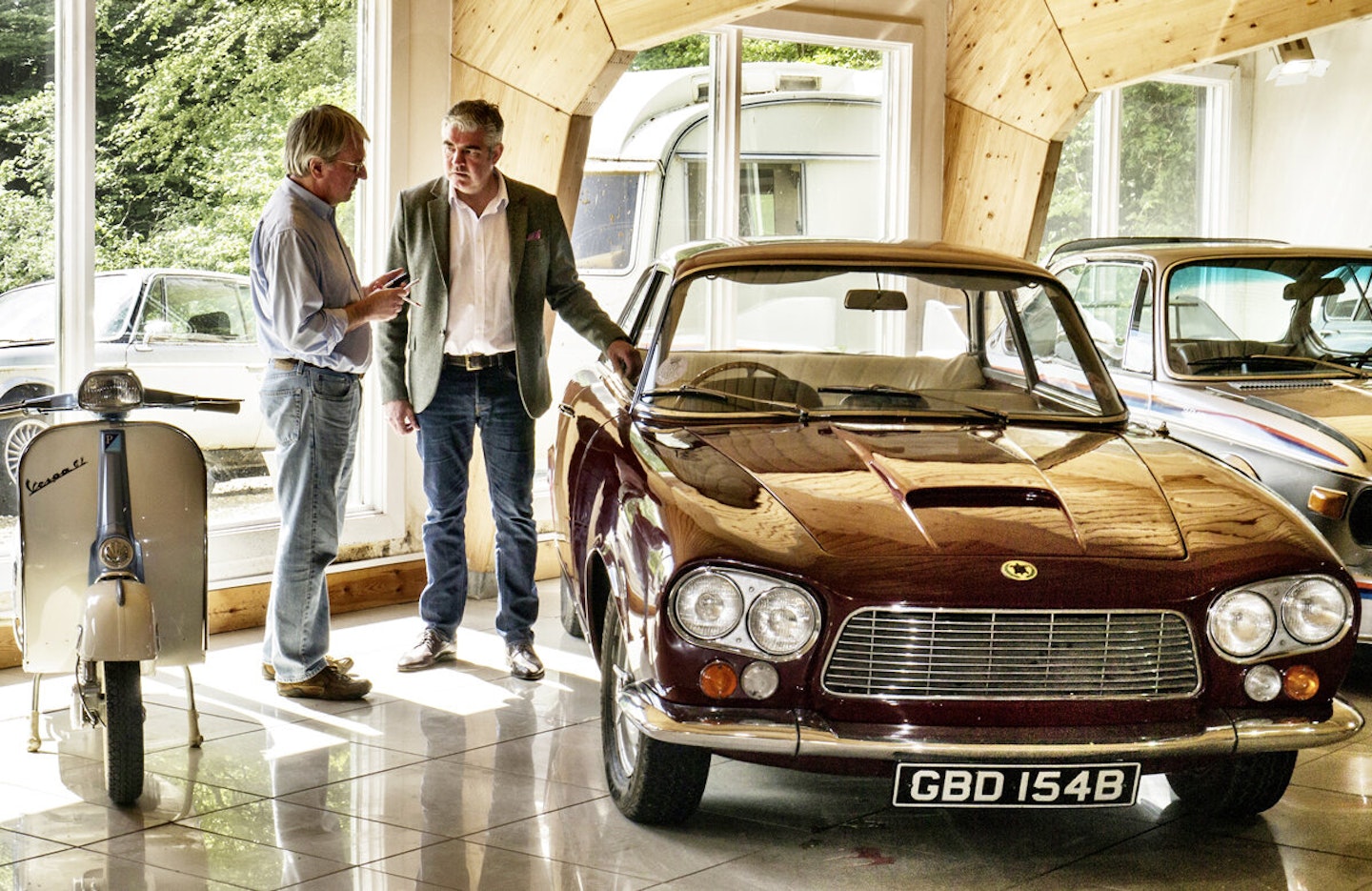 Gordon-Keeble
Given his predilection for Jaguars, it's a bit surprising that one of the longest-resident machines in Michael's collection is a Gordon-Keeble. 'They fascinate me because they were made locally in Eastleigh,' he remembers, 'and that's where I went to technical college and studied as a mechanic. They were quite revolutionary in having a spaceframe chassis and glassfibre bodywork. With that powerful Chevrolet V8, they're tremendous fun to drive.'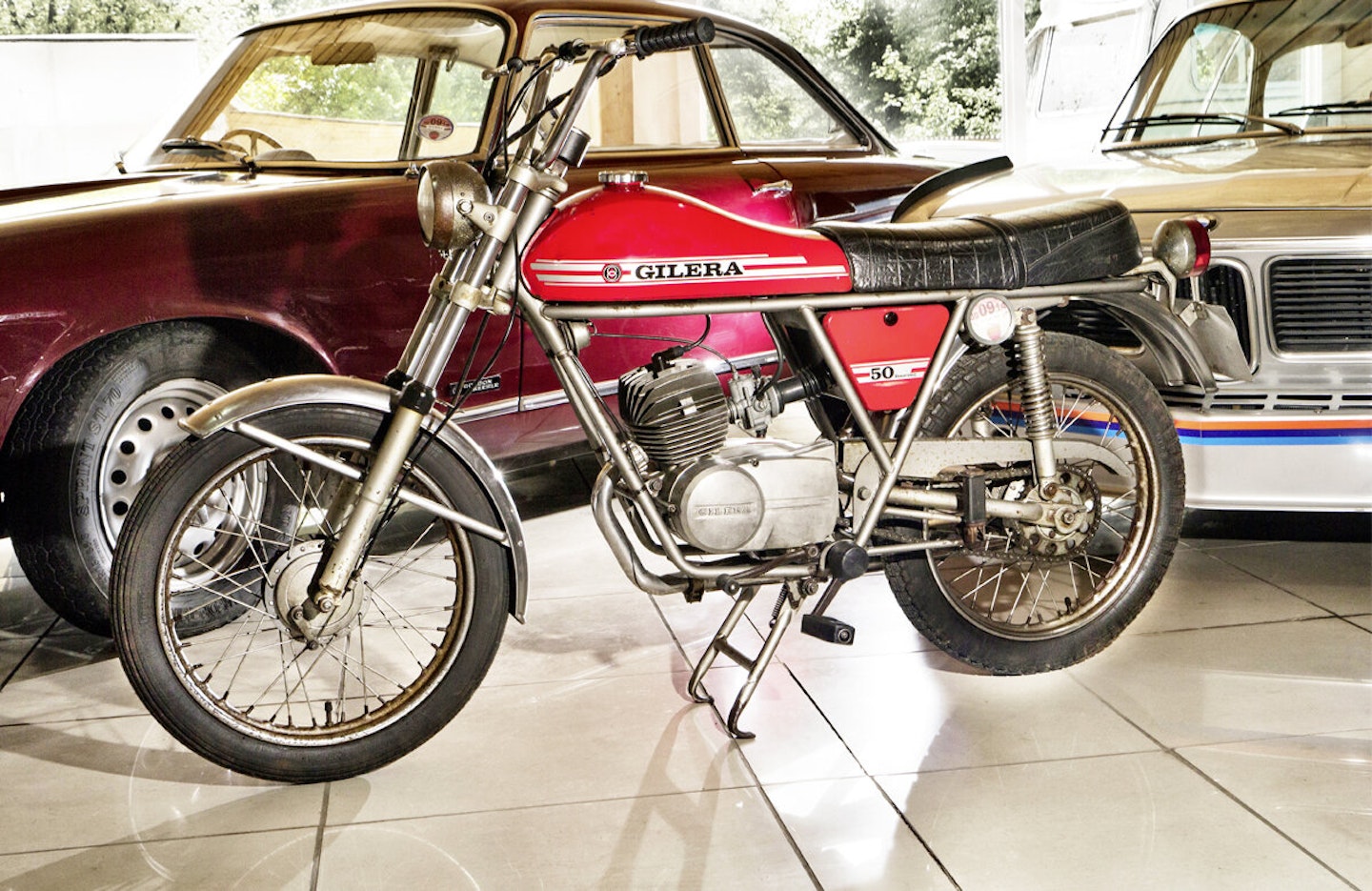 Gilera 50
Right next to the sleek, fast, Corvette-engined Gordon-Keeble is a vehicle as far removed on the performance spectrum as can be imagined: an Italian 50cc Gilera motorbike. 'A Gilera almost identical to this was my first road bike,' Michael says. 'Before that I had a couple of bikes I'd ride around the garden, but at age 16 the Gilera was what took me to work every day.'
A Honda CB125 followed the Gilera. 'I wanted that because restrictions were just starting and it was an unrestricted twin, and I passed my test on it,' and one of those with a mere 900 miles showing now lives next to the Gilera – but as a 'first', the Gilera naturally has a special importance. It looks like such a happy little device that I ask if he still rides it, and he laughs. 'Actually, I took it around the block the other day just for fun – but I'm afraid I look too big for it now, and I don't think I'd like to ride it to work every day any more…'
BSA Gold Star
The BSA is a fun device of a different flavour, and one not entirely suited to a leisurely jolly around the block. 'You can't even let the clutch fully engage until about 30mph,' according to Michael, 'and first gear goes all the way to 60 or 70. But when I was riding the Gilera, this is what I really wanted, and even before I was old enough for a bike. I remember there was a local painter and decorator who had a Gold Star; I would always talk to him about it. It's such an iconic bike. To me, it's another ultimate, and when I first bought it I used to keep it parked in the hallway of our house. I don't ride it very often; the last time was two years ago, and it overheated in traffic and had to be
carried home!'
Aston Martin DB5
The significance of the Aston Martin for Michael surely strikes a chord with all of us. 'Well, to own a DB5 one day – James Bond and everything – is every schoolboy's dream, isn't it? And it's a car I've always wanted and didn't think I'd ever have.'
There's another significance, though, reflecting how an automotive hobby can assume a life of its own. The Mk2 Jags, the Gordon-Keeble and the motorcycles are all pretty much 'as purchased'; the DB5 was restored in Michael Culhane's personal workshop. Spun off from his private work several years ago as Pitt Lane Classic Cars, it's now a full service and restoration facility, with a thriving business.
The car underwent no small amount of surgery. 'It was on the road when I bought it,' which Michael says was in 2007, 'but it wasn't the correct paint; from the build sheets it should have been Californian Sage Green – one of my favourite Aston Martin colours. So we repainted it, replaced the inner and outer sills and jacking points, and had the interior retrimmed, fitted new tyres with stainless steel wires, and the front bumper is out for re-chroming.'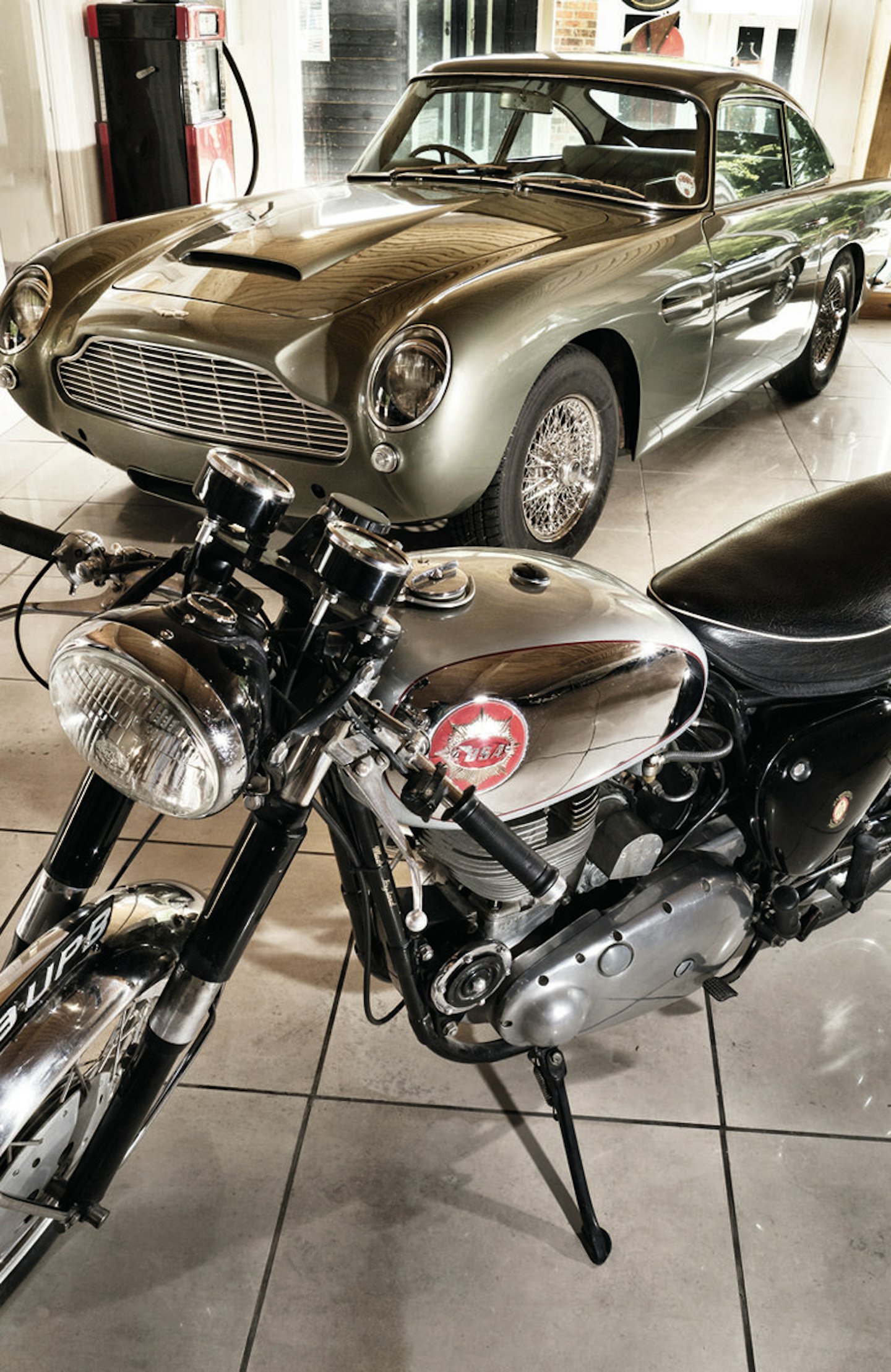 Jaguar E-type 4.2 Roadster
Despite the shiny floors and leafy vistas, reminders do pop up that old machinery lives here – such as the odd oily puddle, or a scruffy parts car temporarily sharing the vistas, or the axle stands under Michael's first and favourite E-type. He seems apologetic that the engine is out.
'Eventually I do want to take the car apart for a proper restoration, but for now, it's having an engine rebuild, with an aluminium flywheel, higher compression, a gas-flowed cylinder head; it should be far more sporty.'
Then again, wanting everything perfect is understandable; he waited on the car long enough. 'I saw my first E-type when I was maybe 10; and I remember saying, Dad, look at that car there, what's that? "Oh, that's a Jaguar E-type; don't worry", he said, "when you're my age you'll be able to pick those up for a couple of pounds…" So I was always fascinated by them, and when I left school as an apprentice mechanic, I was mad for one, but even one in pieces was like £2500, and I was on £30 a week. Little did my father know…'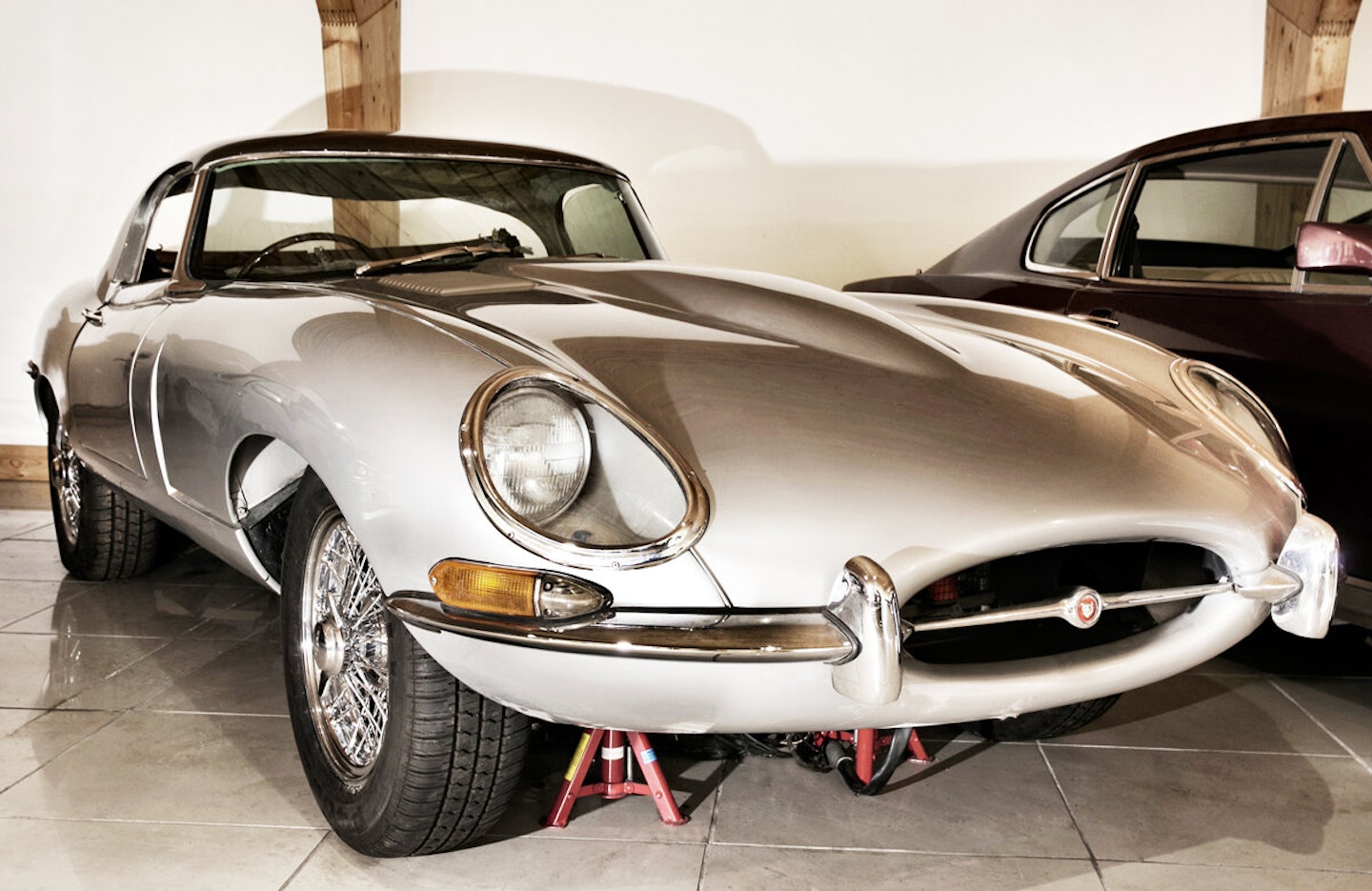 Ferrari 550 Maranello
As with the DB5 and E-type, Michael never thought he'd have this, but for completely different reasons. The 16-year-old Ferrari is the only modern performance car he's ever owned, and it almost seems to make him feel a touch guilty. 'It's all been classics before; something like this never interested me. But some of my friends kept asking why I didn't get a new Porsche or Ferrari or something. And two years ago, I finally decided to treat myself on my birthday… now I think it's going be a future classic.'
He's right, too. The 550 was among the last of what many of us would consider the real Ferraris: front-mounted V12 engine mated to a manual gearbox. It's also fast, good-looking and useable. Most of all, he says, and this would seem to be the element that ties all of Michael Culhane's widely varying vehicles into a true collection, 'it's quite good fun, really'. And who could argue with a philosophy with that?
Unlike some collectors, Michael does add and delete vehicles, and those under restoration include a Facel Vega HK500 and a Jaguar MkI, hot-rodded to the max. Every outbuilding also seems to house another car waiting its turn in the shop, including a Jaguar MkX, and yes, it's Golden Sand. One more wrinkle in the saga may await, however. He's considering a go at historic racing with the ex-Sears car; so if he thinks he's obsessed now, he'd better pray the motor racing bug doesn't bite…