1974: Anne Peace buys GRW 2N new – at a discount; chrome just wasn't in
'Argue all you like about the aesthetics of the rubber bumpers fitted to the MGB in 1974, but they were at least something new – on a car that had seen little development since its birth in 1962. Certainly MG dealers saw it that way, and did their best to get people excited about the new black-bumpered cars. But Anne Peace, then a 25-year-old primary school teacher, saw things a bit differently.
Most people these days prefer the classic look of the chrome-bumper cars. Anne was no different then. She found one of the last of those early models in a Midlands MG dealership and fell in love with its unusual purple colour, called Aconite. Better yet, the dealer was keen to clear out old stock pending arrival of the new models. 'They offered me a good deal,' remembers Anne, who sold her Triumph Spitfire and took out a bank loan to pay for the MG – but couldn't stretch to the extra cost of the optional wire wheels she really wanted. 
'I also managed to choose my registration number from the available list.'
GRW led to the nickname 'Great Racing Woman', though Anne now winces at the thought. 'That's a bit cheesy now. My mum had one as well, HRW – we called it Heated Rear Window.' GRW took Anne to the Cotswolds and Hampshire on her honeymoon in 1977, but when the first of her three boys arrived the MG had to be moved on. 'It was sold to pay for carpets and a dishwasher,' she says sadly.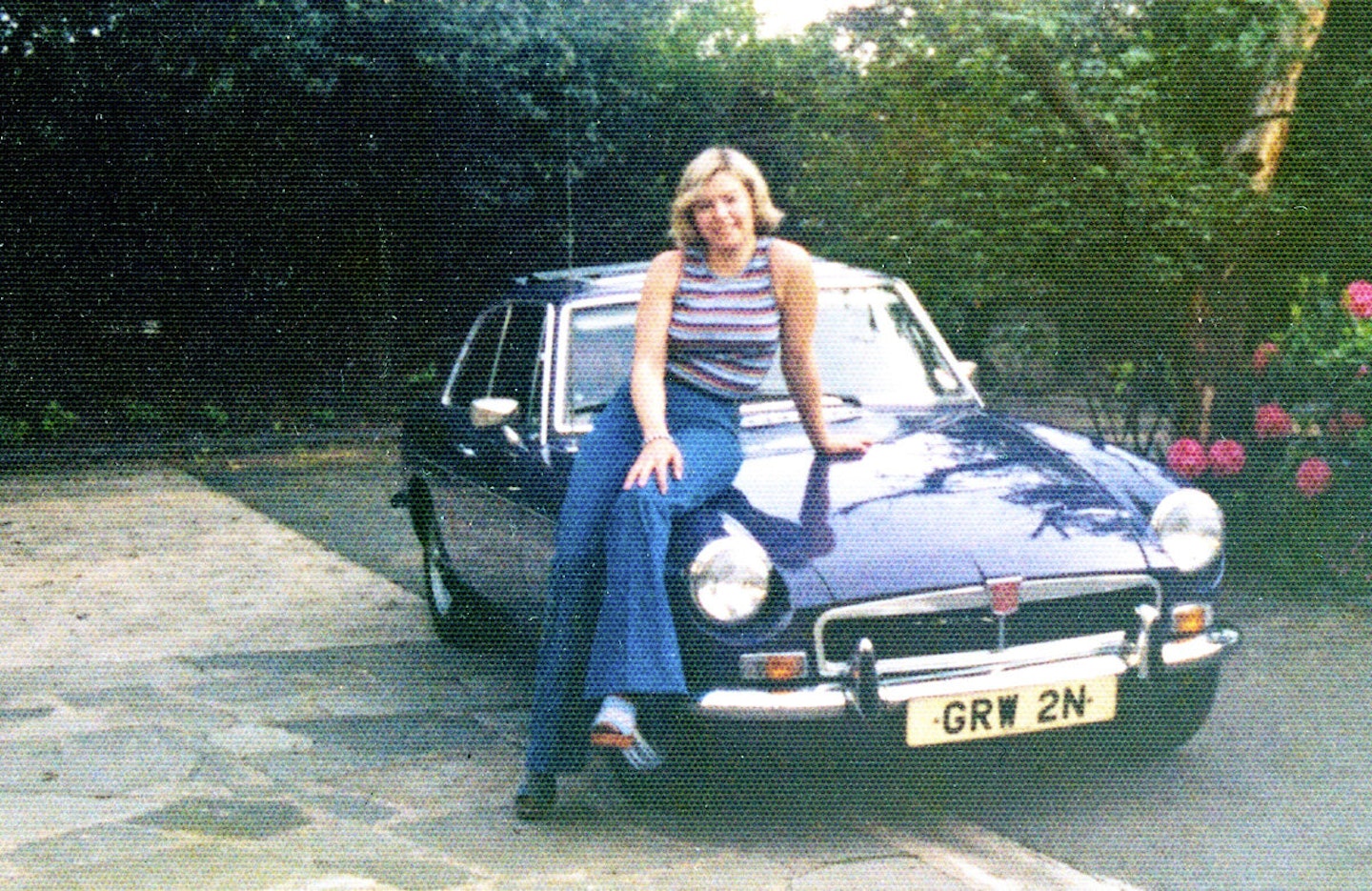 1977: GRW makes an exotic Mini replacement for £1500
Jon Smith had been thinking of buying an MGB roadster. 'My wife was not too keen on the wind-in-the-hair experience, and I always thought the styling of the GT was more attractive,' he says.
'I was offered the opportunity to drive a GT that a friend had been loaned for a few days and this convinced me that I had to have one. The feel and sound of the car seemed exotic compared to the Minis I was used to, in particular the exhaust sound which had a distinctive note at certain revs. I was also taken with having an overdrive option on third and fourth, which gave the car a very relaxed feel when cruising.'
Jon became the second owner of GRW, and the MGB regularly made the long trip from the Midlands to Cornwall for his summer holiday. On one of these trips it was accompanied by friends in a Triumph TR7, which suffered from an overheating engine. 'They had to keep the speed down and the heater on full to try to keep the temperature down,' Jon recalls. 'It all looked very flash but the reality was that there were two very hot and uncomfortable occupants of the TR7, whereas we felt very comfortable and smug in our trusty MG.'
Jon did most of the maintenance GRW needed himself. He remembers the exhaust system being a regular problem, as it would crack around the centre silencer. Jon fixed that by welding a strengthening plate to the front of the silencer, which also helped to protect the low-slung exhaust from damage. The MGB only let Jon down once, after the fuel gauge sender failed – though he's quick to take the blame himself. 'For a short while I had to estimate how much fuel was remaining,' he says. 'I got it wrong one night and ran out a few miles from home. I had to walk to a farm to phone my wife to ask her to bring me the full spare jerry-can that I had conveniently left in the garage.'
By now Jon's young son was outgrowing the carrycot that used to get wedged behind the MGB's front seats, and a bigger car was needed. Jon moved on to a Ford Escort XR3i ('one of my less inspired decisions') and then Porsches. GRW moved on.
1982: a thorough polish brings back the Aconite shine in fine form
'I was always into cars,' says Jane Lambert, who bought GRW aged just 19. 'I lived at home and had two jobs – all my money went into the car.'
It was the distinctive Aconite hue that attracted Jane to GRW. 'I loved the colour. I'd seen others and they were rusty, but this one was fantastic.' But GRW was in need of a thorough clean, which Jane tackled with help from her younger brother Mark. 'When we polished it, it came up like a blackcurrant,' Jane recalls. It got a new nickname, too: the GRW 2N registration was reinterpreted as Grew Two Inches.
Jane used to make regular trips from Leamington to London to see her husband-to-be Richard Lambert, who remembers waiting often for her to arrive. 'I used to look out for these dodgy old headlights to come round the corner saying she'd made it,' he says. Richard spent many hours tinkering with GRW – fitting radio speakers, replacing leaf springs – and it regularly took Richard and Jane away for long weekends.
The catalyst for GRW moving on came in 1985 when Richard met a chap in an Islington pub who owned a down-at-heel Triumph TR6, and made an instant decision to buy it. To make space for it the MGB had to go, and it was sold on to Jane's sister Lindsey for £2000. It wasn't a happy time for GRW: it was involved in an accident and sat unloved for many months before being part-exchanged for a Fiesta XR2. Jane, meanwhile, never came to terms with Richard selling her favourite car…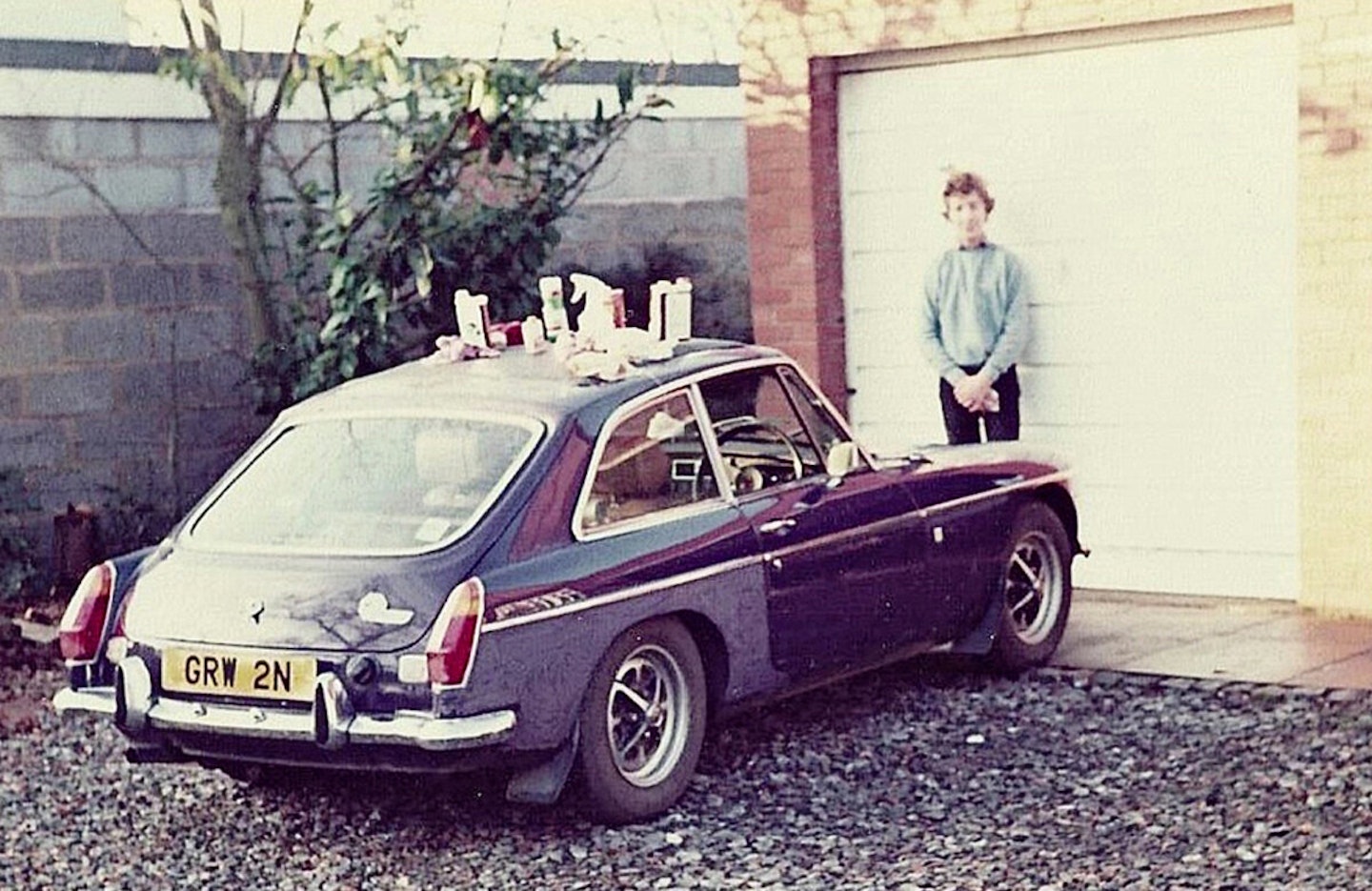 1987: an MG enthusiast advises on MGB purchase for a timekeeper
Mick Barnett now enters GRW's story – but not as an owner of the car. In the late Eighties Mick was a supply engineer working for East Midlands Electricity, and he was spending his spare time restoring an MGA from the ground up.
'He was meticulous,' recalls colleague Caroline Bedford, 'even to the point that the undercoat on the basic frame had to be the correct shade.'
Caroline spent her spare time as a motor racing timekeeper, and was interested in buying a sports car. 'I thought I'd buy an MG as Mick would be able to look it over for me to save me from making a mistake. We looked at various cars and eventually I decided to buy GRW.'
MG Car Club member Caroline took the MG, which she called the Purple People Eater, to club meetings at Silverstone, where it was often parked in the members' area – and one year took to the circuit in a celebration convoy.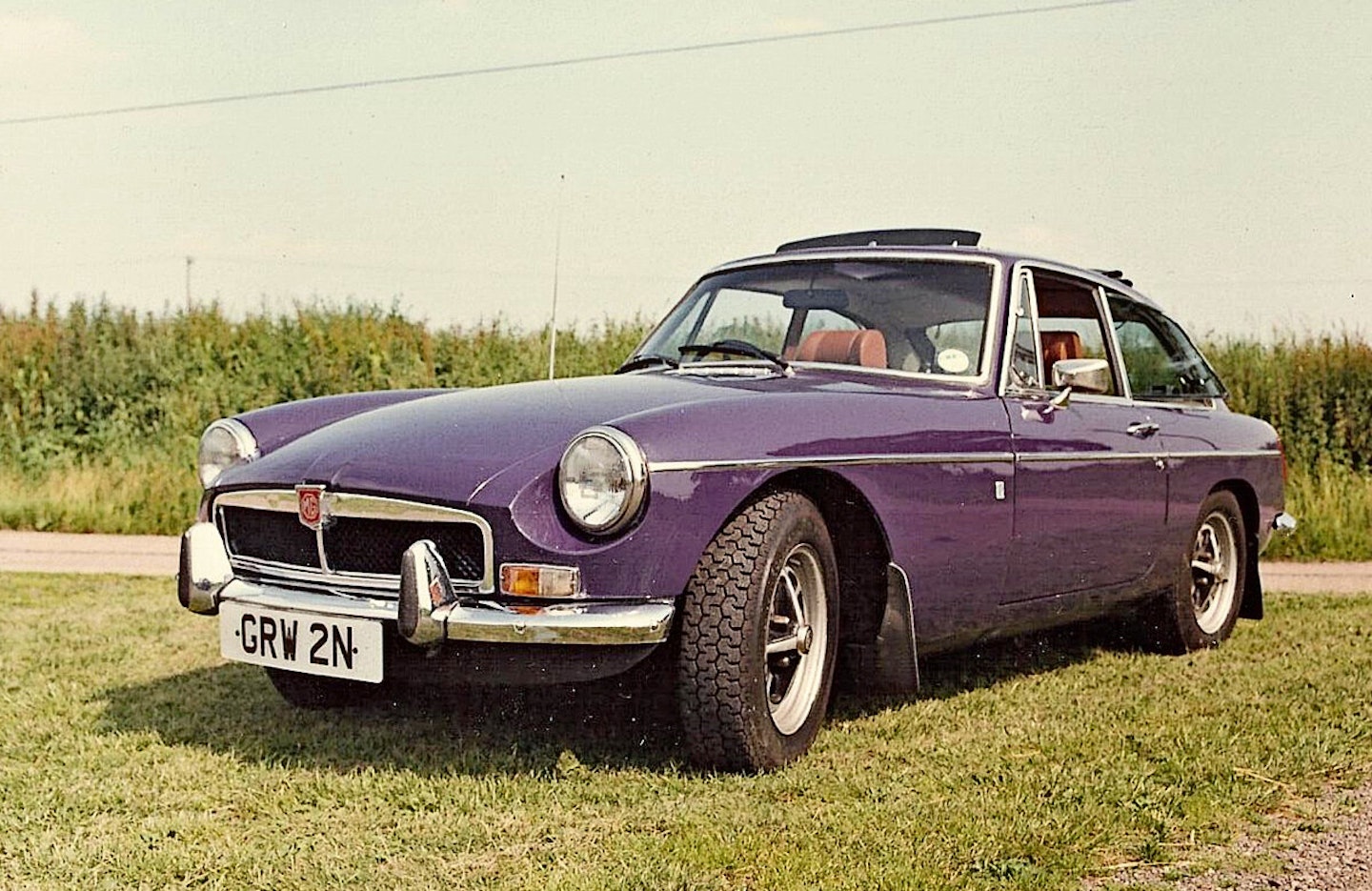 However, GRW didn't get used as often as she would have liked. 'The main problem was keeping the battery charged – and I remember that it was a real nuisance to reach,' she says. Eventually Caroline decided she had to sell GRW, and easily found a more-than-willing buyer not far away. 'Mick was looking for a car for his son, and I knew it would be going to a good home – plus I didn't have to advertise.'
However, the enthusiasm for MGs has never left Caroline, who now has a Midget, which, she reveals affectionately, is 'naturally known as Bridget'.
"Mick was looking for a car for his son, and I knew it would be going to a good home"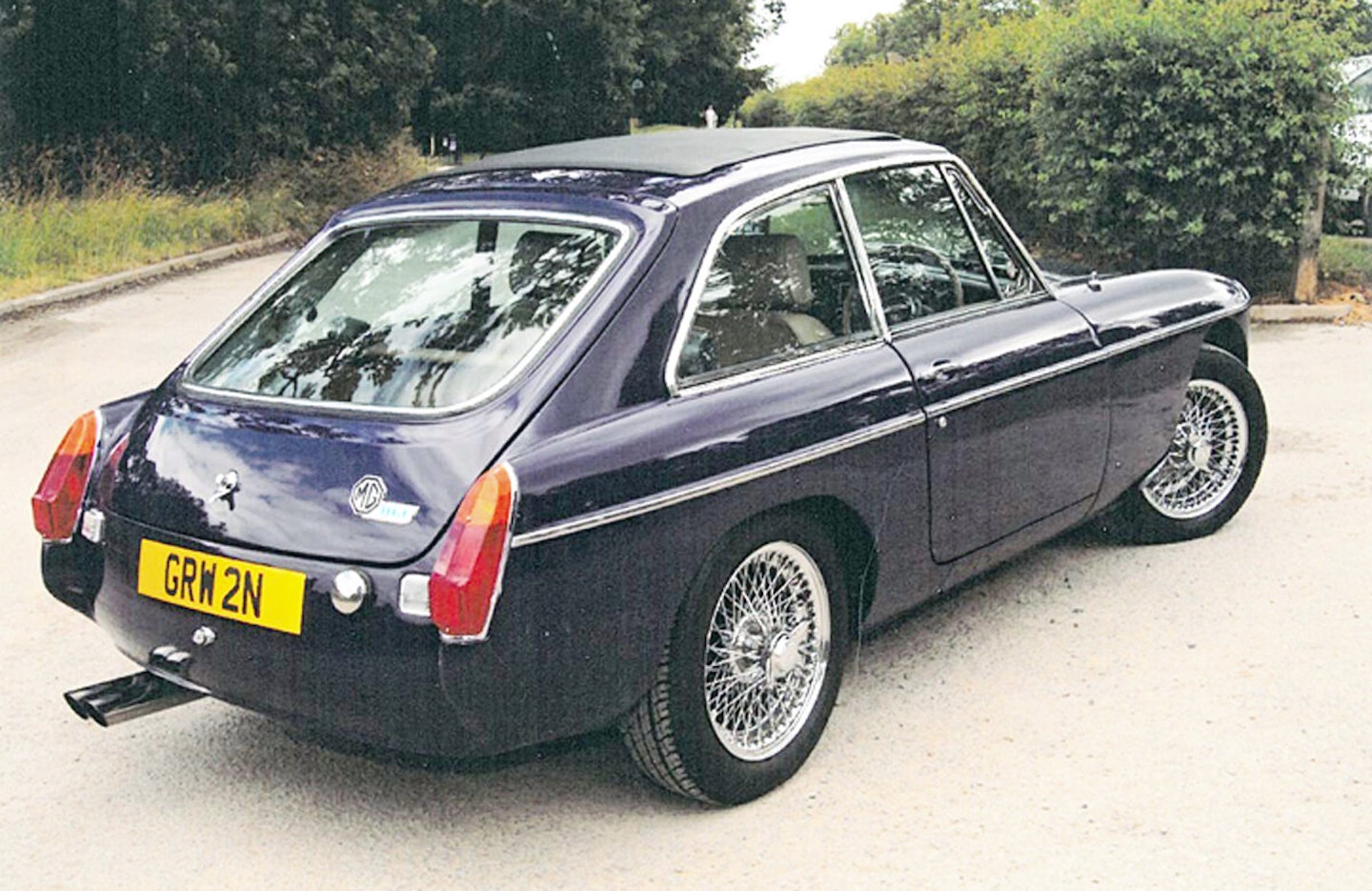 1991: rust, rebuild and a performance upgrade bring sparkle back
By now GRW was in need of a rebuild, with rot attacking the floor and sills. Mick replaced the rusty metalwork, and set about making the revitalised MG look like the late Sixties works Sebring racing cars. He removed the bumpers and smoothed out the valances, and replaced the original Rostyle wheels – first by a set of bolt-on Minilite replicas, and then with knock-off wire wheels on splined hubs.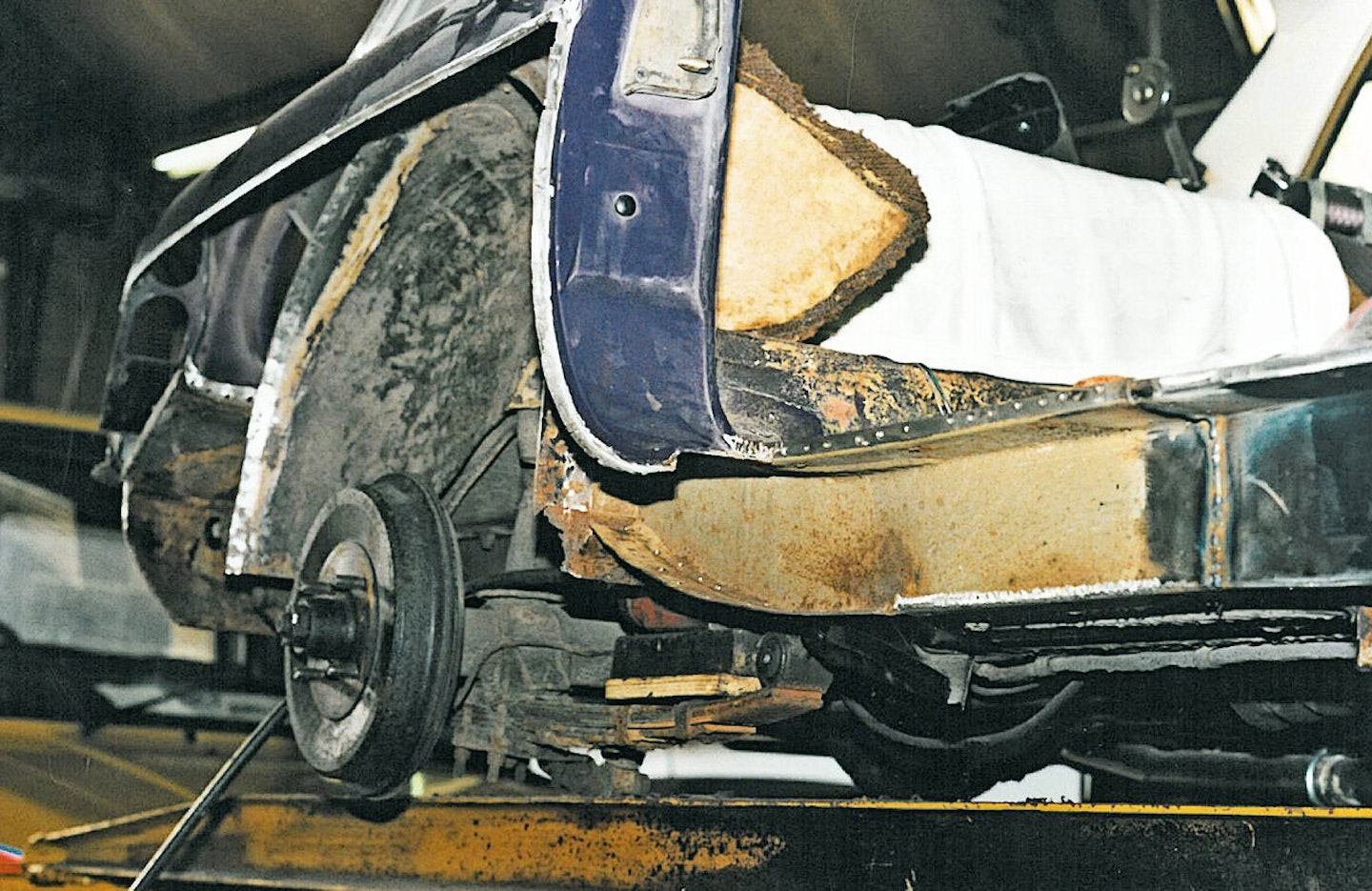 The tired original engine was removed and in its place Mick fitted an overbored Stage 3 unit with larger SU carburettors and a performance exhaust; and for reliability an oil cooler and a Kenlowe electric fan were added. Inside, GRW was treated to a Moto-Lita wood-rimmed steering wheel, new leather seats and a Momo alloy gearknob.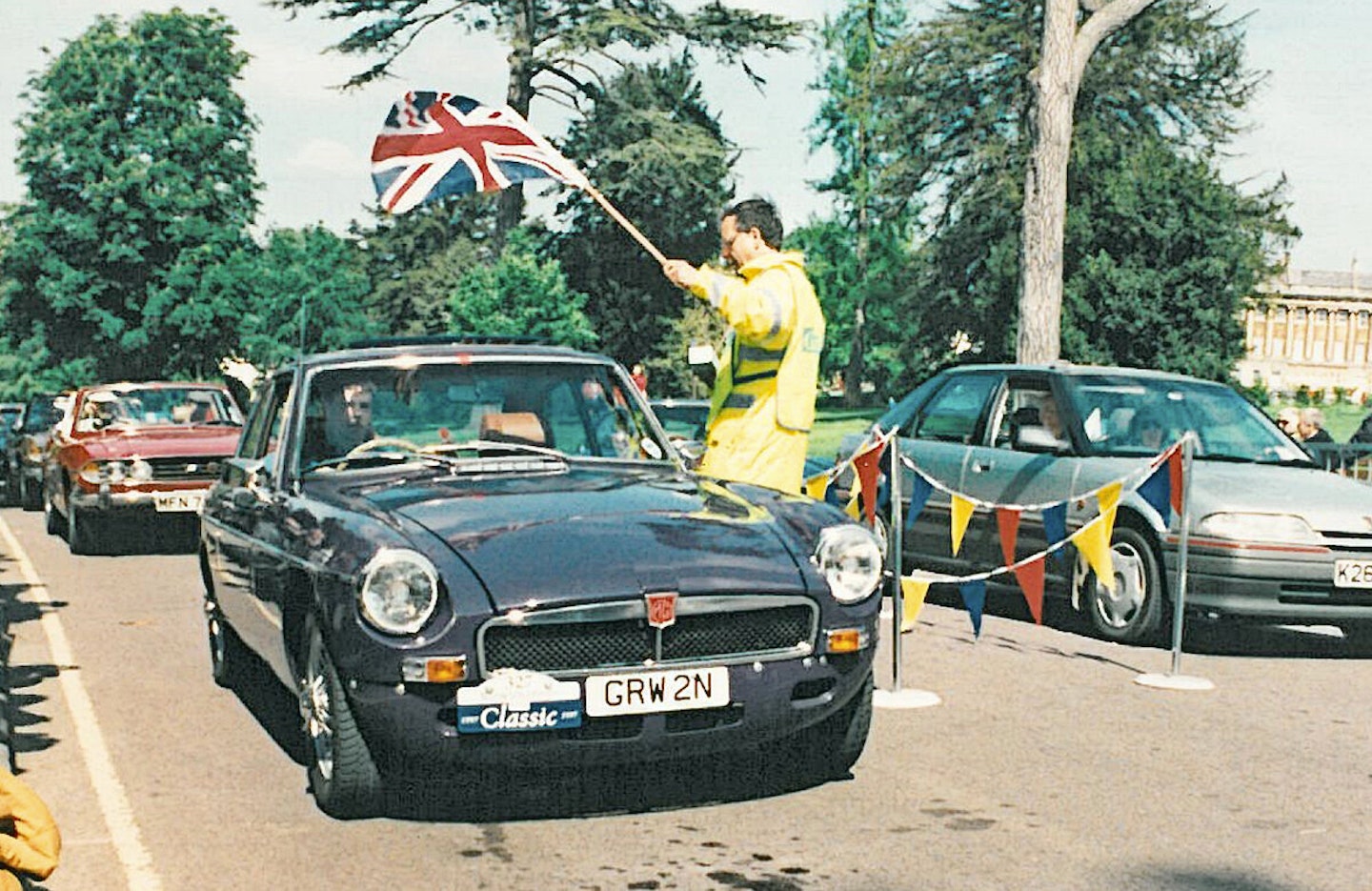 As the overdrive had been operated by a switch on the gearknob, Mick added a switch under the right-hand side of the dashboard. GRW and its enthusiastic owner entered the Norwich Union Classic Car run in 1997. It was a curious coincidence that Richard and Jane Lambert were taking part in the same event, in a Lancia Fulvia that Richard owned. 'We thought he was such a fanatic he'd never sell the MG,' he says.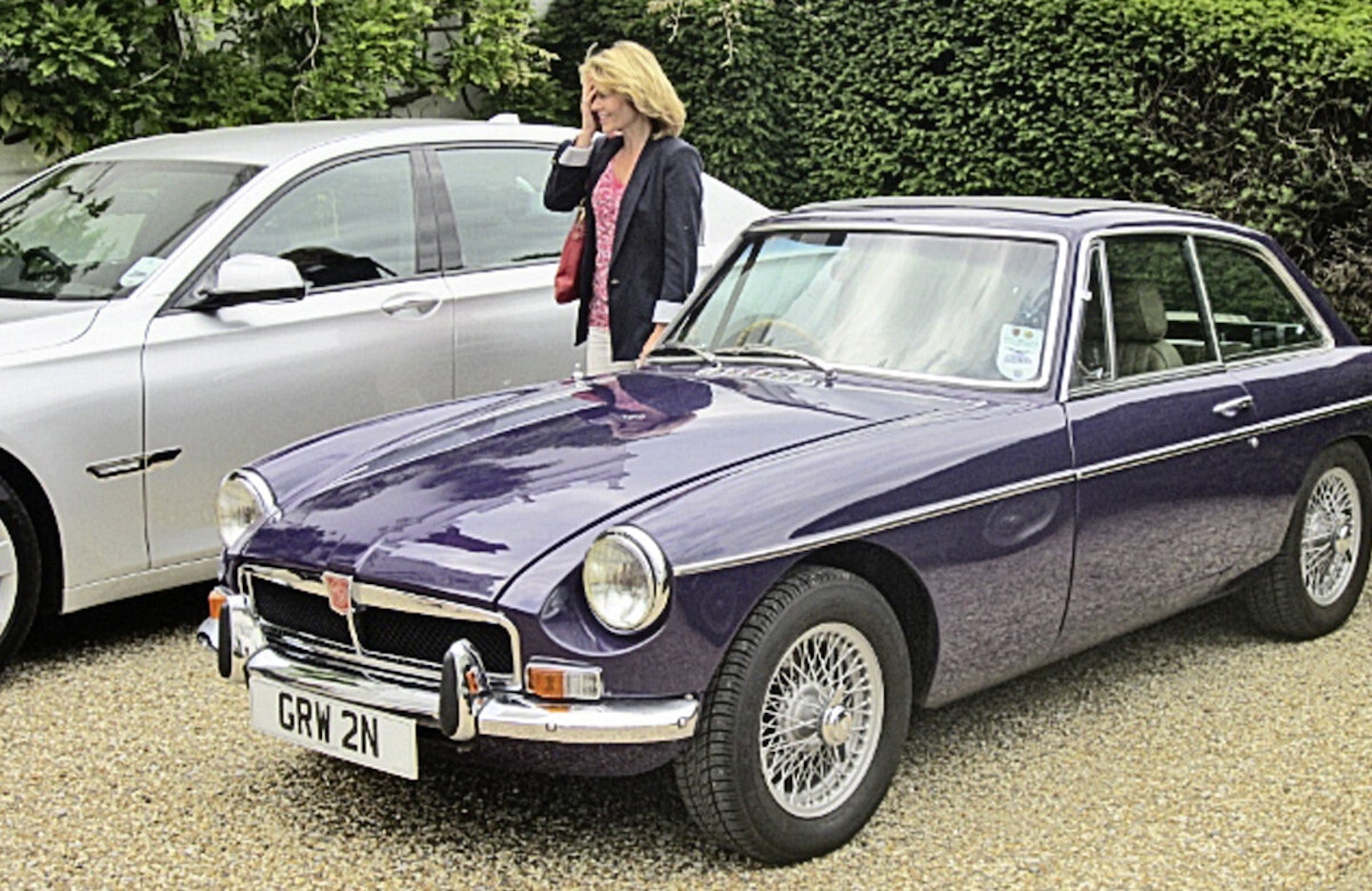 2012: Jane and GRW are reunited – £6400 was never better spent
Nearly 15 years later Richard was browsing the classifieds online one evening and found an Aconite 1974 MGB GT. He recognised it as Jane's old car, but the ad quickly vanished from view. After further detective work Richard located GRW at MG specialists Brown and Gammons – and swiftly completed a deal to buy it. Richard opted to refit the chrome bumpers, but left the rest of the modifications in place.
When Richard and Jane celebrated their 50th birthdays at Danesfield House hotel in Buckinghamshire, Jane had no idea of the present she was about to get. Richard had the car parked outside the hotel, and steered Jane to a window where she could see it. She was astounded to spot her old car again. She was even more shocked when she asked at reception who owned it, and was told that she did. 'She burst into tears,' Richard says. 'I think we both did.'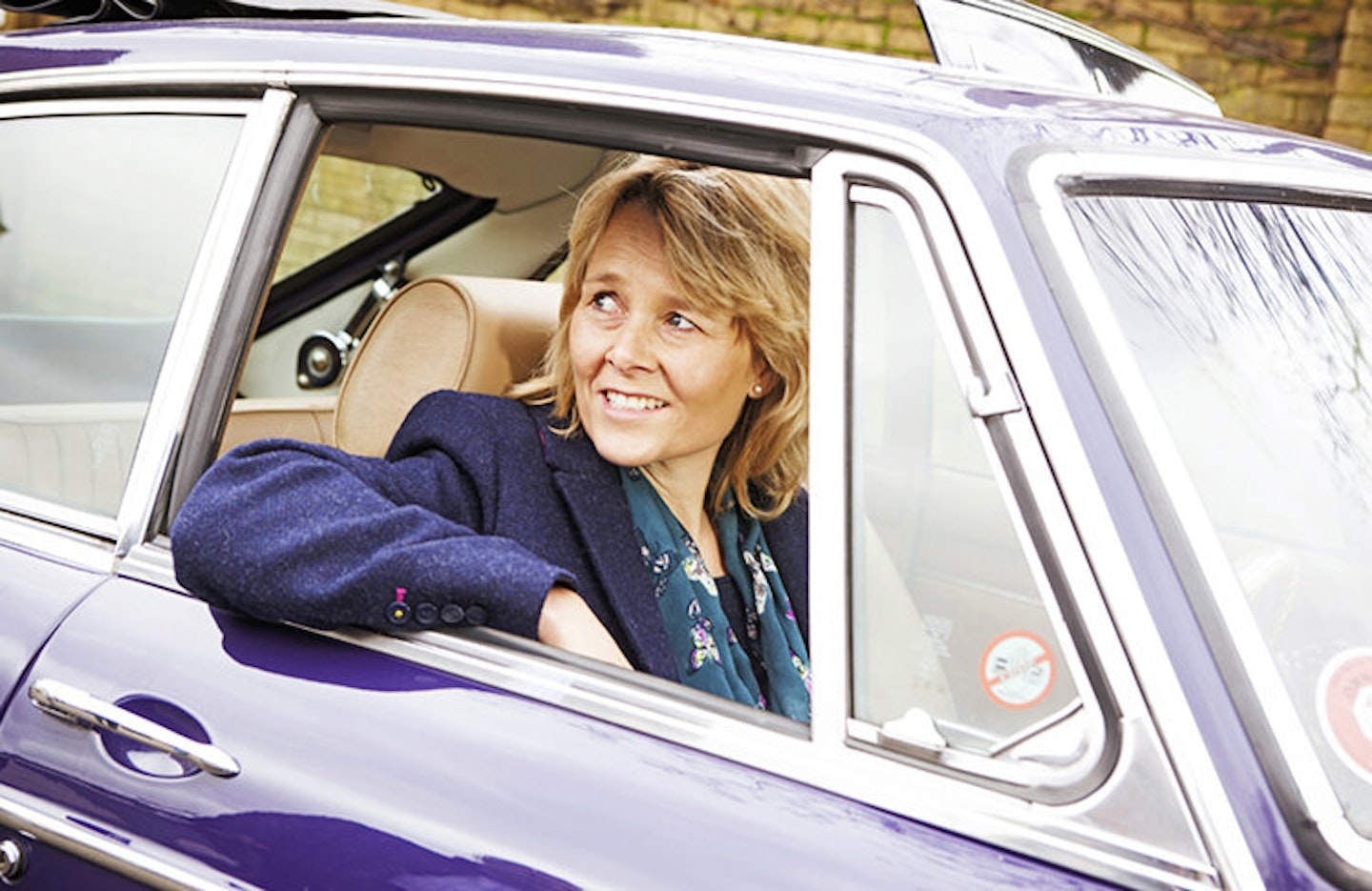 The tuned engine proved its worth when Richard and Jane took GRW on a road trip through France in the summer of 2013, where it easily kept pace with a friend's Porsche Boxster. 'The French loved it,' says Jane. 'Everybody looked and waved.' The Seventies-throwback colour is right back in fashion, she says, citing Jamiroquai frontman Jay Kay's Porsche in a similar hue. 'He calls it Rock Star Purple.'
GRW will be reunited with two of its former owners, as Richard and Jane plan a trip to the Midlands to see Anne Peace and Jon Smith. 'When I took delivery of the MG I found in the glovebox a champagne cork with a coin lodged in it, which I discovered was for good luck,' says Jon. 'I've promised to hand the cork over to Richard and Jane.'
GRW's first owner, Anne Peace, is delighted that the MGB is back to its best. 'I can't believe how great my car looks now. The wire wheels, which I couldn't afford, really make it look good. It's 40 years old this year,' Anne says. 'It needs a party.'