1972 – Peter Marcantonio orders Elan Sprint 'kit' from Lotus for £1767
'We always drove it with the top down,' says Peter Marcantonio, first owner of this Elan Sprint, JVK 49L, 'even on a week-long touring holiday in Scotland, and you know how wet it can be there. My wife Carole and I went up through the Highlands as far north as Ullapool. At more than 28mph any rain went straight over the top of us; whenever we had to slow down below that, we had a golfing umbrella that was bigger than the cockpit. We even sat in the car under that for the duration of a ferry journey to Skye. One of many happy memories.'
This was ice cream company boss Marcantonio's second Lotus Elan, bought to replace an S4. 'As well as being quicker, the Sprint's Weber carburettors made it much easier to start – the S4 was never right with those Strombergs.
'I got in before the Purchase Tax exemption was ended in April 1973 after we joined the EC,' he says, 'and ordered the car through Northern Sports Cars at Scorton in Richmond, North Yorkshire. The body/chassis and the engine had to be ordered separately – from different businesses but at the same Lotus address. That was just how it worked. The total price was £1767.'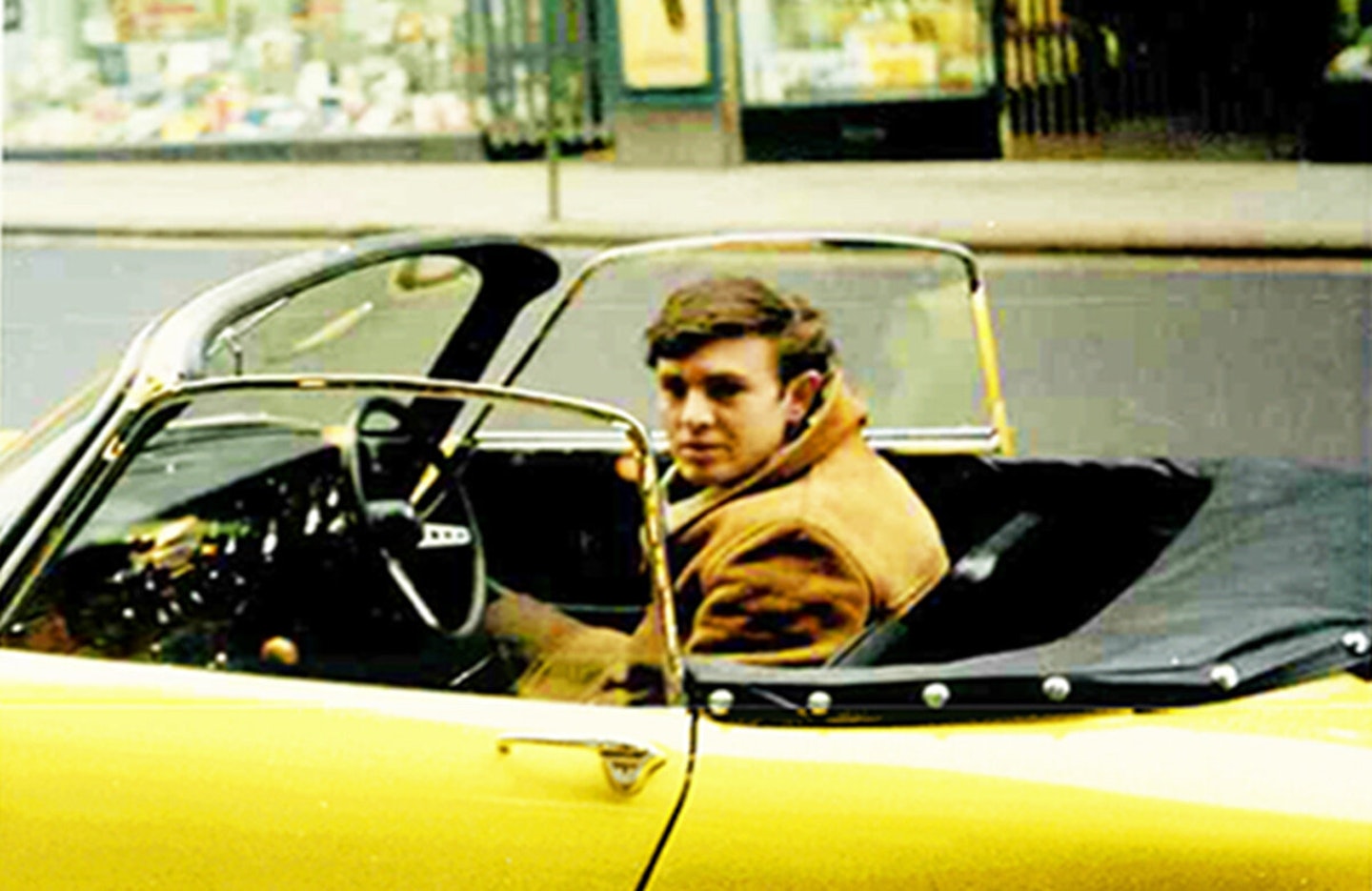 Up until that time, incomplete 'kit' cars avoided Purchase Tax, which in 1972 saved about 21 per cent against the cost of a completed car. To comply with the regulations you were supposed to finish the car yourself, and Lotus ads carried an ambitious 'build it in a weekend' claim. But for the hard-of-spannering there were specialists who'd perhaps unofficially put together cars for Lotus buyers. So did Peter build this Elan? 'I had a little help...'
JVK 49L was always intended as a second car. 'We used it as our going out car, for going on holidays, and even did some timed navigational rallies with the local motor club I was a member of – only on regular roads, mind you, none of that sideways down muddy track stuff.
'It was an eye-catching car and a joy to drive – such good handling and brakes, and when you think about it, 0-60mph in 6.7 seconds is quick even by today's standards. But unlike modern cars you feel everything an Elan does. It's very telling that even 36 years on I remember everything about that Elan so well, but I couldn't tell you what our everyday car was at the time.
'I kept that Elan for five years and did 8000 miles in it. In the end my head was turned and it was replaced by a Dino 246. Not too long after that, family came along and ever since then we've had to have sensible cars.'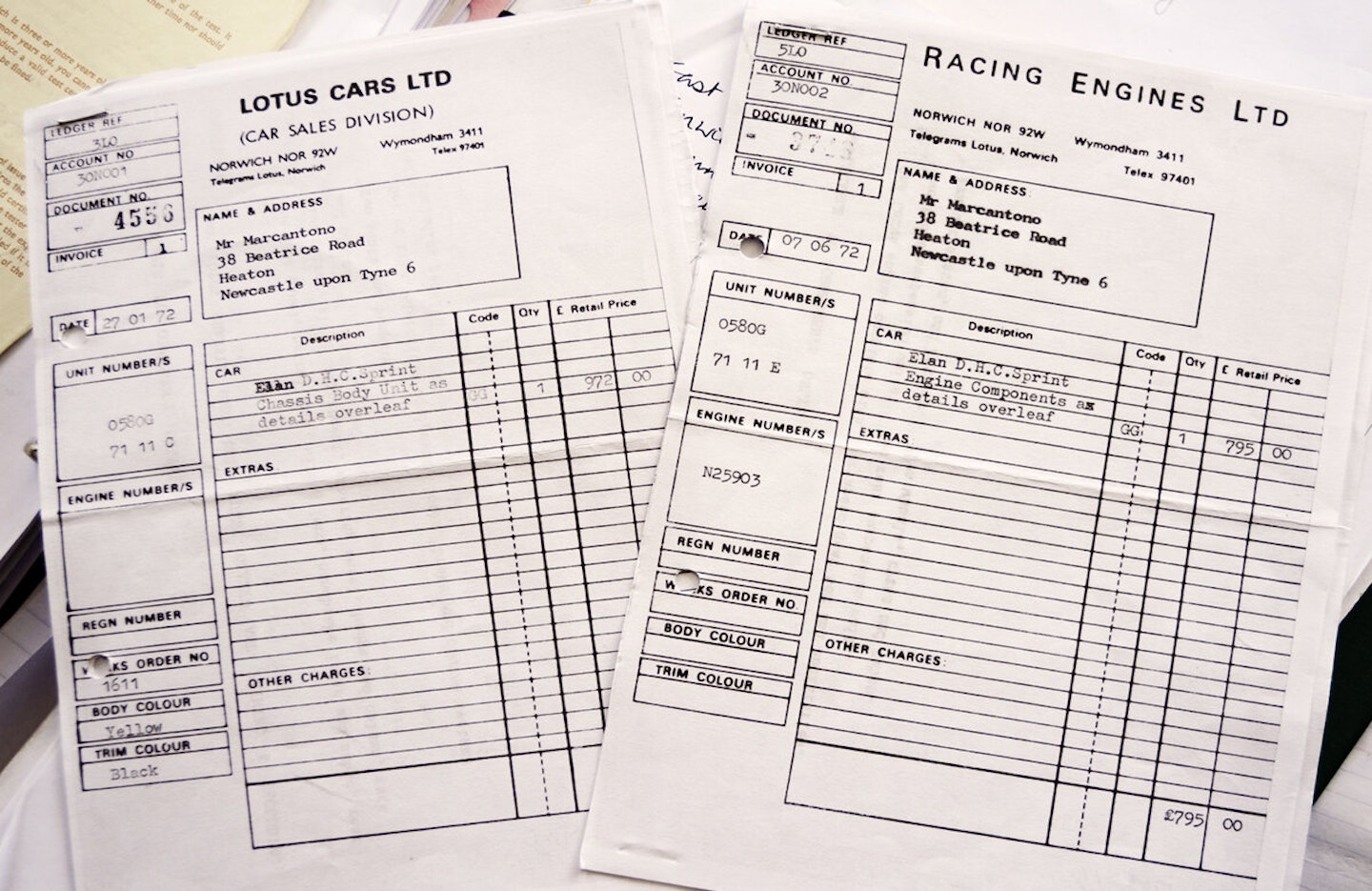 1978 JVK 49L is bought as a wedding present for Jill Maller
When computer scientist Victor Maller started thinking about a special gift for his wife-to-be to mark their nuptials, there was a degree of inevitability about the result. Jill loved driving cars with the roof down, and Victor was another serial Elan owner.
The Sprint was not only the quickest but also the youngest soft-top Elan model available, so he started a country-wide search for the best example he could find – not easy even then as the newest Sprint would have been five years old and they were just thought of as secondhand sports cars, not classics.
A friend in Newcastle-upon-Tyne spotted JVK 49L in a local dealer's showroom, and the low mileage proved too hard to resist. Victor says, 'There were faint craze marks in the paint, but the dealer told us that was a result of it being stored by the sea. We could have had it repainted but it wasn't bad enough to bother us.'
1980 – Victor Maller takes over JVK 49L as his daily driver
Though undoubtedly fun, the tiny two-seater Elan Sprint proved less practical when the Maller's first child arrived in 1980. So Victor handed Jill the keys to his Triumph 2.5 PI and started using JVK 49L as everyday transport. It was familiar territory for Victor. 'I bought my first Elan, a Series 2, in 1965 and later had a Plus 2. They were fun cars and I did tens of thousands of miles in them, always doing my own maintenance back then.
'The Plus 2 was much more practical – by using the rear seats I could get a lot more stuff in it – but it wasn't nearly as nippy as the roadster.'
That commuting went on for a couple of years, and for the first time in its life JVK 49L started to rack up some proper mileage. 'Then one day the nearside front chassis upright fractured – it had been weakened by rust. At the time I didn't have the facilities to do the work myself, so took the car to Chambers & Gillies in Welwyn Garden City, the garage who had always serviced the Elan for us. Their recommendation was that it needed a new chassis.' Often forgotten now, this was an all-too-common problem that took a lot of Elans off the road in the days when they were just used sports cars. JVK 49L was ten years old but had still only covered a mere 21,000 miles.
Victor says, 'I did briefly contemplate getting it repaired, but it would have been very expensive and the Elan was becoming increasingly impractical now we had two children. So I accepted an offer from Iain Chambers for the car and replaced it with an MGB GT. This at least enabled Jill to have one child in the passenger seat and the baby in the back.'
1982 JVK 49L is put away as a retirement project
Iain Chambers may have owned JVK 49L for longer than anyone else, but sadly he never actually got to use it on the road. One half of the Chambers & Gillies name, a garage described by Victor Maller as 'motor engineers in the true sense of the word', they used to service quite a few Elans in period so Chambers knew what he was getting into. 'When JVK 49L became available it seemed like an ideal retirement project, even though that day was still a long way off. To that end I ordered a new chassis from Lotus.
'I stored that and the car in my sister's barn and it sat there under a cover for 22 years until around 2004/5 when she decided to move and I brought it back to the garage in Welwyn. We did manage to get the engine started at one point but never did anything else with it so I'm afraid there's not much to tell.'
During Chambers' tenure he continued to service the Mallers' cars and at one point there was talk of Victor Maller buying the Elan back, but the pair were unable to agree on a price.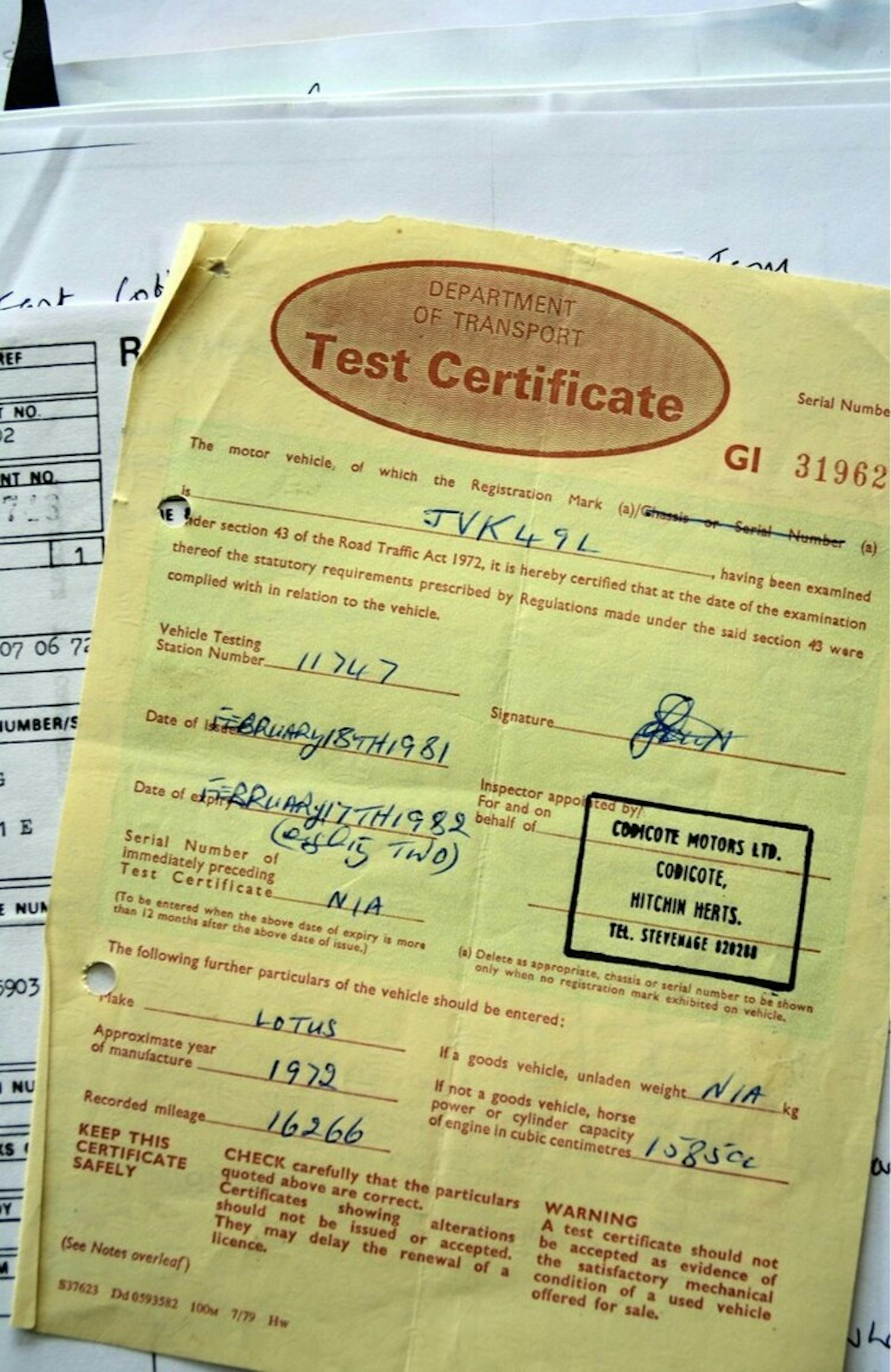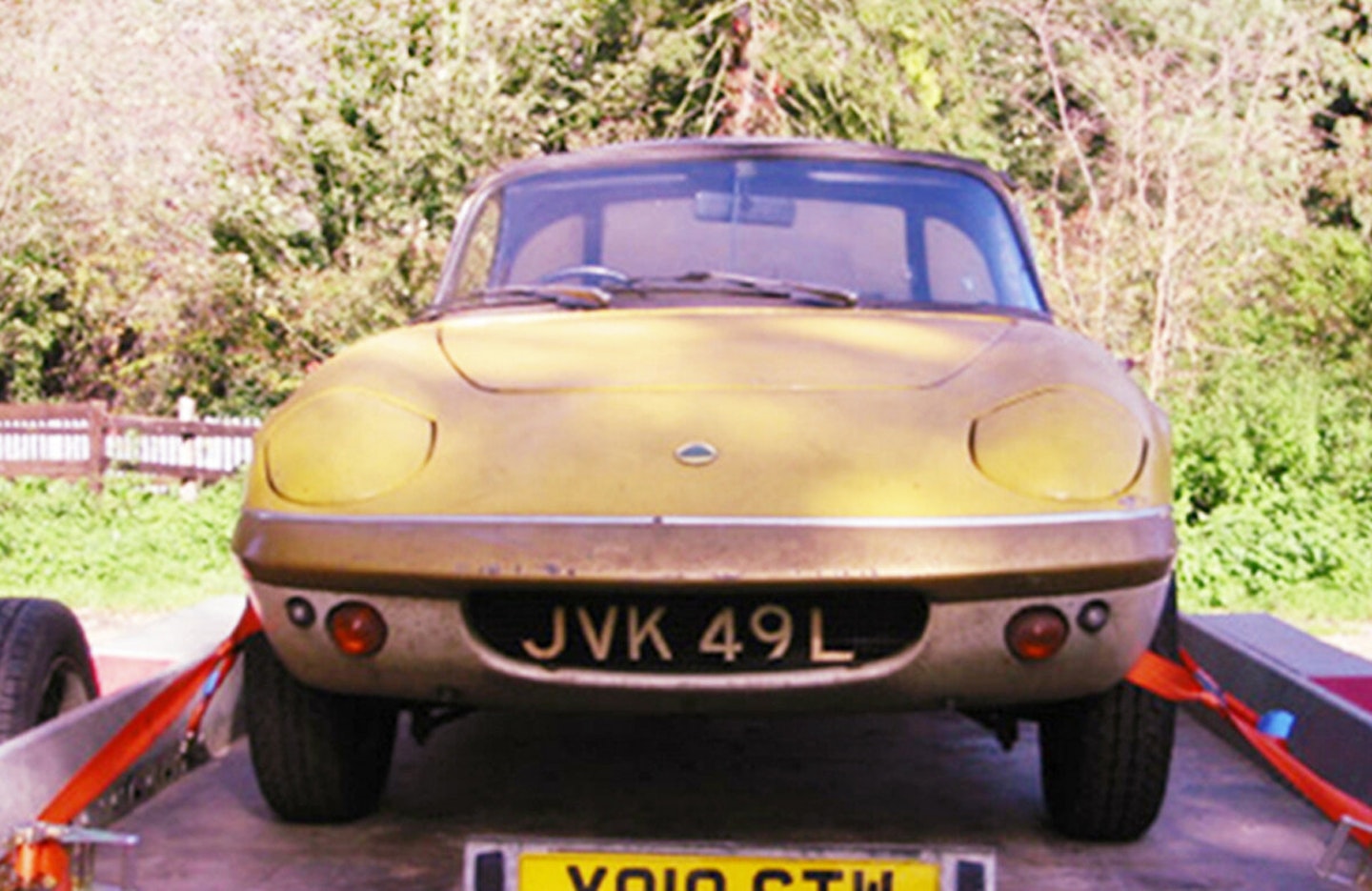 2005 – Richard Baxter sees JVK 49L by chance and buys it for £7k
'I was a Mini Cooper S man back in the day,' says landscaper Richard Baxter, 'but always admired the Lotus Elan Sprint because a local chap used to zoom around in a red and white one, easily recognisable by its fruity exhaust note.
'But in 1972 a Sprint was way out of my league financially, being double the price of a Cooper. An Elan still wasn't on my shopping list in 2005, but one day when I was driving past Chambers & Gillies I spotted the little rear of JVK 49L sitting proud of the garage doors and was fascinated, so I stopped to see what it was and reflect on past times.
"I took little notice of the car's mileage but assumed that the 21,300 displayed was already once around the clock"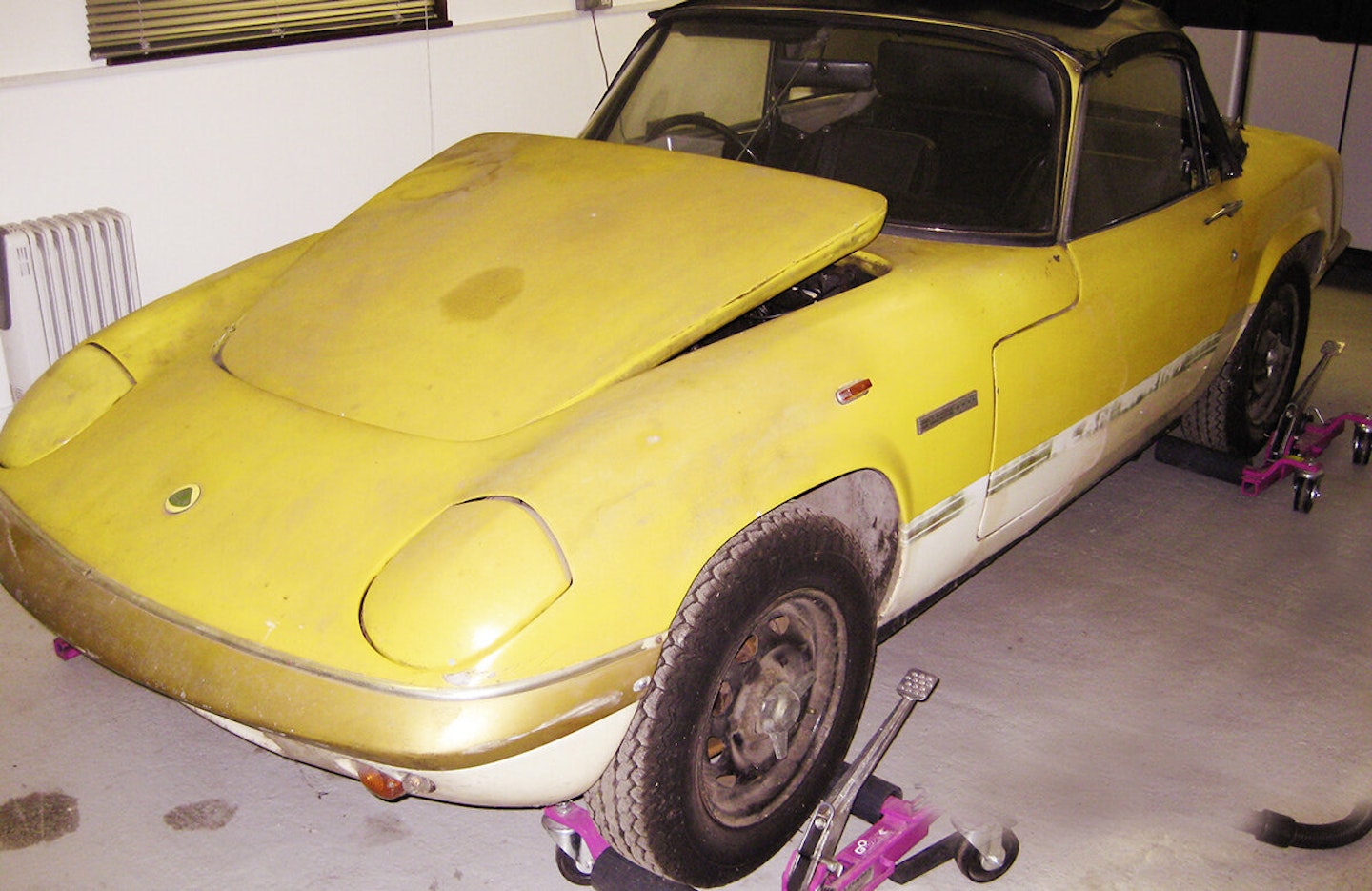 'Conversation quickly turned to the fact that the car was for sale so I made a quick decision to buy it as a hobby project, which would include fitting the new/old Lotus chassis that was still with the car. I took little notice of the mileage but assumed that the 21,300 displayed was already once round the clock. The car was complete but carried 20-odd years of dust and grime and the by now quite crazed paint finish.
'Iain Chambers turned out to be a complete gentleman. I later found out by chance that after shaking hands with me on the deal – but not exchanging funds – word got out about the car and a local Lotus restorer made an offer in excess of my £7000, but Iain refused to gazump me.'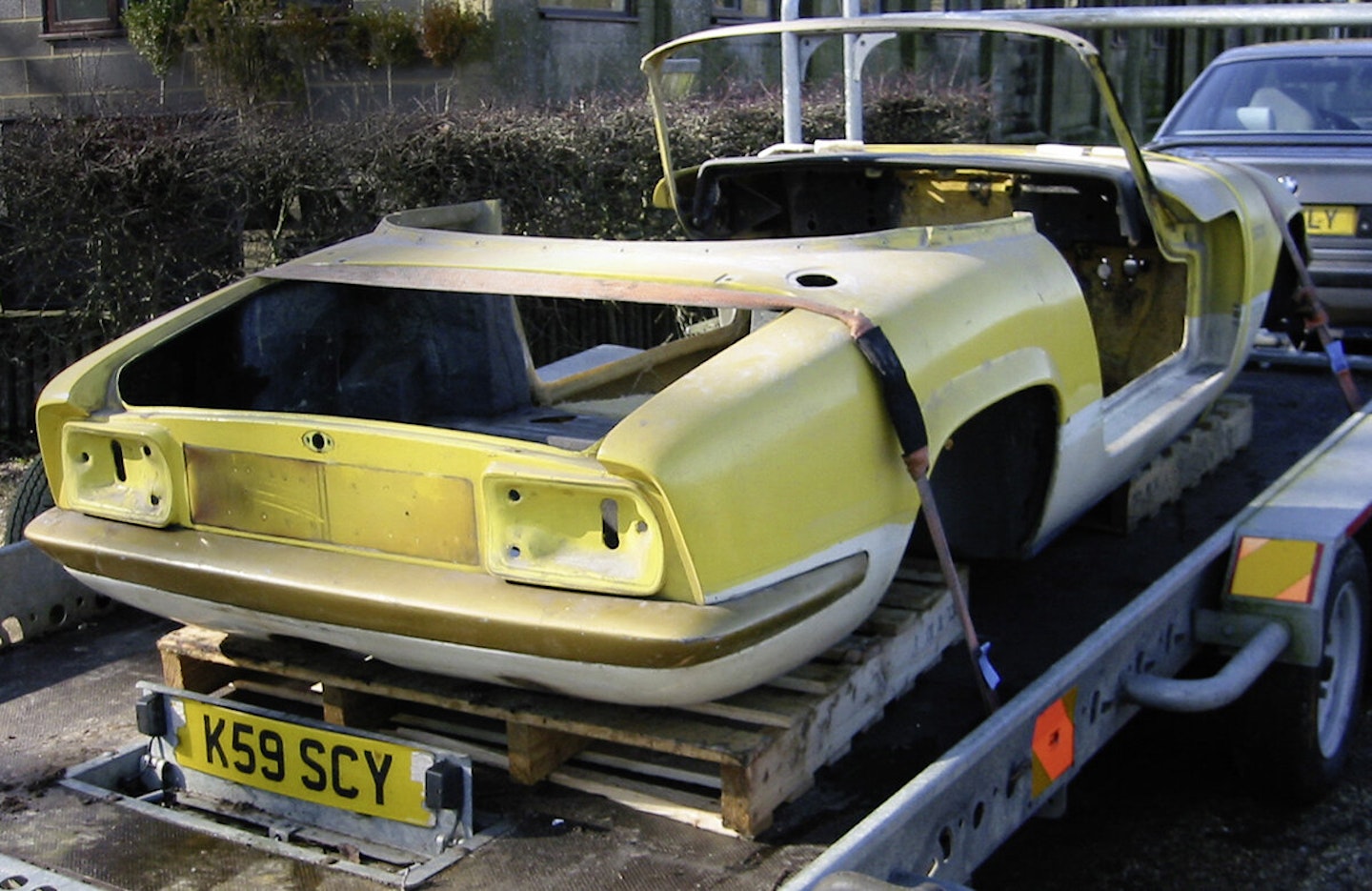 2008 – Richard Baxter is ready to work on JVK 49L
'While waiting to find time to work on it I stored the car for three years in a dry environment because I was beginning to learn and research about moisture trapped below paint and the resultant micro-blisters that can appear after painting.
'Once I'd liberated the body from the chassis I took the shell to a glassfibre painting specialist – SMS in Lincolnshire. They said the car's long-standing paint crazing had nothing to do with being near the sea – that was typical salesman's economy with the truth – but were quite conclusive that the paint had been blown over very early on in the car's life, perhaps even to mask some damage at Lotus during production or delivery. The craze marks were the product of a paint reaction.'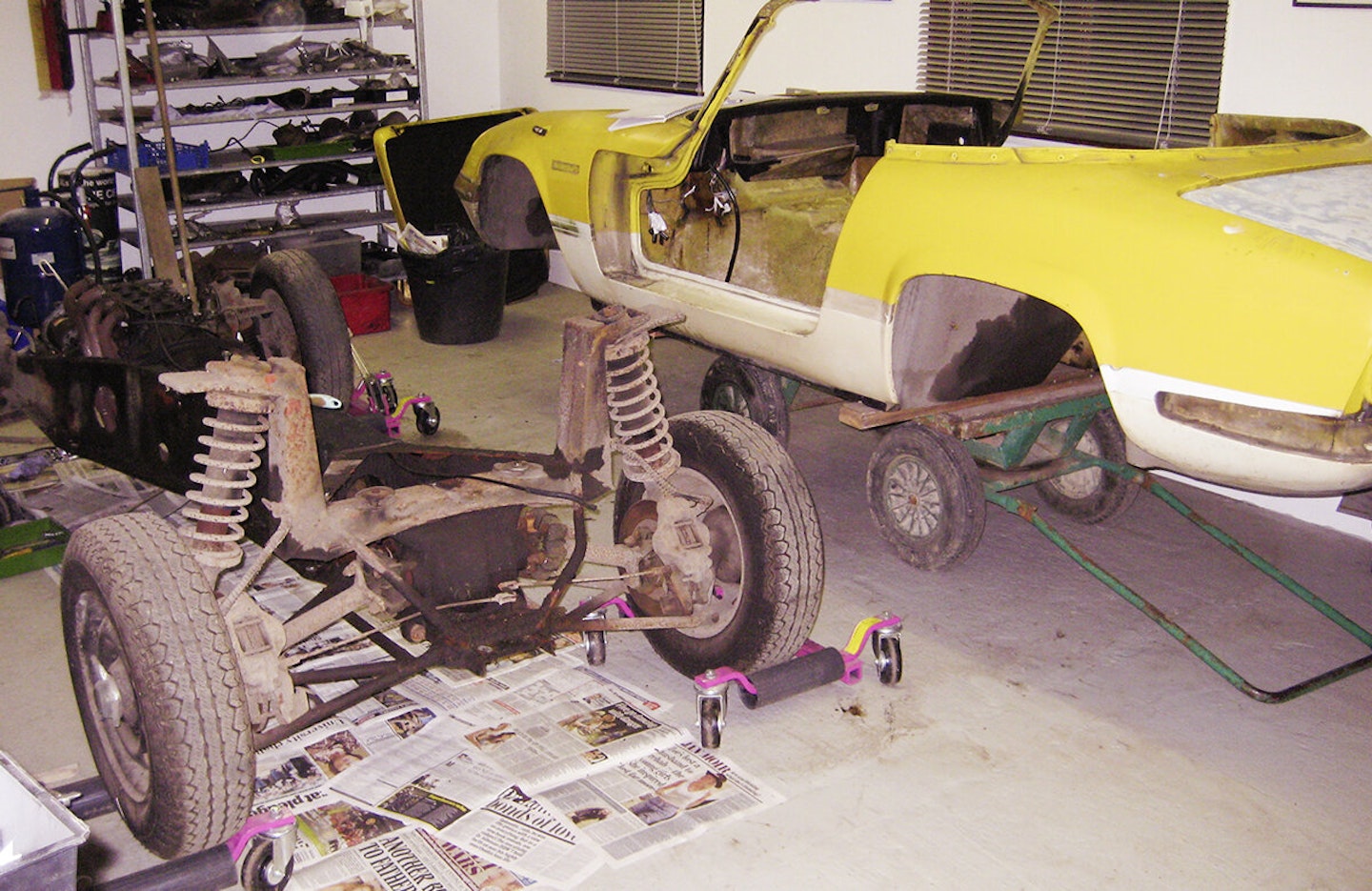 Baxter also started to delve into the car's past, which revealed the mileage to be correct – and that put a different spin on things. 'As the car was so original I didn't want to over-restore it. I kept as much as I could, which includes most of the interior.
'Even though I fitted the replacement chassis, on reflection the old one wasn't that bad and could probably have been repaired. But after all that time the new one had become part of the car's history anyway.'
During restoration the Lotus had a close brush with disaster when Baxter's business unit, where JVK 49L was kept, was raided one night by thieves. 'They did an awful lot of damage getting in and removed tons of expensive equipment. The Elan was in their way but they moved it out of the way and got everything out without scratching the body. That's something, I suppose.'
Having made contact, Baxter remained in touch with all the previous owners and, in a lovely gesture, since completing the restoration has sent them all photos of how the car has turned out. He says, 'It was always my intention, and would have been a fun and fitting thing, that once the restoration was complete I would deliver the car to Iain Chambers to check it over, set up the tracking and tune the engine, but he was taken ill as I was finishing the car.'
Our photo shoot was the first time Richard had driven it properly, so he's hoping for a sun-drenched summer to get to know the Elan intimately.