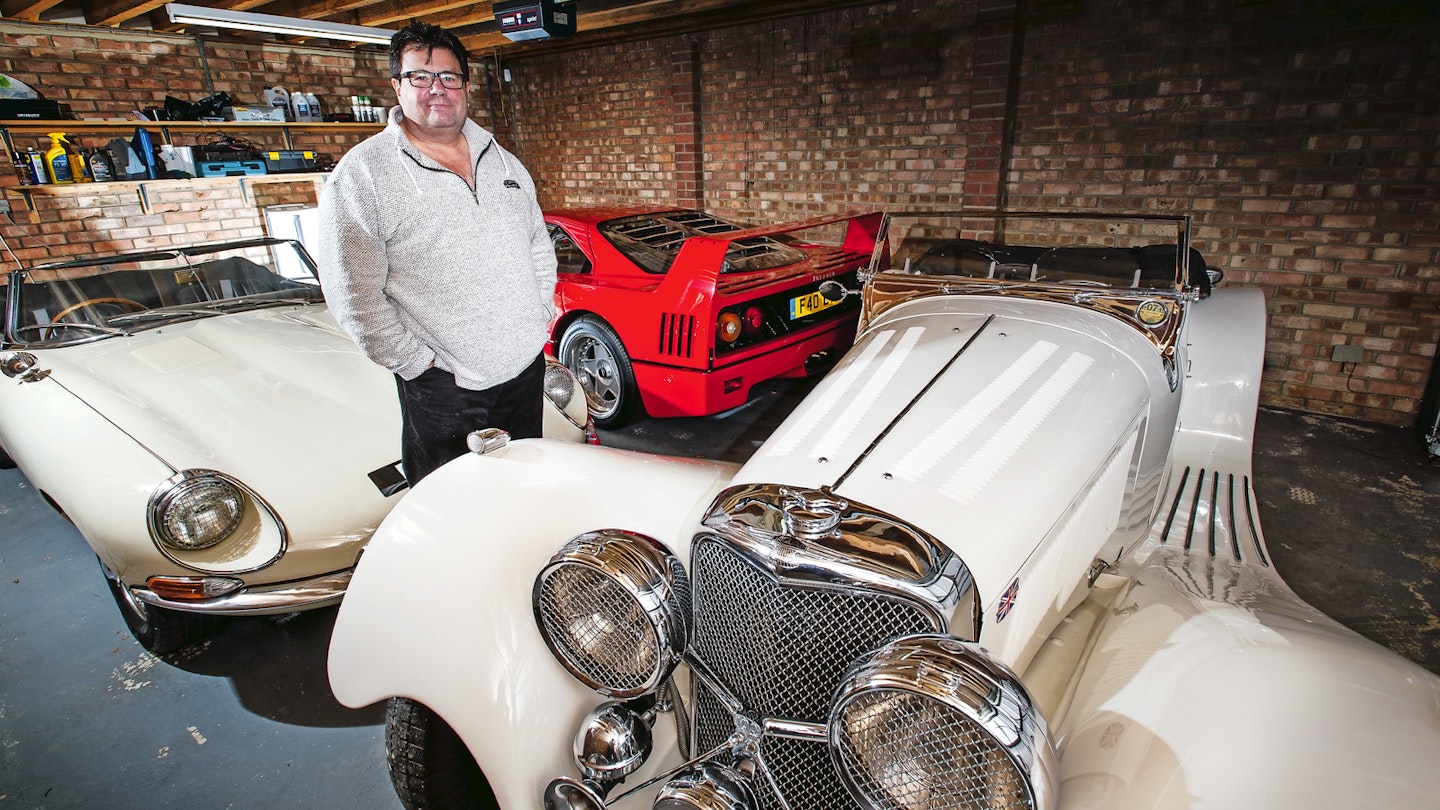 John Hughes shares a deep love of cars with both his sons. They've created a collection that majors on the exotic but leans into luxury and the utilitarian
Words: Ben Field Photography: Jonathan Jacob
John Hughes says that his collection officially began the day he went to buy one car, and ended up with two. The Jaguar SS100 and Ferrari Dino joined an E-type and a Bentley S3 already in the garage. He left that morning as an owner but came home as a collector.
In a way, he has been collecting cars for years, albeit figuratively to begin with. 'I was 15 when I saw my first E-type,' he says, 'it was a must-have, a car that I needed to own one day.' He finally bought his own in the Nineties. Since then a looser collection of daily drive Porsches and Ferraris have satisfied his car needs. 'There's nothing like a Ferrari,' he says, helping to explain why there's such a strong Italian contingent in the permanent collection.
The reason for there being a collection at all isn't just down to John's passion for classic metal. 'My sons are both very interested in cars,' he says, 'and this is something we can all do together.' Today, Richard and Simon Hughes are both actively involved in researching, buying and – thanks to a strict anti-exhibit stance – they're driving the cars, too.
1967 Jaguar E-type 4.2 S1.5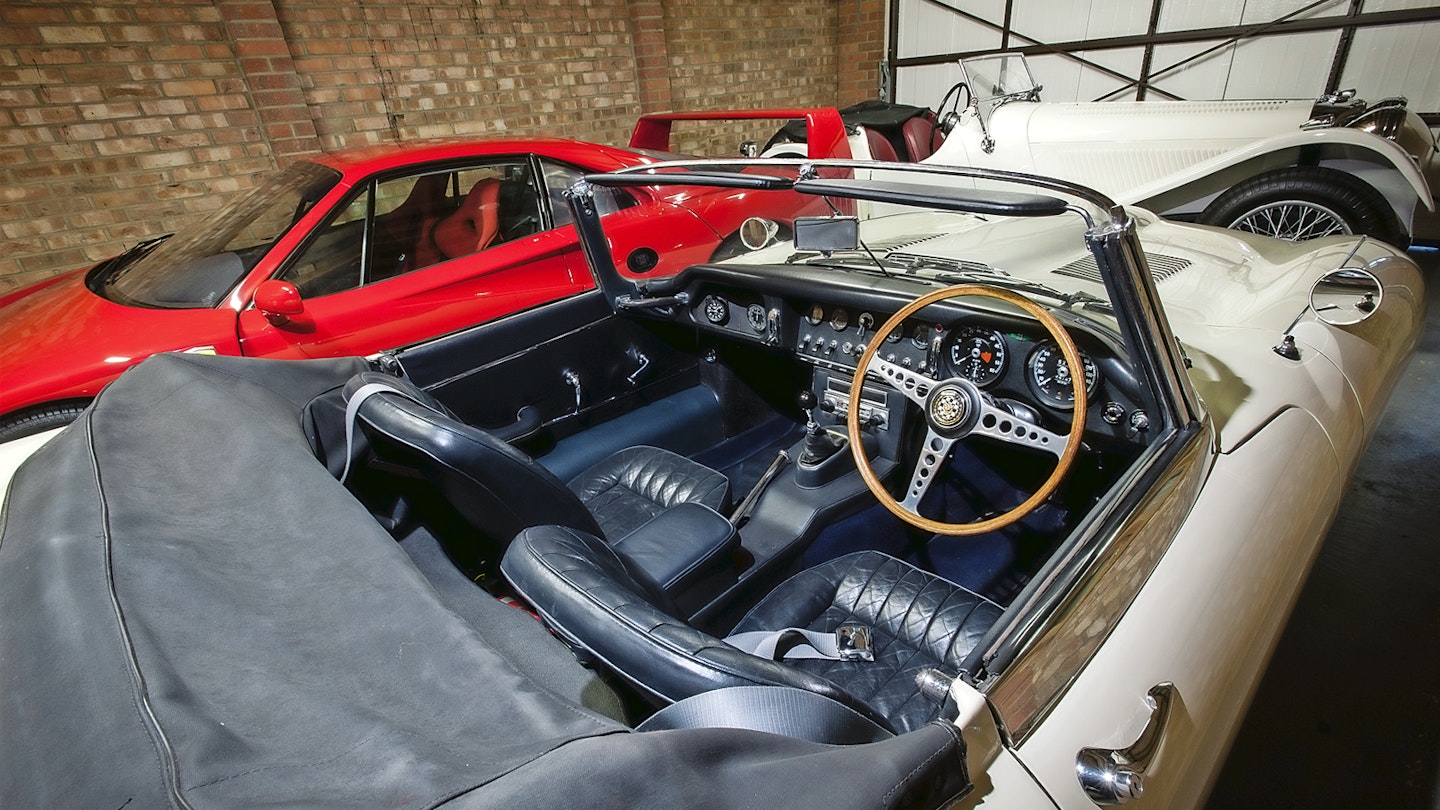 'The impact of the E-type when it was new was amazing, it was really something to see one drive down the street,' says John, leading us to the culmination of his teenage dream, packed tightly in his garage. 'It's still got that appeal for me now – if I could only have one car this is the one I wouldn't sell.
'I bought it 21 years ago. I'd looked at loads, but there was nothing special available. So I rang William Loughran (a premium car specialist based in Preston) on the off chance. This car had just arrived, it hadn't been prepared for sale, but William suggested I come to have a look anyway. I took an engineer along with me to check it over, but as soon as I saw the car I knew it was right. I bought it there and then.'
'The shape is the best thing about the E-type, but it is a good, comfortable car, nice to drive, and it sounds great.'
1965 Bentley S3 Continental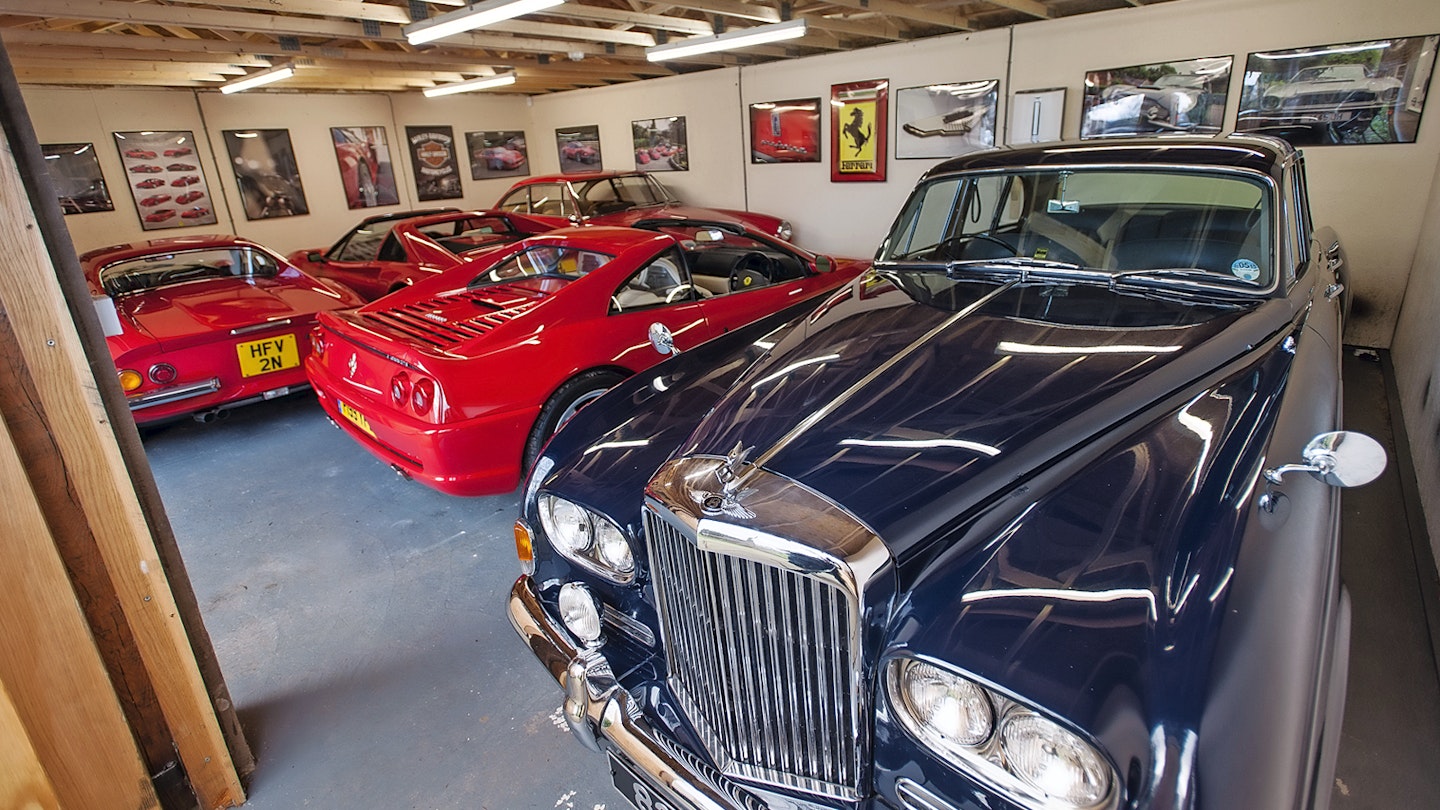 We drift over to another part of the collection, and it's a deep contrast to the relatively lithe E-type. 'We had been looking for a S3 Continental for a few years,' says Richard. 'Dad was nostalgic about the fact that his father had owned an S2 Continental as his daily driver – he'd bought it from Peter Wyngarde, who had used it in the Jason King TV series.
'This car was delivered new in 1965 to the Jacqmotte coffee company in Belgium. It was brought back to the UK in 1985. Dad was in Spain when the car came up for sale, I rang him and told him the details – great history, matching numbers, fabulous condition and colour scheme. "Buy it!" was the response – when the right car comes up you have to move quickly.'
'I drove my father's Continental when I was in my twenties,' says John. 'Of all the things I love about this car, it's the smell
of the leather interior that's the most evocative,' he adds, leaning into the cab for a deep lungful of nostalgia.
1941 Jaguar SS100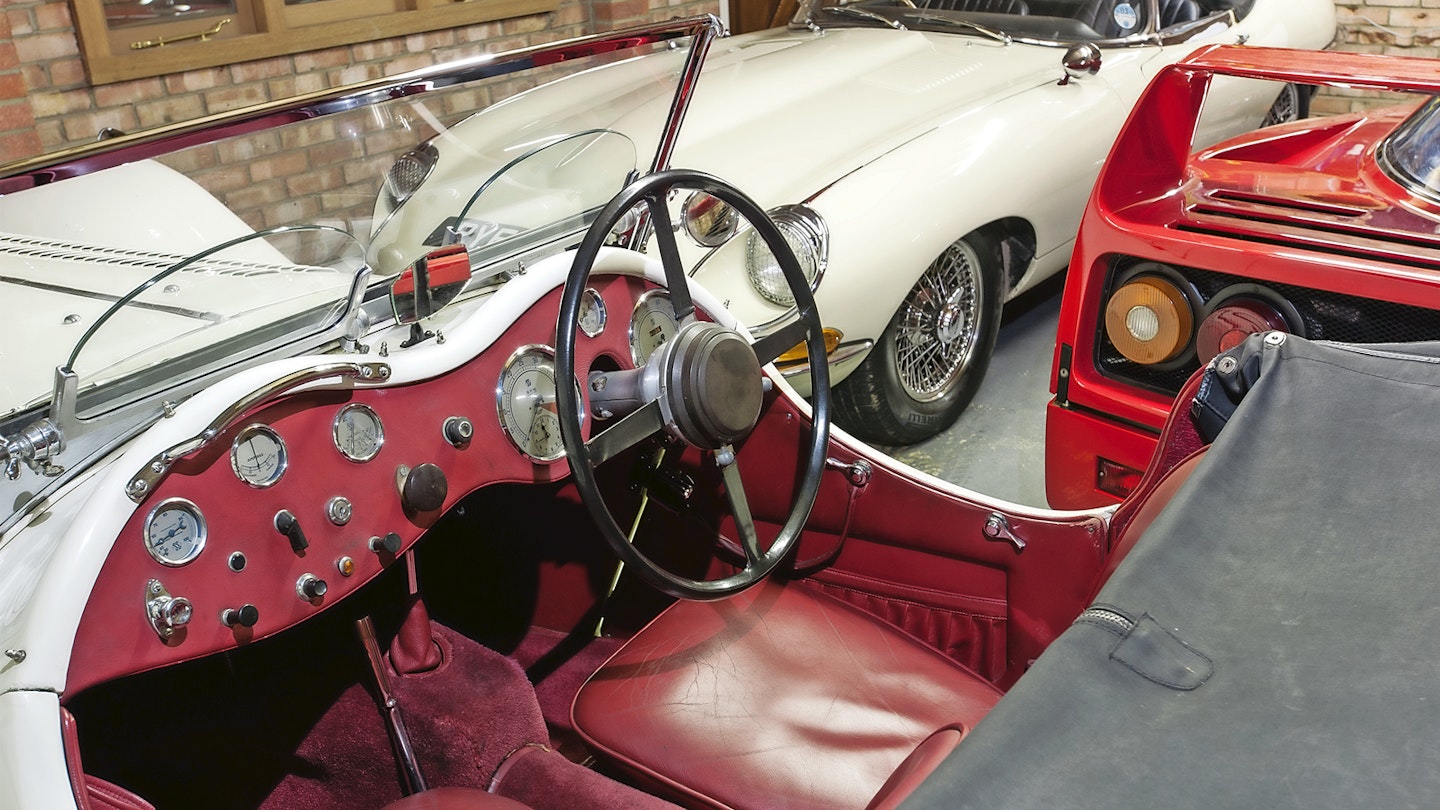 'This is the last SS100 built and one of very few delivered during the War,' says John, beaming as we stretch further back into British motoring history. 'We had always thought the SS100 was the best-looking pre-war car built and we had looked at a few. There are a lot out there with limited, sketchy history. The dealer we bought the Bentley from was a Jaguar collector. He'd owned this car for about 20 years.
'After struggling to find the right car we eventually persuaded the dealer to sell his from his private collection. It's a matching number car that had been in the Henry Ford Museum in the USA in the Fifties. Jaguar would borrow it to show when a new car was launched. There are pictures of this car with the "new" Mk2 from the Sixties.
'It's easier to drive than you'd imagine, and I like to take it for runs out with other cars in the collection in the summer. You can see the wings flexing as you drive it. It has the second-best exhaust note in the entire collection – the F40 just beats it.'
1975 Ferrari Dino 246 GT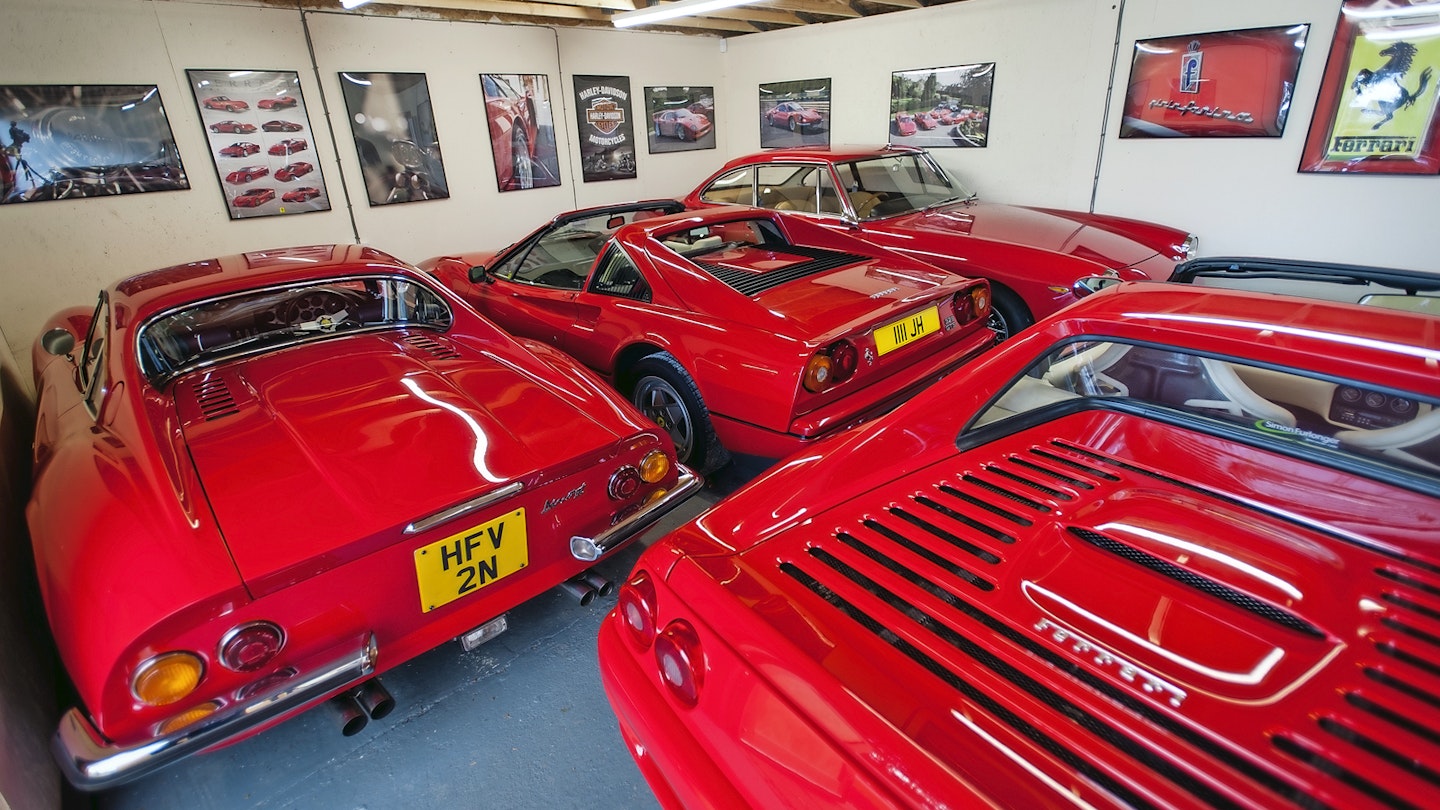 'The day we went to see the SS100 we arranged to see a Dino on our way back north,' says Richard, as our surroundings turn a distinctly Maranello-tinged red. 'We had planned to buy the SS or the Dino and I said to Dad, "What happens if this Dino is as good as it looks in the pictures, do we buy both?" "Are you mad?"' he said.
'We were taken to an unassuming industrial unit where a fabulous, almost new-looking Dino was parked. We had to have it. It was owned by a motor sport enthusiast whose wife was keen for him to get rid of it – we did a deal there and then. The Dino was restored in the early Nineties and has covered just over 60,000 miles.'
1996 Ferrari F355 GTS
'Jeremy Clarkson bought this car new and it has appeared on Top Gear and in his books,' says Richard. 'Love or hate Jeremy, we believe this car is a significant part of motoring history and has a place in our collection. I rang up about a Testarossa for sale at Simon Furlonger Specialist Cars and the 355 was in at the same time. Dad and I came to the conclusion that it would make sense to have both.'
'We struck a particularly good deal on those two cars,' says John, 'it was November, which helped – supercars are harder to sell in the winter.
'Clarkson said it was one of the best Ferraris ever made – I agree,' says John. 'In terms of looks it's one of my top five. Clarkson also said the roof was a pain to put on. We took the roof off when we bought it and it's not gone back on since…'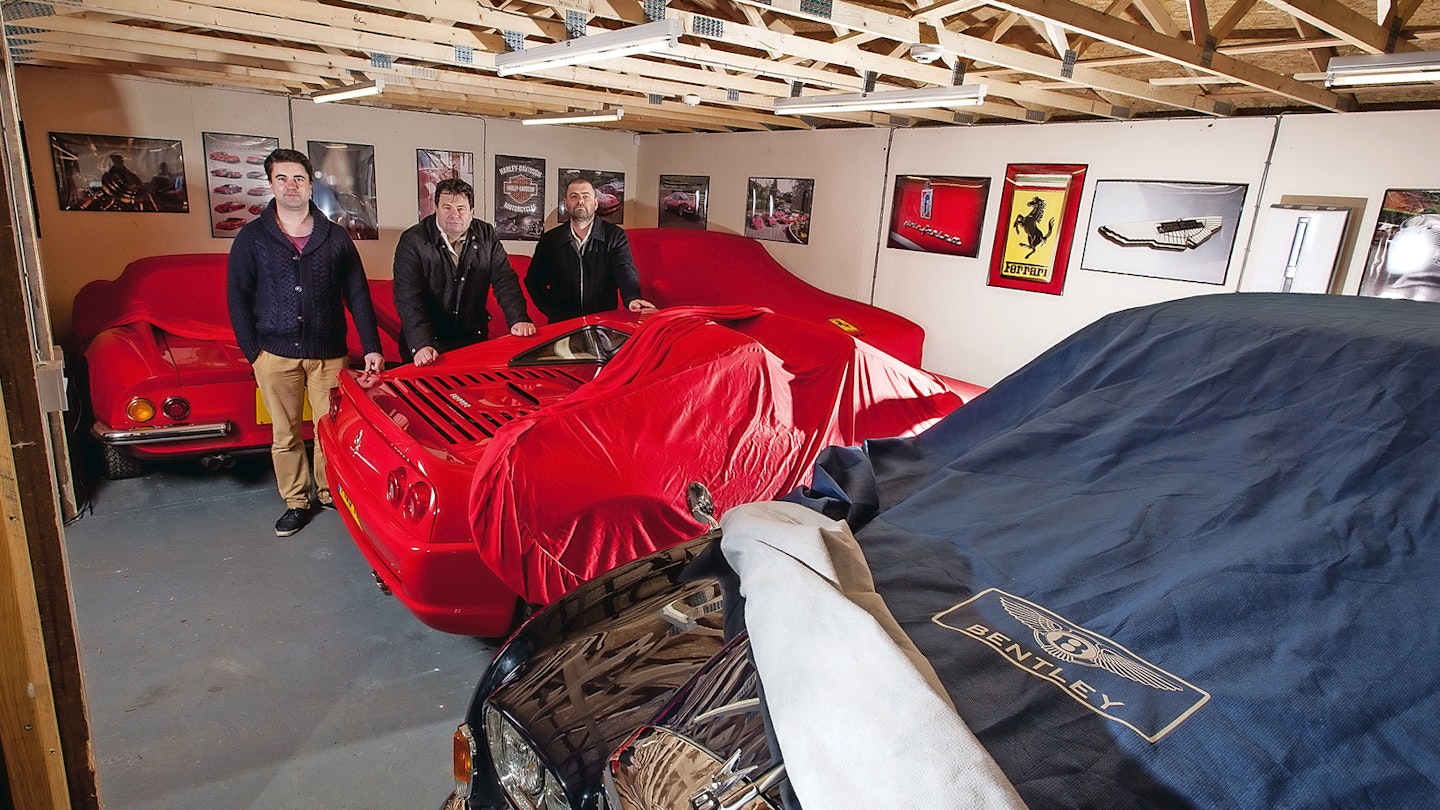 1966 Ferrari 330 GT 2+2
'We had been looking for a 330 GT for a long time, it's a simply beautiful-looking car,' says Richard. 'I started stalking a blue one that kept getting sold on, dealer to dealer, with the price going up all the time. Then this car arrived at Talacrest.
'It's a Series II, one of only 30 in right-hand drive. It came with a history file including letters between the original owner, who bought it from the 1966 London Motor Show stand, and Ferrari. 'This was one of the last cars built before Enzo sold a major share in the company to Fiat. It's from the time when the greatest motoring brand was an owner-managed business.
'It's a lovely car to drive, with a quiet exhaust note so it doesn't wear you down on long journeys.'
1990 Ferrari F40
The F40 is wedged into a corner of a domestic double-and-a-bit garage along with the SS100 and the E-type. Each is a supercar of its era – the sleek SS, the voluptuous E and the hard F40 – such delicious juxtaposition has to be deliberate, right? Wrong. 'The E-type normally goes in the other garage,' says John with a grin.
Richard explains how this F40 became part of the Hughes' collection. 'This car won three racing championships with John Pogson driving. The wins included the 1999 Maranello Ferrari Championship and the 2000 Ferrari/Porsche Challenge.
It's a bit of a handful, it has an incredibly heavy clutch and steering, and when those turbos kick in…
'It was restored to concours-winning standard after its racing career. Its condition, and successful racing history, make it one of the most significant F40s in existence.
'We'd looked at three or four F40s before this one came up for sale with Simon Furlonger. It was a total coincidence that John Pogson (who runs Italia Autosport) was already looking after our other Ferraris only to be reunited with the car he had been so successful with on the race track.'
John Pogson, Richard and this F40 have since appeared in a short film about the car and another F40 that Pogson campaigned. The intro soundtrack to Analogue Animal is just the wild, crackling aggression of the F40's exhaust at high RPM. Glorious.
'Just sitting in the F40 is like nothing else,' says Richard, 'It's a bit of a handful, it has an incredibly heavy clutch and steering, and when those turbos kick in…'
'When we bought it I thought it was a lot of money for a car,' says John, 'but what a car! I like looking at it and listening to it, but I leave driving it to the boys.'
1945 Willys Jeep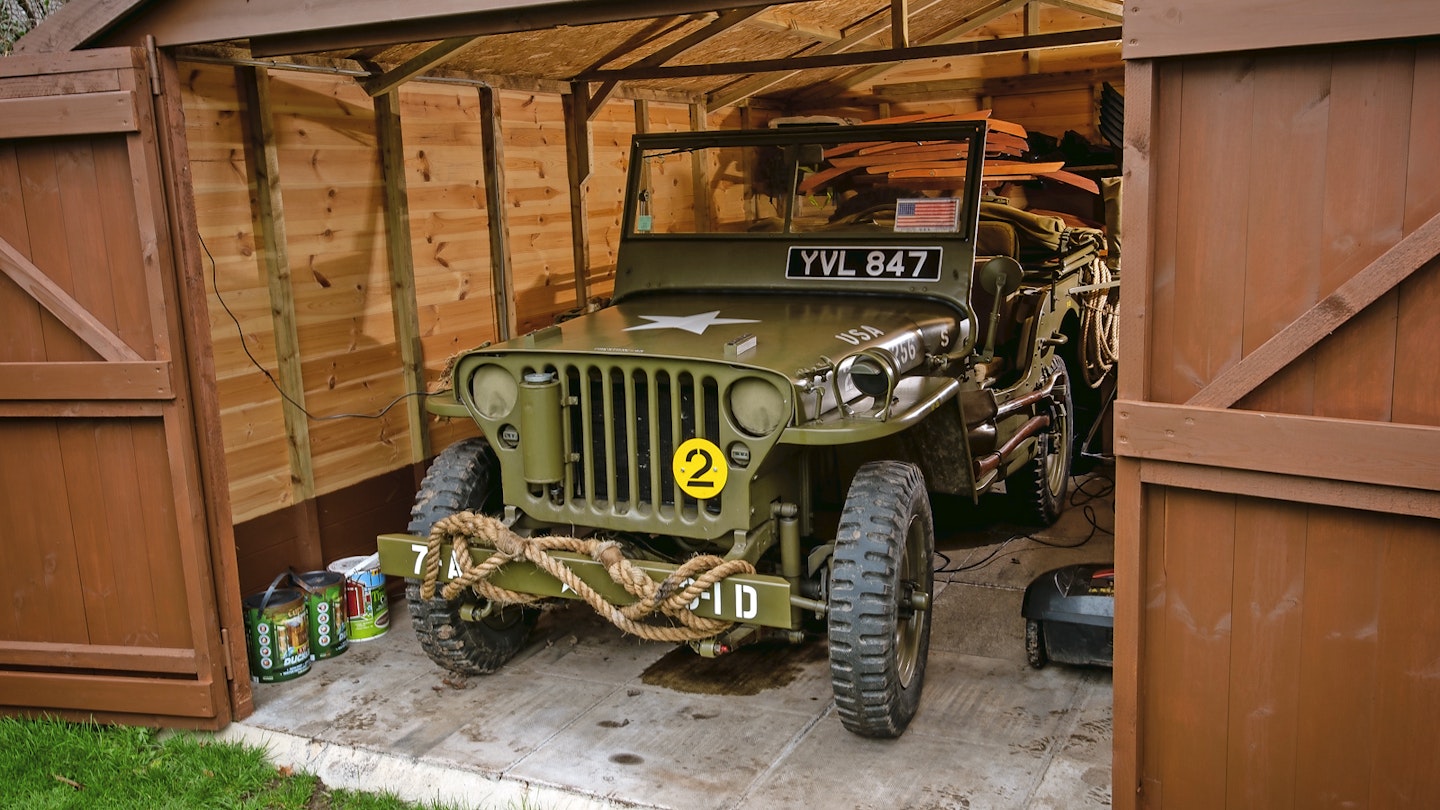 If the F40 is one type of angular masterpiece, the next car John shows me is an approach to motoring from an entirely different steeply raked angle. 'I'd always wanted a Willys Jeep,' says John, 'the looks, the smell of old oil and canvas, irresistible.
'There are always Willys Jeeps at the Croft Nostalgia Weekend that we go to,
and I decided I needed one. This one had been in France since the end of the Second World War and had just come to the UK before we bought it. It's got the petrol cans, blackout covers for the lights and the original radio aerial. It looked absolutely right, and had done 3100 miles, which is reckoned to be genuine.
'Before I bought it I had an idea it would just fit in my shed. I measured up and found the shed doors were too narrow. I had them altered and the Jeep sits in there now like the shed was made specially for it.
'We had a bit of fun with it off road last summer; my grandchildren love it.'
1989 Ferrari 328 GTS
'We'd been looking for a good 328 for years on and off,' says John. 'When this 6000-miles-from-new 328 came up it looked very promising.
'When we got it checked over at Italia Autosport John Pogson said his mechanic kept calling him over to look at the outstanding condition of the car. By the end of the inspection John was raving about this 328, so we bought it.'
'It was a car I had always liked,' says Simon, 'and I didn't know we'd bought it until I turned up at a photo shoot with the Testarossa. Richard was already there and he said "have you seen that 328 parked over there?" It had a short registration number including Dad's initials 'JH', it was a nice surprise.
'Such low mileage can lead to problems, depending on how the car's been stored. But this one has been carefully woken up by John Pogson and it drives brilliantly.'
But what does the future hold for the collection? 'Carry on collecting matching numbers, wonderful condition cars, that's the general theme, says Richard.