A glance at Filippo Tirone's single-marque collection shows his allegiance. But the origin of his Alfa Romeo obsession is more obscure – and based in B-movies...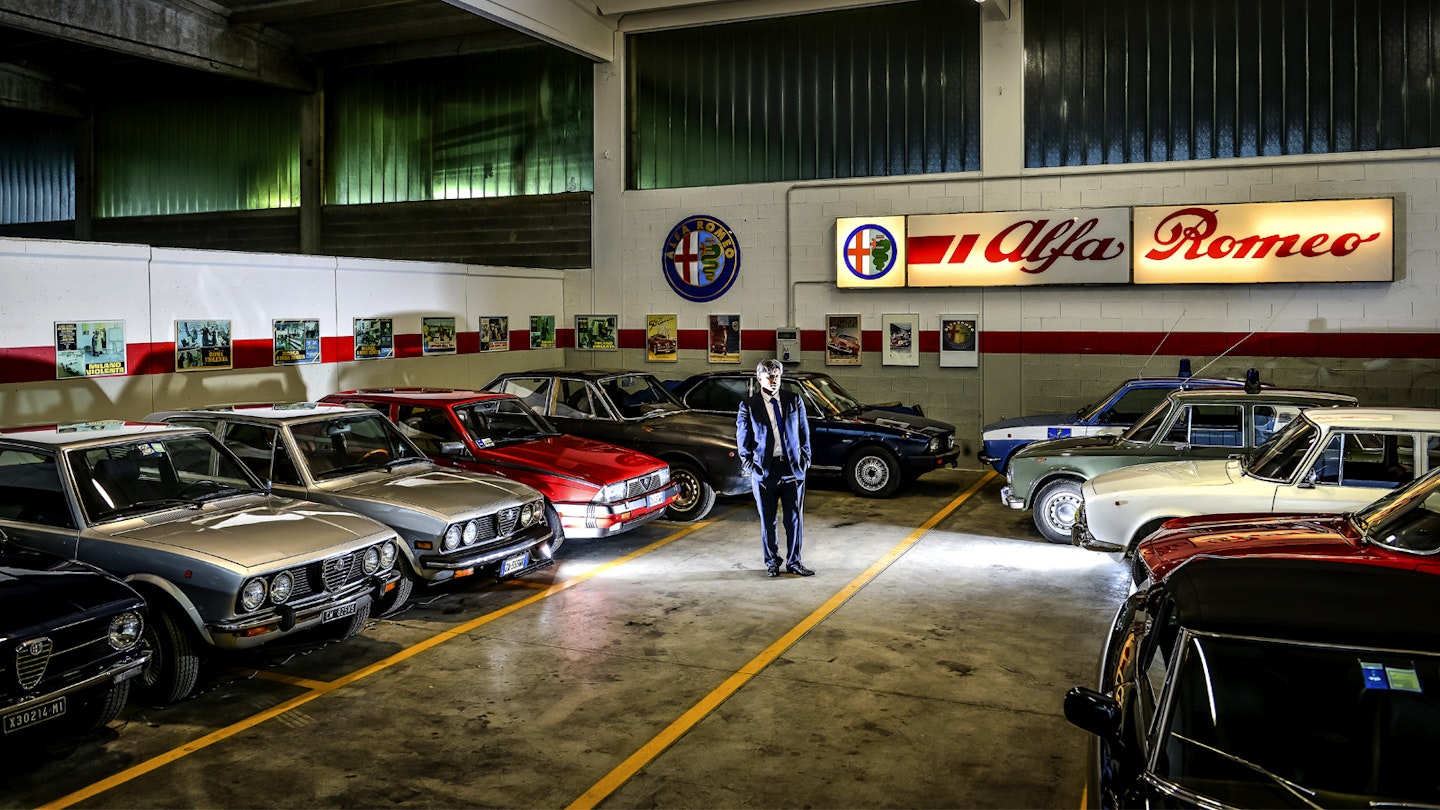 A life of crime inspired Filippo Tirone to build up a collection of Alfa Romeos. But don't get the wrong idea – we're talking fictional felony, as portrayed in the  Poliziottesco B-movies of the Sixties and Seventies. 'I loved those movies,' says the 41-year-old ecclesiastical lawyer.
Car chases feature heavily in this peculiarly Italian genre of crime thriller – and most of the cars used were Alfa Romeo Giulias and Alfettas, with the bad guys and the good guys using the same models. But back then, the main reason for their becoming B-movie stars was that they were cheap and inexpensive to crash on set.
'Even as a teenager, I found it painful to watch these beautiful cars being destroyed,' adds Filippo. 'So I decided there and then to buy one as soon as I could.' That happened in 1998 when he bought a 1981 Alfetta 1.6, the prelude to his current roster of 21 cars and a van – all with the same badge.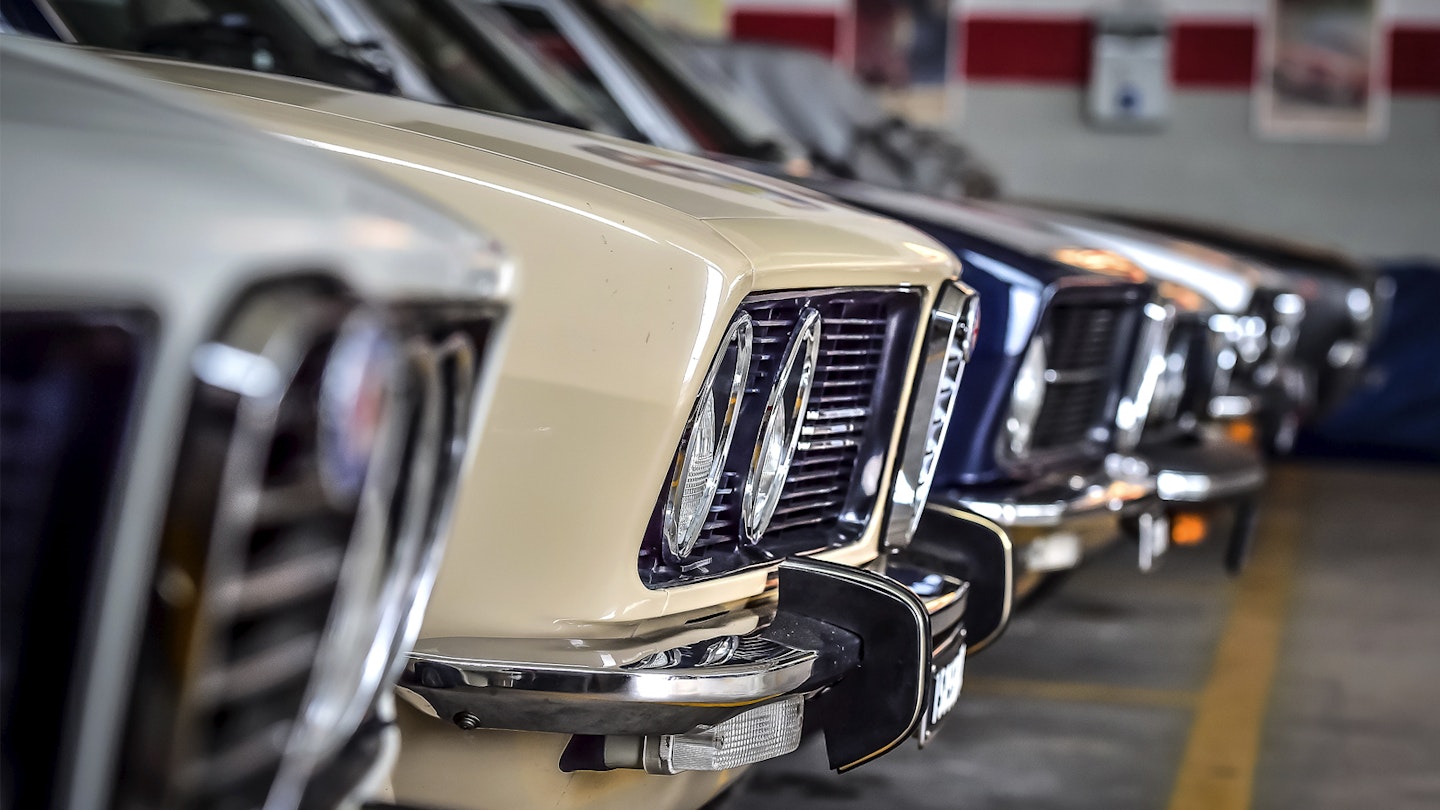 His collection includes many original police cars, some still in their official livery. 'Where I live, the real policemen know me and my cars well; they're really friendly,' Filippo says, as he leads me to the storage facility in Bergamo, near Milan, that his Alfa Romeos call home. In fact, his collection is so well known by local police that they often ask to use his cars for official parades, for which he gets 'interesting presents' in return.
'When they find some long-forgotten car-related item in their warehouse, they'll call me to see if I'm interested,' he explains. That's how I got an original Seventies Polizia sticker.' With that, it's time to cut to the chase, as we enter a building that looks like an indoor police car pound.
1981 Alfetta 1.6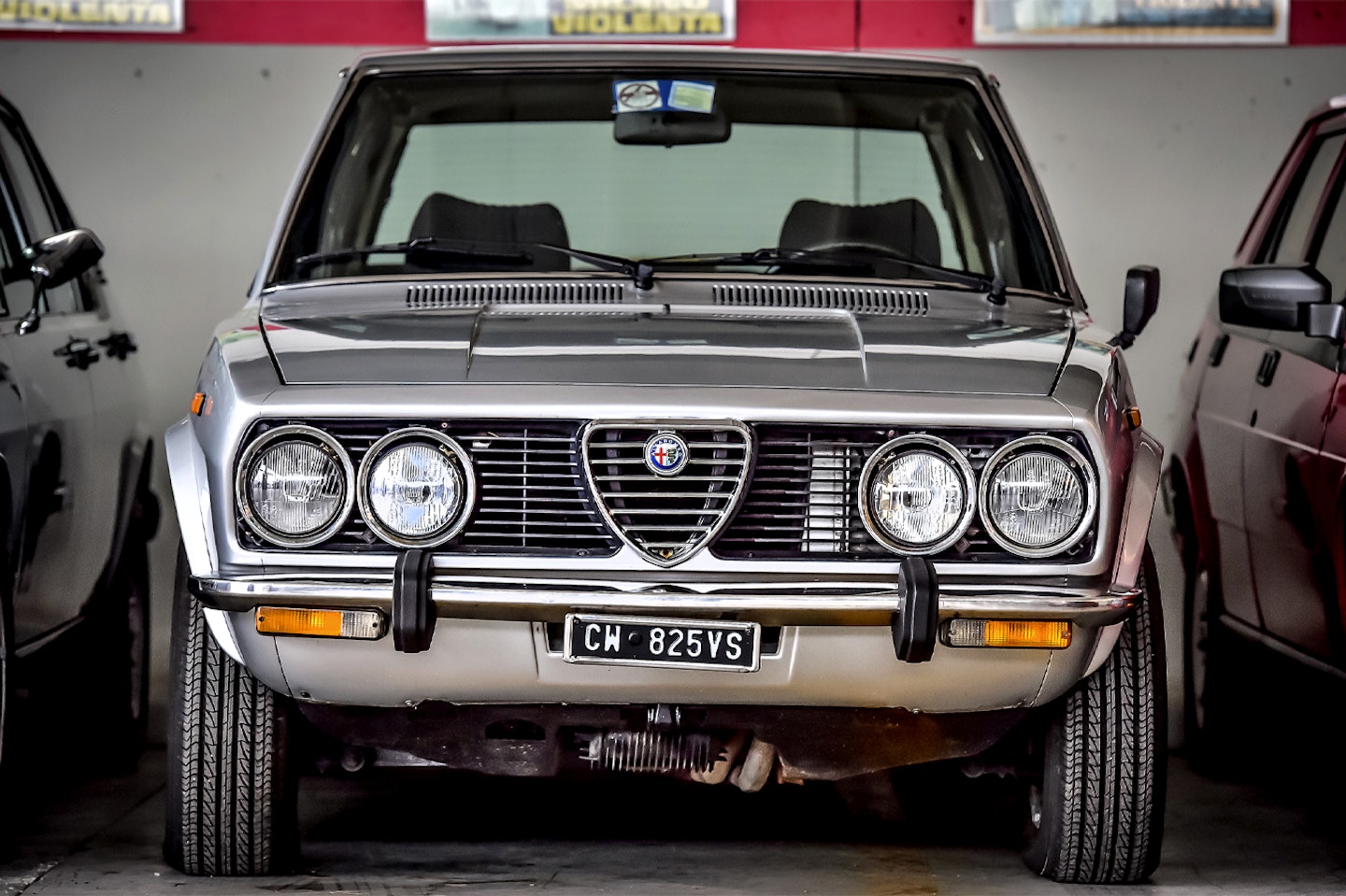 Filippo beams as his outstretched arm gestures towards a grey Alfetta. 'This is it – my very first Alfa Romeo! I bought in 1998 just before I graduated, so fulfilling my dream of owning one. In the late Nineties Alfettas were considered old bangers – they weren't at all collectable, so finding one in decent condition wasn't very easy.'
As he opens the driver's door he becomes more animated, explaining how he found the one-owner car locally with only 40,000km (about 25,000 miles) on the odometer. 'The owner just wasn't interested in the car; it was too old for him,' Filippo continues. 'Instead of paying the taxes on it and getting it through the Italian equivalent of the MoT he decided to return the plates. But luckily, one of his relatives liked the car and forced him to keep it in storage.
'The car is totally original and has never been restored. Being my first Alfa, it's firmly in the "untouchable" category.' Then the passion he has for the car starts to flow.
'I love it; every time I drive it I feel something special. But it has such a low mileage, I tend to preserve it.'
1973 Alfetta 1.8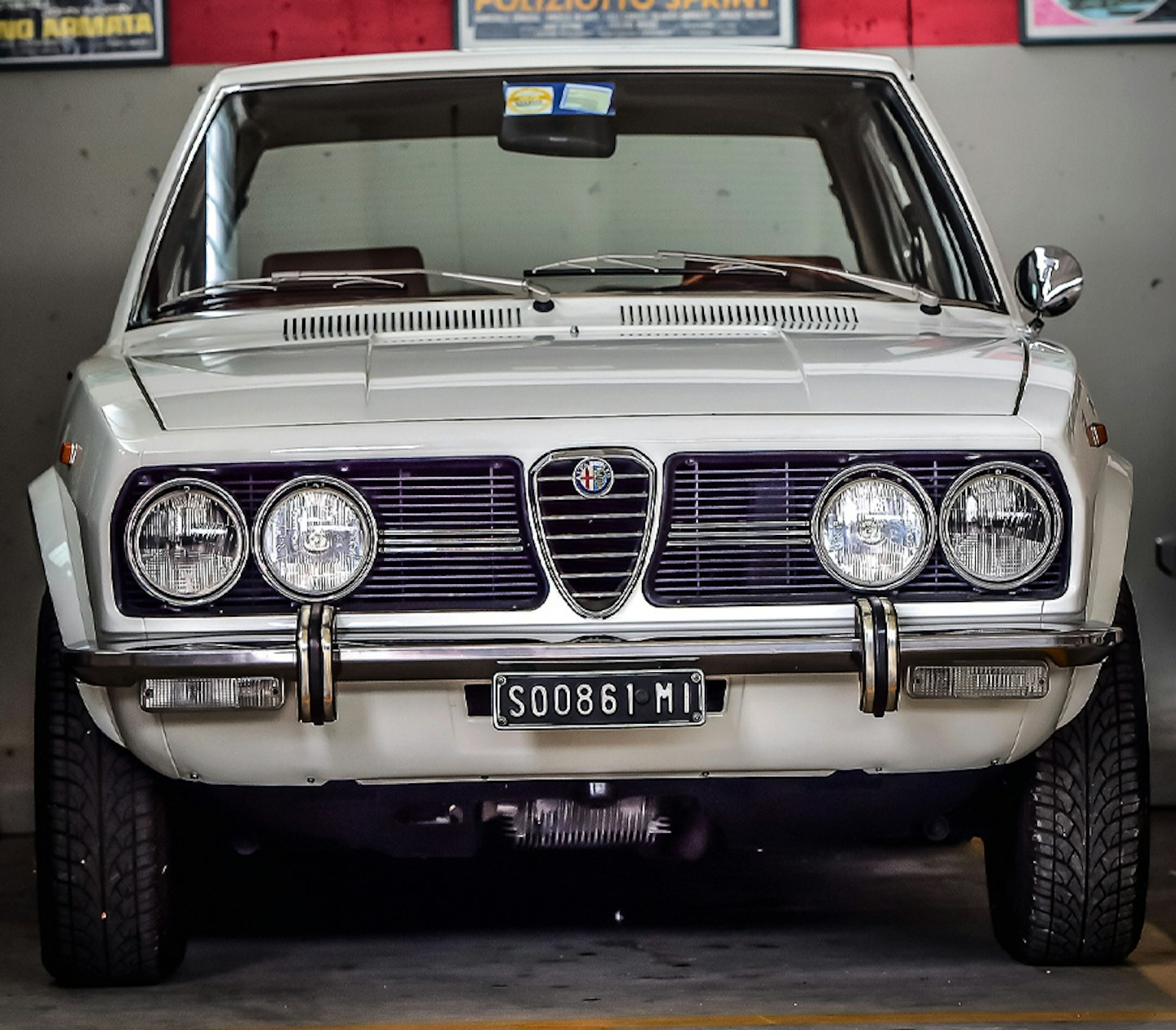 As we move along the parking bays we approach a very rare, first-series Alfetta 1.8 with its original numberplate – unusual in Italy where, until few years ago, if the car was sold or the owner moved to another county, re-registration was mandatory.
'I bought this in 2005,' says Filippo, his eyes flashing again. 'It's the car that paved the way for many of the others to come.
As soon as I saw it, I bought it. It is the actual car that was used in the making of Gli Angeli del Male [The Angels of Evil, a 2010 movie] and buying it make me think how great it would be to have an example of every model of Alfetta ever made. It is also perfect for playing cops and robbers with the Giulia, like in the movie.'
1969 Giulia 1.3 TI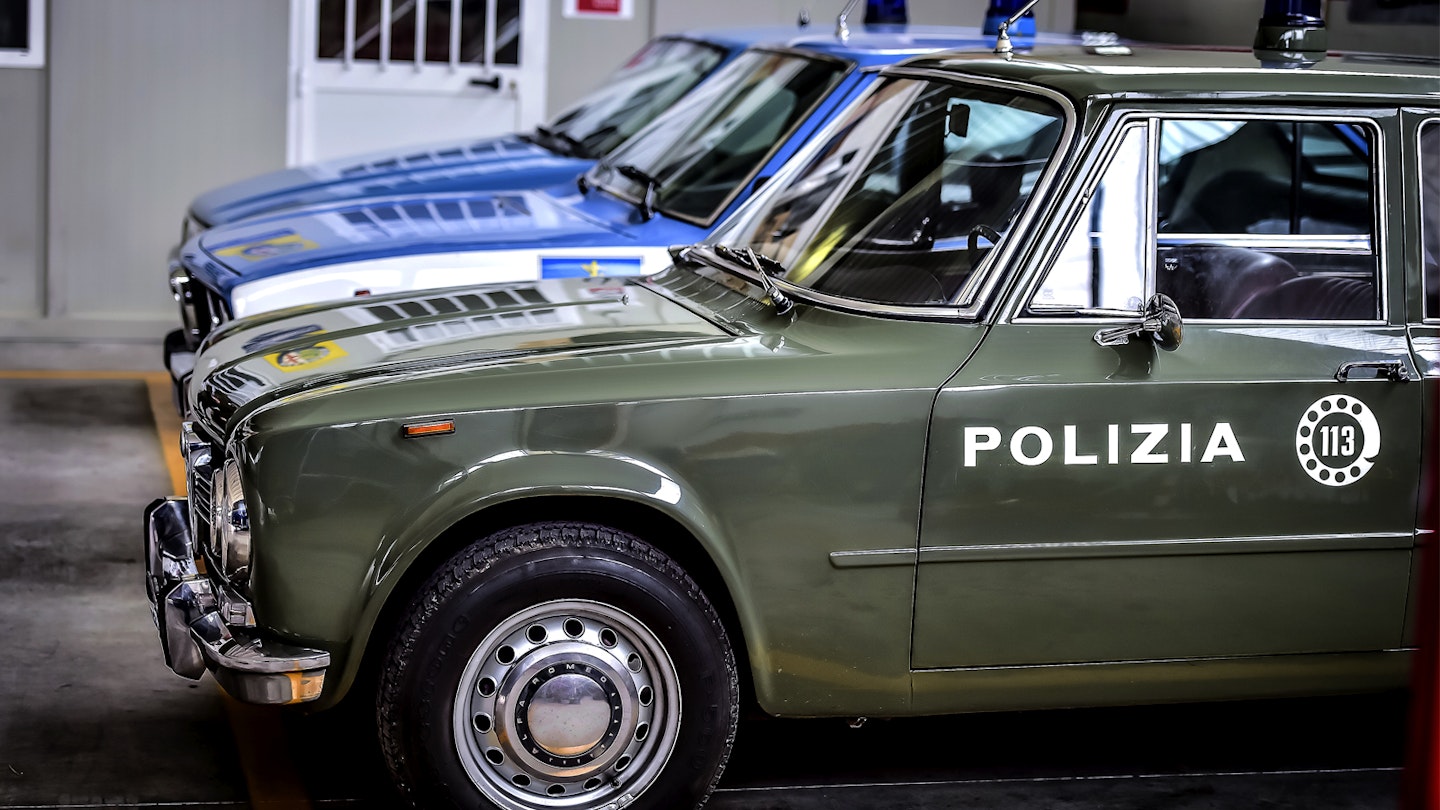 As we reach a green Giulia with period police stickers and lights, Filippo is really getting into his stride – and his expressions reflect the ups and downs of the car's history. 'It was registered in 1969, by the Milan Police Department,' he explains.
'It wasn't a patrol car; it was used for everyday police work.
'After Milan, it was assigned to the Malpensa Airport Police Department and, in 1976, was repainted light blue and white. This was the year in which the official police colours were revised – the colours for the cars changed from dark grey/green to the light blue and white still used today.'
In 1980 the Giulia was decommissioned, resprayed light blue and sold to a private buyer. 'I bought it in 1999. It was at the scrapyard, ready to be crushed. There wasn't much left – I realised it had been a police car because of the original paint in the engine bay, but it was a big effort to save it. I contacted the police central car office, who used the chassis number to search their archives and unearth the details of the car's life on police duty.'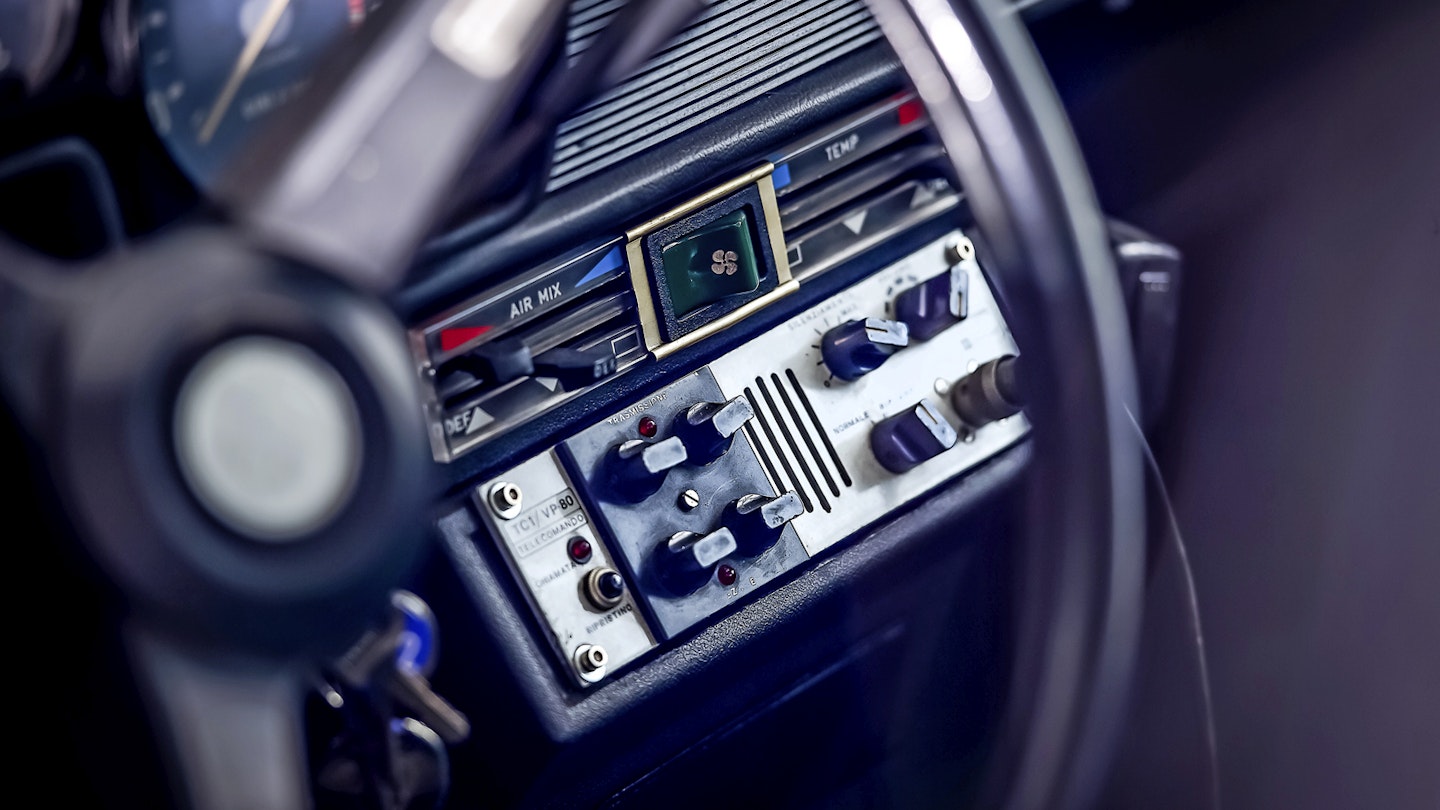 His expression becomes more grave as he recounts how the car was saved from the crusher a second time – after a real-life police drama. 'A modern Mercedes ML crashed into it while it was parked at a service station. The police – the real ones – immediately arrived and arrested the Mercedes driver for driving under the influence of drugs, and his insurance gave me 12,000 euros to write off the car.
'It would have made sense to take the money, crush the car and go looking for another one,' he says, then adds, fixing me with his gaze, 'but my cars mean more than money to me, so I totally rebuilt it.'
He finishes the story with a flourish. 'Then the police found a very old radio – the same model as originally installed on this car – at a police warehouse in Rome. After deactivating it, they gave it to me.'
1975 Alfetta 2.0 (US version)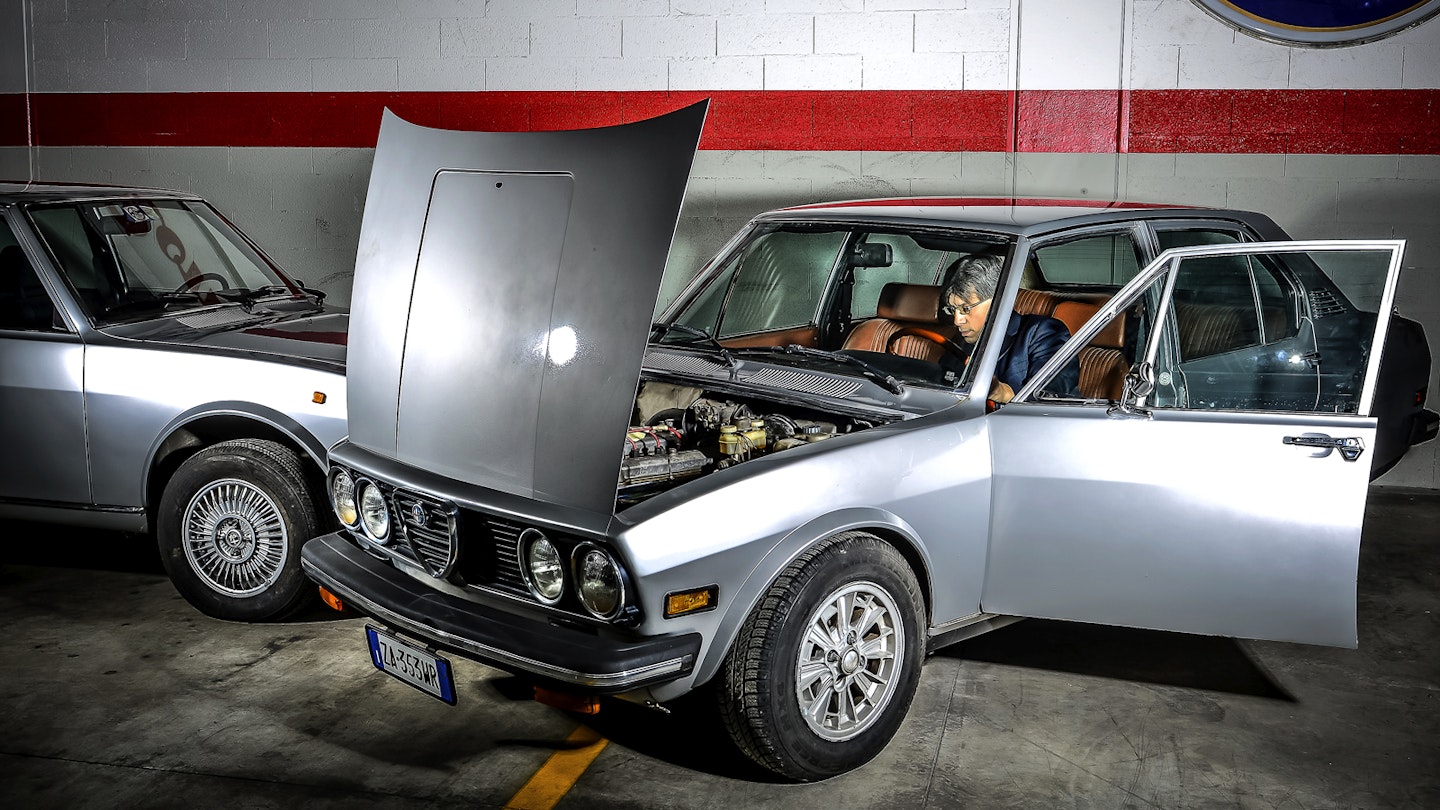 This is one of the few remaining original American-market Alfettas, with a bigger tank, 6.0J rims, plus a different steering wheel, instrumentation, interior fabrics, lights and Spica mechanical fuel injection, which Filippo indicates excitedly after flipping the bonnet. The car returned from Toronto, Canada when its first owner, an Italian emigrant, came back home in 2012. But a clash with bureaucracy meant he was unable to obtain Italian plates. 'He was
so upset, he put the car up for sale,' says Filippo. 'I bought it and he drove it the 800km from Abruzzo, just to prove it was in good shape. It's one of the very first examples of the second series.'
1986 2.5 Milano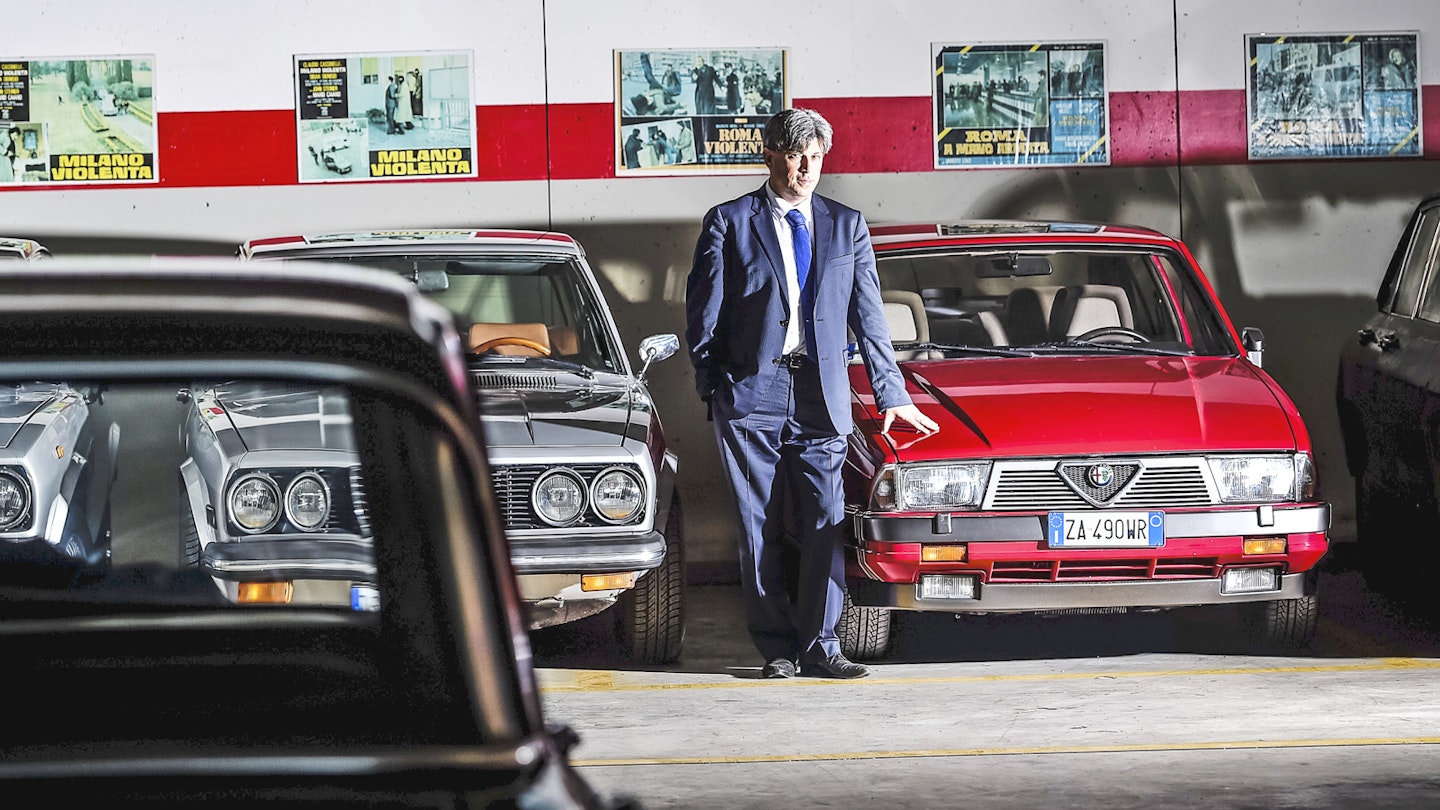 Filippo moves on to another car in his collection that has crossed the Atlantic twice, telling the tale of the model's history as we approach it. 'In the early Nineties Alfa launched the 75 – a stylistic update of the Alfetta – and produced a version for the US market, the Milano. It also had many differences from the European version.
'Sometimes cars come looking for you, rather than the other way round,' he grins. 'In August 2011, I was in America for Monterey Car Week and naturally I went to Concorso Italiano – but buying a car was the last thing on my mind. There, I saw a beautiful Milano and met its owner.
'We spent half of the afternoon talking about Alfas – he's a member of the Alfa Romeo Association of California, and invited me to visit him at his house in San Francisco. After spending a whole day driving his Milano – an unrestored 2.5 V6 Gold Series with only two owners and very few miles on the clock – on San Francisco's roads, he let slip that the car was for sale. Of course, I bought it on the spot.'
1973 Alfetta 1.8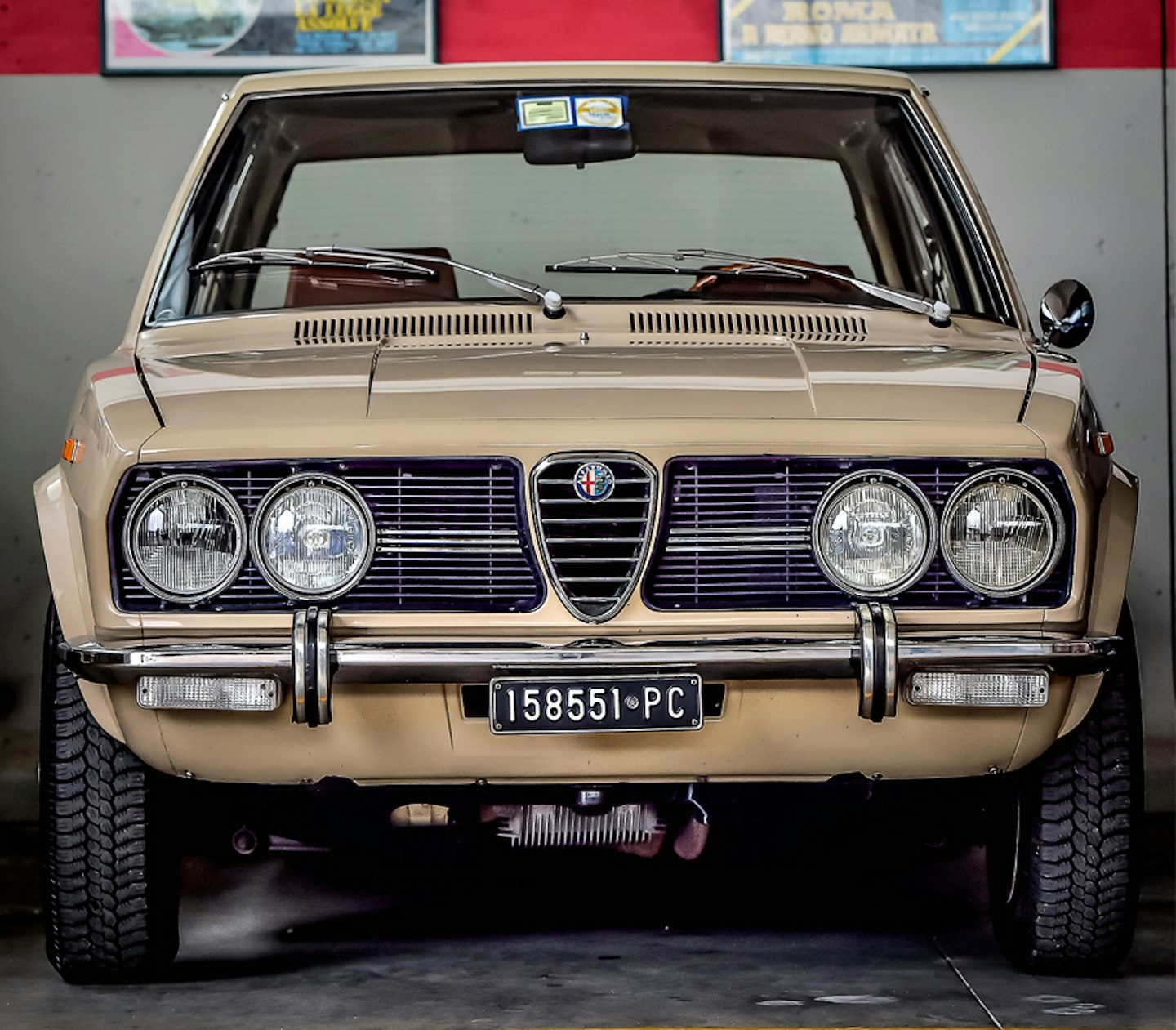 This first-series car is the runabout of the collection, bought by Filippo in 2008. 'I took this car to Zandvoort racetrack in 2013 and followed the 2014 Mille Miglia in it,' he says. 'It's always ready to go – it has done a high mileage with no problems.
'I just wish I had the time to drive the others as much as this one.'
1967 2600 OSI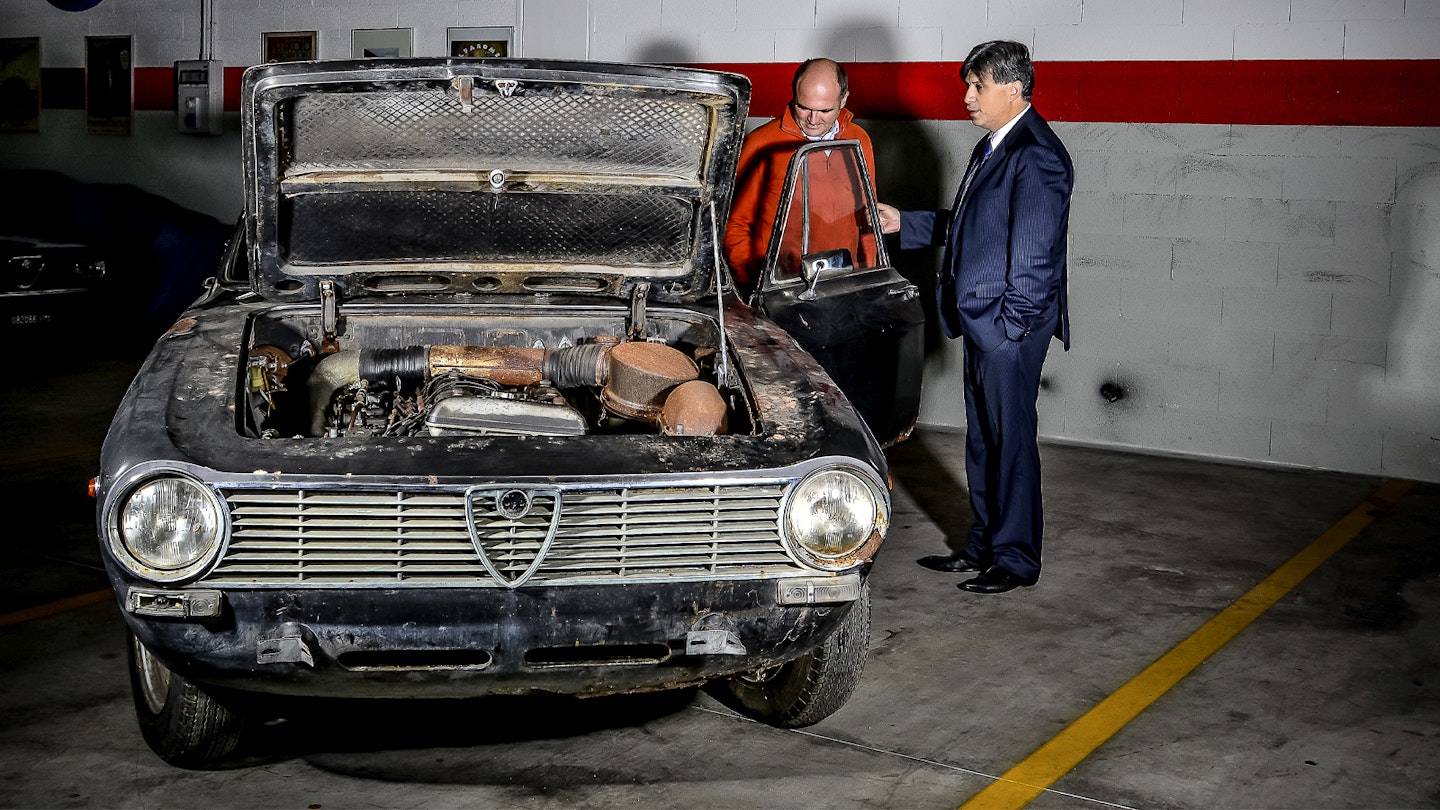 In every serious collection there is always an 'odd one out'. In this case it's a very rare, 2600 OSI saloon that's in very bad shape – although in Filippo's eyes the fact that only 54 were built makes it worth saving. It was bought new in Rome by a company that carried out a lot of trade with Iran. The car was given, via the Iranian embassy, to the Shah of Iran to use when in Rome – and Filippo has pictures to prove it.
It continued in high-society ownership until coming to rest at a country house for more than 20 years, when a temporary roof fell on it. After that it was bought by a member of the Italian Alfa Romeo Register, looking for a good engine for his 2600 coupé. 'Despite its dilapidated state my friend didn't have the heart to dismantle it, and I plan to restore it one day. I'm just happy that it lives in a protected space.'
1975 GT 1.3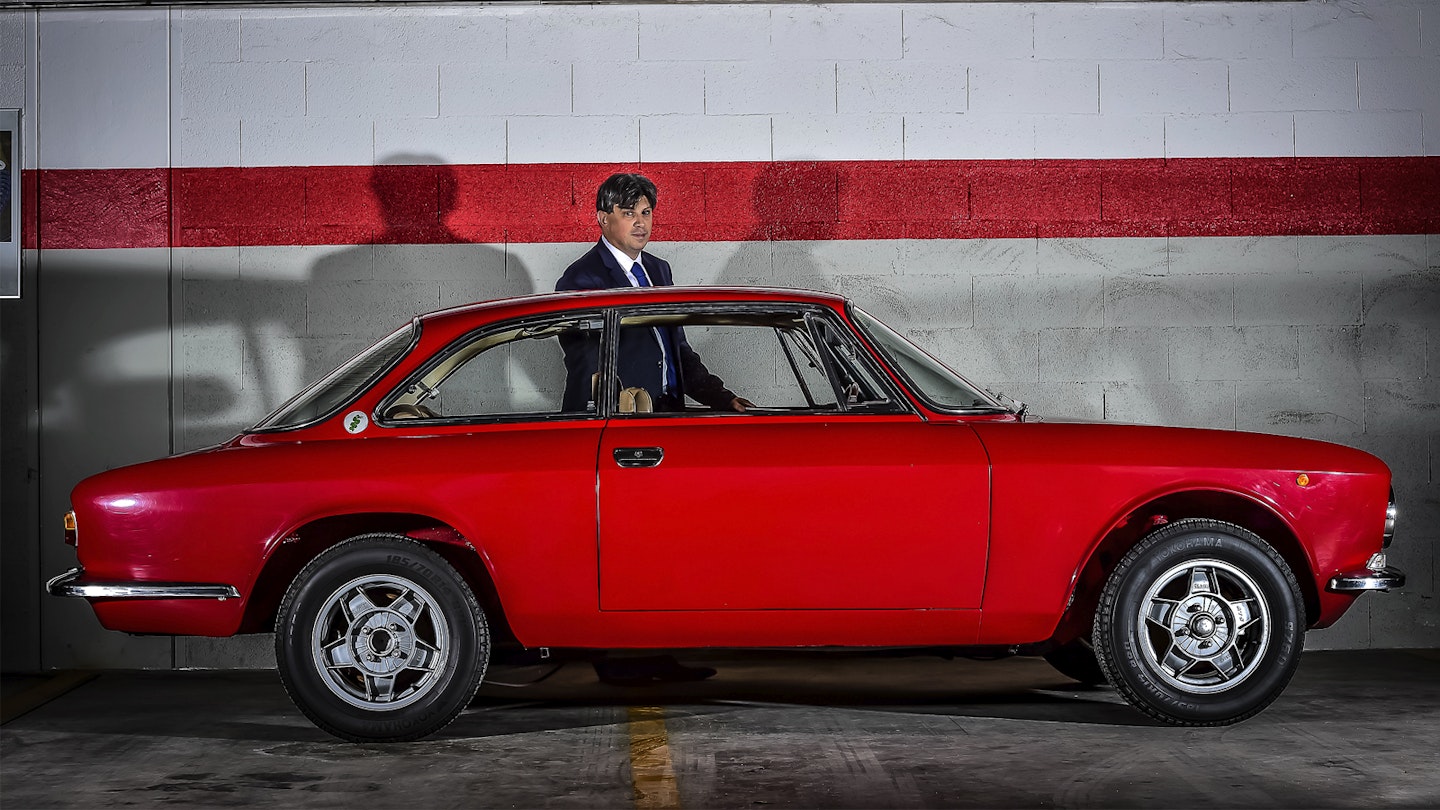 Filippo's eyes start to twinkle as we walk towards the final model in his collection. 'When this GT 1.3 came up for sale, it was the right time because I had the perfect excuse to buy it,' he explains mischievously. 'It was a 40th birthday present to myself!
'I had been aware of the car for many years and had my eye on it.'
Filippo has also acquired posters from the films that inspired his car collection, as well as the movies themselves on video and DVD. But instead of just watching them, like he did as a teenager, these days he can act out scenes from his favourite films – minus those that would involve crashing one of the Alfas he adores.